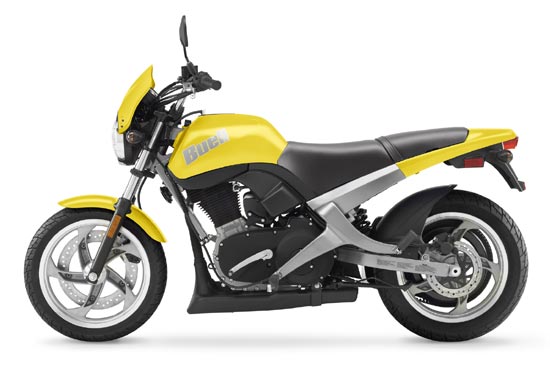 You are here: Index — 2009 Models — 2009 Buell Motorcycle Models
2009 Buell Blast
Back to 2009 Buell Motorcycle Index Page
Click photos to enlarge.
They make great desktop images.
• 2009 Buell Blast

2009 Buell Blast
The Buell Blast is an inspiring motorcycle on many levels. This distinctively-styled, easy-handling and affordable single can instill confidence in new riders, while offering the performance and refined agility to suit the most seasoned motorcyclist. With simple ownership and maintenance requirements, and 69 miles per gallon fuel economy, the Buell Blast is a sensibly fun ride.
Real World Riding Experience
A 492cc air-cooled, four-stroke, single-cylinder engine powers the Blast with 34 horsepower and a wide powerband for swift starts and quick acceleration, and plenty of power for the highway. The muffler located below the engine provides a low center of gravity and helps keep the exhaust away from the legs of the rider and passenger.
Weighing just 360 pounds dry and providing controls with reduced effort and reach, the Blast is easy handling for most riders. A Showa gas-charged rear shock and 37 mm Showa forks feature progressive-rate springs that offer a controlled and comfortable ride. An automatic choke and low-effort brakes are also designed to make the Blast easier to operate. It can also be fitted with an optional low-profile seat that reduces seat height to just 25.5 inches, so just about any rider can reach the ground to balance at a stop. The standard Blast seat height is 27.5 inches.
Combines Economy with Experience
The Blast is designed as an easy way to get into the real-world riding experience with self-adjusting hydraulic valve lifters and a Kevlar-reinforced drive belt that doesn't need lubrication or adjustment. A 2.8-gallon fuel tank delivers a cruising range of nearly 200 miles at 69 mpg fuel economy. The Blast is built to be durable, with tough Surlyn composite body panels. The color is molded into the Surlyn, so light scratches can be buffed out. In fact, the Blast is the training vehicle for the Rider's Edge New Rider course, which has trained more than 100,000 riders since 2000. The 2009 Blast is offered in Arctic White or Midnight Black.
Buell Blast features:
492cc single-cylinder air-cooled engine
Dry weight of just 360 pounds
Low-mounted muffler
Automatic choke
Cast aluminum wheels
Quiet and clean Kevlar final-drive belt
Showa gas-charged rear shock
37 mm Showa forks
320 mm front brake rotor
Low-effort, reduced-reach controls


SPECIFICATIONS:

Dimensions
Overall Length5 77.8 in. (1976 mm)
Overall Width7 29.3 in. (743 mm)

Seat Height6:
• Standard 27.5 in. (699 mm)
• Low Profile 25.5 in. (648 mm)
Ground Clearance5
3.88 in. (99 mm)
Rake6 (steering head) 25.0°
Lean Angle:
• Soft Contact, Right 29º
• Soft Contact, Left 31º
• Hard Contact, Right 32º
• Hard Contact, Left 31º
Trail6 3.4 in. (86 mm)
Wheelbase5 55.0 in. (1397 mm)
Tires3 (Pirelli®):
• Front MT75 100/80-16M/CTL 50T
• Rear MT75 120/80-16M/CTL 60T
Fuel Capacity 2.80 gal. (10.6 L)
Reserve Fuel Capacity 0.55 gal. (2.1 L)
Fuel Economy2 (EPA urban/highway test) 69/73 mpg (3.4/3.2 L/100 km)

Weight:
• Dry Weight 360 lbs. (163 kg)
• Gross Vehicle 780 lbs. (354 kg)
Weight Rating Load Capacity 390 lbs. (177 kg)

Engine
Engine Air-cooled, 4-stroke, single-cylinder
Valves OHV, two valves per cylinder, hydraulic adjusters, self-adjusting
Bore x Stroke 3.500 in. x 3.125 in. (88.90 mm x 79.38 mm)
Displacement 30.0 cu. in. (492 cc)
Compression Ratio 9.2:1
Fuel System 40 mm Keihin™ carburetor with auto fuel enricher system, side draft
Intake (Air Cleaner for Blast®) Tuned, velocity expansion chamber
Exhaust Tuned, tri-pass resonance chamber
Torque
(North America per SAE J607)
30 ft. lbs. @ 3200 rpm (40.7 nm @ 3200 rpm)
Horsepower
(North America per SAE J607) 34 hp @ 6500 rpm
Lubrication Dry-sump Oil Capacity8
(Lubrication for Blast®) 2.0 qts. (1.9 L)
Oil Filtration Screw-on disposable element

Drivetrain
Primary Drive Chain, 1.676:1 (57/34) ratio
Final Drive3 Kevlar® belt, 2.963:1 (80/27) ratio
Clutch Wet, multi-plate
Transmission 5-speed, constant mesh
Gear Ratios:
• 1st 2.688
• 2nd 1.850
• 3rd 1.433
• 4th 1.181
• 5th 1.000

Chassis 3
Frame Wide beam HSLA steel backbone frame with built-in oil reservoir, Uniplanar™ powertrain vibration isolation, Titanium color finish
Front Fork 37 mm Showa® conventional forks
Rear Shock Showa® non-adjustable, gas-charged compression shock
Wheels: Stardust Silver
• Front: 5-spoke cast 2.5 in. x 16 in. (63.5 mm x 406.4 mm)
• Rear: 5-spoke cast 2.8 in. x 16 in. (69.9 mm x 406.4 mm)

Brakes:
• Front
Dual piston, floating caliper; 320 mm, stainless steel, fixed rotor
• Rear
Single piston, floating caliper; 220 mm, stainless steel, fixed rotor
Suspension Travel:
• Front Wheel 4.52 in. (115 mm)
• Rear Wheel 4.09 in. (104 mm)

Electric
Battery (per Battery Council International Rating) Sealed lead acid, maintenance-free, 12V, 12-amp/hour, 200 cca
Charging 297W AC alternator, solid-state regulator/rectifier
Starting 1.2 kW electric with solenoid shift starter motor engagement
Lights (as per country regulation):
• Headlamp (sealed beam) 55-watt low beam, 60-watt high beam
• Tail/Stop Lights 5W/21W
• Turn Signal Lights 10W manual canceling

Instruments
Instruments Electronic speedometer with LED. odometer and tripmeter; built-in LED, indicator lamps for low oil pressure, high beam, turn signals, neutral
Clutch Reduced clutch effort with shorter reach lever
Shift Pedal Fully adjustable shift pedal enables personalized fit
Body Panels Molded-in color body panels resist dents/chips; most scratches easily buff out
Turn Signals Flexible, resist damage
Under Seat Storage Yes

Colors 4
Sunfire Yellow (new), Midnight Black

Warranty
Warranty 24 months (unlimited mileage)
1 Specifications for non-U.S markets might differ. Buell reserves the right to
discontinue models or change specifications at any time without incurring any
obligations. Vehicle specifications may vary from country to country depending on
local laws. Some models are not available in certain countries.
2 Based on tests conducted under lab conditions per U.S. E.P.A. test procedures.
Mileage will vary depending on personal riding habits, weather conditions, trip
length and vehicle condition.
3 Kevlar®, Showa® and Dunlop® are registered trademarks of their respective owners.
4 Availability may vary from dealer to dealer, and is subject to change without notice.
5 Unladen, wet configuration (no rider, all fluids).
6 L aden, wet configuration (design rider, all fluids).
7 Without mirrors.
8 Oil capacity at oil change with filter
Media Press Release:
BUELL SPORTBIKES BUILT TO PERFORM WITH PRECISION AND POWER
Buell 1125R and Blast are the Real Deal for 2009
EAST TROY, Wis. (July 22, 2008) – Buell Sportbikes take control of the road in 2009, ready to fuel the passion of the most demanding sportbike riders on the road or track.
Buell sportbikes feature an athletic motorcycle riding position, which allows the rider to fully enjoy the handling advantages of the Buell Trilogy of Technology: chassis rigidity, mass centralization, and low unsprung weight. Designed to respond intuitively to rider commands, Buell sportbikes combine real-world street performance with race-proven design. With incomparable styling, the Buell 1125R and Blast blend innovative technology with premium components to create an extraordinary riding experience.
The 2009 Buell 1125R stands out in the sportbike field with exotic styling and technical innovation, including the performance of a 146-hp, liquid-cooled 72-degree V-Twin engine. The 2009 XB12R Firebolt is a muscular sportfighter providing award-winning handling and raw torque from a 45-degree air-cooled V-Twin engine. Designed from the rider down, each Buell sportbike combines V-Twin power with unmatched precision and agility.
Buell 1125R
The motorcycle that redefines the superbike category the 2009 Buell 1125R is powered by the 1125 cc liquid-cooled 72-degree V-Twin Helicon engine generating 146 crank hp and 82 ft. lbs. of peak torque. With a foundation built on the core Buell Trilogy of Technology creating optimum performance, the 1125R remains true to Buell's original sense of sportbike style and design.
New for 2009 on the 1125R and 1125CR models are targeted fuel injectors, relocated O2 sensors, and updated engine spark and fuel maps. The combination of these features offers improved drivability below 6000 rpm, even crisper throttle response, improved heat management, and significantly improved fuel economy. The updated engine spark and fuel maps will also be made available for 2008 1125R models.
A new gear position readout is added to the digital display on the instrument panel as a scroll-to feature. A high-output alternator has increased capacity for accessory use. Slider bobbins have been added to the swingarm for protection and easy use of a rear stand.
The front wheel rides on fully adjustable Showa 47 mm upside-down forks, while the Buell ZTL2 front brake has an eight-piston caliper. A smooth-shifting six-speed transmission works with a HVA (Hydraulic Vacuum Assist) slipper-action clutch that uses engine vacuum for easy clutch-lever action and reduced engine braking during downshifts.
Quiet Zone aerodynamics optimize air flow around the rider for enhanced race performance and rider comfort. The fairing shape was developed using Computational Fluid Dynamics (CFD) analysis, and features six-bulb headlamps, while LED turn signals are integrated into the mirror housings.
The 1125R is restyled for 2009 with new blacked-out chassis components, and is offered in Midnight Black and new Racing Red with Phantom Metallic (Black) wheels, and Arctic White with Hero Blue translucent wheels. Production of the 2009 1125R is scheduled to begin in late September 2008.
Buell 1125R highlights
Buell Helicon 1125 cc liquid-cooled four-stroke, 72-degree V-Twin engine
146 peak hp @ 9800 rpm
82 ft. lbs. peak torque at 8000 rpm
New Phantom Metallic frame and swingarm with blacked-out footpeg mounts and heel guards
New tinted windscreen, Hero Blue with Arctic White bodywork and Smoked with Racing Red and Midnight Black
New gear position readout on the instrument cluster
New high output alternator increases capacity for accessory use
New slider bobbins on swingarm for protection and use of rear stand
Underslung muffler with Helmholtz chamber
DDFI 3 Electronic Fuel Injection ECM
New targeted fuel injectors
Ram-air pressurized air box
Twin side-mount radiators
HVA (Hydraulic Vacuum Assist) Slipper Action clutch
ZTL2 four-pad, eight-piston front brake
Fully adjustable 47 mm Showa inverted fork
Fully adjustable Showa rear shock absorber
Fuel-in Frame 5.3-gallon capacity
Dry Weight: 375 pounds
Wheelbase: 54.6 inches
Seat height: 30.5 inches
Pirelli Diablo Corsa III tires
Pre-Wired for Accessory Heated Grips
Midnight Black, Arctic White or Racing Red bodywork
Buell Blast
The original Buell sportfighter, the Buell Blast has evolved into one of the most versatile sportbikes on any road or track today. The Firebolt is known for the precise handling provided by a 52-inch wheelbase, 21-degree rake and 3.3-inch trail. Combining agility with the performance of an American-made Thunderstorm 45-degree, air-cooled 1203 cc V-Twin engine, the Firebolt delivers both character and performance.
The blacked-out Thunderstorm engine produces 103 peak horsepower at 6800 rpm, and 84 ft. lbs. of peak torque at 6000 rpm, with 85 percent of peak torque available over 2500 rpm. The Buell InterActive Exhaust system utilizes a valve in the dual-chamber muffler that is controlled by the ECM and adjusts exhaust flow according to riding conditions to smooth torque delivery and optimize engine power.
The 2009 Firebolt has enhanced braking performance from the Buell ZTL2 front brake, a four-pad, eight-piston system also used on the 1125R and originally developed for the Buell XBRR race motorcycle. Three-zone Pirelli Diablo Corsa III tires are also now standard equipment on the Firebolt.
Up front, the Firebolt features a fully adjustable Showa inverted fork, while the rear is equipped with an adjustable Showa shock.
The Veyance Hibrex drive belt with Flexten Plus technology, based on the belt developed for the Buell 1125R, is strong and durable while weighing about four pounds less than a chain drive. The Firebolt comes with clip-on-style handlebars for optimal control, an aerodynamic quarter-fairing with dual projector-beam headlamps, and a covered trim passenger pillion.
New colors include Midnight Black with Cherry Bomb translucent wheels and Arctic White with Hero Blue translucent wheels, with color-match translucid windscreen. For 2009 the Firebolt has blacked-out frame, powertrain and other components.
Buell Blast highlights
New Blacked-out Buell Thunderstorm 1203 cc air/oil/fan-cooled four-stroke, 45-degree V-Twin engine
103 peak hp @ 6800 rpm (per SAE J607)
84 ft. lbs. peak torque @ 6,000 rpm (per SAE J607)
Buell InterActive Exhaust
DDFI 3 Electronic Fuel Injection ECM
Eight-row oil cooler with Jiffy-tite fittings
New four-pad, eight-piston ZTL2 front braking system
New three-zone Pirelli Diablo Corsa III tires
New blacked-out frame, swingarm, triple clamps, outer fork tubes, lower castings, brake caliper, footpeg mounts and heel guards
Dry Weight: 395 pounds
Wheelbase: 52 inches
Fully adjustable 43 mm Showa upside-down fork
Fully adjustable Showa rear shock absorber
Veyance Hibrex drive belt with Flexten Plus technology
Cosmetic Frame Protectors
Perforated texture seat
Magnesium tone center chin
Pre-Wired for Available Heated Grips
Instrument Panel Graphics
New Midnight Black color with Cherry Bomb translucent wheels and Arctic White with Hero Blue Translucent colors
Cherry Bomb translucid windscreen on Midnight Black model and Hero Blue translucid windscreen on Arctic White model


Buell Motorcycle Company, a subsidiary of Harley-Davidson, Inc., produces sport motorcycles, motorcycle parts, accessories and apparel. To learn more about Buell motorcycles, visit your local Buell dealer today and experience the pure streetfighter attitude, style and performance only found on board a Buell. Call 1-800-490-9635 for the Buell dealer nearest you. Or pull into www.buell.com.