You are here: Home — Tire/Tyre Guide — Michelin — Michelin Macadam 100X
Michelin Macadam 100X
Back to Total Motorcycle Michelin Tire/Tyre Guide
Click photos to enlarge.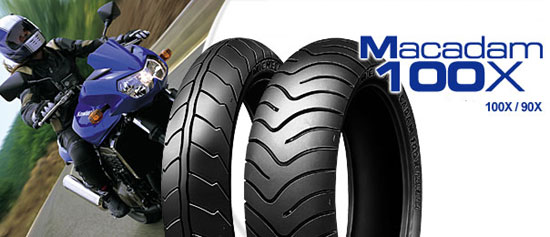 Michelin Macadam 100X
– Michelin Macadam 100X
Michelin Macadam 100X Sport Touring Radial Tires

Performance and handling for sportbikes but with an emphasis on durability.

Directional front tread pattern resists uneven wear and cupping, without sacrificing adhesion on wet or dry roads. Center grooves minimize wandering on grooved pavement.

Optimized rear tread pattern exhibits the ideal combination of contact area, wet traction and durability.

Silica-charged tread compound allows the use of a high-performance rubber mix for exceptional grip on wet or dry roads without compromising durability.
Reinforced sidewalls for cornering stability.

Zero-degree kevlar® belt in the rear controls centrifugation at high speeds, for stability and optimal wear. Kevlar® is far stronger than steel, without the added weight of steel belts.

Compatible with Macadam 90X: The Macadam 100X and Macadam 90X can be paired on the same bike as necessary.

FEATURES
Performance that lasts

A true radial at a great price
Renowned for excellent durability
The Michelin Macadam 100X combines a smooth ride with all-around practicality, excellent grip in all conditions and an optimal mileage/performance ratio. It's durable enough for everyday use, and delivers sure-footed control for weekend fun rides. The easy-handling Macadam 100X adapts to changing conditions while maintaining uniform wear throughout its tread life.


TECHNICAL

– Radial structure ensures comfort and stability.

– Unique rear tread pattern channels water away from the contact patch, for outstanding wet grip.

– Special rubber mix in the front tyre promotes a uniform wear pattern.



Usage




Track use : 1/5
Highway : 4/5
Sport riding : 4/5
Commuting : 5/5
Sizes

FRONT
120/80 ZR 16
110/70 ZR 17
110/80 ZR 17
120/60 ZR 17
120/70 ZR 17
110/80 ZR 18

REAR
150/80 ZR 16
130/70 ZR 17
130/80 ZR 17
140/70 ZR 17
150/70 ZR 17
160/60 ZR 17
170/60 ZR 17
180/55 ZR 17
190/50 ZR 17
150/70 ZR 18
160/60 ZR 18