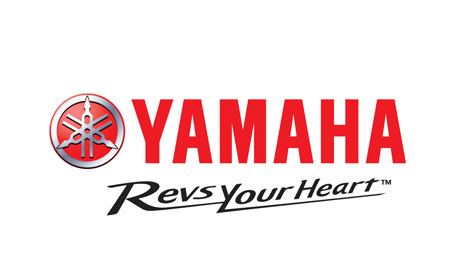 Even in Europe, the 'Semakin di Depan' spirit remains strong under the Monster Energy Yamaha Factory MXGP awning with Romain Febvre and Jeremy Van Horebeek both running a strong pace at the fourteenth round of the FIM MXGP World Championship, which took place at the hillside, rocky, clay-based venue of Loket, in the Czech Republic, where both riders proudly placed their YZ450FM's inside the top-five.
Loket's tricky uphill start, complete with a 180 degree hair-pin first-turn, was the bane of the weekend for the boys dressed in Paddock Blue. In the opening race, a messy execution of the first few turns saw riders doing their best to avoid any sort of contact or carnage. Despite an average start, Monster Energy Yamaha Factory MXGP's Jeremy Van Horebeek was the first Yamaha rider to break into the top-ten and he did so by grabbing a handful of throttle on his YZ450FM and blitzing past a cluster of riders to complete the first lap in eighth place.
Monster Energy Yamaha Factory MXGP's Romain Febvre had company in the form of Wilvo Yamaha Official MXGP's YZ450F mounted riders Jeremy Seewer and Shaun Simpson, as he reeled in the top-ten. After 10-minutes, Febvre used his impeccable power-sliding ability to sneak up and into ninth, and as he flustered the riders he was passing, Seewer was able to capitalize.
With 5-minutes left on the clock, Van Horebeek had found his true speed and the form he has been searching for over the previous rounds. The '89' looked at one with his YZ450FM as he charged past Gautier Paulin and Alessandro Lupino for a well-deserved place inside the top-five.
Like his teammate, Febvre also got faster with every passing lap and in the final two-laps he was able to use the power of his YZ450FM to storm up the inside of Lupino for seventh-place. Seewer managed to round out the top-ten while Simpson clawed back thirteenth-position after tangling with another rider.
Better starts in Race Two saw a freight train of Yamaha's make up the top-ten. Again, Van Horebeek was the hungriest this weekend and wasted no time in surging up into the top-five with his archrival and Monster Energy Yamaha Factory MXGP teammate, Febvre, hot on his heels.
Behind the pair of hard charging YZ450FM riders, Simpson engaged in a slight tussle for seventh, but was eventually nudged back to ninth as his teammate Seewer was dicing his way through the field from eighteenth place.
On lap 6, Paulin made a small mistake that allowed Van Horebeek to charge up the inside. The '89' took over fourth position drove the Frenchman wide, which opened the door for his teammate to follow through and take over fifth place. After that, Febvre had Van Horebeek firmly in his sights and applied a hefty amount of pressure for a couple of laps. Van Horebeek started to fade ever so slightly and made the exact same mistake that Paulin made a few laps prior. The Belgian clipped a bank and lost momentum and that allowed Febvre to pin-it up the inside and take over the position.
At the checkered flag, Febvre was able to redeem himself and salvage a decent amount of points with a fourth place finish for fourth overall. Van Horebeek's performance this weekend was encouraging. He rounded out the top-five in the Grand Prix overall with a solid fifth place finish in the final race.
Wilvo Yamaha Official MXGP's Jeremy Seewer was inspirational on his rush from twentieth place and up into eighth, which is where he finished in the overall classification as well, while his teammate Shaun Simpson finished fourteenth in Race Two and felt that all expectation for this weekend had been exceeded with a thirteenth place finish in the Grand Prix overall.
The next round of the FIM MXGP World Championship will take place in the deep sand of Lommel, in Belgium on the weekend of August 5th.
Romain Febvre
4th MXGP overall, 5th MXGP Championship Standings
"The weekend was not so good, but also not so bad. I finished fourth overall, which was okay because it means I saved a lot of points. My weak point this weekend was the start. I didn't get a good start all weekend long, so I came from behind in both races. I was riding good, I think I had the speed to be inside the top three, but without the start it is impossible. I need to work on this point for the next GP."
Jeremy Van Horebeek
5th MXGP Overall, 9th MXGP Championship Standings
"It has been a long road back to the top five, and it is still along way, but I feel like I am moving in the right direction. I still struggle to have two fully fit races. I battled hard in the first race, and again in the second race. I knew in the beginning I was running a good pace and making time, but I was also aware it would cost me in energy at the end of the race. At the end of the day, I am happy. I feel like I have been under the ground recently, and now I am getting up and coming out. I don't feel the track has anything to do with how I rode today, I think it is me personally. I feel good, I felt good on the bike and had a lot of fun. I am really happy because I am not even at 70% of what I know I can do. I still have some margin to make up."
Shaun Simpson
13th MXGP Overall, 16th MXGP Championship Standings
"To be honest, I am really happy with how this weekend went. I totally exceeded all expectation because I have actually only been on the bike twice in the last couple of months. I feel really strong mentally, and I am determined to make some things happen, I feel like I owe it to myself and everyone around me to get the show back on the road. There is still six to go and I feel like this weekend has provided me with the building block I need, and a solid boost of confidence that has motivated me to train hard going into the next rounds. Lommel is coming up and I know I can do well there, I am really motivated to get stuck in and make things happen over the next six rounds."