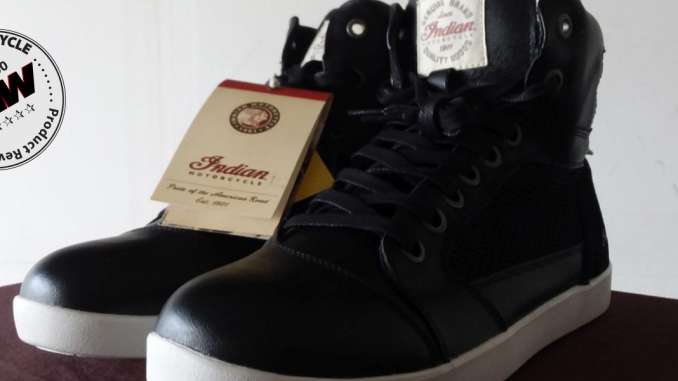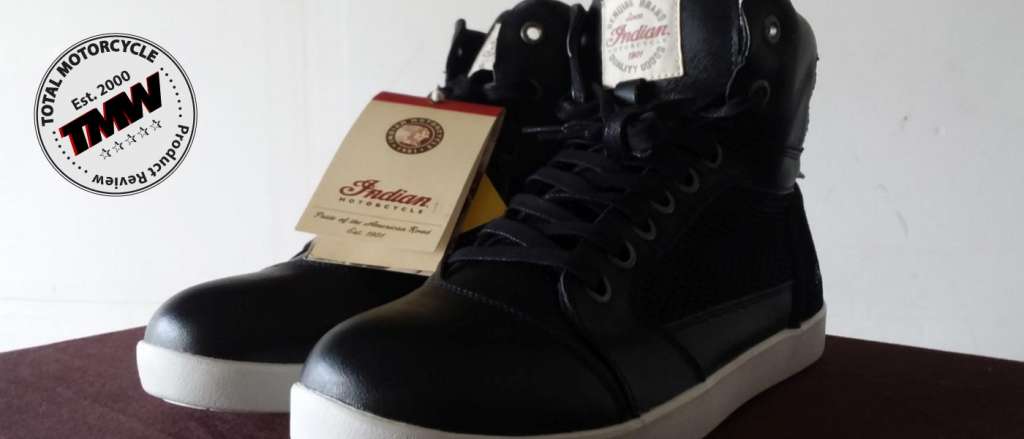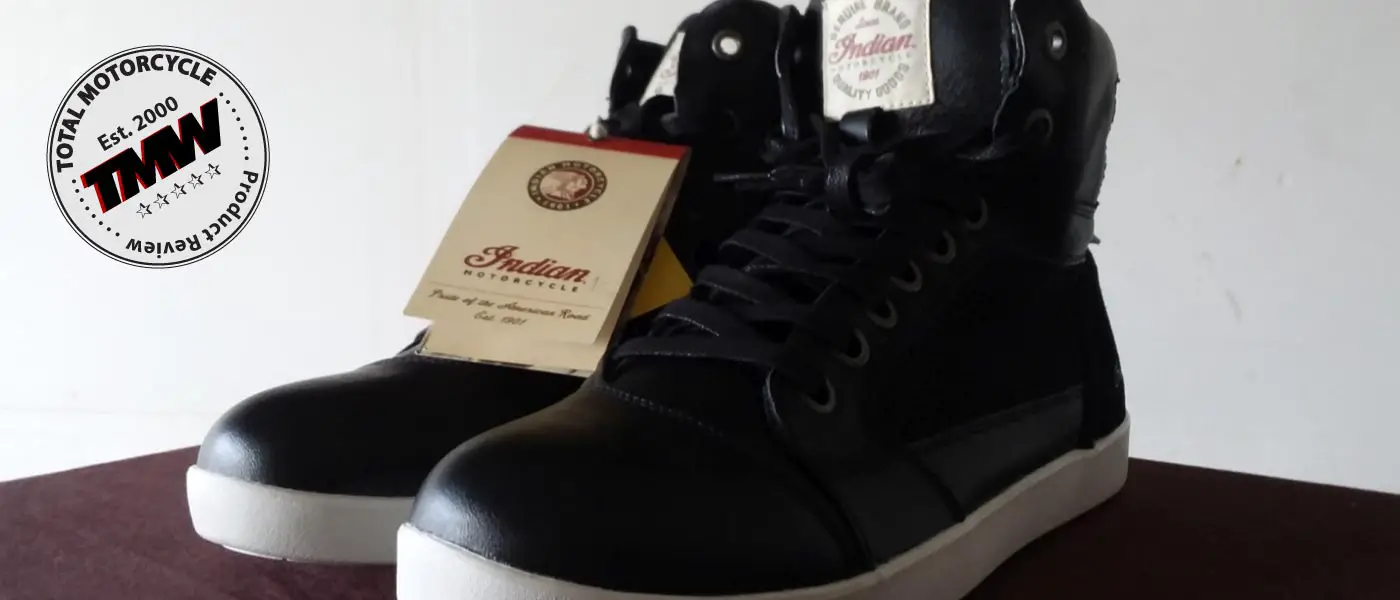 Writing about motorcycle footwear reminds me of a comment I once read in an old thread here on TMW. It was a debate between an ATGATT (All The Gear All The Time) advocate and a less cautious rider. The insightful final comment from the ATGATT proponent made me really think. He said, "never forget that the natural position for a motorcycle is laying on it's side". Those words have stuck with me. No matter what you ride or how you ride, you have to stop sometime. When you do, your feet will be what's holding everything up, so you really need reliable footwear. Indian Motorcycle gave us the opportunity to put their Mesh Hi-Top Sneakers down on the hot summer asphalt here in Utah and see how they hold up. Read on to find out what we thought. 
Mesh Hi-Top Sneakers by Indian Motorcycle
| | |
| --- | --- |
| Reviewed By: | Eric Leaverton |
| Review Dates: | August 10th 2018 – September 7th, 2018 |
| Price As Tested: | $119.99 USD |
| Tested On: |  2009 Kawasaki Versys 650 |
OVERVIEW
If you've read my other Indian Round-up articles already, you probably noticed the other two didn't start with an overview. This one does. Why? Well, it's simple. An armored jacket and hardened gloves are standard operating procedure for motorcycle gear, but in the right crowd a sneaker will raise some eyebrows. So I figured I needed to throw in a quick primer.
I myself am not strictly an ATGATT rider, more like AATGAATT (you'll figure it out), but I've never compromised on footwear. Solid boots with thick soles, every ride, every time, from day one. The Mesh Hi-Top Sneakers is the first time I've ever deviated from that ethos, so I really came into this review with some caution and maybe a little superstition. I made the jump from cruisers to ADV/Sport riding a couple of years ago, and whether it's form following function or the other way 'round, that jump can make some changes in your wardrobe. This was one of them, and it was time. So let's get into it.
FASHION 
In this round-up of gear by Indian Motorcycle, all the pieces my wife and I have reviewed have been very classic in style. The Mesh Hi-Top Sneakers are a deviation in this regard as well. They're fully contemporary. Broad rounded toe, tube ankle, high-contrast sole and flat laces. These sneaks wouldn't look out of place in a crowd of 20-somethings waiting in line to see Imagine Dragons. Modern, stylish, handsome, these shoes look just as good off the bike as on it. They wouldn't pass muster at a formal event, but anywhere else they're cool and classy enough to make an entrance. Antique silver eyelets and a tasteful, small Indian logo on the heel are the only features that break up the basic black – aside from the bright white sole of course.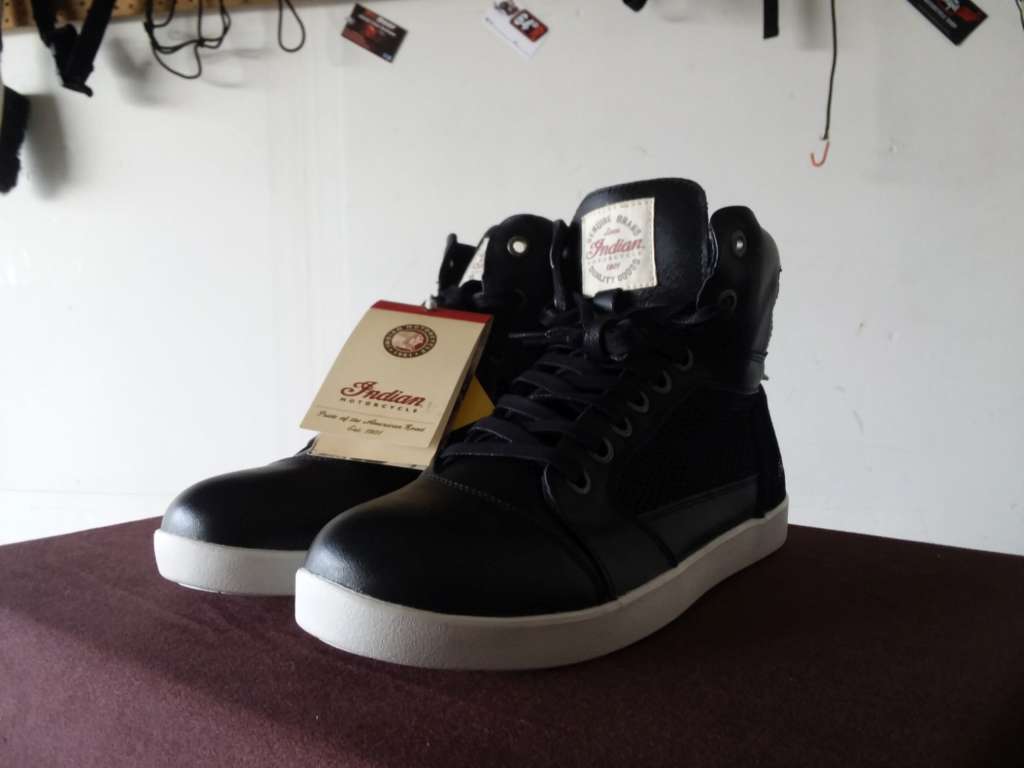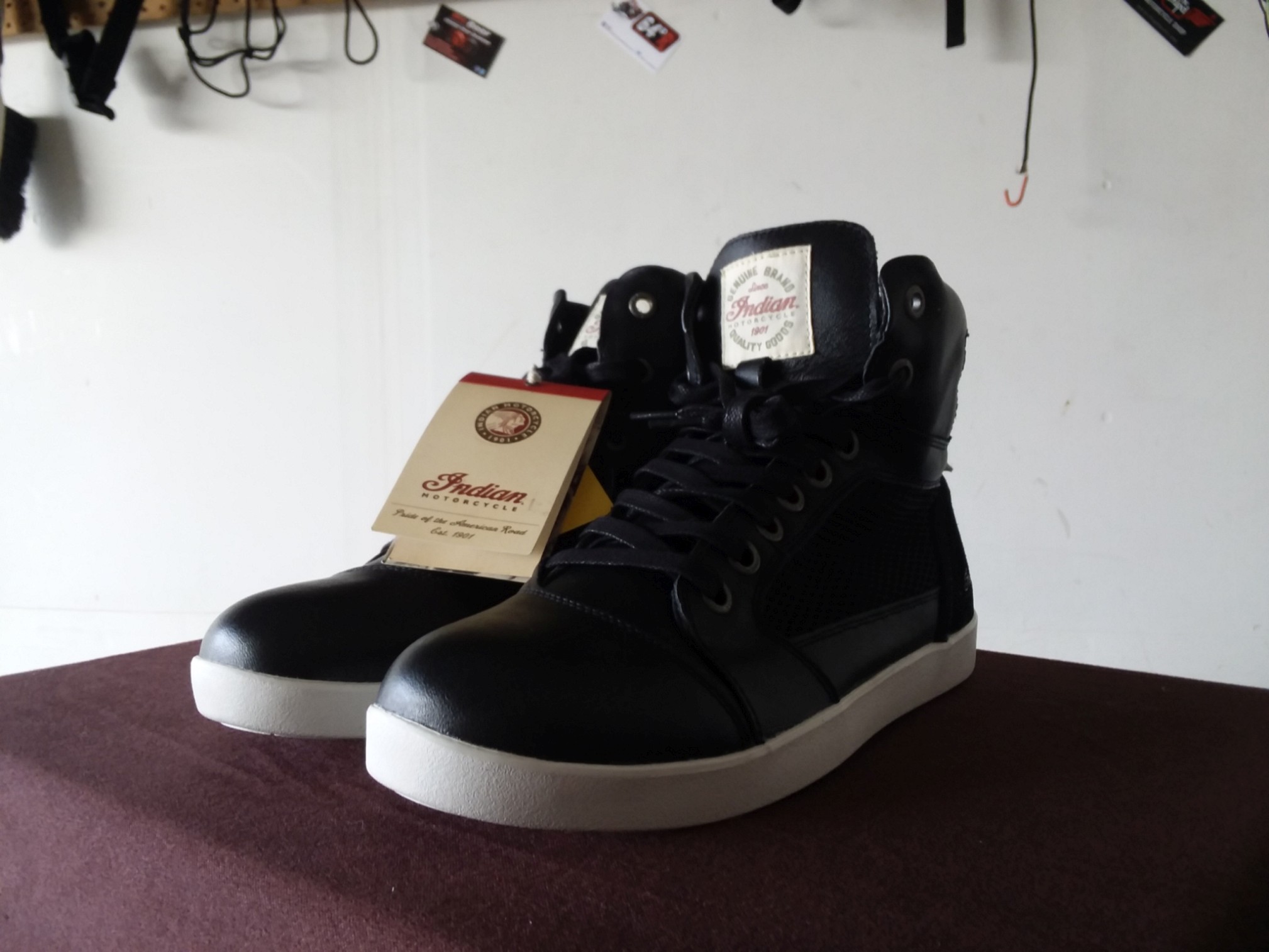 FIT
There really isn't much to say about how the Mesh Hi-Top Sneakers fit. I wear a US 10 in Men's, so I ordered these to accommodate and they fit very well. They're one of the only pairs of shoes I've ever owned that didn't raise at least one blister during break-in too. The flat laces offer a very secure cinch, and they don't work themselves loose like round laces can.
FEEL 
With shoes, fit and feel can sometimes be almost the same thing. The Mesh Hi-Top Sneakers are comfortable, supportive, and incredibly lightweight. I have some boots that start to feel like jogging weights after ten blocks in the city, but not these. I don't experience any leg fatigue from hauling them up from the asphalt over and over, not even in stop-and-go in downtown Salt Lake City. Despite their light feel, though, these shoes feel very solid under you. The Vibram soles have a very dense, rigid feel to them. They almost feel like wooden soles on certain surfaces, and add a very authoritative clack to your step. They're also non-slip and offer just a ton of traction, they don't slip around on my pegs at all.
I can't speak to their waterproofing ability, but I wouldn't expect much from them in that respect. You'd also be asking a lot of mesh shoes to expect much insulation when the mercury dips. These are definitely fair-weather footwear.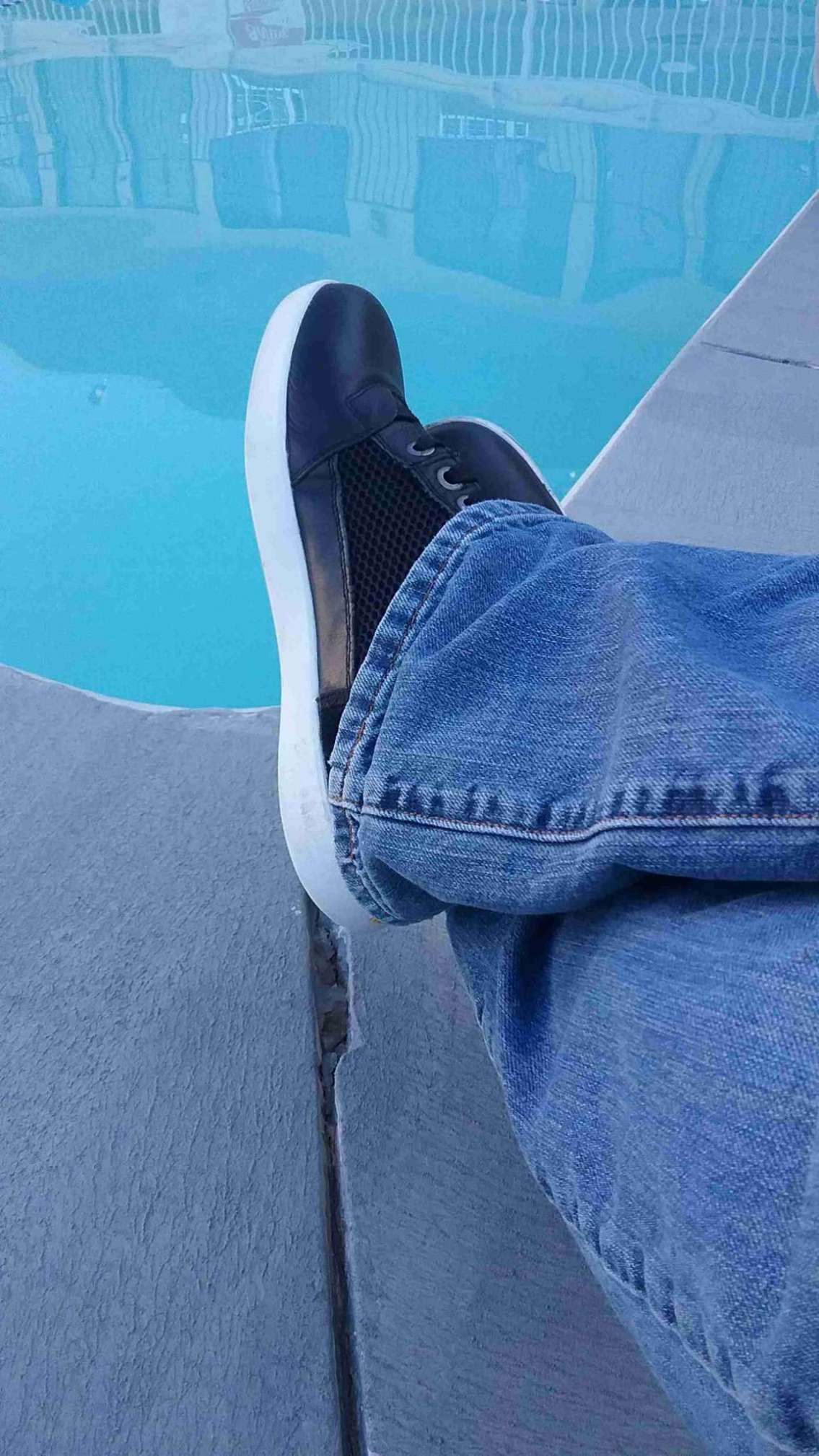 FUNCTION
I always like to consider the specific niche a product satisfies when I'm evaluating it's performance. It's fair to assume anyone specifically looking at mesh gear is looking for comfort in hot weather riding. By that measure, the Mesh Hi-Top Sneakers deliver in spades.
The mesh on the sneakers is flexible and thin. It's not Kevlar or any other exotic material, but the panels feel smooth and durable.  In the heat, they allow an abundance of airflow. My feet stay cool and my socks stay dry, even in triple digit temperatures under direct sunlight. They also don't seem to absorb a lot of radiant heat from the asphalt, possibly owing to the white soles. Other boots I own can get uncomfortably warm when my feet are down at a light. Heat just soaks into the dark rubber soles and bathes my feet. These don't do that, not even a little. Despite all this, though, they still manage to maintain a comfortable temperature during cooler weather. I've ridden in temps as low as 50 degrees with these sneakers and my feet remained comfortable.
These sneakers are also impressively durable where it counts. Thick leather covers the toe and instep, providing a dependable surface for your shift lever. They've never taken a gouge or scuff from my lever either, very impressive given the amount of miles I've ridden in them. I've also worn them on days I don't ride. Family parties, staff meetings at work, grocery shopping, and everything else, I've worn them almost every day since receiving them. They're not clean anymore, not by a long shot, but they're not showing any wear and tear at all.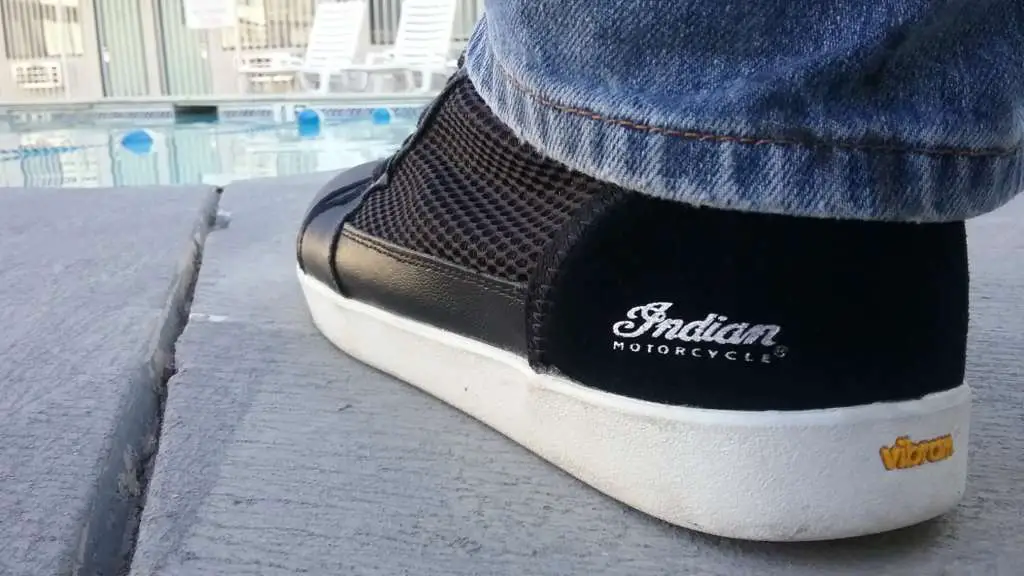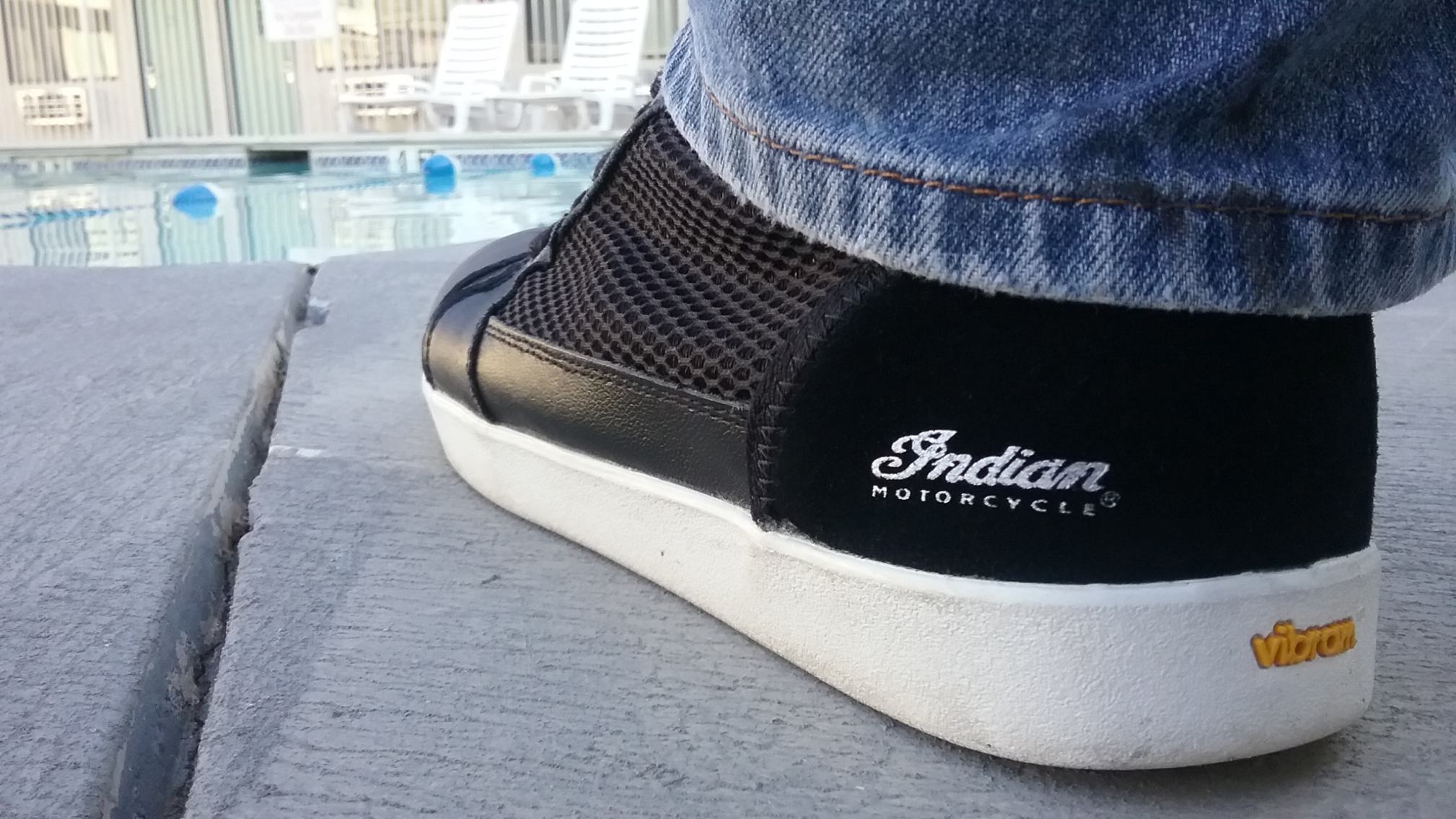 CONCLUSIONS
There really is a lot to like about Indian Motorcycles Mesh Hi-Top Sneakers. They're stylish and attractive enough to wear anywhere and look natural, but they're also durable enough for genuine riding. What they lack in sheer ruggedness is really the whole point of a mesh sneaker.  They're comfortable enough to walk around in all day, since we can't ride all the time. If you're anything like me, your hobby wardrobe does double duty as your regular wardrobe, so that's important. And they're offered at a very competitive price for this segment, in fact, they're one of the least expensive pairs of motorcycle sneakers you can buy. Total Motorcycle is happy to award the Indian Motorcycle Mesh Hi-Top Sneakers our highest honor, the TMW Editor's Choice award! Way to go Indian, we're genuinely impressed!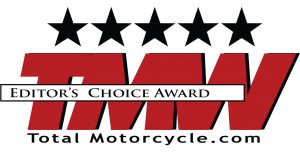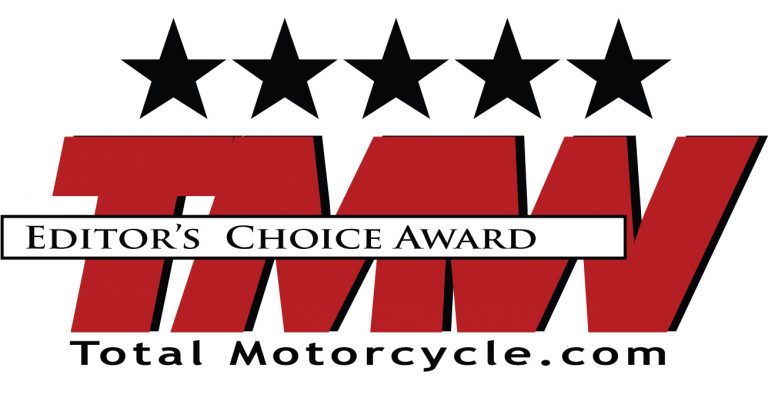 Men's Footwear from Indian Motorcycle