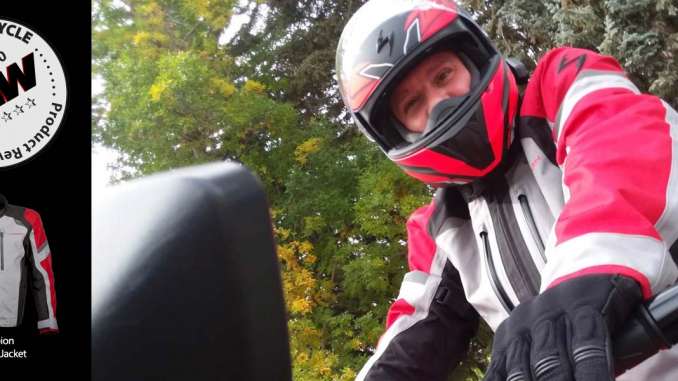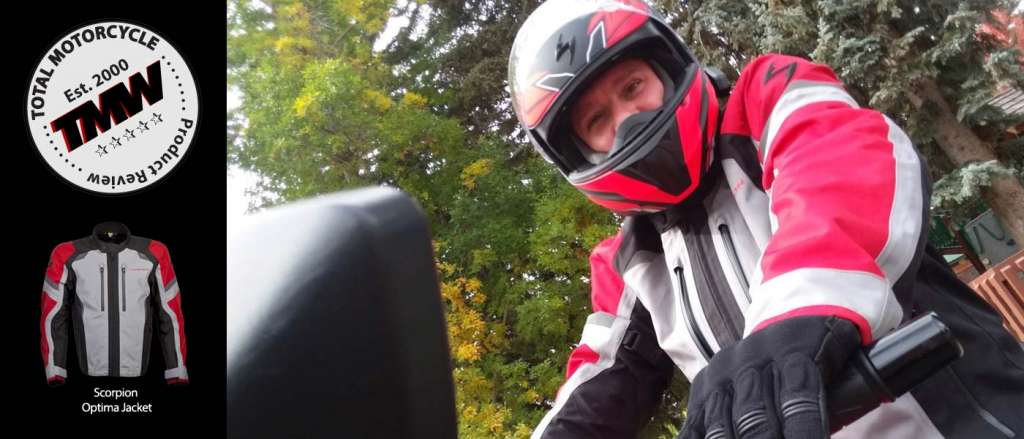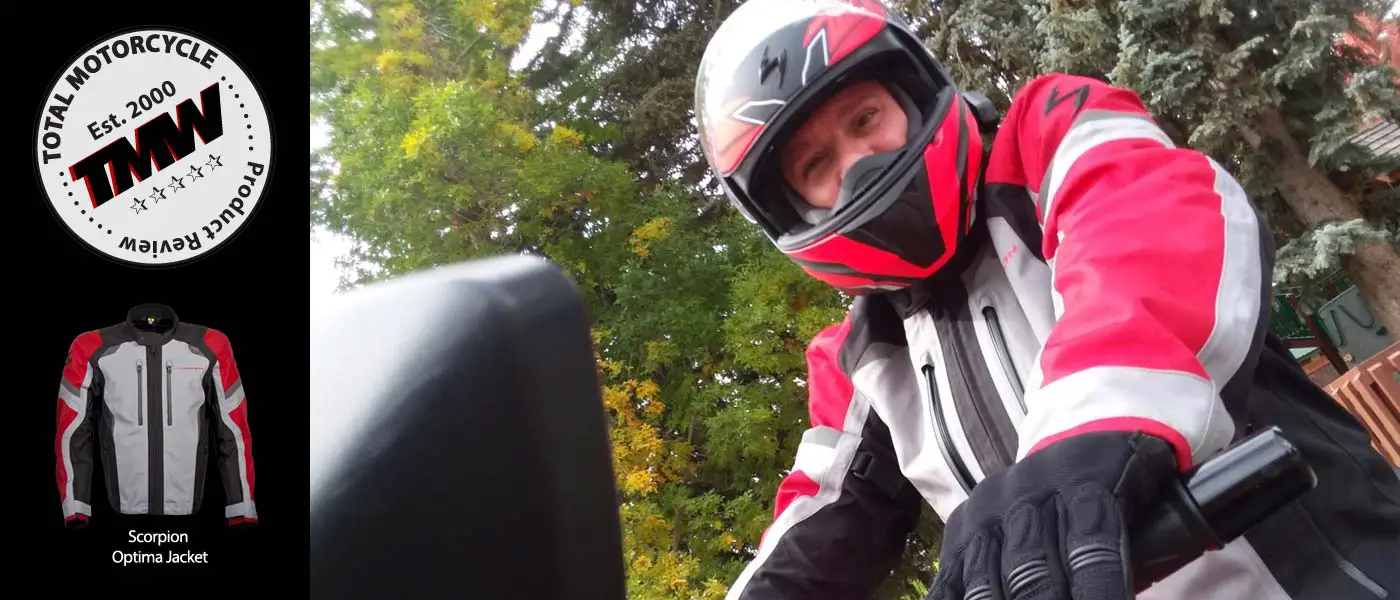 No component of your riding gear has to be as versatile as your jacket. They keep us warm in the cold, and cool in the heat. Jackets protect us from airborne debris when we ride, and from the road if we go down. They have to work well with our helmet, our gloves, and our pants. We also call on them to transport our accessories and keep our essentials close at hand. They're our first line of protection against inclement weather, cutting the wind and blocking the rain. When Scorpion USA invited us to tes their newest textile, the Optima, we jumped at the chance. We wore this jacket in rain and shine, day and night, hot and cold, and we've got a lot to say about how it performed. Read on. 
Optima Jacket by Scorpion
"This is a jacket designed for motion."
---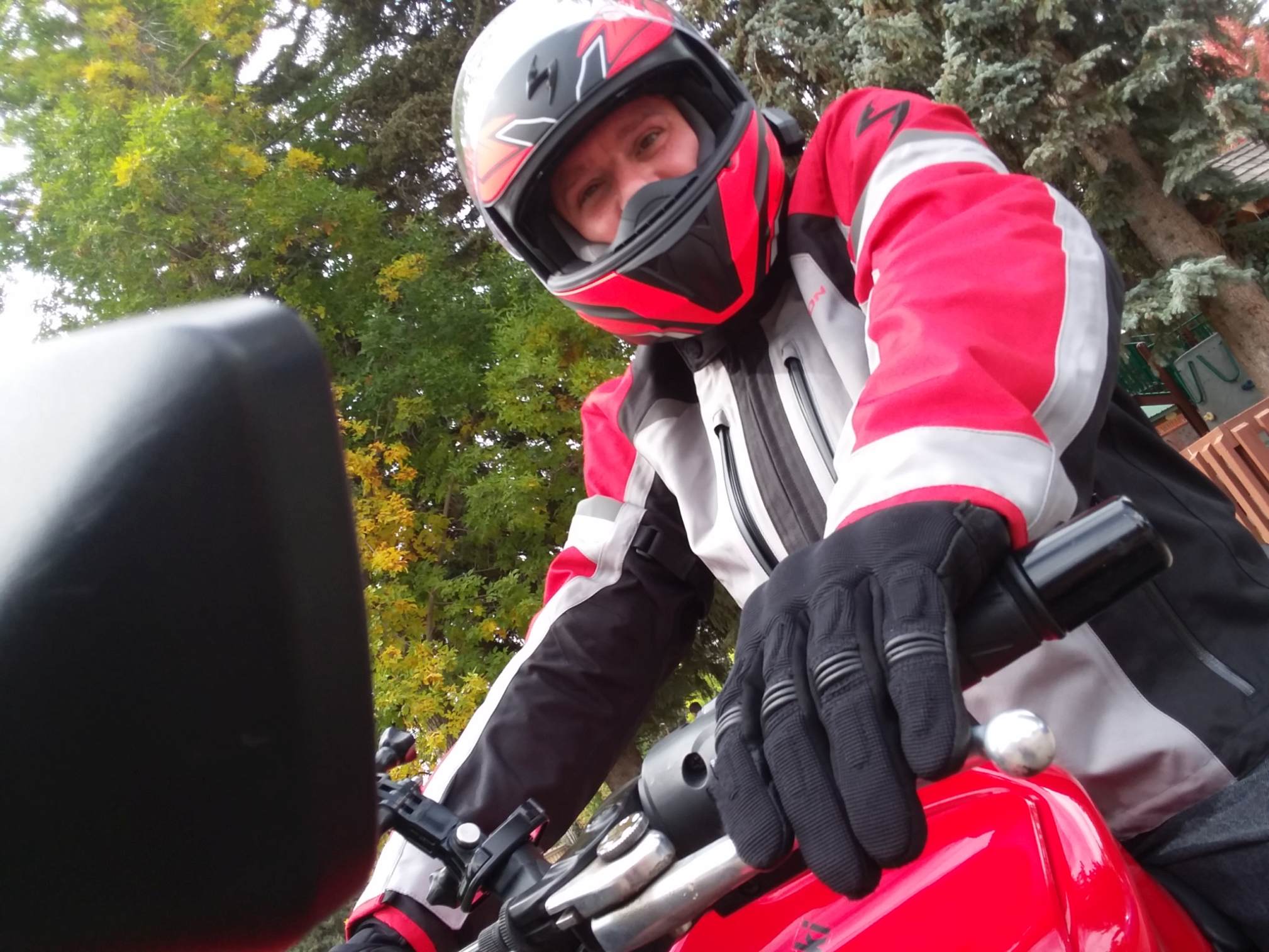 Overview
The Optima Jacket by Scorpion is a textile motorcycle jacket best suited for sport or sport-touring riders. The elbows and shoulders come with CE certified armor off the rack. A pocket out back features basic PE foam, but you can upgrade to CE. The jacket has multiple pockets and vents, which I'll discuss in detail later, and a thermal liner for cold weather. Nighttime visibility is excellent due to an abundance of reflective materials. An 8" zipper provides integration for riding pants, and there's also a belt loop tab for regular jeans.
Style
Even at ten paces, nobody is ever going to mistake the Optima Jacket for a lifestyle piece. This is a technical jacket built for road or track, and there it thrives. Multicolored panels come together in geometric patterns, all curves and angles. In every scheme but basic black, high contrast colors accentuate zippers and vents. NightViz reflective material adorns the upper torso, back, and biceps. Finally, the iconic Scorpion "S" blazes brilliantly at the base of the neck. This is a jacket designed for motion.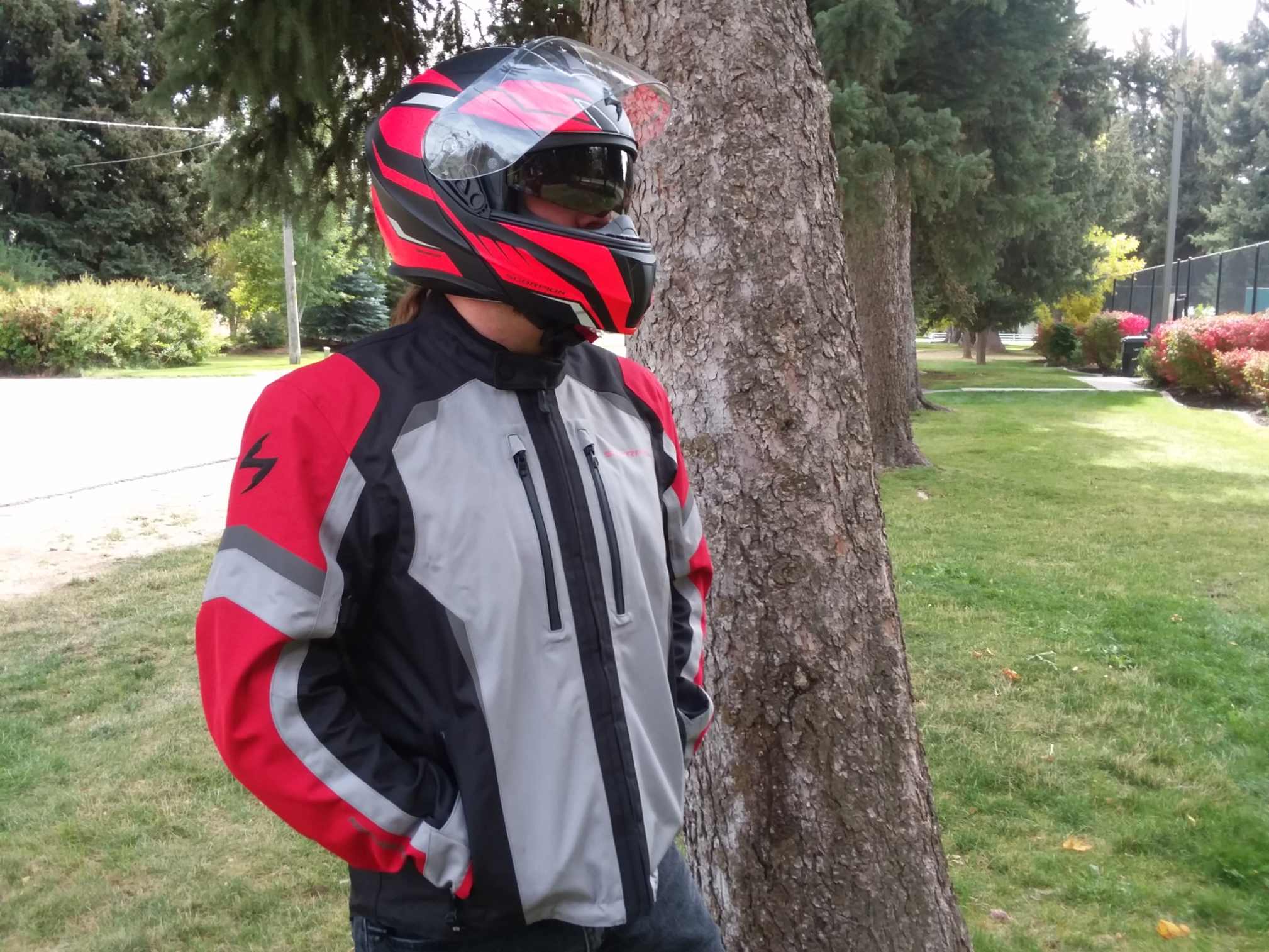 Fit
I ordered my Optima Jacket based on my exact measurements and Scorpion's sizing charts. These two elements agreed on Large, but when Large and I met, the disagreements started in earnest. The jacket was far too constrictive to wear comfortably, even without the thermal liner, and the sleeves were too short by far. Scorpion was happy to facilitate an exchange and sent out an XL right away, but if I'd had a ride planned I would've been out of luck. My recommendation is to order a size larger than the measurements table would suggest.
The XL replacement fits correctly, based on all the conditions that define the word. My elbows are right in the molded curve of the armor, and the cuffs end where they should. The length and width are correct for my build (6', 190lbs). However, the Optima Jacket is solidly a "sport" fit. It's molded to be comfortable when riding, but perhaps not anywhere else.
"These two elements agreed on Large, but when Large and I met, the disagreements started in earnest."
The sleeves accommodate a slight bend at the elbows with the shoulders rotated forward, and they're comfortable in that position. However, if you introduce much rotation to the shoulders or bend to the elbows, things get uncomfortable. Reaching up to my helmet to fiddle with my communicator causes a painful constriction in my elbow and armpit. My modular helmet required mounting my communicator further back than I like, but it's not an uncomfortable reach in my other jackets. Lastly, the Optima Jacket is just a little long in the back for the upright riding position on my Versys. I tend to end up sitting on the hem. This wouldn't be an issue on a bike with a more aggressive tuck, but keep it in mind if your flavor is more touring than sport.
Function and Features
A textile jacket with a sport fit exists to rack up miles, and the Optima Jacket does this very well. Whether you're carving canyons, devouring a freeway or shredding the track, this jacket will send it. In any weather, too. It has what Scorpion calls "Direct Core" venting. Two intake vents on either side of the torso direct cool air directly to the body, instead of a liner. Exhaust panels in the lumbar region evacuate hot air. Velcro straps at the cuffs and a snap collar prevent the parade balloon inflation we all know and love. The collar is lined with micro-fleece for comfort, but the snap closure does tend to rub a bit.
The zippers work well. They run smoothly, and plackets on the dual front zippers prevent binding. The chunky YKK zipper pulls are easy to find and operate, even with gloves on. Interestingly, the closures on the front air vents don't use zippers at all. They're a tongue-in-groove plastic seal, like on a freezer bag, but in a larger scale and with pull tabs. This no doubt contributes to the waterproofing capabilities of the Optima.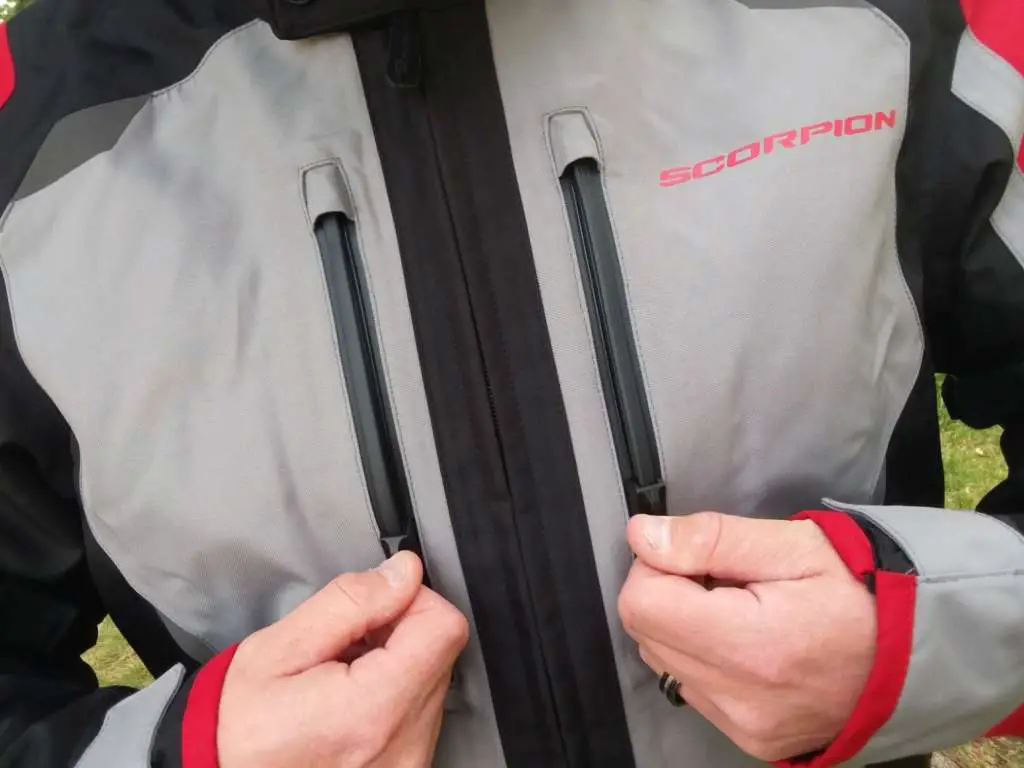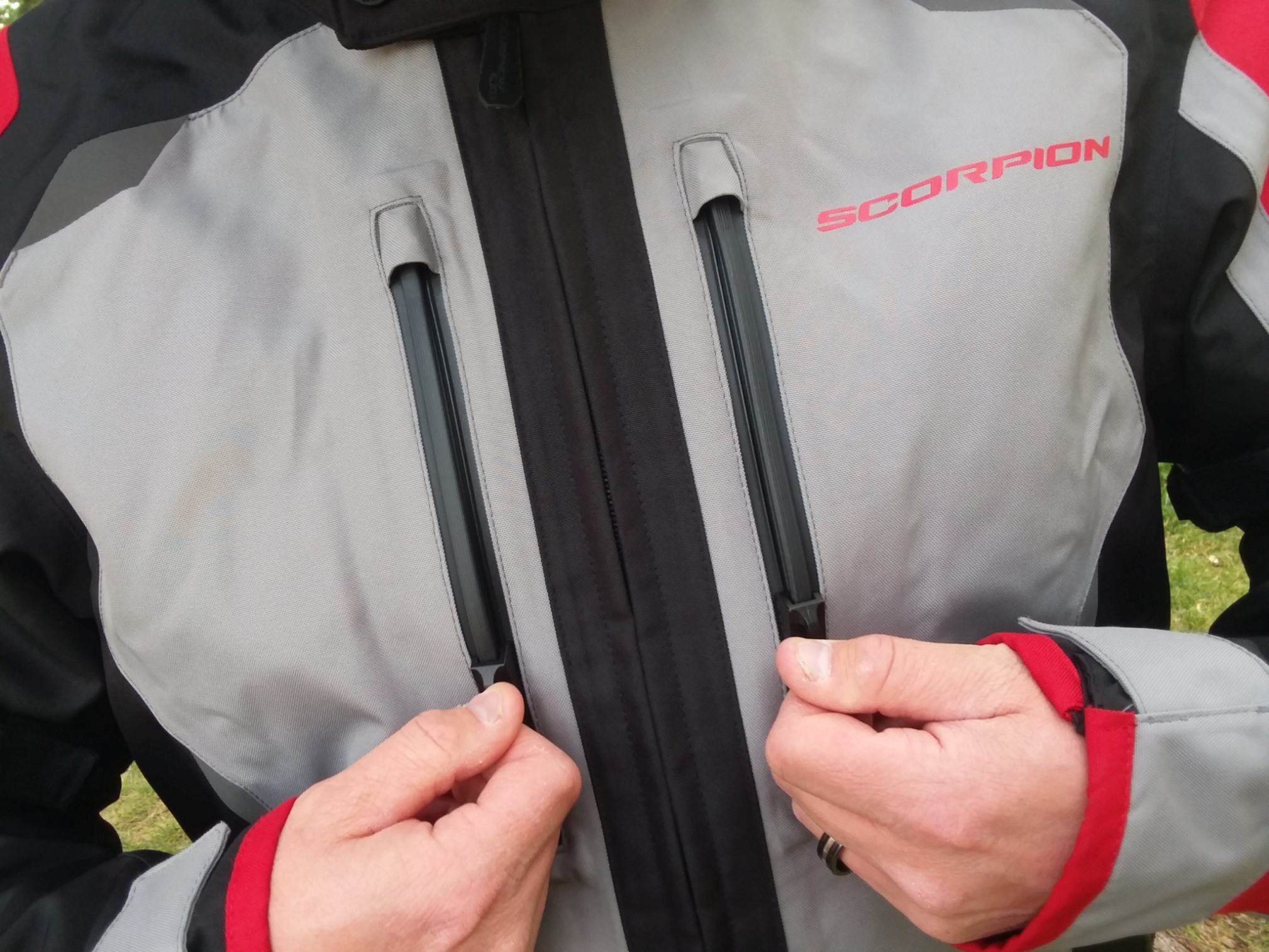 Low inside the jacket, you'll find an 8″ zipper for a compatible pair of riding pants. The jacket comes with a delete strip in case you don't intend to use this feature, though. You'll also find a horizontal snap loop beneath the zipper, for hooking through your back belt loop if you ride in jeans. One of these two options should keep you from embarrassing yourself or your inner plumber.
(    Y    )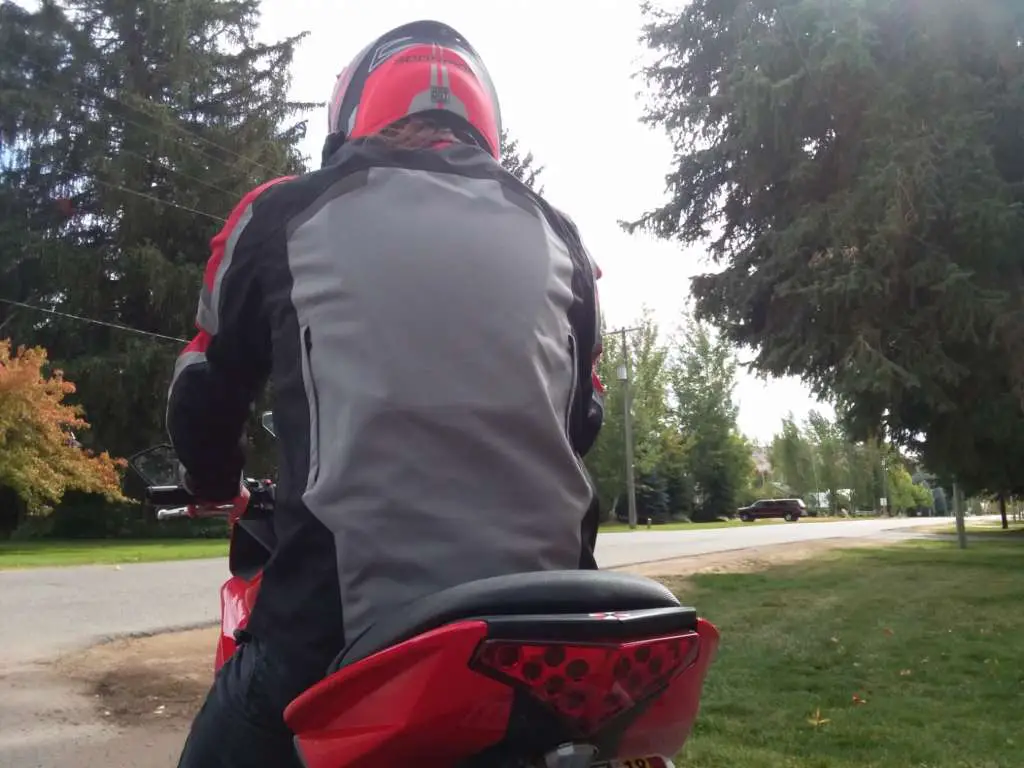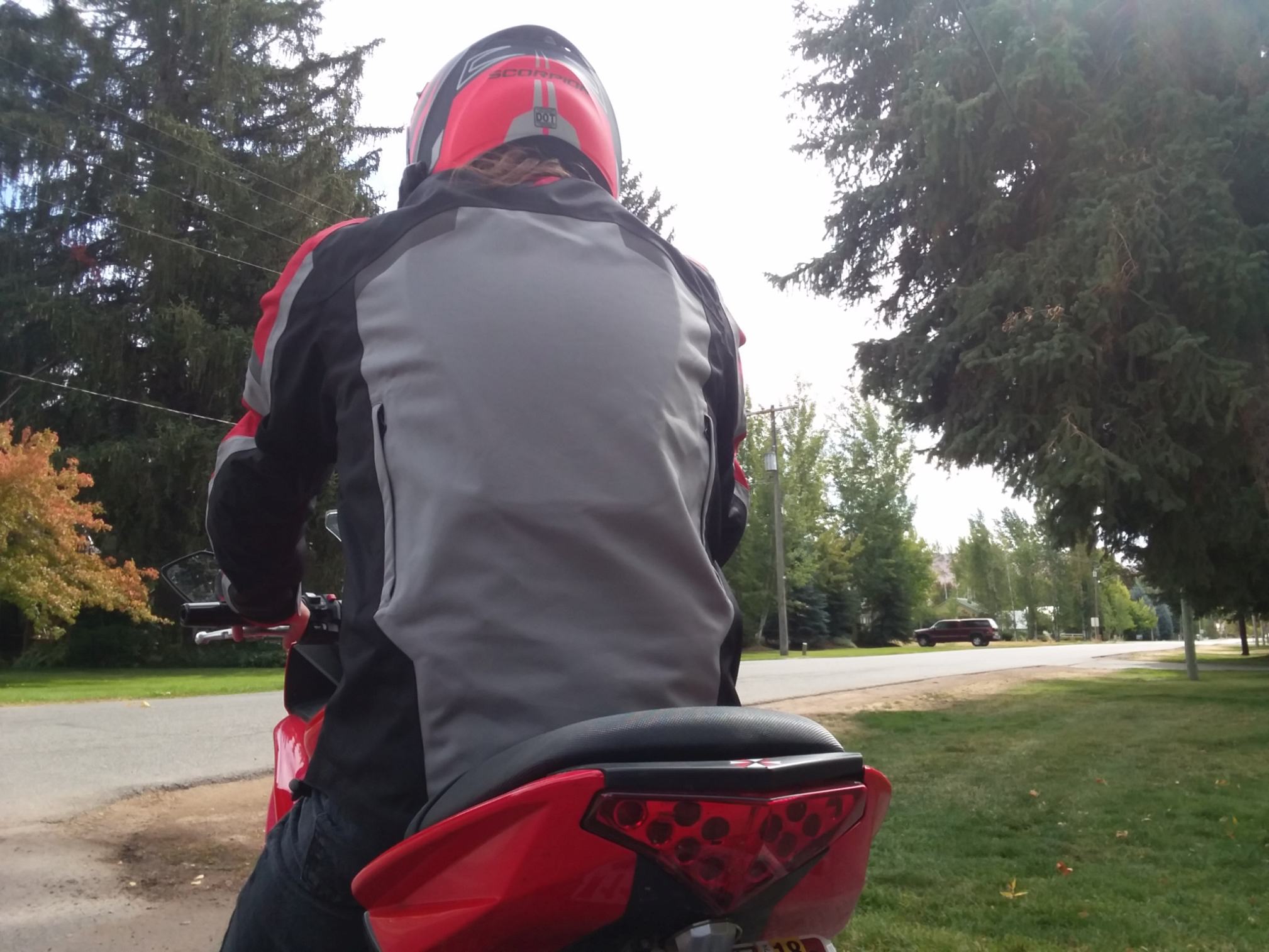 Storage
The Optima Jacket offers no less than six pockets. On the outside, two roomy belly pockets with laminated zippers offer quick stowage for incidentals. High on the left lapel is a zippered, waterproof pocket large enough for a cell phone, wallet, pack of cigarettes or similarly sized item. It could even hold a small tablet or ebook reader. Deeper inside are two mesh pockets with Velcro tab closures, one on each side. These are the largest of the pockets offered, able to swallow an 8″ tablet. The removable liner features slits to access these pockets.
Lastly, on the left inside lapel, you'll find a media pocket measuring 6 x 5 inches (15.2 x 12.7 cm). This pocket features a pass-through for a headphone wire, and above the pocket is a loop for fishing your headphones through your jacket. This is a nice feature, but the pocket is a little small. It doesn't accommodate my Samsung Galaxy S8, which is a typical size for the current generation of smart phones. Dedicated MP3 players tend to be a little smaller, but they're a lot less common these days.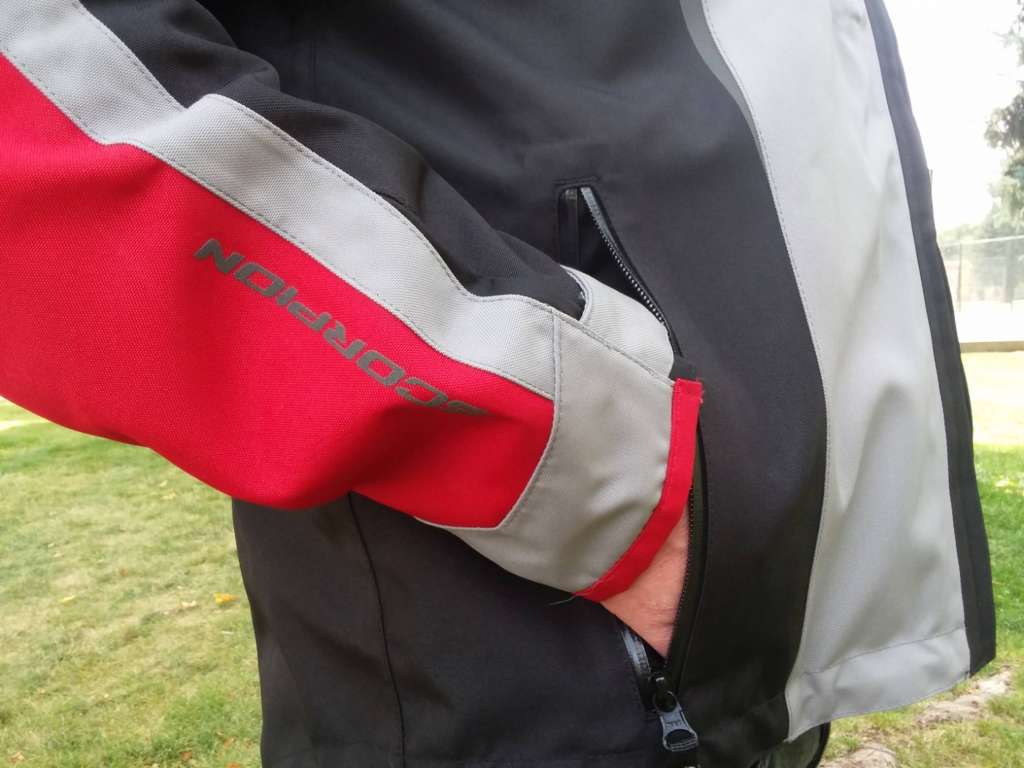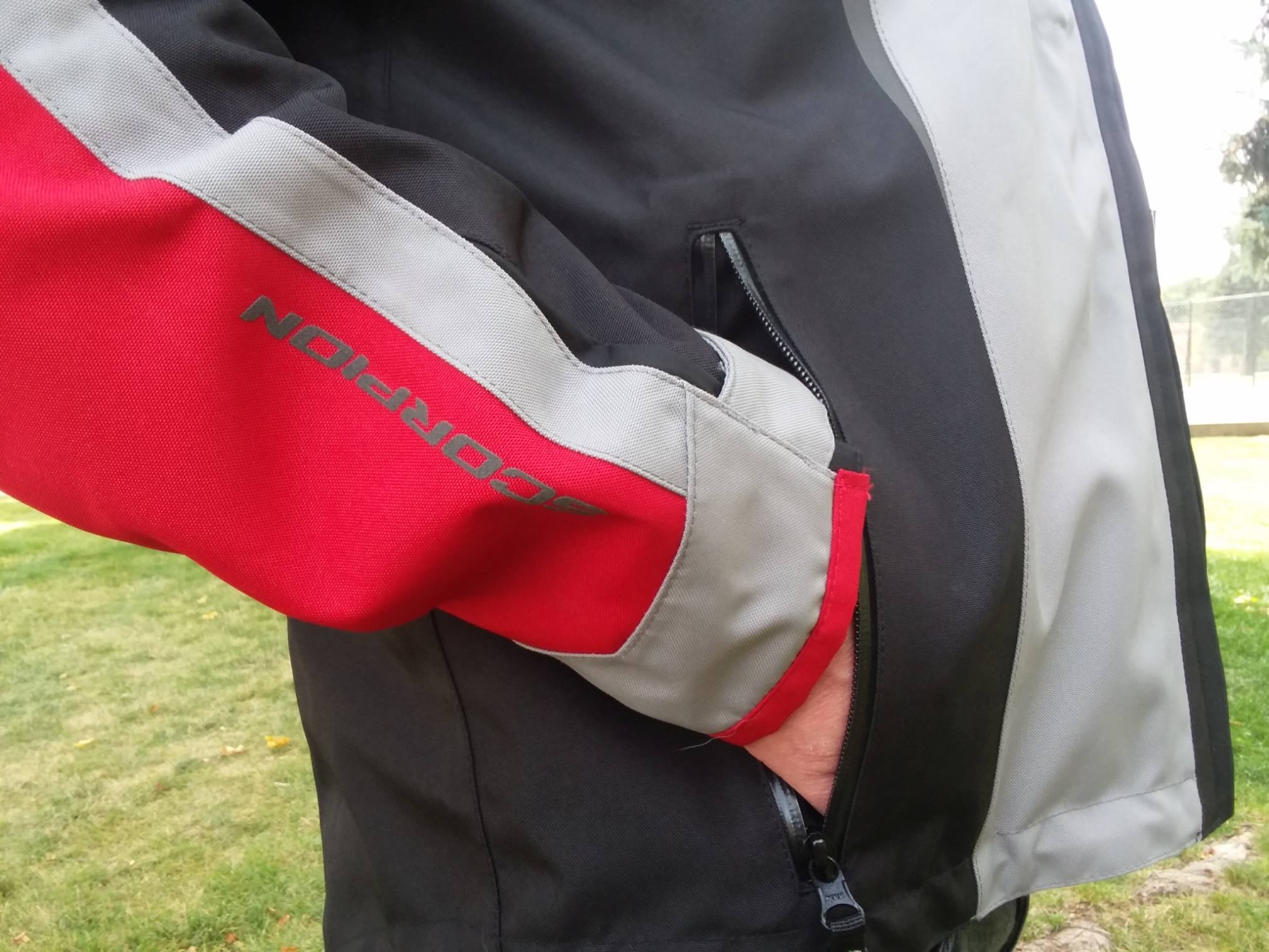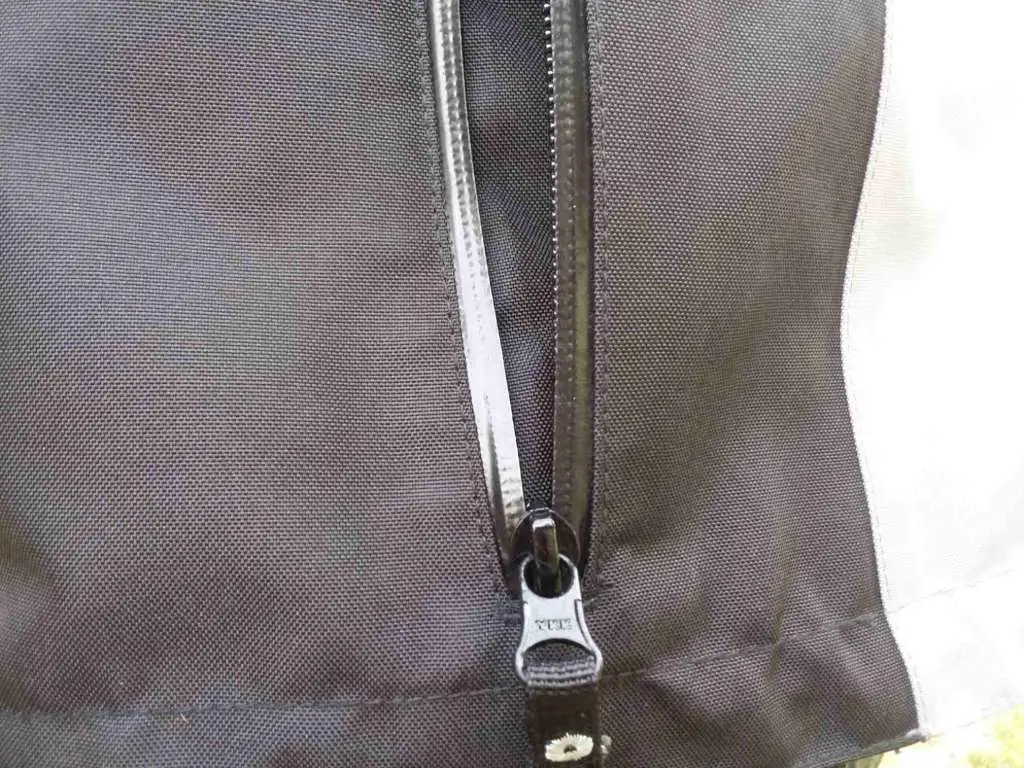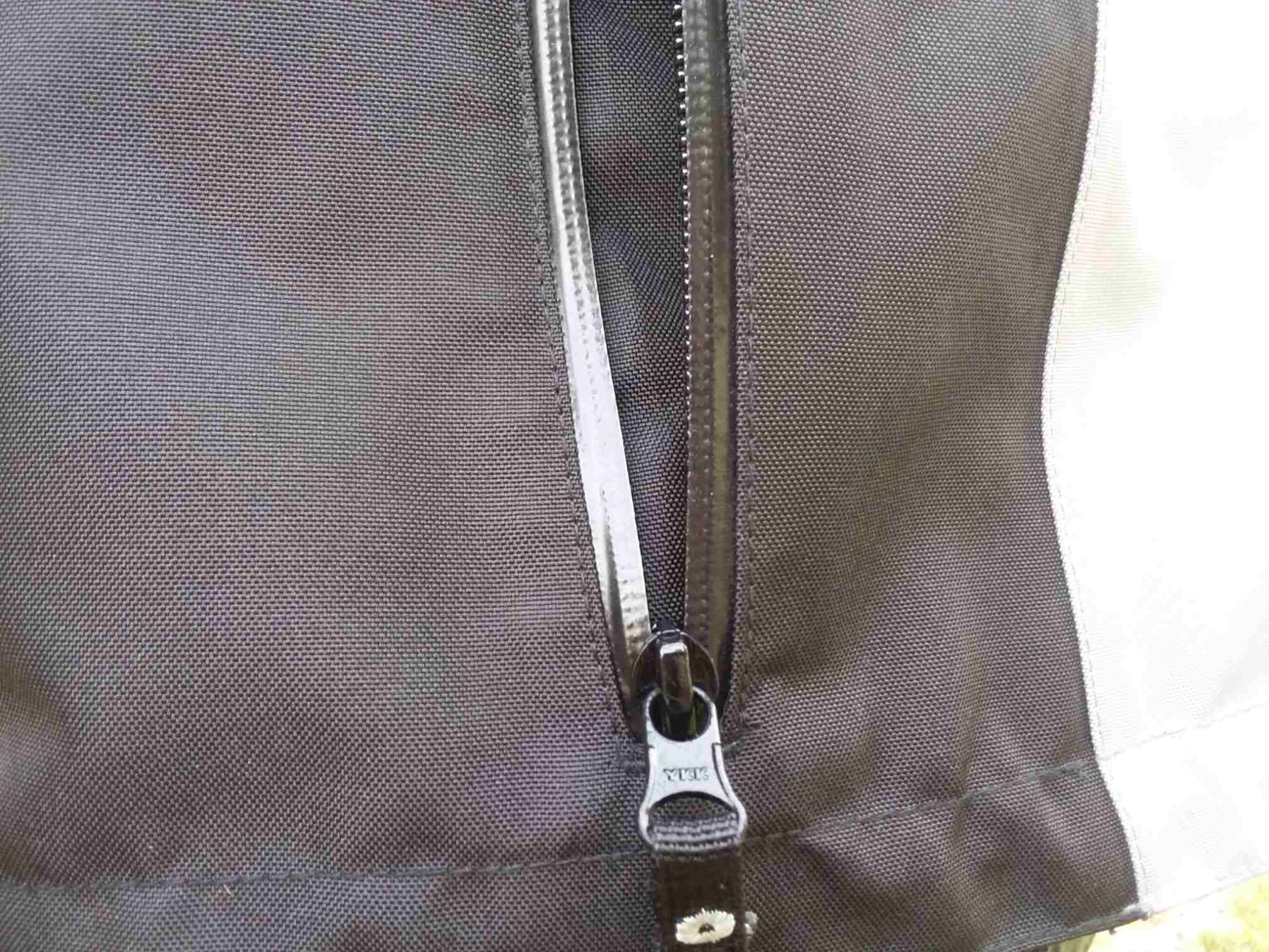 "The Optima Jacket offers no less than six pockets."
Weatherproof and Waterproof
One of the most unique features about the Optima Jacket is that it's waterproof without the liner. The entire construction is laminated fabrics and sealed seams, and the front closure features dual overlapping zippers with plackets. Just close the intake and exhaust vents and you can ride worry-free through a downpour. I say that with confidence. During the first week of October, remnants of Hurricane Rosa brought unseasonably cool temperatures and heavy rainfall to Northern Utah.  Rather than hide from them, I donned my Scorpion gear and went out to see how they held up. As you can see from the pictures, the rain was very intense. I shipped not a drop through the jacket though.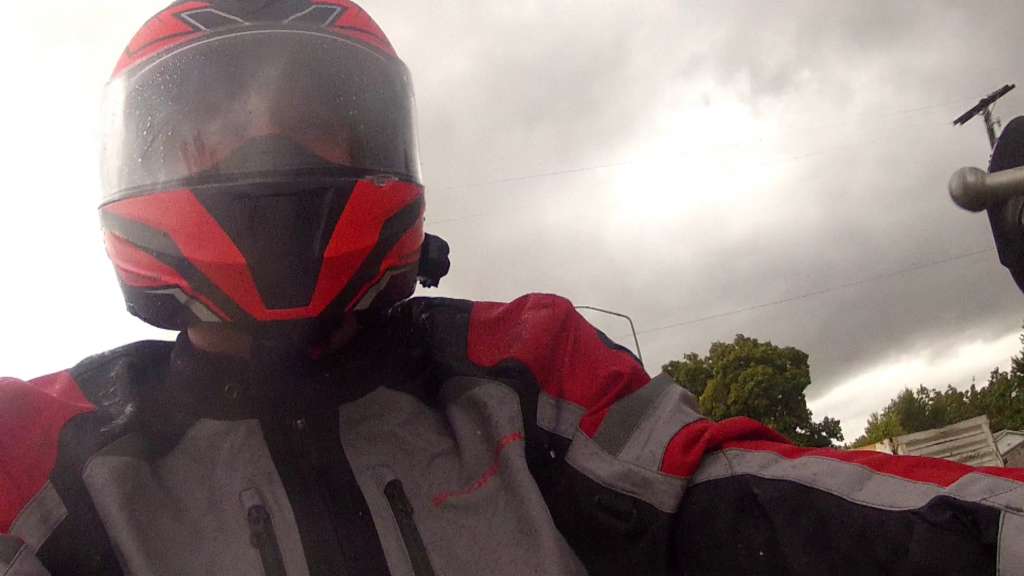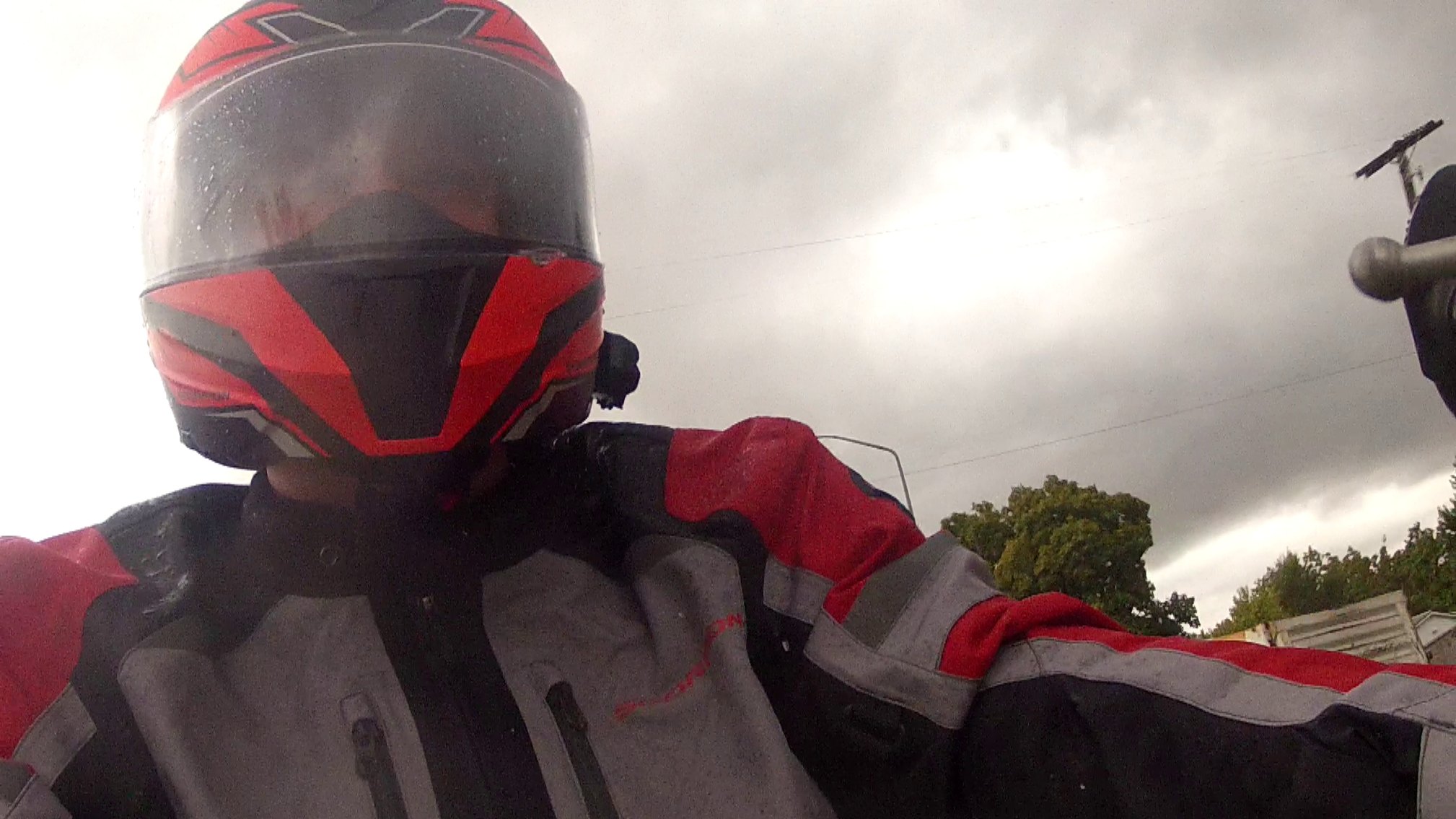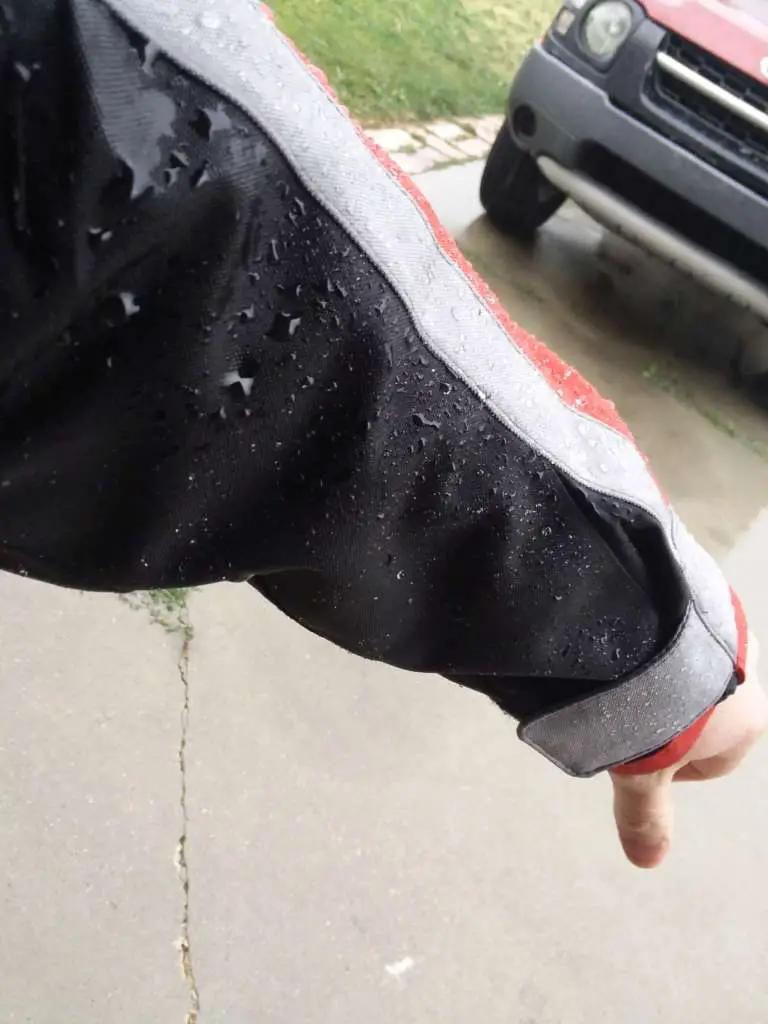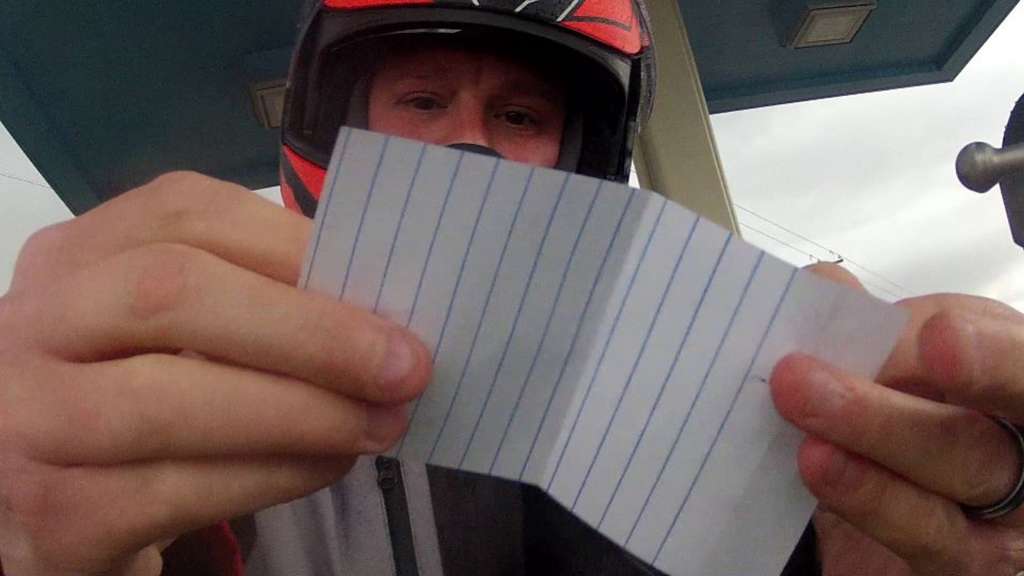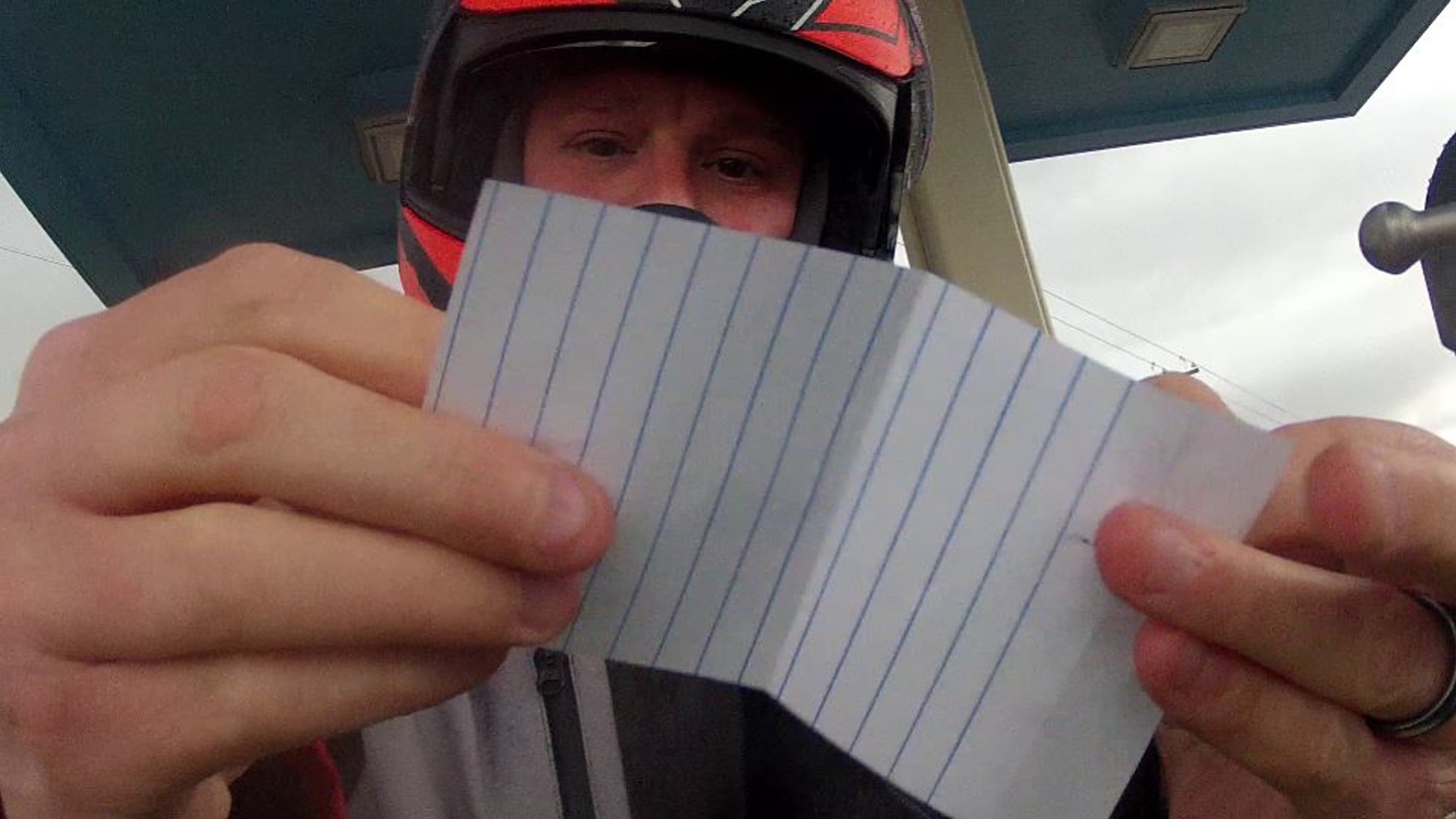 I also tested the specifically waterproof "Napoleon" pocket on the inside left breast. The picture above shows me displaying a folded piece of white notebook paper. That square of paper rode inside the waterproof pocket for half an hour through pouring rain and wind. As you can see, it stayed completely dry.  Make sure to check out the video review linked above to really get a feel for how intense that rain was. And I want to stress, all that was without the liner in place.
The Optima Jacket has held up well throughout this abuse. No unraveled stitches or snags, no pockets coming apart, no discoloring or fading either from the sun or moisture.
Three Season Riding
So, what's the liner for then? Scorpion calls it an "EverHeat Thermal Liner", and that sounds okay to me. With the liner in place, I've ridden in temperatures as cold as 30° F (-1.1° C) without a problem. I won't say I was warm or comfortable, but I wasn't shivering or cramping up. That's the extreme, of course. At temperatures above 35 or 40 F, this jacket with liner is warm enough for sustained riding. Leaven that statement with the knowledge that us Utahans are a stout people. Results may vary.
I want to add to the above that, with the liner in place, the Optima Jacket gets constrictive. It's already a very close-fitting garment, as mentioned above, and it doesn't deform happily. The liner exacerbates this problem.
"With the liner in place, I've ridden in temperatures as cold as 30° F (-1.1° C) without a problem."
Removing or replacing the liner is the same simple process we're all used to. Two separate zippers secure the edges to the inside of the jacket, with snaps at the top and bottom for added stability. The sleeves snap in at the cuffs with two snaps each, and they're color coded so you don't twist your sleeves accidentally. It takes less than a minute to remove the liner, and only slightly longer to replace it.
Mission and Scope
The Optima Jacket makes no apologies about being technical riding attire. It looks awkward hanging over the back of a chair. When you're walking in from the parking lot, it doesn't fold nicely over your forearm. It looks ridiculous hanging from its hook loop, arms folded backwards like a textile turkey in a funhouse mirror. Walk around in the Optima Jacket and you'll feel like a sandwich man barking at a carnival.
But like they say, those aren't bugs, they're features. This jacket LIVES on the bike. All those rigid seams, molded curves, and boxy panels fall into place when you tuck in. Elbows bent, shoulders rolled forward, back arched. Site lines over your shoulders are clear and unobstructed. On the bike, the carnival barker gives way to the urban assault superhero.
"My riding style just demands a little more versatility than the Optima offers."
This isn't always ideal. I often find myself needing a jacket for warmth when the days ride is over, especially when we're touring. Arrive at the motel, pack everything into the room, and start contemplating dinner. If the evening temperatures are even a little cool, it's nice to have a jacket you can go out in. The Optima Jacket isn't it. My choices are, be uncomfortable, cold, or pack an extra jacket or hoodie for the extravehicular activities. This is an issue if you intend to commute to work on your bike too, like I do. If you need a jacket throughout the day when you're not riding, you will have to make that same choice.
I don't hold these things against the Optima Jacket, though. Every rider must match their gear to their mission, and this jacket isn't meant for casual wear. My riding style just demands a little more versatility than the Optima offers.
And So?
In the elements of performance, features, and functionality, I can find no fault with the Optima Jacket by Scorpion. It's a rugged, protective garment with a full suite of features and some truly amazing waterproofing credentials. It's comfortable when you're riding, even if it isn't interested in being comfortable anywhere else. The price is comparable with other offerings in this segment, and I believe the construction and quality are on par as well.
Where the Optima really leaves us wanting, though, is in fit. This is common with every piece of Scorpion gear I've looked at too, which is worrisome. It's not just that the sizing runs small. This jacket was literally unwearable in the size suggested by my measurements. I was lucky in that there was room at the top of the scale, but others might not have that option. I'm 6' and 190 lbs (182cm, 86 kilos), and while that's not small, I know plenty of guys bigger than me. If your measurements place you in the largest size, my prediction is this jacket simply won't be an option for you.
Leaving such a large portion of the community underserved is unfortunate, but the real offense is the misrepresentation. Unsuspecting customers who order the Optima Jacket in the largest size are going to be sorely disappointed when it arrives. Given that this is a chronic issue with all of Scorpions products, they really need to address it.
If this jacket had fit as advertised, it would be a five-star product. It gets everything else right, with no complaints or reservations. But with sizing being SUCH a pervasive issue with Scorpion products, I can't rate the Optima Jacket any higher than four stars. Loving your quality, Scorpion, but we need some accuracy too.