After competing in only its fifth WorldSBK round this weekend at Imola, the Triple M Honda World Superbike team saw their American rider PJ Jacobsen qualify as the top Honda rider in Superpole on Saturday and then score a 14th place finish in race two on Sunday.

On what appeared to be a challenging layout for all the Honda competitors around the classic 4.936km long circuit, Triple M and Jacobsen made use of experience gained during a recent test session at Brno in the Czech Republic. This helped them to become the highest ranked Honda squad in Superpole, with PJ qualifying 17th on the grid.

A technical issue prevented PJ from competing in race one on Saturday, but a determined ride in race two saw Jacobsen collect more championship points for 14th place.

Down in 19th in the first few laps of race two, PJ made up ground and benefited from other riders' misfortunes as he moved his way up to his final finishing position of 14th. He was Honda's only points scorer this weekend. After five of 13 rounds, PJ is now ranked 17th overall, with 17 points to his credit.

Hot and humid conditions graced the Imola race weekend, with a marginally warmer track surface being evident in race two, during which PJ had his first chance to see how his machine and tyre selections would work in the heat of battle.

The next WorldSBK venue for the Triple M Honda World Superbike Team will be Donington Park in the UK, with race days on 26 and 27 May. PJ has a season of experience riding in the BSB championship, in 2013, and will be looking forward to challenging the most experienced Superbike riders and teams in the world once again, at a track he knows well.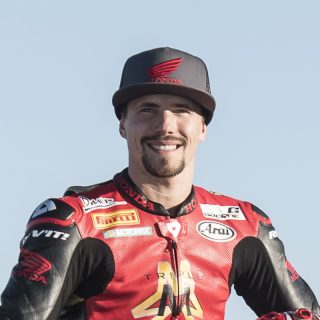 PJ Jacobsen 99
Imola is a pretty good track for me and I like this place a lot, but it was a little bit of a difficult weekend. We were the first Honda team in qualifying, which is a positive thing. We just did not get to start race one, which was the problem. Then again, this team is brand new and everybody has been working hard the first time here with the Honda. We have to keep looking at things positively, even if sometimes it does not look that good on paper. In the end we will arrive, so we just need to keep working hard. We got in the points in race two so that is pretty positive, and we will just keep chipping away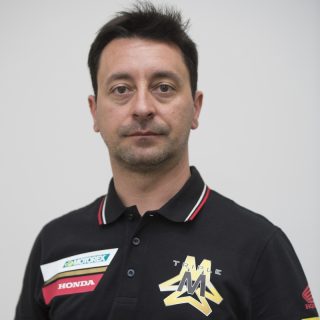 Manuel Cappelletti
Team Manager
This was a very difficult track and also all the Hondas seemed to struggle a little over the weekend here. We got two points today which were the maximum from Honda this weekend. Yesterday we had a small issue which did not allow us to take part, so the Sunday race was actually race one for us this weekend. It is what it is, but we struggled a little bit and let us wait and see how it is in the next race in the UK.

Italian Round
Autodromo Enzo e Dino Ferrari, Italy
WorldSBK 2018, Round 5
RACE 2
RACE 1
QUALIFYING
PRACTICE
STANDINGS
Sunday 13 May 2018, 11:41 UTC
Air Temp:

25°C

Humidity:

41%

Ground Temp:

43°C
#
Rider
Num
Nationality Nat.
Points Pts.
Team
Constructor Constr.
Time/Gap

1

Jonathan

Rea

65

GBR

25

Kawasaki Racing Team

Kawasaki

34'03.420

2

Chaz

Davies

7

GBR

20

Aruba.it Racing

Ducati

+4.019

3

Tom

Sykes

66

GBR

16

Kawasaki Racing Team

Kawasaki

+9.530

4

Xavi

Fores

12

SPA

13

BARNI Racing Team

Ducati

+14.159

5

Jordi

Torres

81

SPA

11

MV Agusta Reparto Corse

MV Agusta

+15.479

6

Alex

Lowes

22

GBR

10

Pata Yamaha

Yamaha

+16.162

7

Michael

Rinaldi

ITA

9

Aruba.it Racing

Ducati

+17.197

8

Toprak

Razgatlioglu

54

TUR

8

Grillini Racing Team

Kawasaki

+17.554

9

Eugene

Laverty

50

GBR

7

Milwaukee Aprilia

Aprilia

+22.331

10

Leandro

Mercado

36

ARG

6

IodaRacing Team

Aprilia

+30.176

11

Loris

Baz

76

FRA

5

Althea BMW Racing Team

BMW

+30.267

12

Román

Ramos

40

SPA

4

Team Go Eleven

Kawasaki

+40.061

13

Yonny

Hernandez

68

COL

3

Team Pedercini

Kawasaki

+51.973

14

PJ

Jacobsen

99

USA

2

Triple M Honda World Superbike Team

Honda

+55.268

15

Ondrej

Jezek

37

CZE

1

Grillini Racing Team

Kawasaki

+1'09.455

16

Leon

Haslam

91

GBR

0

Puccetti Racing

Kawasaki

+1'43.833
NC

Marco

Melandri

33

ITA

0

Aruba.it Racing

Ducati

DNF
NC

Michael

van der Mark

60

NDL

0

Pata Yamaha

Yamaha

DNF
NC

Vladimir

Leonov

5

RUS

0

SPB Racing Team

Kawasaki

DNF
NC

Lorenzo

Savadori

32

ITA

0

Milwaukee Aprilia

Aprilia

DNF
NC

Jake

Gagne

45

USA

0

Red Bull Honda World Superbike Team

Honda

DNF
Saturday 12 May 2018, 12:06 UTC
Air Temp:

27°C

Humidity:

50%

Ground Temp:

40°C
#
Rider
Num
Nationality Nat.
Points Pts.
Team
Constructor Constr.
Time/Gap

1

Jonathan

Rea

65

GBR

25

Kawasaki Racing Team

Kawasaki

33'58.989

2

Tom

Sykes

66

GBR

20

Kawasaki Racing Team

Kawasaki

+3.755

3

Marco

Melandri

33

ITA

16

Aruba.it Racing

Ducati

+6.906

4

Chaz

Davies

7

GBR

13

Aruba.it Racing

Ducati

+8.191

5

Xavi

Fores

12

SPA

11

BARNI Racing Team

Ducati

+15.550

6

Michael

van der Mark

60

NDL

10

Pata Yamaha

Yamaha

+19.339

7

Michael

Rinaldi

ITA

9

Aruba.it Racing

Ducati

+22.522

8

Lorenzo

Savadori

32

ITA

8

Milwaukee Aprilia

Aprilia

+25.772

9

Leon

Haslam

91

GBR

7

Puccetti Racing

Kawasaki

+30.269

10

Alex

Lowes

22

GBR

6

Pata Yamaha

Yamaha

+30.377

11

Toprak

Razgatlioglu

54

TUR

5

Grillini Racing Team

Kawasaki

+30.660

12

Eugene

Laverty

50

GBR

4

Milwaukee Aprilia

Aprilia

+34.188

13

Loris

Baz

76

FRA

3

Althea BMW Racing Team

BMW

+36.494

14

Jordi

Torres

81

SPA

2

MV Agusta Reparto Corse

MV Agusta

+36.671

15

Leandro

Mercado

36

ARG

1

IodaRacing Team

Aprilia

+38.041

16

Jake

Gagne

45

USA

0

Red Bull Honda World Superbike Team

Honda

+41.312

17

Yonny

Hernandez

68

COL

0

Team Pedercini

Kawasaki

+55.007

18

Ondrej

Jezek

37

CZE

0

Grillini Racing Team

Kawasaki

+1'07.522
NC

Román

Ramos

40

SPA

0

Team Go Eleven

Kawasaki

DNF
NC

Vladimir

Leonov

5

RUS

0

SPB Racing Team

Kawasaki

DNF
NC

Jason

O'Halloran

20

AUS

0

Red Bull Honda World Superbike Team

Honda

DNF
NC

PJ

Jacobsen

99

USA

0

Triple M Honda World Superbike Team

Honda

DNF
Saturday 12 May 2018, 11:49 UTC
Air Temp:

224°C

Humidity:

58%

Ground Temp:

236°C
#
Rider
Num
Nationality Nat.
Team
Constructor Constr.
Time/Gap

1

Jonathan

Rea

65

GBR

Kawasaki Racing Team

Kawasaki

1'45.797

2

Tom

Sykes

66

GBR

Kawasaki Racing Team

Kawasaki

+0.312

3

Chaz

Davies

7

GBR

Aruba.it Racing

Ducati

+0.365

4

Marco

Melandri

33

ITA

Aruba.it Racing

Ducati

+0.430

5

Xavi

Fores

12

SPA

BARNI Racing Team

Ducati

+0.892

6

Eugene

Laverty

50

GBR

Milwaukee Aprilia

Aprilia

+0.895

7

Jordi

Torres

81

SPA

MV Agusta Reparto Corse

MV Agusta

+1.023

8

Michael

Rinaldi

ITA

Aruba.it Racing

Ducati

+1.056

9

Lorenzo

Savadori

32

ITA

Milwaukee Aprilia

Aprilia

+1.124

10

Alex

Lowes

22

GBR

Pata Yamaha

Yamaha

+1.318

11

Leon

Haslam

91

GBR

Puccetti Racing

Kawasaki

+1.750

12

Michael

van der Mark

60

NDL

Pata Yamaha

Yamaha

+1.913

13

Loris

Baz

76

FRA

Althea BMW Racing Team

BMW

+

14

Toprak

Razgatlioglu

54

TUR

Grillini Racing Team

Kawasaki

+

15

Román

Ramos

40

SPA

Team Go Eleven

Kawasaki

+

16

Leandro

Mercado

36

ARG

IodaRacing Team

Aprilia

+

17

PJ

Jacobsen

99

USA

Triple M Honda World Superbike Team

Honda

+

18

Jason

O'Halloran

20

AUS

Red Bull Honda World Superbike Team

Honda

+

19

Jake

Gagne

45

USA

Red Bull Honda World Superbike Team

Honda

+

20

Ondrej

Jezek

37

CZE

Grillini Racing Team

Kawasaki

+

21

Yonny

Hernandez

68

COL

Team Pedercini

Kawasaki

+

22

Vladimir

Leonov

5

RUS

SPB Racing Team

Kawasaki

+
Friday 11 May 2018, 16:39 UTC
Air Temp:

242°C

Humidity:

57%

Ground Temp:

39°C
#
Rider
Num
Nationality Nat.
Team
Constructor Constr.
Time/Gap

1

Chaz

Davies

7

GBR

Aruba.it Racing

Ducati

1'46.686

2

Jonathan

Rea

65

GBR

Kawasaki Racing Team

Kawasaki

+0.000

3

Marco

Melandri

33

ITA

Aruba.it Racing

Ducati

+0.440

4

Lorenzo

Savadori

32

ITA

Milwaukee Aprilia

Aprilia

+0.710

5

Michael

van der Mark

60

NDL

Pata Yamaha

Yamaha

+0.775

6

Tom

Sykes

66

GBR

Kawasaki Racing Team

Kawasaki

+0.782

7

Xavi

Fores

12

SPA

BARNI Racing Team

Ducati

+0.843

8

Leon

Haslam

91

GBR

Puccetti Racing

Kawasaki

+0.877

9

Jordi

Torres

81

SPA

MV Agusta Reparto Corse

MV Agusta

+0.886

10

Michael

Rinaldi

ITA

Aruba.it Racing

Ducati

+0.911

11

Eugene

Laverty

50

GBR

Milwaukee Aprilia

Aprilia

+0.977

12

Alex

Lowes

22

GBR

Pata Yamaha

Yamaha

+1.051

13

Toprak

Razgatlioglu

54

TUR

Grillini Racing Team

Kawasaki

+1.053

14

Loris

Baz

76

FRA

Althea BMW Racing Team

BMW

+1.601

15

Román

Ramos

40

SPA

Team Go Eleven

Kawasaki

+1.730

16

Leandro

Mercado

36

ARG

IodaRacing Team

Aprilia

+1.849

17

Jake

Gagne

45

USA

Red Bull Honda World Superbike Team

Honda

+2.338

18

Yonny

Hernandez

68

COL

Team Pedercini

Kawasaki

+2.669

19

PJ

Jacobsen

99

USA

Triple M Honda World Superbike Team

Honda

+2.792

20

Ondrej

Jezek

37

CZE

Grillini Racing Team

Kawasaki

+3.051

21

Jason

O'Halloran

20

AUS

Red Bull Honda World Superbike Team

Honda

+3.573

22

Vladimir

Leonov

5

RUS

SPB Racing Team

Kawasaki

+4.288
Rider Standings
Sunday, 13 May 2018 – Open world standings grid
#
Rider
Num
Nationality Nat.
Points Pts.
Team
Constructor Constr.

1

Jonathan

REA

65

GBR

209

Kawasaki Racing Team

Kawasaki

2

Chaz

DAVIES

7

GBR

162

Aruba.it Racing

Ducati

3

Tom

SYKES

66

GBR

137

Kawasaki Racing Team

Kawasaki

4

Marco

MELANDRI

33

ITA

131

Aruba.it Racing

Ducati

5

Xavi

FORES

12

SPA

124

BARNI Racing Team

Ducati

6

Michael

VAN DER MARK

60

NDL

113

Pata Yamaha

Yamaha

7

Alex

LOWES

22

GBR

92

Pata Yamaha

Yamaha

8

Toprak

RAZGATLIOGLU

54

TUR

58

Grillini Racing Team

Kawasaki

9

Jordi

TORRES

81

SPA

52

MV Agusta Reparto Corse

MV Agusta

10

Loris

BAZ

76

FRA

52

Althea BMW Racing Team

BMW

11

Leon

CAMIER

2

GBR

42

Red Bull Honda World Superbike Team

Honda

12

Michael

RINALDI

ITA

39

Aruba.it Racing

Ducati

13

Lorenzo

SAVADORI

32

ITA

33

Milwaukee Aprilia

Aprilia

14

Román

RAMOS

40

SPA

32

Team Go Eleven

Kawasaki

15

Leandro

MERCADO

36

ARG

31

IodaRacing Team

Aprilia

16

Eugene

LAVERTY

50

GBR

27

Milwaukee Aprilia

Aprilia

17

PJ

JACOBSEN

99

USA

17

Triple M Honda World Superbike Team

Honda

18

Jake

GAGNE

45

USA

17

Red Bull Honda World Superbike Team

Honda

19

Davide

GIUGLIANO

34

ITA

11

Milwaukee Aprilia

Aprilia

20

Yonny

HERNANDEZ

68

COL

10

Team Pedercini

Kawasaki

21

Leon

HASLAM

91

GBR

7

Puccetti Racing

Kawasaki

22

Ondrej

JEZEK

37

CZE

3

Grillini Racing Team

Kawasaki