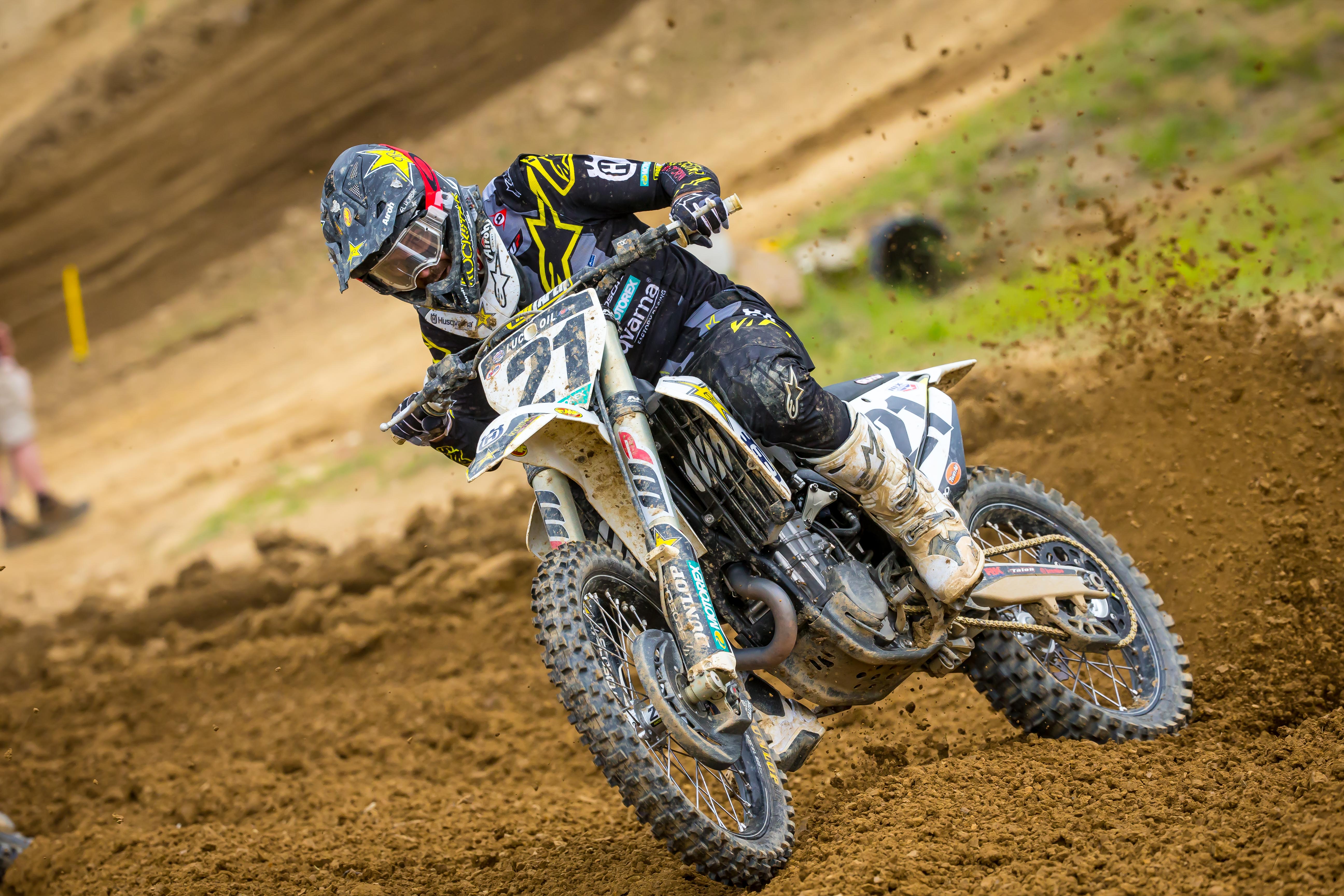 The Rockstar Energy Husqvarna Factory Racing Team headed to Mt. Morris, Pennsylvania on Saturday for Round 4 of the 2019 AMA Pro Motocross Championship at the historic High Point Raceway. Coming off a one-week break from the series, Jason Anderson kept his flame lit from the previous round as he battled for the overall victory all day, ultimately securing a marginal third overall with 2-5 moto finishes.
450MX
Anderson began the day impressively as he set the fastest lap in qualifying, claiming pole position heading into Moto 1. With a favorable gate pick, Anderson powered his FC 450 off the line and into a top position off the start to battle for a top-five position early on. He climbed his way up to third by lap four and eventually worked his way into second. From there, he was able to fend off a hard-charging group of riders to finish strong with a second-place. He got off to another good start in Moto 2, where he quickly inserted himself into the podium battle early on. Anderson continued to race just outside the top-three as he entered a battle with his teammate, Zach Osborne, late in the race. With two laps to go, Osborne got by for fourth and Anderson claimed a fifth in Moto 2 to give him third overall for the day. With his eight top-five finishes in as many motos, Anderson currently sits tied for third overall in the 450MX Championship after four rounds.
"My weekend was good, I came really close to winning my first overall," Anderson said. "I got pretty good starts today and I'm happy with the way I rode. I'm getting better every weekend and getting closer to the win."
Team rider Zach Osborne put forth a solid day in Pennsylvania, scoring 5-4 finishes for fifth overall. In Moto 1, he piloted his FC 450 to a sixth-place start and he battled around sixth for the majority of the race. Making his move into fifth with three laps to go, Osborne finished strong with a top-five in the first moto. In Moto 2, he got off to another good start in fifth and battled around the top-five for most of the race. With two laps to go, Osborne put on a charge to overtake his teammate Anderson for fourth and he held him off in the end to secure the fourth in Moto 2 and fifth overall for the day. Osborne's consistency thus far has placed him tied with Anderson for third overall in the early 450MX Championship Standings.
"Overall, it was a pretty positive day, we made some good changes to the bike during the week off and they translated to be good today," Osborne said. "I just need to improve on my first couple of laps, I have the fitness down on the final stretch, so I feel like I'm in a good position moving forward. I have some good tracks coming up – this was a good track for me but I just didn't make it happen, I was only able to muster up a 5-4 so overall a good a good day, strong points and we'll just keep trucking."
250MX
It was another solid day for team rider Michael Mosiman, who came into the weekend fresh off his first-career podium finish in the class. Mosiman, who qualified fifth earlier in the day, didn't get the best start as he began 15th on the opening lap. He quickly worked his way into the top-10 within the first five laps and he didn't stop there, as he claimed seventh-place in Moto 1. In the second moto, Mosiman once again got off to a slow start, beginning just inside the top-20 on lap one. He put his head down and charged all the way up to eighth with an impressive ride in Moto 2. With 7-8 finishes, Mosiman took eighth overall for the day to secure valuable championship points, where he sits just outside the top-five in the 250MX standings.
"I wouldn't say it was a bad day," Mosiman said. "I felt like I rode really well but the problem was that I had to come through the pack in both motos. My starts were not good today but I came back to finish both motos inside the top-10 and I know I have the speed to run the pace of the leaders."
Bad luck struck once again for team rider Jordan Bailey, who experienced a bike issue that prevented him from finishing Moto 1. The Rockstar Energy Husqvarna Factory Racing Team worked hard between motos to get Bailey's FC 250 back in action so he could line up for Moto 2. Bailey began just outside the top-10 in the second moto and he battled around 15th for most of the race. Despite an unfortunate start to the day, Bailey was able to finish 15th in Moto 2 and salvage 18th overall to claim valuable points from Round 4.
"We had a little bit of an issue in Moto 1 and didn't get to finish," Bailey said. "We changed everything on the bike and we made it for the second moto, which I'm thankful about. We rode better, made some passes and overall it was a step in the right direction. Thanks to everyone who got my bike ready for the second moto. I'm looking forward to WW Ranch in my home state of Florida next round!"
Next Event: June 22 – Florida National – WW Ranch Motocross Park – Jacksonville, Florida
High Point Results
450MX Results
1. Eli Tomac (3-2)
2. Ken Roczen (6-1)
3. Jason Anderson – Rockstar Energy Husqvarna Factory Racing (2-5) 
… 
5. Zach Osborne – Rockstar Energy Husqvarna Factory Racing (5-4) 
250MX Results
1. Adam Cianciarulo (2-1)
2. Hunter Lawrence (1-3)
3. Chase Sexton (4-2)
… 
8. Michael Mosiman – Rockstar Energy Husqvarna Factory Racing (7-8) 
18. Jordan Bailey – Rockstar Energy Husqvarna Factory Racing (38-15) 
450MX Rider Point Standings
1. Eli Tomac – 176 points
2. Ken Roczen – 176 points
3. Jason Anderson – Rockstar Energy Husqvarna Factory Racing – 144 points 
4. Zach Osborne – Rockstar Energy Husqvarna Factory Racing – 144 points 
250MX Rider Point Standings
1. Adam Cianciarulo – 186 points
2. Justin Cooper – 160 points
3. Dylan Ferrandis – 144 points
… 
6. Michael Mosiman – Rockstar Energy Husqvarna Factory Racing – 112 points 
22. Jordan Bailey – Rockstar Energy Husqvarna Factory Racing – 19 points 
25. Thomas Covington – Rockstar Energy Husqvarna Factory Racing – 10 points