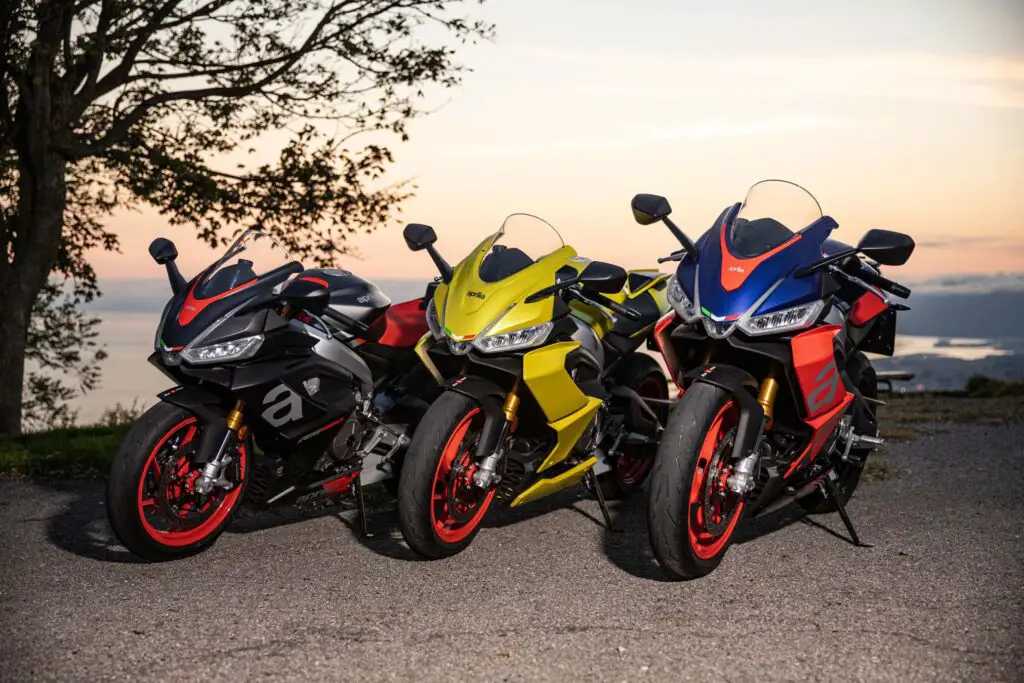 APRILIA RS 660 TAKES TOP STEP WITH RODIO IN MOTOAMERICA TWINS CUP SEASON OPENER AT DAYTONA
ROFIO RACING POWERED BY ROBEM ENGINEERING RIDER NARROWLY MISSES THE DOUBLE, SETTLES FOR SECOND ON SATURDAY, LEAVING FLORIDA WITH AN EARLY CHAMPIONSHIP LEAD
DAYTONA BEACH, FL – 12 MARCH 2023 – It was back to winning ways for Aprilia in MotoAmerica Twins Cup on Friday, as Rodio Racing powered by Robem Engineering rider Gus Rodio was victorious in the first series race of 2023. Rodio piloted his Aprilia RS 660 to a victory by a margin of more than eight seconds before nearly claiming a second win on Saturday at the March 9-11 round at Daytona International Speedway.
Rodio's performance, which included returning to the Saturday race after suffering a mechanical problem, allowed him to amass a nine-point championship lead by the end of the event. Two other Aprilia riders, Rodio's teammate Ben Gloddy, and Optimum Performance Motorsports' Jody Barry, put in strong performances at Daytona, though Gloddy's weekend was cut short due to an unfortunate injury.
The first Twins Cup practice session ended with an Aprilia rider at the top of the time sheet. Rodio put in a best lap of 1:57.671, which was 0.064
seconds faster than the second-best lap time. Two more Aprilia riders finish in the top five, as Barry was the fourth-fastest rider and Gloddy fifth.
The first qualifying session of the event took place later on Thursday. Rodio was again the fastest of the Aprilia riders. He finished the session in fourth place. Gloddy and Barry provisionally qualified in sixth and eighth, respectively.
Qualifying concluded Friday morning with three Aprilia riders having qualified in the top 10. Rodio secured fourth place on the Twins Cup starting grid, while Gloddy and Barry qualified sixth and eighth, respectively.
Friday afternoon saw the first Twins Cup race of 2023 get underway with Rodio quickly working his way up to the race lead by the end of Lap 1.
Gloddy also got a good start and had advanced to third place by the end of the first lap. He was running in fourth when another rider crashed heavily in front of him and, despite his best effort, was knocked off his motorcycle and was unable to continue racing. Barry had a sluggish start to the race.
He dropped down the running order as far as 12th on Lap 1 before charging forward to sixth place on Lap 3 — which is the position he finished the race in.
Rodio's pace improved to the rest of the field as the race went on. He was part of a three-rider battle for the race lead until the closing laps, when he steadily increased his lead each lap to take the victory by more than 8.5 seconds.
Gloddy was unable to take part in Saturday's Race 2 due to an injury he suffered during his crash in Race 1.
The Saturday contest was a trying one for Rodio and his team. As the field began forming up for the start of the race, Rodio pulled into the pits due to a technical problem with his motorcycle and was unable to take the start. As the lone Aprilia in the top 10, Barry put in a solid effort in the race's early laps. He was running in seventh when the race was stopped on Lap 3 due to a crash.
The race was restarted with the original starting grid, which allowed Rodio to rejoin the race on the lead lap. The start saw Rodio get a good jump off the line and he was back to the race lead by the end of the first lap. Rodio also led Laps 3 and 4 as he and another rider broke away from the rest of the field. While the other rider was able to draft past Rodio on the approach to the finish line, Rodio got the best drive he could onto the east banking and missed out on the win by a mere 0.162 seconds. Barry put in a strong showing in the restarted race but dropped two places on the last lap to seventh and missed out on a top five finish by 0.039 seconds.
Of the 38 riders entered for the MotoAmerica Twins Cup round at Daytona, 15 were registered to ride Aprilia RS 660s.
Gus Rodio / No. 96
"It was an awesome first race of the season. I was able to break away from the pack and win my first Twins Cup race. It was my biggest margin of victory and I'm very happy. In Race 2, I broke away from the pack with another rider and had a race long battle for the lead. I ended up second in a close finish. I'm really happy with this result as I didn't think we would make it on track due to an issue we had. I'm really excited to get to Atlanta and keep working towards our goals."