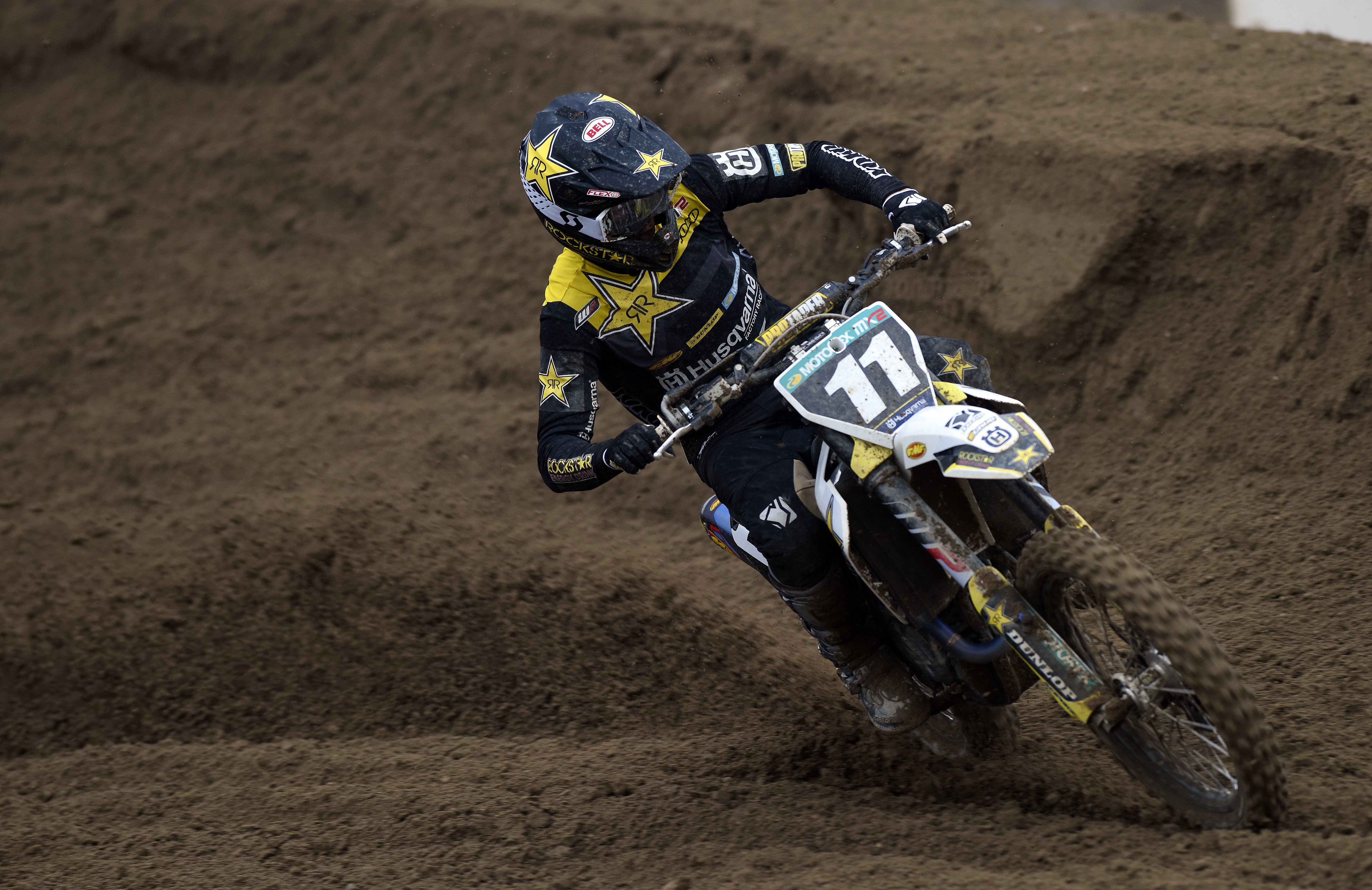 At the 2019 Internazionali d'Italia MX finale that took place at the Mantova circuit in northern Italy, Rockstar Energy Husqvarna Factory Racing rider Mikkel Haarup has claimed an eighth-place result in the MX2 category. After his impressive rides at the opening two rounds of the series, his performance at Mantova helped the young Dane solidify a highly-positive runner-up result in the championship's final standings.
With the soft sand of the Mantova track forming deep ruts during Sunday's motos, Mikkel Haarup clocked up yet more valuable racing time aboard his FC 250 machine. Placing eighth in the MX2 moto, the young Dane came back to finish 13th in the combined MX1/MX2 Supercampione final.
Back to competitive action after sitting out round two of the series, FC 450 mounted Arminas Jasikonis had high expectations entering the Internazionali d'Italia MX season finale at Mantova. Getting a good start in the MX1 moto, he was racing in eighth place when he frustratingly suffered a race ending crash.
Arminas Jasikonis and Mikkel Haarup will return to action on February 17 for the 2019 Hawkstone International MX, where they will be joined by Rockstar Energy Husqvarna Factory Racing MX2 team members Thomas Kjer-Olsen and Jed Beaton.
Mikkel Haarup: "I'm really happy with my second place in this year's Internazionali. It was the perfect way to start 2019 and we got some good race time ahead of the long season. This weekend here in Mantova I struggled a bit to find a good pace, but I'm happy this did not affect my final position in the championship. I'm learning a lot in every race and things can only get better from now on. We're heading back to Belgium now with the team. We'll spend the week training at our tracks close to the team's base before heading to the UK for the Hawkstone International next weekend."
Arminas Jasikonis: "It wasn't a good weekend for me but we're already looking ahead. My speed was good despite the track being rutted and tricky. I had a decent start in the opening moto and was racing in eighth position until a crash left me with no chances to finish. It was a nasty fall in the face of a jump and I hit the ground hard. Luckily, I picked up no injury and after a couple days of recovery I hope I can be back training. The speed was there this weekend but a few small mistakes and the lack of racing time made it all harder for me. We're now heading to the Hawkstone International next weekend and I'm hoping for some better results in the UK."
Download high-res images from round three of the Internazionali d' Italia MX here.
Results – Internazionali d'Italia Motocross 2019, Round 3
MX1
1. Tim Gajser (Honda) 15 laps, 29:18.952; 2. Romain Febvre (Yamaha) 29:28.268; 3. Antonio Cairoli (KTM) 29:47.321… 7. Tanel Leok (Husqvarna) 30:09.817… 11. Matiss Karro (Husqvarna) 31:07.128… 18. Johannes Nermann (Husqvarna) 14 laps, 30:07.694… 25. Nicolas Bender (Husqvarna) 30:50.501… 34. Davide Bertugli (Husqvarna) 13 laps, 29:25.135… 37. Alessandro Lentini (Husqvarna) 30:57.413… 40. Arminas Jasikonis (Husqvarna) 7 laps, 14:01.622
MX2
1. Jorge Prado (KTM) 15 laps, 29:51.052; 2. Brian Moreau (Kawasaki) 30:09.940; 3. Tom Vialle (KTM) 30:16.161… 8. Mikkel Haarup (Husqvarna) 30:26.043… 14. Alberto Forato (Husqvarna) 30:49.032… 16. Mattia Guadagnini (Husqvarna) 30:56.383… 21. Joakin Furbetta (Husqvarna) 31:16.340… 32. Alessandro Manucci (Husqvarna) 14 laps, 30:12.166; 33. Maximilian Spies (Husqvarna) 30:27.00835. Gianmarco Cenerelli (Husqvarna) 31:06.372
Supercampione
1. Antonio Cairoli (KTM) 13 laps, 25:47.062; 2. Max Nagl (KTM) 26:05.324; 3. Jorge Prado (KTM) 26:07.708… 7. Tanel Leok (Husqvarna) 26:30.155… 13. Mikkel Haarup (Husqvarna) 26:48.690; 14. Alberto Forato (Husqvarna) 26:53.920… 24. Johannes Nermann (Husqvarna) 27:46.480… 30. Joakin Furbetta (Husqvarna) 12 laps, 26:26.427; 31. Mattia Guadagnini (Husqvarna) 26:38.193
Final Championship Standings
MX1
1. Antonio Cairoli (KTM) 320pts; 2. Romain Febvre (Yamaha) 300; 3. Tim Gajser (Honda) 280… 5. Tanel Leok (Husqvarna) 165… 8. Matiss Karro (Husqvarna) 106… 16. Johannes Nermann (Husqvarna) 69… 19. Arminas Jasikonis (Husqvarna) 61… 26. Alessandro Lentini (Husqvarna) 43; 27. Thomas Martelli (Husqvarna) 43… 39. Roberto Ciannavei (Husqvarna) 16… 41. Ramon Savioli (Husqvarna) 13
MX2
1. Jorge Prado (KTM) 360; 2. Mikkel Haarup (Husqvarna) 195; 3. Michele Cervellin (Yamaha) 180… 6. Mattia Guadagnini (Husqvarna) 137… 12. Alberto Forato (Husqvarna) 92… 23. Joakin Furbetta (Husqvarna) 48… 27. Gianmarco Cenerelli (Husqvarna) 43… 39. Roland Edelbacher (Husqvarna) 24; 40. Raf Meuwissen (Husqvarna) 23… 58. Leonardo Angeli (Husqvarna) 9
Supercampione
1. Antonio Cairoli (KTM) 240pts; 2. Tim Gajser (Honda) 200; 3. Jorge Prado (KTM) 160… 7. Tanel Leok (Husqvarna) 95… 8. Mikkel Haarup (Husqvarna) 90… 15. Mattia Guadagnini (Husqvarna) 48… 17. Matiss Karro (Husqvarna) 44… 19. Alberto Forato (Husqvarna) 43… 24. Johannes Nermann (Husqvarna) 36