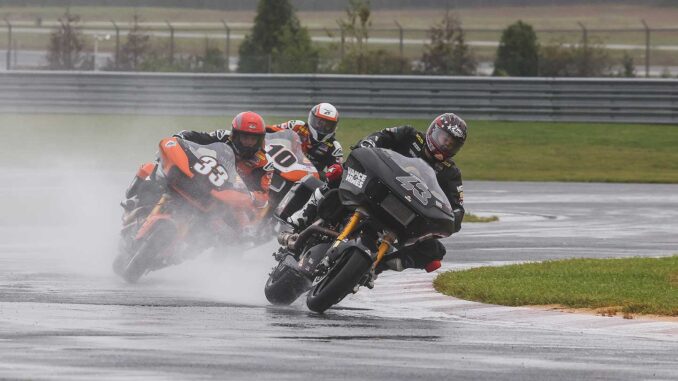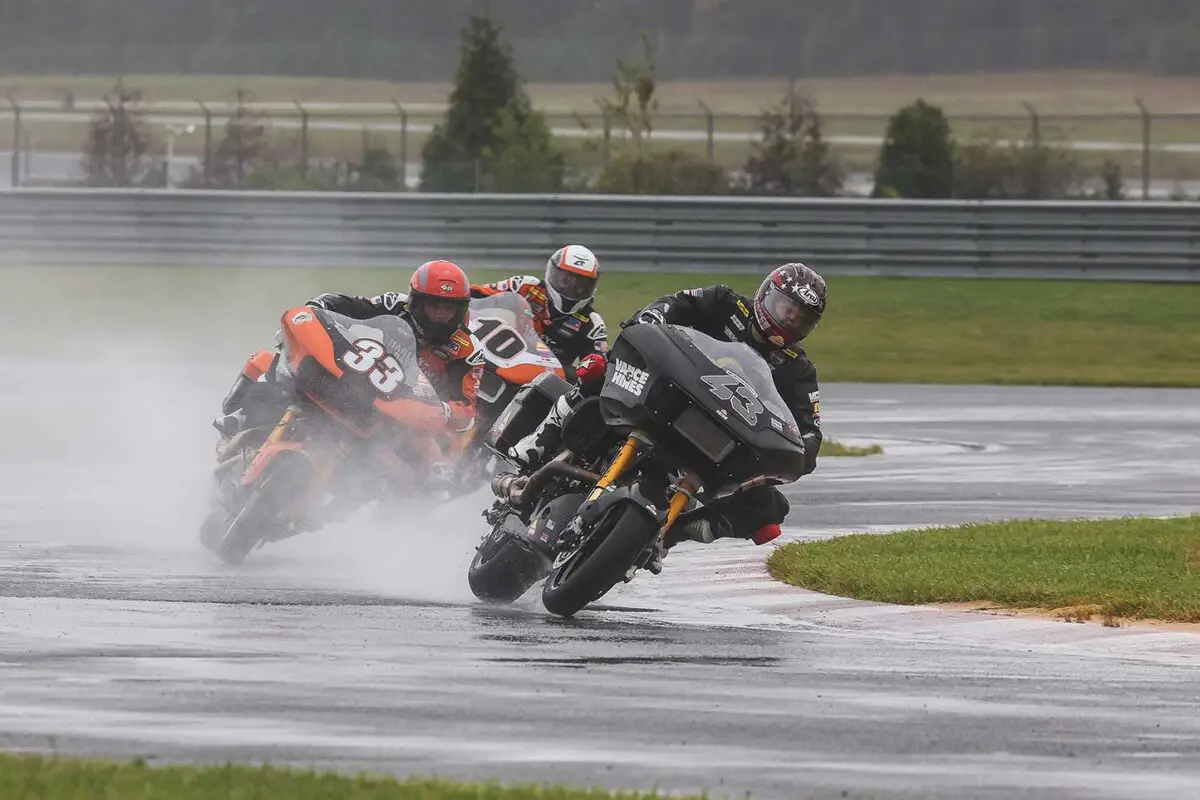 Vance & Hines/Harley-Davidson racer Hayden Gillim Wins Saturday Race and Crowned King of the Baggers Series Champion
MILWAUKEE (September 24, 2023) – Harley-Davidson® Screamin' Eagle® factory rider Kyle Wyman scored his seventh win of the season and Vance & Hines/Mission Foods Harley-Davidson rider Hayden Gillim secured the season championship on Sunday in the final race of the 2023 MotoAmerica Mission King of the Baggers series at New Jersey Motorsports Park in Millville, N.J. Vance & Hines/Mission Foods rider James Rispoli finished second in the championship standings and Wyman was third as Harley-Davidson riders claimed the top three spots in final series points.
"It's been one of, if not the best, year of my life," said Gillim, who won three races with eight additional podium finishes on the season. "I'm really happy to bring this home for Vance & Hines, for Mission Foods, and for Harley-Davidson. Next season will be a real scrap in this series. Honestly the field is stacked, and if everybody stays next year it's going to be a tough championship to hold onto."
In the Friday qualifying session, Wyman broke his own New Jersey Motorsports Park class lap record of 1:24.447 aboard his race-prepared Harley-Davidson® Road Glide® motorcycle. That time would never be approached for the rest of the weekend, as rain resulted in very wet to damp conditions on the 2.25-mile, 12-turn road course on Saturday and Sunday.
Gillim (215 points), Rispoli (213 points) and Wyman (204 points) were each in contention for the championship before the start of the first eight-lap King of the Baggers race on Saturday. As the riders completed a warm-up lap in the rain, Wyman lost control and slid off track. He was able to remount and start the race, but his motorcycle was damaged, and he retired on lap 3. Gillim took the race lead on lap 3 and was never challenged as early leader Rispoli could not match his pace on the wet track and settled for second place, 9.10 seconds behind Gillim.  Harley-Davidson® Screamin' Eagle® factory rider Travis Wyman battled to finish in third place and score his first podium finish of the season, just 0.40 seconds behind Rispoli. After the Saturday race, Gillim led Rispoli by 7 championship points, and Wyman was out of contention for the title.
Kyle Wyman bounced back to win the Sunday race, taking the lead on lap 2, after Rispoli ran off the wet track. Wyman opened a gap and stretched his lead to 3.724 seconds over second place Gillim at the finish. Max Flinders finished third on the M3/Revolution Performance Indian. Rispoli finished in seventh place.
"After Rispoli went off, I just tried to be patient, not make a mistake and open a gap," said Wyman. "I suppose a win in the last race sends a message. It really stings to come up short in the championship after winning the most races, but I'm also proud of my race wins, proud of the team and what it has accomplished from a development standpoint, which trickles down to the other Harley teams. This has been a crazy year and obviously this weekend did not end as we hoped it might, but Harley-Davidson is one-two-three in the championship and that's the next-best result for us. I want to send a big thanks to everyone at Harley who worked so hard for us this season, and we'll be back to get them next year."
At the conclusion of the 14-race 2023 MotoAmerica Mission King of the Baggers series, Gillim wins the championship with 260 points. Rispoli is second with 242 points, followed by Kyle Wyman with 229 points. Wyman won seven of 14 races on the season, with one additional podium finish. Jake Lewis rode a Team Saddlemen Harley-Davidson Road Glide motorcycle to seventh place with 126 points. Travis Wyman placed eighth with 112 points.
MotoAmerica King of the Baggers Race Results – New Jersey Motorsports Park Race 1
Hayden Gillim (H-D) Vance & Hines/Mission Foods/Harley-Davidson
James Rispoli (H-D) Vance & Hines/Mission Foods/Harley-Davidson
Travis Wyman (H-D) Screamin' Eagle Harley-Davidson
Kyle Ohnsorg (Ind) Roland Sands Design
Bobby Fong (Ind) Sacramento Mile/SDI Racing/Roland Sands Design
Jake Lewis (H-D) Team Saddlemen
Max Flinders (Ind) M3/Revolution Performance
Tyler O'Hara (Ind) Progressive/Mission Foods
Frankie Garcia (H-D) Team Saddlemen
Patricia Fernandez-West (H-D) Team Saddlemen
DNF. Kyle Wyman (H-D) Screamin' Eagle Harley-Davidson
DNF. Cody Wyman (H-D) Team Saddlemen
DNF. Jeremy McWilliams (Ind) Progressive/Mission Foods
MotoAmerica King of the Baggers Race Results – New Jersey Motorsports Park Race 2
Kyle Wyman (H-D) Screamin' Eagle Harley-Davidson
Hayden Gillim (H-D) Vance & Hines/Mission Foods/Harley-Davidson
Max Flinders (Ind) M3/Revolution Performance
Bobby Fong (Ind) Sacramento Mile/SDI Racing/Roland Sands
Jeremy McWilliams (Ind) Progressive/Mission Foods
Travis Wyman (H-D) Screamin' Eagle Harley-Davidson
James Rispoli (H-D) Vance & Hines/Mission Foods/Harley-Davidson
Kyle Ohnsorg (Ind) Roland Sands Design
Jake Lewis (H-D) Team Saddlemen
Frankie Garcia (H-D) Team Saddlemen
Patricia Fernandez-West (H-D) Team Saddlemen
DNF. Tyler O'Hara (Ind) Progressive/Mission Foods
DNF. Cody Wyman (H-D) Team Saddlemen