Total Motorcycle's interview with Triumph Motorcycle Canada:
by Andrea Le Pard and Mike Le Pard.
Triumph prides itself on its very long heritage, the oldest in the motorcycle industry. For those who don't know, Triumph started building motorcycles in 1902.
With the Triumph Motor Cycles factory fire on Friday 15th March 2002 we wondered what would become of Triumph. (Read story here). But true to the name, Triumph triumphed and quickly rebuilt and was able to not only get production up and going again but to meet buyer demand.
From that amazing story, we had to take the time to interview Triumph Motorcycles and learn what they have in store in the near future.
We could not have chosen a better person to interview than Chris Ellis, General Manager of Canadian Operations. Chris is a very friendly and energetic, he had to be with the amount of people that were visiting Triumph at the Calgary Motorcycle Show.
Since Triumph motorcycle's rebirth, the new Triumph has been working hard to bring the Triumph name back up for over 10 years. With new their new batch of 2004 motorcycle models, like the Triumph Rocket III, we think they have succeeded.
Chris says Triumph's success comes from their legendary inline triple cylinder engine. The triple is a great compromise to a V-Twin's torque and a inline four's horsepower without offering much more weight or complexity than a V or Parallel Twin. Another factor in Triumph's success is that they have been able to pull themselves away from other motorcycle manufacturer styles and make their own style. Customers know this and are attached to owning a Triumph because it is different than anything else on the street.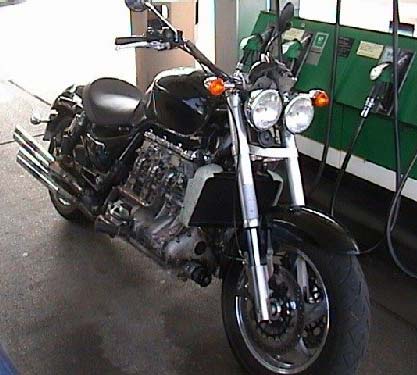 In 2003, this spy shot was released, shocking the motorcycle world. (April 16, 2003)
Unless you have been living in a cave, you have heard about the Triumph Rocket III. A shockingly massive 2,294cc (140 cubic inches) fuel-injected, longitudinally-mounted, inline three-cylinder engine and produces 147ft.lbf torque at 2,500rpm, with 90% delivered at a mere 1,800 rpm. That is more torque at idle than a Honda Gold Wing at peak torque. This is the biggest engine ever in a production motorcycle. But the engine is only a part of the story Chris told us.
You, like us, might be surprised that it was Triumph who not only made a 2300cc motorcycle, but choose to put it in a cruiser body. They choose to do this because cruisers hold the largest market share (1/3 of the market). The Triumph Rocket III took 5 years to develop, and was a huge secret project. Rumors were floating around that there might be a big bore cruiser Triumph was working on, but every time rumors arose, Triumph killed them. Triumph successful denied they were building a big cruiser until August 2003 when they unveiled it to select dealers. Even then the dealers had a hard time believing it was going to be a real production motorcycle. The dealers thought it was a concept bike for the motorcycle shows and shook their heads in disbelief when they learned it would be sold in 2004 on their showroom floors. And interesting fact is that due to the cost of making a working prototype Rocket III, there are only 2 in the world, one in the USA and the other in Europe.
Triumph knew it would take 5 years to develop the Rocket III. In 1998 when the Rocket 3 project was born they figured other manufacturers could be making large displacement motorcycles in 2003, so right from the start they wanted at least a 2 liter (2000cc) bike. Chris says that owning a Rocket III is a statement on its one, just like Triumph itself.
The Rocket III is such a huge hit for Triumph that all of the production stock is pre-sold for Canada.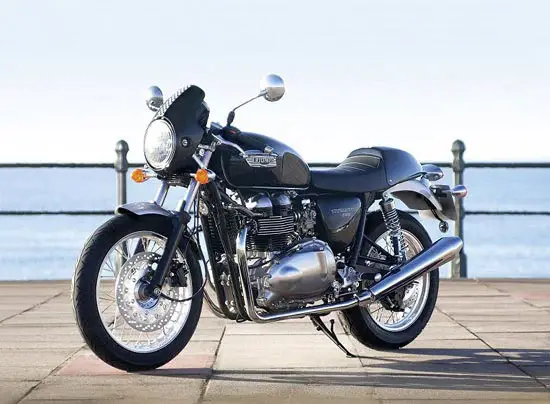 New 2004 Triumph Thruxton 900
Another new for 2004 model is Triumph's Thruxton 900. The name comes from the famous Thruxton circuit in Andover, UK. For those who don't know, Thruxton is UK's fastest racing circuit (want to read more about Thruxton, click here). The Thruxton brings back memories of the original cafe racers of the 1960's. With features like: polished engine covers, fit drop handlebars, rearward-set footpegs, revised telescopic forks and rear shocks, larger, fully floating front disc, two-piston brake caliper and shorty front mudguard, evocatively shaped seat hump and aluminum wheels the Thruxton 900 is sure to please.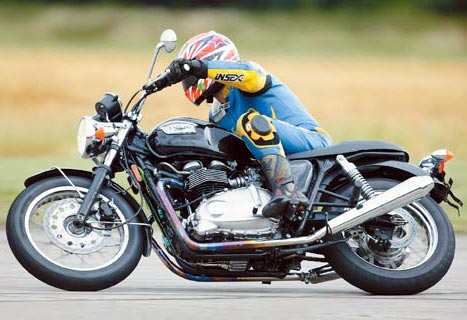 Spy shot of the Triumph Thruxton 900 taken on September 11, 2003
At Triumph, the future looks bright as they work on changing current models and developing new models based on the old ones. Their unique approach to motorcycle style and engine configuration is a testament to Triumphs creativeness and originality. Chris says by using their legendary triple engine in most of their models they don't copy others (manufacturers) and that is one of the things that makes Triumph unique as a motorcycle company.
Triumph has gone above and beyond for 2004. Triumph again is in the front seat, its legendary name restored to glory. We look forward to where they will take the motorcycle industry in the years to come.
Thanks for your support and for coming back time and time again to visit us.
Mike.
Total Motorcycle.com
---
Unbiased, helpful, personal, friendly and useful motorcycle resource