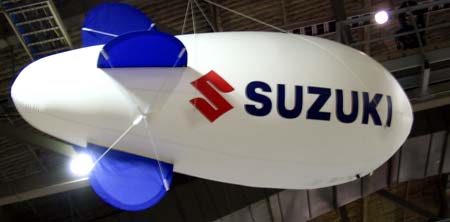 Total Motorcycle's interview with Suzuki Motorcycle Canada:
by Mike Le Pard and Andrea Le Pard.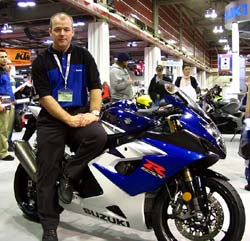 Since 1952 Suzuki has been committed to providing our customers superior value in their products and services. By focusing on being creative and innovative, Suzuki has progressively improved their motorcycles to be some of the best in the world.

Total Motorcycle interviewed Ian McKinstray, Suzuki's Assistant National Manager for Motorcycle & ATV Sales on January 8th at the 2005 Calgary Motorcycle Show. Ian was a great guy to talk to because he has vast knowledge about the products Suzuki sells.
TMW: Ian, what sets Suzuki apart from the rest of the competition?

Ian: For cruisers, sportsbikes, touring, motocross, standards, dual sports, off-road and kids models Suzuki offers the motorcyclist a huge variety that can not be found from any other brand. Our 40+ model line up includes multiple models in one category with the same engine size but with different looks. We feel this gives the consumer the ultimate in choice for purchasing a new bike, and it also allows us to appeal to a larger crowd by offering variety in bikes with the same engine size. We also like adding features and intangibles to our motorcycle designs that are not incorporated in other brands.

Suzuki enjoys being creative and innovative. Just take a look at our 2005 models. From the redesigned 2005 Suzuki GSX-R1000, to the first Japanese motard, the DR-Z400S, we have had a lot of fun creating bikes that are unique.


TMW: What were Suzuki's most successful models for 2004?

Ian: Both the Suzuki VL 800 Boulevard C50 and the Suzuki GSX-R1000 were virtually tied in sales in 2004. Both were within 20 units of each other in annual sales.

The Suzuki Boulevard C50 is Suzuki's classic designed cruiser that features flowing lines, kicked-out front end and pullback handlebars, teardrop tank, stepped seat and boldly valanced rear fender.

The Suzuki GSX-R1000 features an increased engine displacement and more power, torque and acceleration along with a reduction in weight and improved aerodynamics.
TMW: Out of all Suzuki's 2005 models, which ones are Suzuki most excited about and why?

Ian: Suzuki is definitely most excited about our 2005 Suzuki GSX-R1000 and GSX-R1000 Mladin Replica limited edition models. They have been fully revamped so they are considered new for 2005. With a larger 988cc engine, improved aerodynamics and weighing only 365lbs, they have 160 rear wheel horsepower and more torque and acceleration than ever before. You may have noticed the very specially designed muffler on the GSX-R1000. This titanium exhaust was designed to keep the centre of gravity low, improve ground clearance and increase power.

The 2005 Bandit 650 is also another model we are very happy about. For 2005 we have increased the engine size to 656cc. This helps to deliver more low to mid rpm power and torque for use in real world. The motorcyclist will also notice improved power delivery and better throttle response, which produces stronger roll-on acceleration than other middleweights. The Suzuki Bandit 650 is also lighter in 2005 and features new styling with adjustable handlebars and seat height.
TMW: What is Suzuki currently focusing on in the market and why?

Ian: Suzuki is always focusing on improving their products. For 2005 we are re-launching our cruiser line with the Boulevard name. One of the reasons for the new Suzuki Boulevard name is to allow greater consistency throughout North America. We felt there were too many unique Suzuki cruiser names such as Marauder, Intruder and Volusia that could confuse the customer. We have also changed our naming convention so that the model name indicates the engine size (in cubic inches) and style of bike. For style of bike, the C is for Classic, M is for Muscle and S is for Standard. Thus our 2005 Suzuki Boulevard C50 is our 50 cubic inch classic styled cruiser.
Suzuki is also focusing on our dedication to making our sportbikes the very best in the business. The GSX-R line up of 600cc, 750cc and 1000cc is getting better each year, and in 2005 it features special 20th Anniversary and limited edition models.
TMW: What do you foresee Suzuki focusing on more in the future?

Ian: Suzuki will be focusing even more on the continued development of the GSX-R 600, 750, 1000 and the entire Boulevard cruiser line up.
TMW: What things might we expect to see in the future from Suzuki?

Ian: Suzuki wants to be the leader in sportbike power and design, so I would suggest to expect major changes to our models every 2 years.
Since our entire sportbike lineup is so large already we will be focusing on adding more models to our cruiser line up.
TMW: Are there any future models in the works?

Ian: Suzuki will be implementing and utilizing even more current racing technology in our street bikes. What you see today on the track will be transferred to tomorrow's Suzuki models even faster than before. With the success of Suzuki scooters we will also be expanding our scooter lineup, so look for more of those models.
The Suzuki Marauder saw some big changes in 2004 and the other cruiser models need to catch up. You will see updates and changes on the current cruiser models to make them even better.
(TMW asked about the other older Suzuki models:) Some of our older models such as the Suzuki Intruder 800 and 1400 have seen very little changes over the years. These are our "bread and butter" bikes and we do not change them very much so that we can keep the price down for consumers.

TMW: Is there anything else you would like to share with our readers?

Ian: It is interesting to note that some models outsell others by a huge factor. For example, the 2004 Suzuki SV650S (with fairing) outsells the SV650 (no fairing) ten to one! Customers feel the SV650S offers more "bang for the buck" as it is around the same price as the SV650 but you get a fairing.
Customers dictate what models we produce by showing us their interest in them. We looked at bringing the Suzuki GSX1400 to Canada (North America) for 2005 but we found there was just not enough interest in a big powerful naked muscle bike to bring it in yet…
This concludes our 2005 Interview with Suzuki Motorcycles. We would like to thank Suzuki Canada and Ian McKinstray for allowing us to interview them and for their time. We look forward to our next interview with them.

---
Unbiased, helpful, personal, friendly and useful motorcycle resource