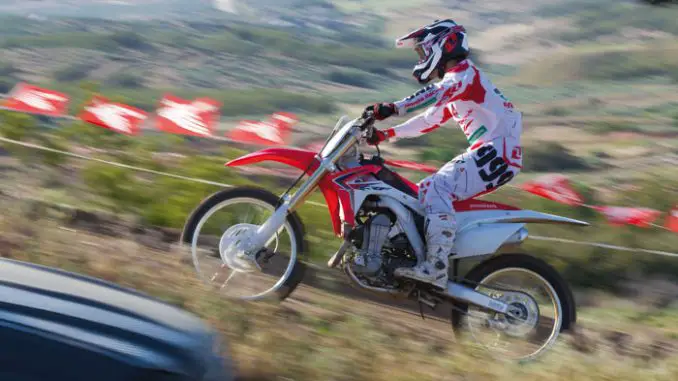 Click photos to enlarge. Our big, clean bike pics make great desktop wallpaper.
2013 Honda CRF450R Review

2013 Honda CRF450R
With the 2013 CRF450R, Honda elevates the level of performance for 450-class motocross machines. This brand-new machine features a rolling chassis fully focused on meeting the needs of today's "scrub generation" of riders by integrating an all-new aluminum frame along with an innovative suspension package, plus a strategically engineered short dual-muffler exhaust system that tucks in closely to the center of mass. Designed from the get-go as a total package that would be eminently flickable, responsive and lightweight, every element in the 2013 CRF450R chassis has been focused on attaining a low center of gravity along with class-leading mass centralization. The new-concept KYB PSF® (Pneumatic Spring Fork) is significantly lighter since both main springs have been removed and it allows incorporation of a larger, more sophisticated 32mm cartridge damper piston that resets traditional thinking for front suspension performance. That's matched with a new single-shock Pro-Link® rear suspension, plus a revised engine that churns out an awe-inspiring hit in the low-end and midrange along with massive top-end power. There's also a new six-spring clutch, a stouter transmission and much, much more. Bottom line: The 450 motocross machine that has become the ride of choice for many top-level AMA Pro riders now grows even stronger for 2013.
2013 Honda CRF450R Features and Benefits
New for 2013
– All-new aluminum frame and swingarm.
– All-new lighter subframe and airbox.
– All-new air fork-KYB PSF® (Pneumatic Spring Fork).
– All-new rear shock with updated settings.
– All-new short and compact dual-muffler exhaust system.
– Bold new styling features an aggressive look.
– Improved footpeg mount features a patented debris-shielding design.
– All-new front and rear disc rotor covers.
– All-new MX51FA 80/100-21 front tire.
– Increased fuel capacity from 1.50 gallons to 1.66 gallons.
– Updated Unicam® engine.
– All-new piston with increased compression ratio (from 12.0:1 to 12.5:1).
– New two-hole oil jet adds extra cooling to the piston's underside.
– Cylinder head with revised porting and larger exhaust valves (from 30mm to 31mm).
– Revised cam timing.
– All-new six-spring clutch and updated transmission.
– All-new radiators are mounted lower in the chassis.
– Revised fuel injection and ignition settings.
Honda Genuine Accessories†
– HRC PGM-FI Tuning Kit, Red Billet Engine Cap, Skidplate, Work Stand
† WARRANTY: Because we're so confident in the quality of each of our Honda Genuine accessories, we're pleased to offer one of the best warranties in the industry. One-year warranty begins on the day accessories are purchased by the customer.

2013 Honda CRF450R Key Features

Six-Spring Clutch – New six-spring clutch design improves durability and provides better lever feel.
New Piston Shape – Along with a new cylinder-head design, a new piston gives the CRF450R a boost in compression this year for more horsepower. In addition, the piston is shot-peened with a moly-coating treatment to help reduce friction.
Programmed Fuel Injection – The CRF450R's fuel injection makes a HUGE difference with a bike in this class. New settings this year improve low and mid-range performance. And fine-tuning it to specific track conditions is easier than ever with our available Genuine Accessory HRC Fuel-Injection Setting Tool.
New Fuel Tank – We increased fuel capacity this year, and that means you can ride longer before pulling in for more gas.
New Seat and Bodywork – A new seat blends perfectly with the new cutaway bodywork to lessen mass and trim the way you fit on the bike. Note the cutaway area between the rear numberplates and the fender, and at the seat nose.
New Subframe – We shaved weight from the subframe this year. How? In part due to the new twin-muffler setup. Moving the mufflers towards the bike's center of mass moves their mounting points in as well, and reduces the leverage a single long, heavy muffler has, so the structure can be lighter here. It's also has a wider opening at the top making it easier to change the air filter.
Short Twin-Muffler Exhaust System – he CRF450R uses an exclusive twin-muffler setup this year. The mufflers are way shorter and lower tucking in much closer to the bike's center of mass. That helps make the CRF450R even easier to whip and scrub, and also contributes to the bike's improved power.
New Swingarm – The new fork, chassis, subframe and revised rear suspension mean we had to create a new swingarm as well. which optimizes vertical and horizontal rigidity.
New Air Fork Front Suspension – A huge new improvement for 2013, by eliminating the conventional steel spring we've shaved almost two pounds off the CRF450R's front suspension. Plus, fine-tuning the spring rate is as easy as adjusting air pressure on a tire—no special tool needed. The 48mm inverted KYB PSF® (Pneumatic Spring Fork) improves tracking by getting the tire back on the ground quicker.
Works-Style Brakes – Honda's MX bikes have always had great brakes on the track, and the 2013 CRF450R continues that tradition. Front and rear discs with factory-spec master cylinders help haul you down fast, so you can outbrake the other guy into the turns. The front and rear rotor covers are new too.
New Dunlop MX51FA Tire – We designed the 2013 CRF450R's suspension to perfectly coordinate with these premium MX51 tires. And the front tire is brand new, designed specifically for your new CRF. You'll experience improved traction especially with the new Air Fork.
2013 Honda CRF450R In-depth Look:

From day one, the Honda CRF450R, has proved a winning package in the hands of professionals and amateurs alike. Motocross is a fast-moving sport, in every sense and on every level. The CRF450R has constantly evolved, responding to competition and riders' needs in equal measure.
The CRF450R was first launched with a four-stroke engine as a 2002 model, and achieved faster lap times, not only with outstanding peak power, but also because of a substantial increase in torque. Adoption of Honda's programmed fuel injection system (PGM-FI) for the 2009 model achieved more stable combustion, even under the most extreme race conditions.
Honda started mass-producing motocross bikes with an aluminum frame ahead of other manufacturers in 1997. With the 5th generation, 2009 model, the aim was to strike an ideal balance between rigidity and agility. Honda's pursuit of the best possible bike for winning races prompted a thorough examination of the most efficient means of transmitting power and to achieve a more planted feel with greater traction.
It was identified that the key factor in enhancing competitiveness was to find the most effective means of incorporating ease of handling into a fast, competition-focused machine with absolute power and a highly rigid chassis. This led the direction of the new model.
Any new CRF450R is born, and has to be fully proven, in race conditions. Knowledge acquired by the HRC works team in the All-Japan Motocross Championship – with direct input from Factory squads in Europe and the U.S.A, as well as seven-time AMA Supercross champion Jeremy McGrath – was constantly fed back into development of the production bike. Honda knows how much the smallest detail matters at the highest level of racing, but also to the rider who races for fun, or just simply for leisure.
Model Overview
The HRC race engineers and Honda development technicians focused their new CRF450R around the rider, and what was required by Factory pilot or amateur rider to go faster, for longer.
For 2013, the CRF450R uses the sixth generation aluminium twin-beam frame, which has been built from the ground up retaining a focus on mass centralisation. It also features rigidity levels 'tuned' in certain key areas to improve rider feel when landing from jumps, with revised geometry for increased front and rear traction, and turning ability.
5th generation frame
Aluminum twin tube frame (CG)

The use of KYB air-sprung front forks, offering significant weight savings with improved performance and versatility in varied track conditions. A compact KYB rear shock sits lower in the frame and operates via Honda's Pro-Link system with a brand new aluminium swingarm, contributing to the bike's lower centre of gravity.

Rear cushion area

The CRF450R's PGM-FI fuel-injected, 449cc single-cylinder engine has been re-tuned for major gains in the low and mid-range torque area – with no loss of top-end power – plus a refined connection between throttle and rear tyre; key for finding maximum rear wheel traction. Durability and reliability have also been improved and a redesigned, lighter clutch is easier to use. Short, dual mufflers contribute to mass centralization, improved low/mid power delivery and provide a slimmer side profile.
Chassis
The CRF450R's 9.35kg aluminium twin-beam frame is completely new, and was designed from the outset to facilitate mass centralization and a low centre of gravity, reducing the roll pitch and yaw inertia of the bike, making it easier to turn on the ground and in the air.

Air pressure valve
In response to specific requirements – improved front and rear traction, high-speed stability and braking plus a much lighter feel in all situations and conditions – every aspect of the frame's performance has been improved. The junction of the steering head and main frame spars now intersect lower on the steering head pipe, much closer to the midway point rather than toward the top in the previous model. This change helps to lower the centre of gravity and alters the torsion characteristics of the chassis for better front-end traction, providing more traction feel and better cornering traits. Less readily seen yet equally important design changes include longitudinal strengthening of the rear cushion frame mounting to maximising the benefits of the new-generation rear suspension components.
Revised steering head geometry advantage of the frame's tighter dimensions and gives a more direct connection to the front tyre, with faster turn-in and increased feel for available traction. Combined with the lower centre of gravity side-to-side transition is easier, greatly increasing rider confidence and reducing fatigue.
By employing a KYB air-suspension USD front fork, 800g of weight has been saved due to the lack of conventional coil springs; critically, the unsprung weight of the fork lowers and front wheel is also reduced. Compressing air, rather than steel, also reduces frictional losses within the slider tubes, and the large 32mm diameter (as opposed to 24mm on the stock unit) damper piston also improves sensitivity and ride quality.
In comparison with a standard fork, the air fork offers dramatically faster responses in transition from compression to rebound and vice versa. This allows the front end to be significantly more responsive to changes in surface, and to keep the front tyre in contact with the ground. The result is much better tracking through corners, greater feel, and improved traction and steering accuracy
The preload can be changed via the Schrader air valve fitted on the top of the fork cap, doing away with the need to change spring sets. Standard pressure is 230kPa (33psi), minimum pressure is 220kPa (32psi) and maximum pressure is 250kPa (36psi); each is equivalent to the next step up or down in spring rate, and heavier riders can now easily adjust the fork to suit. Air alone fulfills the pressurisation needs; there's no need for nitrogen or other inert gasses. The fork and shock are also fully adjustable for compression and rebound damping.
An additional benefit of the KYB air suspension fork is that the CRF450R can be strapped down for transport simply by removing air pressure, lowering the front end with no risk of damaging fork seals.
A new aluminum swingarm provides added rigidity in the front and center sections for less deflection in ruts, and improved corner-exit traction. The top mount of the KYB rear shock is sited 14.5mm lower within the frame; while the shock itself is physically 14.5mm smaller to fit and features revised rebound and compression damping rates. The benefit of mass centralisation in this area is a reduction in pitching inertia along the bike's centerline making it possible to brake harder whilst maintaining stability.
Clever packaging of components around the frame also contributes to mass centralisation and the lighter feel of the CRF450R at speed. The radiators are mounted lower, and are smaller and more efficient. This allows the cooling system to use 50cc less coolant whilst maintaining cooling performance. All of the electrical components – the ECU, condenser, regulator and wiring harness save weight and are centrally located.
The CRF450R's bodywork inherits the 'triangle proportion' that has long set the CRF family of competition machines apart. Another phrase used by Honda's engineers during development was 'man maximum, mechanical minimum'. Essentially the machine is built around the needs of the rider.
Styling Concept
In support of this the radiator shrouds, side covers, seat and fuel tank offer a slim, smooth and continuous transition allowing the rider a great deal of freedom and flexibility of movement. The bodywork attachment points where the rider contacts the bike have been made more rigid so the rider can grip the bike more solidly, for better feel and control. In addition, the rear fender now has a lift point with integrated support to make it easier to hoist the bike onto a stand. The radiator shrouds incorporate high-efficiency channels for maximum air flow into, through and out of the radiators; fuel capacity is increased, by .6L to 6.3L.
The sharp-edged front mudguard is radically angled downward to deflect mud, and maintains strength and rigidity where needed but uses thin-wall construction towards the tip. Similarly, the rear mudguard is narrow but utilises a diagonal upsweep to reduce mud scatter. New mounts save weight, yet its structure is strong enough to be used to lift up the bike.
The front disc cover has been redesigned for improved protection and is now in two parts for easier maintenance of the 240mm wave-pattern disc and twin-piston brake caliper. The rear brake is a 240mm wave-pattern disc with single-piston caliper. Both calipers use sintered brake pads. Lightweight aluminium rims, with a directly attached spoke pattern layout reduce unsprung weight; front wheel size is 21 x 1.6in and 80/100-21 tyre, the rear is 19 x 2.5in and 110-90/19 tyre.

Front disk cover
The lightweight seat is thinner, moving the rider's weight closer to the centre of gravity of the bike while seated, and new 10% lighter footpeg mounts are sited 5mm back for increased rear wheel traction when standing. Fittingly – and evocative of CRF, and Honda – the bike's colour combination is a stunning blend of Extreme Red and White.
Engine
Increased punch out of corners, with finer throttle control and feel for rear wheel traction were key goals for Honda's engineers. Optimising the liquid-cooled, four-valve Unicam engine's efficiency for these aims started with improved gas flow rate through the cylinder head; refined inlet port shapes provide 3% more flow, and revised valve timing, with more overlap, maintains maximum power at high rpm, while increasing low and mid-range output.
Exhaust valve
Bore and stroke remains 96mm x 62.1mm, but the exhaust valves have increased in diameter – up 1mm to 31mm – for a 3% increase in flow. The compression ratio has also been raised, from 12.0:1 to 12.5:1. The result is an engine that delivers 10% more torque low down, with a linear torque curve plus stronger mid-range power and no loss at the top-end.
For smoother control at low speed the ACG flywheel mass is 11% greater, complemented by a new clutch, which is now a six-spring design for stronger lockup with a lighter feel, better modulation of the friction point and added durability. The five-speed close-ratio gearbox is brand new, and has been strengthened with every bearing and gear improved to deal with the engine's extra torque.

For increased durability the piston oil jets uses two holes instead of one, for improved cooling of the piston's underside. The piston skirt is shot-peened using molybdenum disulfide to reduce friction, while the crown's domed shape is responsible for the increase in compression.

A new airbox and filter element ensure efficient filtration in the dustiest of conditions, and maintain a consistent internal pressure when the throttle is opened hard. The long, narrow inlet trumpet also increases air flow rate for smooth throttle progression at low to mid-rpm. The PGM-FI fuel injection has been revised to suit the engine's improved efficiency, with fuelling and ignition maps that maintain power output even in deep, soft sand.
A new airbox and straighter airboot inlet shape improve airflow, and also makes it easier to service the air filter. The PGM-FI Setting Tool used to change the parameters of both ignition and fuelling maps via the ECU has been upgraded to HRC specification for an easier, faster interface; the use of colour blocks gives the facility to change multiple cells at once on the display screen. This is of great help to tailor the engine's performance to suit individual riders and track condition.

Air cleaner box
The minimal aluminium rear subframe saves 100g and mounts short, twin rhombohedral mufflers lower, and closer to the centre of the machine. Careful management of internal backpressure balances spent exhaust gases between the mufflers; benefits include improved power, less noise plus a more neutral, and centralised, weight distribution. Final silencing is via sound-absorbing glass wool, with a stainless steel mesh inner baffle, and meets FIM regulations.

---
2013 Honda CRF450R – USA Specifications/Technical Details
US MSRP Price: $TBD USD
Model: CRF450R
Engine Type: 449cc liquid-cooled single-cylinder four-stroke
Bore and Stroke: 96mm x 62.1mm
Compression ratio: 12.5:1
Valve Train: Unicam, four-valve; 36mm intake, titanium; 31mm exhaust, steel
Induction: PGM-FI, 46mm throttle body
Ignition: Full transistor with electronic advance
Transmission: Close-ratio five-speed
Final Drive: #520 chain; 13T/48T
Suspension
Front: 48mm inverted KYB PSF® (Pneumatic Spring Fork) with rebound and compression-damping adjustability. 12.2 inches travel.
Rear: Pro-Link® KYB single shock with adjustable spring preload, rebound damping adjustability, and compression damping adjustment separated into low-speed and high-speed; 12.4 inches travel
Brakes
Front: Single 240mm disc with twin-piston caliper
Rear: Single 240mm disc
Tires
Front: Dunlop MX51FA 80/100-21
Rear: Dunlop MX51 120/80-19
Wheelbase: 58.7 inches
Rake (Caster Angle): 27°04′
Trail: 116mm (4.57 inches)
Seat Height: 37.5 inches
Ground Clearance: 13.0 inches
Fuel Capacity: 1.66 gallons
Color: Red
Curb Weight*: 242.7 pounds
*Includes all standard equipment, required fluids and full tank of fuel-ready to ride.
Consult owner's manual for optional parts.

---
2013 Honda CRF450R – Canadian Specifications/Technical Details
Canada MSRP Price: TBA CDN
TBA
---
2013 Honda CRF450R – Europe/UK Specifications/Technical Details
European MSRP Price: See dealer for Pricing.
UK RRP: £TBA (Prices are recommended and inclusive of VAT @ 20% and delivery)
Specifications – CRF450R (E-type)

ENGINE
Type 4 stroke, single cylinder, uni-cam
Displacement 449.7cc
Bore x Stroke 96.0 x 62.1
Compression Ratio 12.5:1
Max. Power Output 38.3KW @ 8,500 r/min
Max. Torque 47.7Nm @6,500 r/min

FUEL SYSTEM
Carburation FI
Fuel Tank Capacity 6.4L

ELECTRICAL SYSTEM
Ignition System Full transister
Starter Kick

DRIVETRAIN
Clutch Multi plate wet clutch
Transmission 5 speed, constant mesh
Primary Reduction 2.739
Gear Ratios
1st 1.800
2nd 1.470
3rd 1.235
4th 1.050
5th 0.909

Final Reduction 3.692 (48/13)
Final Drive Chain

FRAME
Type Aluminium twin tube

CHASSIS
Dimensions (LxWxH) 2191x827x1271mm
Wheelbase 1492mm
Caster Angle 27?
Trail 116mm
Seat Height 953mm
Ground Clearance 330mm
Kerb Weight 111KG

SUSPENSION
Type
Front 48mm inverted Air Fork, 310mm stroke, fully adjustable
Rear Pro-link, Fully adjustable mono shock, 133.5 mm stroke, 315mm axle travel
WHEELS
Type Wire spoke
Rim size Fr: 21 x 1.60 / Rr: 19 x 2.15
Tyre size Fr: 80/100-21 – Rr: 120/80-19


BRAKES
Type: 240mm Hydraulic disc

---
2013 Honda CRF450R – Australia Specifications/Technical Details
Australia MSRP Price: $TBA AU
TBA