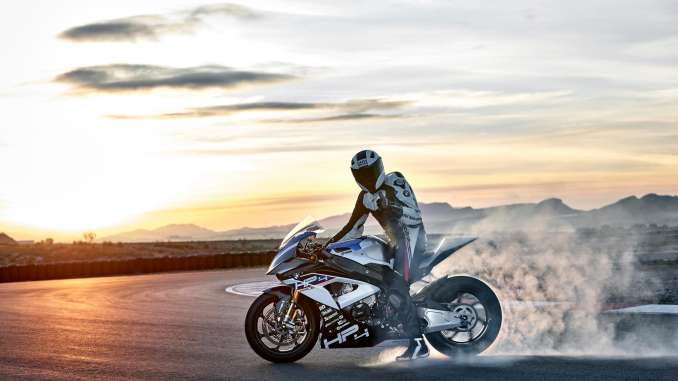 MAXIMIZED TO THE ESSENTIALS.
2019 BMW HP4 Race:
The HP4 RACE is more than the sum of its parts. This bike is pure emotion. From the development right up to the racetrack, passion is what has made this race bike what it is. An innovation driver, designed to push the limits. The HP bike is the first motorcycle in the world to offer a fully carbon frame and fully carbon wheels. With 158 kW (215 HP) of power, it weighs just 146 kilos (dry weight). A handmade dream come true for 750 enthusiasts.
High Performance – in black and white. It's evident from the very first moment that the HP4 RACE is one exceptional bike. The real accomplishments and passionate art of engineering are reflected in the performance values as well. Each and every part as well as all the work from our specialists, from the fully carbon frame to the valve setting, have made the following data of the HP4 RACE possible.
Pure performance 750 times over
The HP4 RACE is a masterpiece of engineering prowess. Each and every one of the 750 limited-edition racing machines was handmade by our specialists and fitted with a numbered plaque. This is for those who have no limts and always go further. We only produce this kind of concentrated passion for those who share it. This is reserved for frontier crossers whose requirements are not only satisfied by the HP4 RACE, but have to redefine their requirements. There are only a few like this. More precisely: seven hundred and fifty.
Chasing the Impossible
HP4 RACE
For many, limits are the end of the story. For some, they are only the beginning. With the HP4 RACE, we show the passion of those who like to go beyond their limits. Whatever this may entail – it is something that was previously unimaginable.
•BMW Motorrad Race DTC (Dynamic Traction Control) +/-7
•EBR (Engine Brake Regulation) +/-7
•4 riding modes (WET, INT, DRY1, DRY2, )
•2D data recording/stick logger/lap timing/GPS, 2D dashboard, 2D data recording prepared for spring travel sensors/brake pressure sensors
•Pit Limiter
•Launch Control
•Adjustable footrest system (8 positions) , adjustable handlebars (sweep), fork bridge with offset adjustment (variable as part of equipment pack), seat height adjustment, steering angle adjustment (variable as part of equipment pack)
•HP4 Race shift assistant (up/down) shift pattern already inverted in delivery status
•WSBK button unit
•HP Race brake lever guard
•Secondary transmission variable as part of equipment pack (sprocket 15, 16, 17 // chainwheel 41, 42, 43, 44, 45)
2019 BMW HP4 Race Totalmotorcycle.com Features and Benefits
Engine
Power and perfection. The engine housing was treated with hot isostatic pressing "HIPed", the smallest air pockets were eliminated from each individual part under overpressure. The light and high-strength motorsport steel connecting rods are paired to 0.5 g and move in the finely balanced crankshaft. The four pistons are paired and optimized for withstanding the increased rotational speeds and loads. The maximum regulated oil pressure of the oil pump was reduced from 6 to 5 bar and, in combination with thin-bodied 0W40 oil, generates significantly less power loss. Each HP4 RACE engine is engineered to strict tolerances for maximum power capacity. After fully testing the engine, the combustion chamber is endoscoped in order to detect any collisions of the piston on the combustion chamber roof. Once the engine has passed inspection on the test stand, its full potential can be realized.
Brakes
Brake performance at the top level. The Brembo GP 4 PR brake calliper is well-known from Moto GP. It encompasses a T-floated racing brake disc with a diameter of 320 mm. With a thickness of 6.75 mm, it can withstand the highest loads. The monobloc brake calliper is particularly temperature resistant and the reduced-friction titanium pistons round off the brake performance. The brake callipers are fitted with Brembo /04 racing pads.
Footrests + shift assistant
The 6-speed EVO gearbox has shortened shift travels and includes a secondary transmission. The gearbox is controlled via the HP RACE Shift Assistant Pro. The rider receives clear feedback with each gearshift due to the lack of a spring actuator. As is usually the case in racing, the first gear is located at the top and gears 2 through 6 are shifted downwards. If necessary, the gearshift mechanism can be converted to street format. The wheelie control and the maximum engine torque are attuned to the respective riding modes WET, INT, DRY1, DRY2. The pit lane limiter is ready for use when the first gear is selected. When at a standstill, the launch control also starts automatically. This ensures that riders are able to focus their full concentration on the race start.
Steering head + fork bridge
Every HP4 RACE has its own consecutively numbered carbon plaque that is countersunk into the fork bridge. The functional chassis of the HP4 RACE can be adjusted for any type of racetrack. Using the variable offset adjustment, riders can adjust the factory settings of 30 mm with depositor stones in 26-32 mm and 30-28 mm. The steering head angle is 0.5° flatter than on the standard model at 65.5°. It can be adjusted from +0.5° to +1°. Thanks to the settings, an after-run of 95-112 mm can be achieved.
Shift unit
A milled aluminium button panel makes all important riding settings available with particular operating accuracy. On the left, the dashboard display screens can be switched and all DTC and EBR settings carried out. Both the setting for the riding modes ( WET – INT – DRY1 – DRY2 ), the start button and pit limiter and the kill switch are located on the right hand side.
Seat + ergonomics
Optimal ergonomics for every rider. The standard seat height is 831 mm, the lowest seat adjustment (-15 mm) is 816 mm and the highest seat adjustment (+15 mm) is 846 mm. Furthermore, the milled footrest system has 8 different settings. The handlebar tapering can also be adjusted by 15°.
DTC + EBR
The dynamic traction control gets its information from the re-positioned angular rate sensor. The traction can be adjusted from +7 to -7 and four riding modes are available to choose from. The modes: WET – INT – DRY1 – DRY2 vary in terms of the progressive mapping of the gears, the relative maximum torque and the specification of the wheelie control. Together with the EBR (engine brake), riders can influence the braking and acceleration characteristics and optimally adjust to the conditions of the racetrack.
Carbon wheels
The carbon fibre rims and the specific design of the wheels save an additional 1540 g compared to the forged wheels. The significantly reduced dimensions of the wheels, especially the circumference, are particularly noticeable with each change of direction and when braking. For the material connections, an optimal positive locking is achieved by shrinking and pressing in add-on parts such as the chain strap mounting made of aluminium. This enables insert solutions to be completely avoided and the stability to be increased even more.
Titanium screws
A dry weight of 146 kilos (DIN empty 171 kg) is hard work. Each component was weight-optimized or, if it is not needed, discarded. It was checked right down to the smallest detail where a gram can be saved and the function kept intact or whether it might even be able to be improved. For instance, titanium screws are used for the engine and frame. In sizes 6, 8 and 10, they not only save weight, but also save on the required tools.
2019 BMW HP4 Race – Totalmotorcycle.com USA Specifications/Technical Details
US MSRP Price: $ USD
Canada MSRP Price: $95,000 CDN
Europe/UK MSRP Price: £ GBP (On The Road inc 20% Vat)
Australia MSRP Price: See Dealer for Pricing in AU
2019 BMW HP4 Race – Totalmotorcycle.com Canada Specifications/Technical Details
Engine
Design
Water/oil-cooled 4-cylinder four-stroke in-line engine, four titanium valves per cylinder, two overhead racing camshafts, milled oil sump, Pankl connecting rod, precision-balanced and lightened crankshaft.
Bore x stroke
80 mm x 49.7 mm
Displacement
999 cc
Nominal capacity
158 kW (215 hp) at 13,900 rpm (maximum speed 14,500 rpm)
Maximum torque
120 Nm at 10,000 rpm
Compression ratio
13.7-13.9 : 1
Fuel preparation
Electronic racing injection, variable intake pipe length, four selectable modes.
Exhaust system
Akrapovic full titanium 4 into 2 into 1 WSBK exhaust system
Riding performance / consumption
Top speed
over 300 km/h
Fuel grade
Superplus unleaded petrol, minimum octane number 98 (RON)
Electrical system
Alternator
406 W
Battery
12 V/5 Ah, Li-ion maintenance-free
Power transmission
Clutch
Multi-disc clutch in oil bath, anti-hopping clutch, mechanically operated.
Transmission
Constant-mesh six-speed racing transmission (EVO) with straight-cut gears
Secondary drive
16/43 (adjustable as part of equipment pack: sprocket 15, 16, 17, chainwheel 41, 42, 43, 44, 45).
Traction control
DTC adjustable in 15 stages.
Engine brake
EBR adjustable in 15 stages.
Chassis and suspension/breaks
Frame
Carbon monocoque RTM frame with steering head angle and swinging-arm pivot adjustment, load- bearing engine.
Rear frame
Carbon monocoque rear frame with seat height adjustment (3 positions, 30 mm adjustment range).
Front suspension/spring elements
Öhlins FGR 300 WSBK fork, adjustable rebound and compression-stage damping, adjustable spring preload, Öhlins SD052 adjustable steering damper, front wheel quick-change system thanks to rotatable forklegs with front-wheel cover mounted (brake calipers need not be removed to change a wheel) spring stiffness 10.5 N/mm.
Rear-wheel guide/spring elements
Aluminium WSBK swinging arm, Öhlins TTX 36 GP central spring strut, adjustable rebound and compression-stage damping, adjustable spring preload, top spring strut pivot point adjustable (0/3 mm), adjustable spring strut deflection (tension strut length), contact surfaces for wheel spacer bush on chain tensioners for simple/hands free wheel fitting, chain tensioner titanium on outside, aluminium on inside, CFRP auxiliary stand mountings on swinging arm, spring stiffness 95N/mm.
Spring travel, front/rear
130 mm/120 mm
Wheelbase
1440 mm
Castor
102.5 (adjustable between 95-112)
Steering head angle
65.5° (adjustable 0.0°, +/-0.5°, +/-1°)
Tension strut
113 mm (variably adjustable +/-5 mm. steplessly in 0.1 mm steps)
Swinging arm pivot
-3 mm over K46Mü3 (adjustable +-4 mm,+-3 mm,+-2 mm,+-1.0 mm) -> (HP4R designation "-2" corresponds to K46MÜ3 "-3" = standard)
Swinging arm length
604 mm
Offset fork bridge
30 mm (adjustable 26 mm, 28 mm, 32 mm)
Wheels
Carbon wheels including press-fitted wheel spacer bushes for easy wheel fitting.
Front rim dimensions
3.50 x 17″
Rear rim dimensions
6.00 x 17″
Front tire
120/70 ZR 17 Pirelli Diablo Superbike Slick SC2
Rear tire
200/60 ZR 17 Pirelli Diablo Superbike Slick SC2
Front brake
Brembo Racing twin disc brake, T-floating racing brake discs, 320×6.75 mm diameter, 4-piston monobloc WSBK GP4-PR fixed caliper with titanium pistons, Brembo Racing RCS19X18 master cylinder, including adjustable Brembo Racing brake lever, Brembo Racing clutch lever (without clutch switch).
Rear brake
Brembo Racing single-disc brake, 4-piston WSBK fixed caliper with titanium pistons, brake disc diameter 220×4.0 mm.
Footrest system
Rigid footrest system milled from aluminium and adjustable in 8 positions
Vent values on brake lines
"Stahlbus" rapid vent valves at all relevant positions for brake bleeding.
Handlebar ergonomics
Handlebar sweep variably adjustable (15°)
Dimensions / weights
Seat height at unladen weight
831 mm (rider seat low / high, 816 / 846 mm)
Inner leg curve at unladen weight
approximately 1859 mm (rider seat low / high, 1829 mm / approximately 1889 mm)
Usable tank capacity
17.5 l
Reserve
approximately 4 l
Length
2,070 mm
Height
1,193 mm
Width
777 mm
Dry weight
146 kg
1)
Curb weight, ready for road, full tank 1)
171.4 kg
1) According to guideline VO (EU) 168/2013 with all fluids, with standard equipment and fuelled with at least 90% of usable tank volume
2019 BMW HP4 Race – Totalmotorcycle.com European Specifications/Technical Details
2019 BMW HP4 Race – Totalmotorcycle.com Australian Specifications/Technical Details
Manufacturer Specifications and appearance are subject to change without prior notice on Total Motorcycle (TMW).