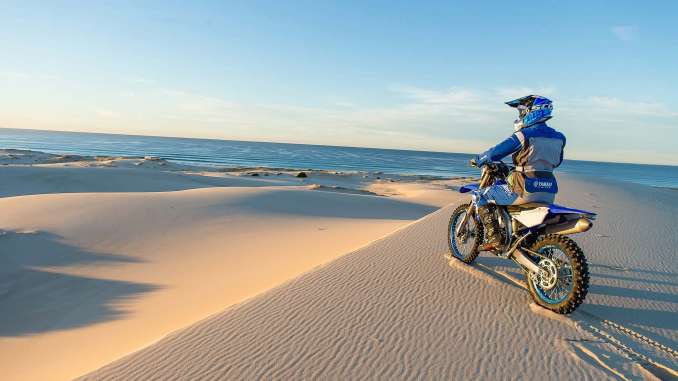 THE BIKE FOR ALL REASONS.
2019 Yamaha WR450F:
This off‑road bike offers enhanced performance to make this aggressive trail machine much closer to its YZ and FX brothers.
The WR450F celebrates its 20th year in production with a complete revision based on the latest-generation YZ450F motocross platform. Linear, tractable power, pinpoint handling, proven Yamaha reliability and YZ-derived performance make the new WR450F a wise choice for today's most demanding enduro racers and recreational enthusiasts alike.
///ENGINE
Powering the new WR450F is the latest reverse-fed, mass-centralized 449 cc single from the current YZ450F, but with specific enduro settings. Layout and specifications are the same as the YZ450F engine, but the intake and exhaust systems, fuel injection and ignition advance maps are tuned to provide the fast enduro rider with stronger and longer-lasting pulling power at high rpm.
2019 WR450F Yamaha Blue engine Highlight Image
///HANDLING
Using the same bilateral beam frame and proven KYB suspension as the current YZ450F, the WR450F has been tuned for the enduro environment. The result is excellent stability, feedback, response and light handling.
2019 WR450F Key Features
All-new 450cc engine with optimized settings
Optional race kit with CCU enables Power Tuner app
New handlebar mounted switch adjusts engine mode
New YZ450F-based lightweight bilateral beam frame
Revised KYB® suspension for stable & smooth ride
Slim, mass-centralized 7.9 litre fuel tank
New light, slim and sharp body & headlight design
Tough new skidplate and new speed sensor
New radiator shrouds and easy-access air filter box design
Durable new clutch, 5-speed wide-ratio gearbox
New narrow, lower and more accessible seat
Tough new wear-resistant in-mould graphics
All new 2019 WR450F: The bike for all reasons
More power, increased agility and added versatility in the victorYZone
The all-new WR450F celebrates 20 years of Yamaha 4-stroke enduro production with a complete redesign that delivers stronger power with increased agility, as well as greater versatility and lighter handling. At the same time as being lighter, slimmer and faster, the all-new 2019 model maintains the characteristics that have made it one of the most popular 450cc enduro models all over the world, namely rock-solid stability, legendary reliability and outstanding high-speed performance.
In the two decades since the first WR-F 4-stroke revolutionized the enduro scene it has established a reputation for its linear and tractable power, high build quality and rugged construction – and these are the key elements that have made the WR450F a firm favourite with fast trail riders and serious racers alike.
Since its original launch in 1998, the WR-F's engine has grown from 400cc to 426cc, and the latest generation reverse cylinder head engine displaces a full 450cc. The new 2019 model has been further developed using advanced engine and chassis technology derived from the latest highly successful YZ450F platform – an apex predator motocross bike that blends mind bending power with absolute control.
WR450F: Built to win in any environment
Yamaha's WR-F enduro bikes have been proving their race-winning potential all over the world in a wide variety of competitive off-road events. In the FIM Enduro World Championship, Outsiders Yamaha Official Enduro Team riders Jamie McCanney (E1) and Löic Larrieu (E2) have been challenging hard for the top place on the podium throughout the year – while Larrieu took a sensational outright victory in the 2017 ISDE against the world's best riders. Riding WR-F enduro bikes, Manxman McCanney and Frenchman Larrieu have established Yamaha as a main contender in EWC and underlined the company's total commitment to enduro.
In the 2018 Dakar Rally, Yamalube Yamaha Official Rally Team rider Adrien Van Beveren retained the overall lead on his WR450F Rally for five days until an unfortunate race-ending crash on stage 10. With one stage victory and three more stage runner-up results, Frenchman Van Beveren proved the winning capabilities of the WR450F in the toughest possible environment.
In addition to the legendary Dakar Rally, Yamalube Yamaha Official Rally Team riders have also had a full season competing in Cross Country Rallies all over the world, and the experience gained has contributed towards the development of the new WR450F.
Faster and stronger 450cc reverse-head engine
The all-new WR450F is equipped with a sophisticated reverse cylinder head engine featuring a rearward slanting cylinder that helps to ensure idealized mass centralization. Developed from the MXGP-winning YZ450F motocross bike – and equipped with enduro-specific intake and exhaust systems, fuel injection and ignition advance maps – the new high torque 450cc 4-valve engine produces a broad and linear spread of useable power.  With an excellent feeling of traction, the WR450F delivers harder-hitting performance for winning times on enduro special tests.
The stronger engine produces a wider band of pulling power and offers smoother throttle control for technical sections, and these enhanced characteristics – together with the lighter and slimmer feeling chassis – enable the WR450F rider to maintain a faster pace throughout the day.
New smartphone tuning with the Power Tuner app
On board WiFi means that you can tune the new WR450F to suit different tracks and changing weather conditions using a smartphone in association with the Communication Control Unit that is available in the optional race kit*. The new Power Tuner app gives every WR450F rider the ability to make instant fueling and ignition timing changes and upload/share data for the ultimate in track-side tuning.
The free Yamaha Power Tuner app also allows owners to record race log information and monitor a range of data such as maintenance and system diagnosis, engine run time and more.
(* Race kit available separately)
Adjustable engine mode switch
A handlebar-mounted dual engine map switch has been adopted and positioned next to the clutch lever to enable changes in the engine power delivery characteristics mid-race. This switch allows the rider to select one of two engine maps on the fly at the press of a button to cater for changes in the riding environment. Together with the new engine's wider spread of torque, this engine mode switch underlines the new WR450F's versatility and adaptability, making it an ideal enduro bike for racers as well as leisure riders.
Sharper handling aluminium bilateral beam frame
Developed from the latest YZ450F, the all-new aluminium bilateral beam frame is slimmer and lighter, giving it a much lighter and more agile feel through twisty, rocky and technical terrain. The new frame design includes a revised head pipe position, straight tank rail, larger absorption zone and an enlarged rear arm bracket and these elements contribute to an improved agility, precision and traction.
Industry leading front and rear suspension
The WR450F runs a sophisticated suspension system that provides a stable damping force with plenty of surface feedback at low to mid speeds.
Featuring new internals with longer high-rate springs, the industry-leading KYB® air-oil-separate upside-down front forks provide stable damping characteristics over all types of terrain – while the flex-resistant outer tubes contribute to a secure feeling of ground contact. This front suspension system is widely acknowledged as being one of the best available on a production dirt bike, and responds particularly well during the transition between the compression and rebound strokes.
The rear shock absorber is also based on the YZ450F unit and, like the forks, features enduro model-specific settings. Its new 11.5mm diameter coil spring is 350 grams lighter and has a higher fatigue strength than the current model's – and for cooler running and more stable damping force, the capacity of the shock's reservoir has been increased by 30cc.
Larger 7.9 litre fuel tank
For increased riding time between fuel stops the 2019 WR450F is equipped with a newly designed large-capacity 7.9-litre plastic resin fuel tank featuring a compact fuel pump. The increased fuel capacity has been achieved by extending the fuel tank's lower section towards the centre of the bike – a move that improves mass centralization and ensures a slim and compact body design that enhances rider comfort and mobility.
Lighter, slimmer and sharper bodywork and headlight design
Current WR450F riders will appreciate how much this bike has changed for 2019 – and those who are new to Yamaha 4-stroke enduro will be impressed by its easy ergonomics. The new frame has enabled Yamaha's designers to fit much slimmer bodywork that looks and feels more like a 250, making this one of the most compact 450 enduro bikes. Mass centralization is also improved, and the overall impression of lightness and agility is reinforced by the new headlight cowl that sits lower and closer to the rider, giving a sharper race-bred look.
The WR450F is also equipped with new and more compact radiators that facilitate the fitment of narrower and closer-fitting radiator shrouds that contribute towards rider mobility and give added control during stand up riding. The new shrouds also feature wear resistant in-mould graphics that accentuate the athletic lines of the slim new body design.
More protective skidplate and new speed sensor
The new model gets a larger and lighter plastic resin skid plate that is designed to protect the frame, engine, hoses and water pump from deep ruts and flying debris – and its close-fitting frontal area prevents mud and stones from accumulating in any cavities around the crankcases and so reduces additional running weight.
For quicker and easier front wheel removal the new Yamaha enduro is equipped with a new type speed sensor.
Free flow air filter
For easy maintenance the WR450F gets an all-new airbox that enables tool-free filter changes. The new filter element gives reduced airflow resistance with increased reliability, and features rubber seals at the centre positioning pin for increased dust-filtering capability.
Lighter, tougher clutch & wide‐ratio 5‐speed transmission
In order to better handle harsh enduro conditions, the durable new clutch is equipped with a highly heat-resistant friction plate – and a new design that eliminates the judder spring is adopted to give a much lighter pull at the lever for better feel and improved controllability.
The new WR450F adopts a wide-ratio 5-speed transmission with modified internals that provides strong off-road performance in difficult and technical areas, as well as strong high-speed performance for flat dirt sections. Also, the shapes of the dog gears have been revised.
Lower and narrower seat
Whether you're sitting down or standing up, the new seat's slimmer design makes it easier to shift your body weight. As well as being 2cm narrower in the front section, the middle and rear sections of the seat are also lower, enabling you to move backwards or forwards more easily for a higher degree of control when cornering, accelerating or braking.
2019 Off Road Competition Models
Yamaha's extensive range of Off Road Competition models including the WR250F enduro, TT-R 4-strokes and the PW50 2-stroke all feature new colours and graphics for 2019.
2019 Yamaha WR450F Totalmotorcycle.com Features and Benefits
Top Features
Ultimate Enduro Machine
All new for 2019, the WR450F™ builds on Yamaha's exceptional motocross and cross-country race platform with added features and unique settings designed to optimize the WR® for enduro riding.
Electric Starter System
Utilizing a compact starter motor system battery, the WR450F maintains the convenience of push-button starting, for effortless restarts and relaxed riding when the clock isn't ticking.
Potent Fuel-Injected Engine
A high-compression cylinder head, forged piston, aggressive cam profiles, cylinder geometry and much more work together to give WR450F riders a broad spread of useable thrust with expanded high-rpm power.
Advanced Alloy Frame
Yamaha's bilateral beam aluminum frame is derived straight from the YZ450F to centralize mass and provide an ideal balance between cornering feel and straight-line confidence.
Class-Leading Suspension
Yamaha uses KYB® spring-type forks of the WR450F, with industry leading function and easy tuneability for a wide range of conditions.
New for 2019
All-New High-Spec Enduro
For 2019, the new WR450F takes all the latest advancements found on the YZ450F and builds upon them to create the ultimate trail-ready enduro machine, with engine and chassis tuning optimized for accessible power, handling balance, and flexibility on every trail.
Engine
Rearward-Slanted Cylinder Design
The WR450F's distinct rearward-slanted cylinder design—complete with rear exhaust and forward-mounted intake system—features a cylinder head that works with the frame geometry for optimized weight distribution. Inside, the engine features a straight intake tract, aggressive cam profiles, high-compression "box bridge" piston design with DLC-coated piston pin, and more.
Unique Enduro Engine Tuning
WR450F-specfic ignition and fuel injection maps are optimized for enduro riding and racing, for exceptionally smooth and controllable midrange power with longer-lasting pulling power in the top-end.
Enhanced Intake and Exhaust Systems
The WR450F features a new two-piece air filter with improved sealing that works in conjunction with the tuned intake tract length and new WR-specific muffler to boost the linear feeling of traction and drive.
High-Capacity Radiator
The WR450F uses a large radiator with excellent cooling capacity shared with the YZ450F motocrosser, complete with a cooling fan for consistent performance during the toughest enduro rides.
Electric Starter System
The WR450F features a compact electric starter system to simplify restarts on the trail and add convenience everywhere else.
Advanced Fuel Injection
The engine breathes through a 44mm Mikuni® throttle body fed by a high pressure electric pump to ensure optimum fuel atomization and power for a wide range of riding conditions.
Robust Transmission and Clutch
The 2019 WR450F's wide-ratio 5-speed transmission is shared with the YZ450FX and enhances cross-country performance for more flexible gearing selection in open terrain. The clutch system has also been reworked especially for the new WR450F for improved heat dissipation and lighter clutch lever effort.
Chassis/Suspension
YZ450F™-Derived Bilateral Beam Frame
Yamaha's refined aluminum frame provides rigidity and durability, with frame spars and engine mounts developed alongside the YZ450FX cross-country racer to centralize mass for the best possible balance of bump absorption, stiffness and rider feeling.
Compact Body and Seat Design
The WR450F features stylish bodywork from tip to tail, including a large 2.15 gallon, mass-centralized fuel tank shared with the YZ450FX™. The body design is narrow for more comfortable knee grip and control feeling while the narrower seat gives the rider additional room to move aboard the machine. Even the rear fender is specially designed for added rigidity to make moving the machine easier.
Class-Leading Suspension
The WR450F's industry-leading, fully adjustable KYB® coil spring-type fork with speed sensitive damping provides exceptional balance between handling and bump absorption, with updated mid-speed valving for improved feel at slower fork speeds. The linkage type rear suspension features a KYB® shock features a new coil spring for lighter weight without sacrificing durability as well as a larger oil reservoir for more consistent damping.
270mm Front Brake
Large 270mm front disc brake coupled with aggressive pad material offers outstanding braking performance and machine control, with exceptional stopping power and controllability.
Cross-Country Wheels and Tires
The WR450F features enduro-specific Dunlop® tires for the ideal balance of traction and durability, complete with an 18-inch rear wheel. Each wheel's cross-sectional profile is computer-designed to shave valuable weight without sacrificing durability, too.
Additional Features
Enduro-Ready Detailing
The WR450F includes a range of enduro-specific upgrades compared to the YZ450F motocrosser, including a wide, full-coverage composite engine guard, sealed O-ring chain, fuel level warning indicator and a folding aluminum kickstand that is mounted higher than before for improved ground clearance.
New Compact Headlight Unit
The 2019 WR450F utilizes a new headlight unit and fairing that centralizes mass and improves the light and agile styling of the machine.
Embedded Graphics
Yamaha's unique embedded graphics are built into the bodywork for extended durability, resisting both peeling and damage.
2019 Yamaha WR450F – Totalmotorcycle.com USA Specifications/Technical Details
US MSRP Price: $9599 USD
Canada MSRP Price: $10999 CDN
Europe/UK MSRP Price: £ See dealer for pricing in GBP (On The Road inc 20% Vat)
Australia MSRP Price: See dealer for pricing in AU
MSRP*
$9,599 – Team Yamaha Blue – Available from January 2019
Engine
Engine Type
450cc liquid-cooled DOHC 4-stroke; 4 valves
Bore x Stroke
97.0mm × 60.9mm
Compression Ratio
12.8:1
Fuel Delivery
Mikuni® fuel injection, 44mm
Transmission
Wide-ratio 5-speed; wet multiplate clutch
Final Drive
O-ring chain
Chassis
Suspension / Front
KYB® Speed-Sensitive System inverted fork; fully adjustable, 12.2-in travel
Suspension / Rear
KYB® single shock; fully adjustable, 12.5-in travel
Brakes / Front
Hydraulic single disc brake, 270mm
Brakes / Rear
Hydraulic single disc brake, 245mm
Tires / Front
80/100-21 Dunlop® MX3X
Tires / Rear
120/90-18 Dunlop® MX3X
Dimensions
L x W x H
85.6 in x 32.5 in x 50.0 in
Seat Height
37.6 in
Wheelbase
58.3 in
Rake (Caster Angle)
27.2°
Trail
4.6 in
Maximum Ground Clearance
12.6 in
Fuel Capacity
2.2 gal
Wet Weighty
262 lb
Other
Warranty
30 Day (Limited Factory Warranty)
*** Wet weight includes the vehicle with all standard equipment and all fluids, including oil, coolant (as
applicable) and a full tank of fuel. It does not include the weight of options or accessories. Wet weight is
useful in making real-world comparisons with other models.
2019 Yamaha WR450F – Totalmotorcycle.com Canada Specifications/Technical Details
Engine
Liquid-cooled, DOHC, 4-valve (titanium), single
Displacement
449 cc
Bore and Stroke
97 x 60.8 mm
Compression Ratio
12.8:1
Fuel Delivery
Keihin 44 mm throttle body F.I.
Lubrication
Wet sump
Ignition / Starting
TCI / Electric
Transmission
Wide ratio 5-speed transmission
Primary ratio 2.609 (60/23)
Secondary ratio 3.846 (50/13)
1st gear 2.417 (29/12)
2nd gear 1.733 (26/15)
3rd gear 1.313 (21/16)
4th gear 1.050 (21/20)
5th gear 0.840 (21/25)
Final Drive
O-ring chain
Chassis
Suspension (Front)
Adj. 48 mm inverted fork / 310 mm (12.2″) wheel travel
Suspension (Rear)
Fully Adj. Link Monocross / 318 mm (12.5″) wheel travel
Brakes (Front)
270 mm floating disc / twin-piston caliper
Brakes (Rear)
245 mm disc / single-piston caliper
Tires (Front)
90/90-21
Tires (Rear)
130/90-18
Critical Data
Length
2,165 mm (85.2″)
Width
825 mm (32.5″)
Height
1,280 mm (50.4″)
Wheelbase
1,465 mm (57.7″)
Ground Clearance
325 mm (12.8″)
Seat Height
965 mm (38″)
Fuel Capacity
7.9 litres (1.7 Imp. gal.)
Wet Weight
119 kg (262 lbs)
Colour(s)
Yamaha Racing Blue
2019 Yamaha WR450F – Totalmotorcycle.com European Specifications/Technical Details
Engine type
liquid-cooled, 4-stroke, 4-valves, DOHC
Displacement
449cc
Bore x stroke
97.0 mm x 60.8 mm
Compression ratio
12.5 : 1
Maximum power
–
Maximum torque
–
Lubrication system
Wet sump
Clutch type
Wet, Multiple Disc
Ignition system
TCI
Starter system
Electric
Transmission system
Constant Mesh, 5-speed
Final transmission
Chain
Fuel system
Fuel Injection
Frame
Semi double cradle
Front travel
310 mm
Caster angle
26º20
Trail
114mm
Front suspension system
Telescopic forks
Rear suspension system
Swingarm, (link suspension)
Rear travel
318 mm
Front brake
Hydraulic single disc, Ø270 mm
Rear brake
Hydraulic single disc, Ø245 mm
Front tyre
90/90-21 54M
Rear tyre
130/90-18 69S+M
Overall length
2,165 mm
Overall width
825 mm
Overall height
1,280 mm
Seat height
965 mm
Wheel base
1,465 mm
Minimum ground clearance
325 mm
Wet weight (including full oil and fuel tank)
123 kg
Fuel tank capacity
7.5litres
Oil tank capacity
0.95litres
2019 Yamaha WR450F – Totalmotorcycle.com Australian Specifications/Technical Details
TBA
Manufacturer Specifications and appearance are subject to change without prior notice on Total Motorcycle (TMW).