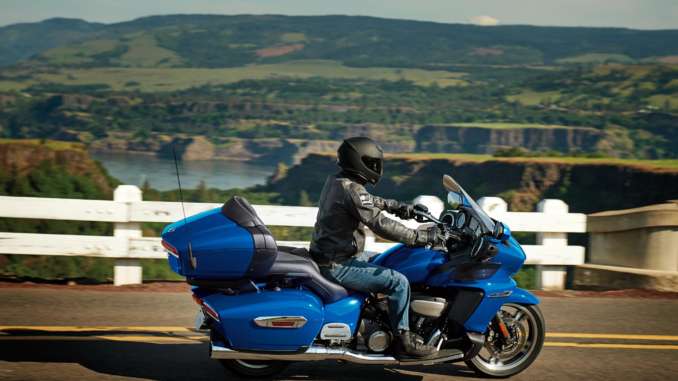 JOURNEY FURTHER.
2020 Yamaha Star Venture:
This "top‑of‑the‑line" transcontinental tourer combines emotional V‑Twin performance with cutting‑edge comfort and technology.
The Star Venture TC is the most advanced transcontinental luxury tourer in Yamaha's history. Combining convenience, comfort, technology and V-twin performance, the Star Venture TC is the ultimate choice for those who choose to journey further.
STAR INFOTAINMENT
Quick-start directions are available to help you check your current system version and to download and install the latest infotainment software release. BE SURE THAT YOU HAVE THE LASTEST UPDATE:
EXPERIENCE
A powerful 1,854 cc V-twin and 6-speed transmission (with overdrive) deliver plenty of torque and a smooth, enjoyable ride. The elegant styling of the Star Venture TC – dynamic front fairing, LED headlights and high-quality finishes – makes it stand out amongst luxury tourers.
YAMAHA 5-YEAR WARRANTY
Get peace of mind standard with the Star Venture TC which comes with a 1-year factory warranty and 4 years of Yamaha Protection Plus. *Certain exclusions apply, see terms for details.
COMFORT
To make the most of enjoyable long-distance rides, Yamaha has a feature-packed infotainment system, plenty of storage, and heated seats with lots of space and adjustability. The infotainment system features a 7-inch display complete with audio, navigation, communication, vehicle status and equipment controls.
OPERATION
Yamaha's Sure-Park system uses a dedicated motor to make low-speed manoeuvres less stressful. Extra features like the Smart Key system, traction control, riding modes and unified brakes result in hassle-free operation and an enhanced feeling of confidence.
KEY HIGHLIGHTS
1,854 cc (113 cubic inch) air-cooled, long-stroke, OHV, 4 valves per cylinder, 48-degree V-twin with EFI
6-speed transmission with overdrive 5th & 6th gears, heavy-duty hydraulic assist and slipper clutch
Cable-less Yamaha Chip Control Throttle (YCC-T)
Yamaha's D-Mode variable throttle control system & traction control
Yamaha's electronic cruise control system
Yamaha's Sure-Park parking support system for easier, more precise manoeuvrability when parking
ABS & UBS (unified braking)
Yamaha's Smart Key system
Feature-packed 7″ infotainment system including audio, navigation (GPS), communication (phone, VOX, intercom, CB radio & SMS text messaging, Bluetooth), vehicle status info & various equipment controls
Stylish frame-mounted full coverage fairing with electrically adjustable windshield, wind deflectors & LED headlights
Over 144 litres of storage capacity (fairing, saddlebags & tour trunk)
Heated rider and passenger seats with 10 levels of heat adjustability
Heated hand grips
25-litre fuel tank
5-year warranty coverage – One year limited factory warranty + four years Yamaha Protection Plus (YPP). Certain exclusions apply, see terms of each for details.
Yamaha Introduces 2020 Star Venture Transcontinental Tourer
Riders will Journey Further with Technology, Convenience, Comfort and V-Twin Power
MARIETTA, Ga. – June 4, 2019 – Yamaha Motor Corporation, USA, today introduced the 2020 Star Venture, a luxurious, technologically advanced transcontinental touring motorcycle that offers riders the opportunity to journey further than ever before. The Star Venture incorporates convenient features like Sure-Park forward and reverse parking assist, dual-zone audio capability, drive mode settings that adjust throttle response, traction control, an adjustable rider backrest, heated handlebar grips, heated rider and passenger seats and backrests, a multi-function infotainment system and more. Combined with Yamaha's renowned quality, performance, and reliability, the Star Venture represents the very top of the luxury motorcycle touring segment.
Developed specifically for the needs of long-distance touring, the Star Venture boasts a massive and torque-rich 113 cubic inch (1854cc) air-cooled V-twin engine to deliver a smooth and comfortable ride on long days in the saddle. A six-speed transmission makes the most of the huge low-end torque, from brisk acceleration in lower gears to relaxed highway cruising.
Yamaha's Chip Controlled Throttle (YCC-T), a ride-by-wire throttle control system, converts the rider's grip input into calculated throttle control providing precise and refined responsiveness. Yamaha D-Mode allows the rider to choose from two different throttle response settings (an ultra-smooth touring mode, and a sport mode for sharper response), while the traction control system helps prevent wheel spin while accelerating. A finely-tuned cruise control system also comes standard on the Star Venture, assisting with reduced rider fatigue and improved fuel economy.
As the most technologically advanced luxury touring motorcycle in history, the Star Venture features Yamaha's Sure-Park System that provides forward and reverse drive modes which simplify potentially tricky parking situations, even on rough or poor-traction surfaces. The unique infotainment system provides direct access to vehicle controls, data, and a range of audio sources and wireless Bluetooth communications through a 7-inch, full-color LCD touchscreen that incorporates handlebar controls and voice command accessibility.
The Star Venture's light and responsive feel results from an advanced hybrid chassis that creates straight-line stability balanced with agile handling, and suspension that provides ideal bump absorption while retaining performance at higher speeds on curvy roads.
Unbeatable braking confidence is achieved through Yamaha's Unified Braking System, which dynamically adjusts front and rear brake force balance in real time to ensure linear braking feel and power, combined with a refined antilock braking system (ABS) that prevents wheel lock-ups when dealing with reduced-traction road conditions.
Airflow and temperature control has been carefully considered to optimize rider comfort. A stylish full-coverage fairing and electronically adjustable windscreen provide ample wind protection, while external visors at the middle of the fairing and lower vents located near the floorboards can be adjusted to direct air towards or away from riders depending on conditions. Heated contact points in the handlebar grips, seats, and backrests all come as standard equipment to keep riders and passengers warm when the temperature drops.
Packing for long journeys on the Star Venture is no problem thanks to side cases, a top case, and faring storage compartments that provide a combined total of 37.3 gallons of storage volume. Yamaha's Smart Key system with remote key fob allows for easy access to the luggage system and fuel tank cap, provides for simplified starting, and offers an "answer-back" function for locating the motorcycle in a crowded parking area. All-LED lighting looks sharp and keeps the road bright at night, and a class-leading 6.6-gallon fuel tank means plenty of time between fuel stops.
Transcontinental (TC) Option Package
In addition to LED fog lights, a range of infotainment upgrades comes with the Star Venture Transcontinental Option Package. GPS navigation with points-of-interest and route logging helps to simplify the planning, sharing, and uploading of ride routes from a home computer. A CB radio system can link riders to others on the road, while SiriusXM and SiriusXM Travel Link provides satellite music, weather, and traffic information. An extra pair of high-output passenger speakers and Yamaha's exclusive Dual Zone audio control allows rider and passenger to select different audio sources, hold private phones calls and more with an accessory headset and mic. Add it all up, and the TC Option Package offers one of the most advanced infotainment systems ever featured on a motorcycle.
The 2020 Yamaha Star Venture will be available in Granite Gray and a new Impact Blue color scheme for an MSRP of $24,999 for base models and $26,999 for models equipped with the Transcontinental Option Package. All models and colors will begin arriving at authorized Yamaha dealerships beginning in November.
Journey Further
Yamaha Star transcontinental tourers combine powerful and emotional fuel-injected V-Twin performance, state-of-the-art infotainment technology, the ultimate in rider/passenger comfort, and heart-pounding style – all designed to help riders journey further than ever before.
2020 Yamaha Star Venture Totalmotorcycle.com Features and Benefits
ENGINE
High-performance, 1,854 cc (113 cubic inch) air-cooled, long-stroke, OHV, 4 valves per cylinder, 48-degree V-twin.

engine produces massive torque and strong acceleration from very low rpm
maximum torque @ 2,500 rpm and peak power @ 4,500 rpm

Electric starting.

auto decompressor system for fast, sure starts

OHV, 4-valve "pent roof" cylinder heads with 9.5:1 compression ratio.

4-valve design optimizes breathing efficiency and overall engine performance at all rpms
two spark plugs per cylinder means faster, more complete combustion for maximum power
special oil passage near exhaust valve seats improves cooling and durability

Twin, crankcase-mounted cams with hydraulic valve lifters and traditional push rod valve actuation.

cam profiles and timing provide strong torque and acceleration across the entire rpm range
hydraulic valve lifters reduce mechanical engine noise and maintenance
design ensures more uniform heat dissipation due to absence of cam chain case
reduces engine height for a lower centre of gravity for light, easy handling

Dual-chamber crankcase design.

front section for the crank assembly; rear section for the transmission
dual 3-rotor high capacity oil pumps optimizes oil flow in the two main sections of the engine

Single pin style crankshaft.

design accentuates V-twin engine character and sound
optimized flywheel mass allows the rider to feel the directness of the engine's power

Crankshaft damper assembly.

absorbs fluctuations in drive torque, optimizing the V-twin pulse feeling
helps provide a smooth, pleasant feeling when riding at slower speeds in a higher gear

Engine balancer.

reduces engine vibration for a smooth, comfortable ride

Lightweight, forged aluminum pistons with alumite coating.

less reciprocating mass (lightweight design) means faster engine response and reduced mechanical vibration
alumite coating reduces friction
special ring and ring land design for excellent durability
special oil jet nozzles spray oil at underside of pistons to reduce piston and rod temperatures

100 mm ceramic composite-plated cylinder bores.

excellent heat dissipation for consistent power delivery
ceramic coating enhances the thin film of oil between the cylinder and piston, reducing friction and increasing power

Cylinder cooling fin thickness and depth is optimized.

excellent heat dissipation (eliminates the need and complexity of liquid cooling)
classic air-cooled V-twin engine appearance
each cooling fin is specially machined to create a styling highlight

Dry sump oil lubrication system.

oil tank is integrated into left side of rear sub frame to reduce weight
dry sump system reduces engine height (no deep oil pan), which lowers the centre of gravity for great handling and a light, agile feel
easy access, spin-on type oil filter for faster oil changes

Air-cooled oil cooler.

maintains stable oil temperatures for optimum lubrication and extended engine life

Closed-loop, single-body, Mikuni throttle body fuel injection.

system uses a single throttle body with a throttle position sensor (TPS) to help optimize intake air flow
12-hole injector maximizes fuel atomization and features a dual spray pattern for more complete combustion chamber filling
"closed-loop" system uses dual oxygen sensors to "sniff" spent exhaust gases and automatically adjust the fuel / air ratio for reduced emissions
oxygen sensors are located before the mufflers, so the use of aftermarket "slip-on" mufflers will not affect the system
fuel injection benefits include choke-free starting, steady idling during warm up, excellent throttle response, better fuel economy and reduced emissions

Large-capacity airbox.

airbox intake duct is located inside the right-side middle fairing for a good flow of fresh, cool air
high capacity, viscous type paper air filter

Ride-by-wire Yamaha Chip Control Throttle (YCC-T) system

YCC-T electronically controls throttle valves for outstanding throttle response, controllability and a smoother torque curve
YCC-T features a DC-motor-driven throttle valve for precise control of intake air volume
Cable-free design (no throttle cables, pulleys, etc.)
ECU is capable of responding to changes at a speed of 1/1000 of a second

Yamaha D-Mode variable throttle control (2 modes available).

enables the rider to adjust the performance characteristics of the engine based on riding preferences or riding conditions
S-Mode allows the rider to enjoy full engine performance and power
T-Mode slows throttle response for situations that require softer power characteristics, such as slippery or wet conditions
T-Mode is also well suited for more relaxed touring and reduces fuel consumption

Yamaha traction control system.

utilizes front and rear wheel sensors (same sensors as ABS system)
system senses when the rear wheel begins to spin and modifies the YCC-T function, ignition timing and fuel injection to reduce power and eliminate wheel spin
traction control helps maintain traction when accelerating on slippery surfaces
system is automatically engaged when the ignition is on (can be turned off if desired)

Electronic cruise control system.

cruise control can be set between 50-160 km/h, in third gear or higher
cruise control can be cancelled by activating front or rear brakes, pulling in the clutch, completely closing the throttle grip or using the system setting buttons

Smooth-shifting, 6-speed transmission.

optimized ratios take advantage of the engine's massive torque for strong acceleration and less shifting
low 1st gear makes pulling away from a stop easy, while 5th and 6th gears are overdrive gears for reduced engine rpm at highway speeds
engine spins at approximately 2,750 rpm in 6th gear at 120 km/h

Heavy-duty, hydraulic assist and slipper clutch.

assist function reduces clutch lever pull by 20%
back torque limiter, aka "slipper clutch" reduces the effects of engine braking when downshifting or decelerating
low maintenance, self-adjusting hydraulic master cylinder provides smooth clutch lever operation

Low-maintenance, belt drive final drive.

cleaner and quieter than chain drive with no messy chain splatter
more efficient than shaft drive due to minimal power losses
significantly reduces maintenance vs chain or shaft (no regular adjustments or lubrication required)
belt is embedded with carbon fibre cords for incredible strength and durability

State-of-the-art electronic control unit (ECU).

ensures precisely metered fuel delivery
optimal ignition spark control using 3D mapping for each cylinder

Maintenance-free transistor controlled ignition (TCI).

produces a strong spark for fast starts
provides precise ignition timing / mapping for optimum engine performance at any rpm

High-performance, 2-into-2 exhaust system provides a crisp, powerful exhaust note.

large diameter header pipes and dual mufflers provide optimum flow and help to boost torque and power
oxygen sensors are located in the header pipes ahead of the mufflers
dual 3-way honeycomb catalyzers reduce exhaust emissions
exhaust tone developed in conjunction with Yamaha Music
heat shields on header pipes protect rider and passenger from hot components

Air injection system.

injects fresh air into exhaust ports to fully burn any unburnt or partially burnt fuel
reduces exhaust emissions

Special "air-cut valve" reduces backfiring when decelerating or coasting off throttle.
"Sure-Park" parking support system allows for easier, more precise maneuverability when parking.

system utilizes a dedicated electric motor that allows the bike to move forward or backward at approx. 1 km/h.
unit must be in neutral
Sure-Park engagement lever is located just below left side of seat
forward/reverse buttons on left switch gear control the Sure-Park system

Dual alternating current magnetos (ACM).

produce up to 750 watts of power
CHASSIS
High-rigidity, double cradle steel frame with detachable subframe.

design balances strength, rigidity and tuned flex for excellent handling and stability
4-point rubber engine mounting system reduces vibration
detachable, aluminum rear subframe features an integrated dry sump oil tank

Heavy duty steel swingarm.

optimized rigidity balance for excellent stability, handling and rear-wheel traction

Low centre of gravity and low seat height for easy manoeuvrability.

engineers focused on lowering the centre of gravity to give the Venture TC a light handling feel
low 695 mm (27.4″) seat height combines with the low centre of gravity to make the Venture TC surprisingly easy to lift off the sidestand and move arround

Key chassis geometry: 31 degree caster angle, 145 mm (5.7″) of trail, 1,710 mm (67.3″) wheelbase.
Conventional 46 mm KYB front fork provides 130 mm (5.1″) of wheel travel.

exceptionally stable handling and great ride comfort
chip protectors help prevent stone chips in the tubes for extended fork seal life

Adjustable link-type, single shock rear suspension with 110 mm (4.3″) of rear wheel travel.

single shock suspension reduces weight and delivers outstanding ride comfort
KYB shock is horizontally positioned under the engine, lowering the centre of gravity and centralizing mass for agile handling with a light feel
A remote hydraulic spring preload adjuster is located under the quick-remove right side cover

Dual 298 mm front discs with 4-piston monoblock calipers, ABS and UBS.

excellent braking performance with good feedback to the rider

320 mm rear disc brake with twin piston slide-type caliper, ABS & UBS (unified braking).

caliper is mounted on the underside of the swingarm to reduce torque action for superior suspension performance

Front and rear brakes feature Yamaha's latest anti-lock brake (ABS) and variable unified brake (UBS) technology.

ABS braking offers excellent control under hard braking or braking on wet or slippery surfaces
controlling ECU and hydraulic unit are combined into a single, compact unit for mass centralization and reduced weight
when ABS system senses impending wheel lock-up (via active-type wheel sensors) it regulates the hydraulic brake pressure to the point just before the wheel(s) lock up
UBS system "links" the front and rear brakes when brakes are applied. System automatically adjusts the amount of unified braking force.
unified brakes may reduce stopping distance by accurately balancing front and rear brake pressures

Stylish frame-mounted full coverage fairing with adjustable windshield, wind deflectors and LED headlights.

offers dynamic styling as well as excellent wind and weather protection
electrically adjustable windshield, vertical adjustment range is 90 mm (3.5″); horizontal range (angle of windscreen) is 12.5 mm (0.5″)
manually adjustable mid and lower fairing wind deflectors allow the rider to direct more or less air into the cockpit area
The quad-light headlight bank uses two inner low-beam lights and two outer position lights. On high beam, all 4 lights illuminate
dual storage compartments in upper fairing plus mid fairing storage compartment
adjustable mirrors with integrated LED turn signals
fairing-mounted 12-volt DC outlet produces 5 amps / 60 watts of power
mid fairing air ducts provide fresh intake air for the engine and cool various electrical components

Over 144 litres of storage capacity.

left saddlebag capacity is 32.1 litres, right saddlebag capacity is 35.2 litres and tour truck capacity is 70.1 litres. All are equipped with electronic Smart Key locks
upper fairing features left and right "small item" storage compartments (0.75 litres each). Right side storage compartment is operated by the Smart Key system and houses a USB port and AUX terminal
mid fairing storage compartment (2.45 L)
tour trunk features left (1.6 litres) and right (1.5 litres) small item storage compartments plus a high mount LED taillight / brake light
LED turn signals integrated into the saddlebags

Feature-packed 7″ LCD infotainment system (800 x 480 pixels) to further enhance the convenience and enjoyment of the journey.

intuitive design makes for easy operation
functions include audio, navigation (GPS), communication (phone, VOX, intercom, CB radio and SMS text messaging, Bluetooth), vehicle status info and various equipment controls (heated grips, heated seats, etc.)
Infotainment system can be operated by handlebar switch gear buttons, touchscreen or voice commands (voice commands for menu screens only)
three main "home" screens: audio, navigation and information
dual zone audio features: twin 14 cm front speakers (fairing mounted) and twin 13 cm rear speakers (tour trunk mounted), connected to a 26 watt amp
audio functions include 8 possible audio sources including AM/FM radio and SiriusXM satellite radio (subscription required). SVC (Speed Volume Control) automatically adjusts volume to match road speed. Rider and passenger can select separate audio sources when using the accessory headsets
navigation system (GPS) can be controlled by either the 5-way "D-pad" on the left handlebar switch gear or the touchscreen
SMS text will be relayed via text to speech when riding or on screen when the unit is stopped

5-spoke, machine cut, cast aluminum mag wheels with tire pressure monitoring system.

front rim is MT3.50×18 fitted with a 130/70R18 tubeless, radial tire
rear rim is MT6.00×16 fitted with a 200/55R16 tubeless, radial tire
front and rear wheel tire pressure sensors monitor tire pressures
tubeless tire design allows for emergency road side repairs (installation of a "plug")

Comfortable, heated rider and passenger seats with 10 levels of heat settings.

narrow seat/fuel tank junction makes it easier for the rider to touch the ground
rider and passenger seats plus rider back support and passenger backrest are heated (10 levels)
rider back support has 30 mm (1.2″) of forward/back adjustment

Folding rider and passenger floorboards.

roomy design with floating rubber inserts for reduced vibration
folding design uses special replaceable scrapers on lower edge of rider floorboards
passenger floorboards can be adjusted up and down, range is 25 mm (1″)

1″ handlebars, heated grips and adjustable levers.

heated grips offer 10 levels of heat with 3 customizable presets
adjustable front brake and clutch levers

25-litre flangeless fuel tank with small under-seat sub tank for the electric fuel pump.

total capacity is 25 litres; reserve portion of the tank is 3.6 L (low fuel light illuminates)
no visible welds or seams for that clean, custom look
riding range before unit goes to reserve (low fuel light) is approx. 325 km/200 miles

Classic fairing-mounted instrument panel.

comprehensive instrumentation includes fairing-mounted analogue speedometer and tach
digital LCD functions within speedo include: odometer, dual trip meters, gear position, average fuel economy and distance to empty
digital LCD functions within tachometer include: fuel level indicator and low fuel warning

Smart Key System.

when unit senses the Smart Key is close by, the following functions can be performed without inserting the key: turning power on and off, opening fuel cap, unlocking or locking all luggage cases
steering lock is controlled by Smart Key System
Smart Key security feature helps prevent ride-away thefts

Alarm System.

siren-type alarm
when main switch is turned off or to the lock position, the alarm will automatically activate
alarm icon in meter assembly lets rider know if the alarm is activated or de-activated
DETAILS
self-canceling turn signals (15 seconds or 150 meters)
4-way emergency flasher
LED tail light / brake light
easy-grip passenger grab rails
12-volt passenger DC outlet (5A / 60W)
Low-maintenance sealed battery (battery should be charged during winter storage)
2020 Yamaha Star Venture – Totalmotorcycle.com USA Specifications/Technical Details
US MSRP Price: $26,999 – Impact Blue – Transcontinental Option Package – Available from November 2019
$24,999 – Impact Blue – Available from November 2019
$26,999 – Granite Gray – Transcontinental Option Package – Available from November 2019
$24,999 – Granite Gray – Available from November 2019
Canada MSRP Price: $ 32299 CDN
Europe/UK MSRP Price: £NA See dealer for pricing in GBP (On The Road inc 20% Vat)
Australia MSRP Price: See dealer for pricing in AU
Engine Type 113-cubic-inch (1854cc) air-cooled OHV V-twin; 8 valves
Bore x Stroke 100.0mm x 118.0mm
Compression Ratio 9.5:1
Fuel Delivery Yamaha Fuel Injection with YCC-T and D-Mode
Transmission 6-speed; multiplate assist and slipper wet clutch
Final Drive Belt
Suspension / Front 46mm telescopic fork; 5.1-in travel
Suspension / Rear Single shock with remote preload adjustment; 4.3-in travel
Brakes / Front Dual hydraulic disc, 298mm; Unified Brake
System and ABS
Brakes / Rear Hydraulic disc, 320mm; Unified Brake System and ABS
Tires / Front 130/70R18 Bridgestone® Exedra
Tires / Rear 200/55R16 Bridgestone® Exedra
L x W x H 106.3 in x 39.9 in x 55.5 – 59.1 in
Seat Height 27.4 in
Wheelbase 67.3 in
Rake (Caster Angle) 31.0°
Trail 5.7 in
Maximum Ground Clearance
4.9 in
Fuel Capacity 6.6 gal
Fuel Economy 34.0 mpg
Wet Weight 957 lb / 963 lb (Transcontinental model)
Warranty 5 Year Warranty Coverage* *1 year limited
factory warranty + 4 years Yamaha Extended
Service = 5 years coverage
Color Impact Blue – Transcontinental Option Package;
Impact Blue; Granite Gray – Transcontinental
Option Package; Granite Gray
*** Wet weight includes the vehicle with all standard equipment and all fluids, including oil, coolant (as applicable) and a full tank of fuel. It does not include the weight of options or accessories. Wet weight is useful in making real-world comparisons with other models.
2020 Yamaha Star Venture – Totalmotorcycle.com Canada Specifications/Technical Details
ENGINE
Engine
Air-cooled, OHV, 8-valves (4-valves/cyl), 48º, V-twin with EFI
Displacement
1,854 cc (113 cubic inch)
Bore and Stroke
100 x 118 mm
Compression Ratio
9.5:1
Maximum Torque
17.4 kg-m (126 ft-lbs.) @ 2,500 rpm
Engine Management
YCC-T, D-Mode, Traction Control, Cruise Control
Fuel Delivery
Mikuni throttle body FI
Lubrication
Dry Sump
Ignition / Starting
TCI / Electric
Transmission
6-speed
Final Drive
Belt
CHASSIS
Suspension (Front)
46 mm fork / 130 mm (5.1″) wheel travel
Suspension (Rear)
Adjustable link Monocross / 110 mm (4.3″) wheel travel
Brakes (Front)
Dual 298 mm discs / 4 piston calipers / ABS & UBS equipped
Brakes (Rear)
320 mm disc / single piston caliper / ABS & UBS equipped
Tires (Front)
130/70R18
Tires (Rear)
200/55R16
CRITICAL DATA
Length
2,700 mm (106.3″)
Width
1,015 mm (40″)
Height
1,410 mm (55.5″) ~ 1,500 mm (59.1″)
Wheelbase
1,710 mm (67.3″)
Ground Clearance
125 mm (4.9″)
Seat Height
695 mm (27.4″)
Fuel Capacity
25 litres (5.5 Imp. gallons)
Warranty
5 years total (1 year factory + 4 years Yamaha Protection Plus)
Wet Weight
437 kg (963 lb)
Colour(s)
Dark Metallic Gray
Vivid Blue
2020 Yamaha Star Venture – Totalmotorcycle.com European Specifications/Technical Details
NA
2020 Yamaha Star Venture – Totalmotorcycle.com Australian Specifications/Technical Details
Manufacturer Specifications and appearance are subject to change without prior notice on Total Motorcycle (TMW).