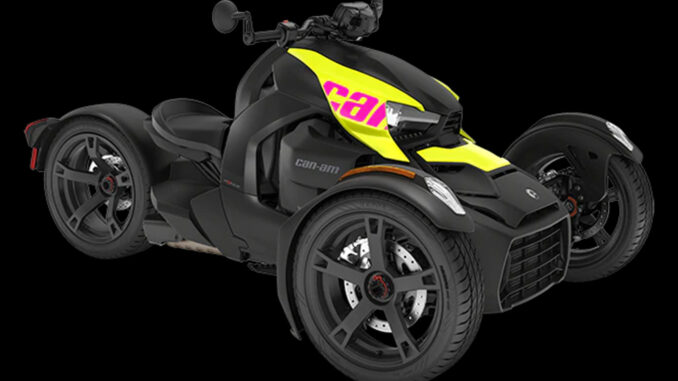 2023 Can-Am Ryker 600: AFFORDABLE FUN!
Introducing the 2023 Can-Am Ryker Sport…
The Can-Am Ryker is all about accessibility, fun times and exploring new playgrounds. Where will you play first?
All day and all night, you've got everything you need and then some to take on the open road for the most exciting on-road riding experience you've ever had.
Your playground awaits. All day and all night, you've got everything you need to rule any road and never hold back. The only question is: where will you play?
Engine – Choice of Rotax® 600 engine
Transmission – Automatic transmission (CVT) with reverse function
Suspension – Front: SACHS† twin-tube coil-over shocks, Rear: SACHS twin-tube coil-over shock with preload adjustments
Cargo capacity – Glovebox with USB, 1.85 gal (7 L)
Riding modes – Eco Mode and Sport Mode (for more fun drifting on paved roads) available with choice of 900 cc engine
2023 Can-Am Ryker Sport Guide Totalmotorcycle.com Key Features
Rotax® 600 cc engine
Auto twist-and-go transmission + vehicle stability control
Driveshaft tech requires less maintenance
Adjusts to all riders; 100,000+ customizations possible
Classic Series
Intense Black, Adrenaline Red, Yellow Shock
Epic Series
Carbon Black, Immortal White, Liquid Steel
Exclusive Series
Pink Punk, Liquid Gold, Heritage Yellow, Galactic Blue, Acid Yellow, Sandstorm, Mint Freeze, Ghost Black, Pink Bloom, Pinky Pineapple, Nitro Blue, Heritage White IV, Sonic Silver
Can-Am Continues to Break the Mold with 3-Wheel Vehicles Spyder, Ryker models offer variety of bespoke features and apparel
The 2023 Can-Am 3-Wheel Vehicle lineup offers something for everyone, whether you enjoy shorter, urban rides or crave the freedom of the open road.
BRP Inc. is heading into 2023 with a variety of fun, stylish and long-awaited new features for its highly popular Can-Am Spyder and Ryker models. Riders will also enjoy an expanded selection of customizable apparel, with increased protection and enhanced technical features so that they can gear up and live the ultimate riding experience. The whole family of Can-Am Spyder and Ryker is back for 2023, and this season includes something for everyone so that we can all ride!
"Whether it's for new entrants to the sport or for our community of passionate riders, we never stop looking for ways to innovate and improve the Can-Am experience," said Martin Éthier, Global Marketing Director of Can-Am On-Road. "Our riders come from all over the world and from all walks of life, and we want our products to match that diversity by offering a fully curated experience that opens the road to all."
Can-Am remained focused on its mission to open the road to everyone and it has been working:
● 71% of Can-Am 3-wheel owners are new to powersports
● 40% of Can-Am riders are women, representing the highest percentage of female riders in any of BRP's product lines
● The Can-Am Women of On-Road community continues to grow with now over 15,000 fierce female riders coming together to learn, share and ride!
Fresh, Exciting and Long-Awaited Updates
The Spyder F3 Limited Special Series, perfect for endless adventures, now comes in a stunning Mineral Blue colouration, which really shows off every line and curve, as well as a striking Petrol Metallic colouration. The Spyder RT Sea-To-Sky stays true to its original inspiration: the iconic Sea-to-Sky Highway. This exclusive and luxurious personality of this top-of-the line model gets carried forward this season in a premium-looking Green Shadow colour, with Prosecco highlights and trims, as well as sleek new wheels. For both the Spyder F3 and Spyder RT, all chrome packages are updated to platinum packages, a finish that gives a modern interpretation of luxury. They also feature new accessories including floorboard lights for a signature look and floorboard risers, designed for added comfort and accessibility for shorter riders.
As for the Ryker Rally, a vehicle purpose-built to elevate the rally experience of the riders, and the Ryker Sport, a versatile and sporty model, both continue to deliver on comfort, price-accessibility, and fun. Riders will be able to personalize their vehicle even more with new designs for the front and rear wheels for both the 600 and 900, and a collection of new exclusive colour panel kits. A new, slim-profile driver backrest, which is compatible with the passenger seat is also available. The Ryker models will feature heated and textured ergonomic grips with 4 temperature levels for extra comfort and that remember the rider's last setting.
Compatible with cruise control, the easy-to-use grips also feature IP67-rated waterproof sealing to keep them safe from the elements.
Fully Redesigned and Original Apparel Fashion meets function with Can-Am's top-to-bottom, consumer-first redesign of jackets, gloves
and helmets, which feature a variety of advanced technical improvements, enhancing comfort, safety, convenience and the overall riding experience. The many styles and great diversity of Can-Am's riders are reflected in the collection.
● A fresh take on women's riding gear
A modern take on a motorcycle jacket, the Women's collection is perfect for city riders or for those simply looking for more of an urban feel. The inclusive sizing lineup features advanced materials, impressive mobility and overall comfort. With a variety of silhouettes available, from mesh to leather jackets, Can-Am offers something for all women riding on the open road.
● Men's classic and modern styling reinvented
A familiar look with a wild side, the Men's collection presents new designs for all riders, be it a classic motorcycle silhouettes or a young urban rider. From jackets to pants and protective gloves, the entire collection is CE tested and certified and will keep riders dry and warm during their ride, and even looking sharp in the pub.
2023 Can-Am Ryker Sport Guide Totalmotorcycle.com Features and Benefits
NEW ORIGINAL – ASPHALT, CONCRETE, DIRT—IT'S ALL A PLAYGROUND TO BE EXPLORED. WE'LL SEE YOU ON THE ROAD.
Beyond bold: Ryker, Ryker Sport, and Ryker Rally are made to slay corners, discover forgotten places, and bring a fresh energy to the road. Want to hop on and go?
STYLE PIONEER – UNIQUE COLOR CHOICES & NEW ACCESSORIES FOR 2023 ACCESSORIES LINEUP
Keep it fresh: new Panel Kits, plus heated grips, Circuit wheels, driver backrest, grille protection and (lots) more. Customize a Ryker to be as unique as you are.
BORN TO RUN (AND RUN)
Modern efficiency, classic soul: Ryker models use powerful, efficient and reliable Rotax engines. Choose the 2-cylinder Rotax 600 ACE for strong everyday performance or a thrilling 3-cylinder Rotax 900 ACE engine.
GRIP CHAMPION
Standard vehicle stability system
Rider-focused safety suite: stability control developed in partnership with BOSCH†, anti-lock brakes (ABS), plus traction control are the confidence-inspiring features that keep Ryker planted to the road.
GOODBYE, GEARS
Effortless shifting
Twist & ride: Can-Am Ryker's automatic transmission delivers effortless drive and great fuel efficiency. Now you've got more time to admire the scenery and adventures ahead.
A RIDE THAT FITS
Tool-less rider seating adjustment
Ryker isn't sized for anyone, it's sized for you with innovative ergonomic features like adjustable foot pegs, brake pedal and handlebar. Why? To bring the open road within reach of more riders.
SECRETLY GREEN
Wallet and earth-friendly ride
There's not much here—that's the point. Durable steel frame, recyclable materials, and quality construction are engineered to last. Minimal fuel use and maximum fun—that's a Ryker.
SLEEK POWERTRAIN
Driveshaft technology
Honest: we'd rather ride than wrench. So the Ryker uses an integral, reliable driveshaft for smooth power delivery—and no extra maintenance.
CRUISE CONTROL
No need to hold the throttle at all times, the cruise control can be switched on to maintain a selected speed.
SPORT MODE
Allows you to have more fun on paved roads. Sportmode loosens the traction control of the rear  wheel, enabling you to perform controlled drifts.
MAX MOUNT STRUCTURE
Makes the unit 1+1 ready. It also increases the carrying capacity for different storage options.
SPORT STYLE TRIMS AND FINISHES
Modern design with a sleeker look for sport-style enthusiasts.
FULL KYB HPG SHOCKS
Front and rear KYB HPG shocks with rear remote adjuster for different riding experiences.
DRIVESHAFT
Highly durable and robust driveshaft technology will help you enjoy a smooth ride all along the way. No need for further adjustment, alignment or maintenance.
2023 Can-Am Ryker Sport Guide – Totalmotorcycle.com Specifications/Technical Details
US MSRP Price: from $8,999 USD
Canada MSRP Price: from $11,399 CDN
Europe/UK MSRP Price: £ See Dealer GBP (On The Road inc 20% Vat)
Engine

ROTAX 600 ACE
ROTAX 900 ACE

Engine displacement
Type

Rotax® 600 ACE™ in-line 2 cylinders, liquid-cooled with electronic fuel injection and electronic throttle control
Rotax® 900 ACE™ in-line 3 cylinders, liquid-cooled with electronic fuel injection and electronic throttle control

Bore & stroke

2.9 x 2.7 in. (74 x 69.7 mm)

Power

Ryker with 600 engine: 50 hp (37.3 kW) @ 7300 RPM
Ryker with 900 engine: 82 hp (61.1 kW) @ 8000 RPM

Torque

Ryker with 600 engine: 36.7 ft-lb (49.7 Nm) @ 6000 RPM
Ryker with 900 engine: 58.3 ft-lb (79.1 Nm) @ 6500 RPM
| | |
| --- | --- |
| Transmission | Automatic (CVT) with reverse function |
| Type | Automatic (CVT) with reverse function |
| | |
| --- | --- |
| Front suspension | |
| Front shocks type / travel | SACHS† Twin-tube coil-over shocks / 5.35 in. (136 mm) |
| Rear suspension | Multi-link – mono swing arm |
| Rear shocks type / travel | SACHS† Twin-tube coil-over shocks with preload adjustment / 5.71 in. (145 mm) |
| Electronic brake distribution system | Foot-operated, hydraulic 3-wheel brake |
| Front brakes | 270 mm discs with Nissin 2-piston floating calipers |
| Rear brake | 220 mm disc, 1-piston floating caliper |
| Parking brake | |
| Front tires | |
| Rear tire | |
| Aluminum front rims | 10-spoke, Platinum silver, 16 x 4.5 in. (406 x 114 mm) |
| Aluminum rear rim | 10-spoke, Platinum Silver, 16 x 6.5 in. (406 x 165 mm) |
| | |
| --- | --- |
| Rider capacity | |
| Maximum vehicle load | |
| Storage capacity | |
| Fuel capacity | |
| Fuel Type | |
L x W x H

Ryker with 600 engine: 2.6 x 59.9 x 41.9 in. (2,352 x 1,522 x 1,063 mm)
Ryker with 900 engine: 92.6 x 59.9 x 41.7 in. (2,352 x 1,522 x 1,060 mm)

Wheelbase
Seat height

Ryker with 600 engine: 23.6 in. (599 mm)
Ryker with 900 engine: 23.5 in. (597 mm)

Ground clearance
Dry weight

Ryker with 600 engine: 594 lb (270 kg)
Ryker with 900 engine: 616 lb (280 kg)
Type

4.5 in. (11,4 cm) digital display

Main Functions

Ryker with 600 engine: Speedometer, tachometer, odometer, trips, distance to empty, engine lights, fuel gauge, clock
Ryker with 900 engine: Speedometer, tachometer, odometer, trips, distance to empty, engine lights, fuel gauge, clock, ECO mode and Sport mode
| | |
| --- | --- |
| SCS | |
| TCS | |
| ABS | |
| HHC | |
| | |
| --- | --- |
| Factory Warranty | 1-year BRP Limited Warranty with 1-year roadside assistance |
| Extended Service Terms | B.E.S.T. terms available from 12 to 36 months with roadside assistance |
Features

2 halogen headlamps (55 W)
Front fenders with integrated LED lights
Dual USB port
Glove box
Adaptive foam waterproof seat
Manufacturer Specifications and appearance are subject to change without prior notice on Total Motorcycle (TMW).