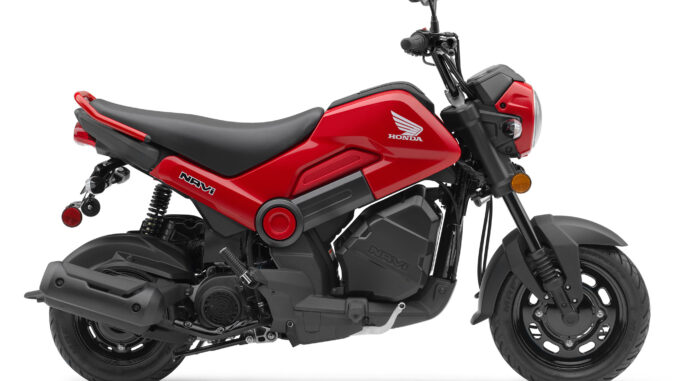 2023 Honda NAVI: ENJOYABLE. CONVENIENT. PRACTICAL.
Introducing the 2023 Honda NAVI…
In one short year since it hit the U.S. market, the Navi—the latest in a long line of approachable, fun Honda miniMOTO machines—has been a huge hit with U.S. customers, taking over the number-one spot in on-road unit sales. Making the motorcycling experience attainable for even more people, the Navi is somewhat of a mix between Honda's Ruckus and Grom (each of which is popular enough to have developed its own subculture), offering the styling of a motorcycle and some convenience features of a scooter, including Honda's V-Matic automatic transmission (just twist the throttle to go). With a super-low MSRP, gas-sipping performance and long maintenance intervals, the Navi is within reach of almost any customer, and it's more convenient than public transportation or carpooling. Thanks to the Navi, more and more people are able to discover just how enjoyable, convenient and practical motorcycling can be.
NAVI-GATE YOUR WORLD
Just about everyone who scores a ride on a Honda Navi can't stop smiling. And it's easy to see why. We've designed the Navi to be easy to ride, with a no-shift automatic CVT transmission. That helps make it easy to learn on too, even if you've never ridden a motorcycle before. Then there's the small overall size and light weight, which makes it way less intimidating. Plus, it offers some pretty awesome fuel efficiency. And finally, because it's so small it's easy to park. And speaking of saving money, the Navi is the most affordable Honda streetbike in our entire line! Isn't it time you started Navi-gating your world?
Base Features
Single-cylinder 109cc SOHC four-stroke engine
One-speed automatic CVT transmission
Low seat height
Integrated, lockable storage compartment
Friendly power
The Navi's small but mighty 109 cc single-cylinder engine provides plenty of go-power for hopping around the city, yet is easy to control for new riders just getting up to speed.
Proven reliability
A bike as practical as the Navi is going to get ridden a lot, so we've made sure it's super reliable. The air-cooled, SOHC, four-stroke engine uses proven components and requires a minimum of maintenance, so you get to ride, not repair.
Automatic Transmission
Suit up, hop on, start the ignition, twist the throttle, and go. It really is that easy to ride the Navi. Its Honda V-Matic automatic transmission with belt drive means no shifting, no clutch, and no stalling.
Compact design
The engine's simple, compact design contributes to the Navi's light weight and comfortable size, further enhancing performance and ease of use for riders of all sizes and skill levels.
Practical fun
Easy to manoeuvre, easy to park — at just 106 kg (234 lb.), the Navi's light weight and excellent agility make it so much fun to ride you'll forget how practical it is for commuting, running errands, whatever.
Firm footing
You'll never feel unbalanced when stopped at a light while aboard the Navi. With a seat height of just 762 mm (30 in.), your feet can easily plant firmly on the ground.
Full suspension
Have a few bumps on your roads? Yeah, we thought so. The Navi's front telescopic fork and single rear shock can handle rough pavement no problem.
Familiar setup
Just like on a full-size motorcycle, the Navi's front-brake lever is on the right side of the handlebar and the rear-brake lever is adjacent to the right footpeg. Makes moving up to your next Honda easy and natural.
Easy to own
Not only is the Navi easy to ride, it's also easy to afford, with an attractive initial price and lower operating costs, including great fuel mileage.
Storage compartment
Got stuff to carry? The Navi's got you covered, thanks to its lockable storage box located below the fuel tank. The box can even be removed to give the bike a distinctive minimalist look.
Fully equipped
Electric starter, speedometer, front and rear lighting, turn signals, mirrors… the Navi is a full-sized motorcycle in everything but, well, size.
Bring a friend
Sometimes you want to ride solo, sometimes you want to bring a friend along for the ride. With the Navi and its two-up seat and folding passenger footpegs, you can do either.
Honda Announces Two Beginner-Friendly 2023 Dual-Sport Motorcycles
All-new XR150L offers value-focused dual-sport versatility
New CRF300L version with shorter seat height introduced
Honda's already-broad range of small-displacement motorcycles expands for 2023, with a pair of approachable dual-sport bikes. As a pioneer in this category, Honda continues to lead the way in fun and efficient two-wheel transportation for a wide variety of customers.
Headlining today's announcement is the XR150L, an all-new model for customers seeking an accessible, versatile and value-focused dual-sport motorcycle, ready for everything from urban transportation to weekend adventures on mixed terrain. In addition, Honda introduced a new, low-seat version of the CRF300L—the CRF300LS—making the industry's most popular dual-sport platform an option for even more riders. Returning dual-sport models included in the announcement are the traditional-seat-height CRF300L and the rally-inspired CRF300L Rally (both available in standard and EBS versions).
Rounding out the announcement is arguably the most approachable street-legal motorcycle, the Navi. In just its second year on the U.S. market, this affordable miniMOTO has garnered a huge following, establishing itself as the industry's top-selling on-road motorcycle.
"At Honda, we're committed to producing motorcycles that suit riders of all experience levels and backgrounds, and the dual-sport category is a great example of that," said Brandon Wilson, American Honda Manager of Sports & Experiential. "The CRF300L is hugely among those looking for an affordable, reliable dual-sport machine, and the new 'LS' version makes the platform an option for those who prefer a shorter seat height. Expanding on that theme, the all-new XR150L is a great dual-sport machine for value-focused customers. We're also happy to bring back the CRF300 Rally entry-level ADV bike, as well as the popular and amazingly affordable Navi miniMOTO. These models make motorcycling more accessible to new and cost-conscious riders while still offering an enjoyable ride experience for long-time enthusiasts."
DESIGN / STYLING
For styling inspiration, one could hardly do better than Honda's very own Grom—the most successful miniMOTO on the market, and one of the best-selling models in the powersports industry. As a result, the Navi boasts a sporty motorcycle look and feel, with the rider's legs straddling the fuel tank and feet placed on side-mounted pegs, rather than the scooter-style step-through/floorboard design. The rear brake is actuated by a foot lever on the right, as opposed to a left hand-lever as with scooters.
That said, the engine is located at the rear like a scooter, freeing up space in front of the seat for a convenient, lockable storage pod—perfect for stashing textbooks, a jacket or a water bottle. While the frame, wheels, suspension, engine and exhaust are all black, they're offset by boldly colored side panels, with shapes somewhat evocative of Honda's legendary CRF family of dirt bikes. The prominent headlight has a hexagonal shape.
Like the Grom, the Navi's design makes it a blank canvas for customization, begging owners to update it with personal touches, by picking from Honda Accessories like special graphics kits that were developed in collaborations—one a vibrant, colorful version designed by edgy Portland gear manufacturer Icon, the other a Viper Urban Camo version designed by South Carolina hunting-apparel manufacturer TrueTimber—or from the long list of offerings the aftermarket offers for Honda miniMOTO machines.
The simple-but-functional instrumentation package includes a large, easy-to-read analog speedometer and a useful fuel gauge.
ENGINE / DRIVETRAIN
While the looks are all motorcycle, the engine is all scooter, meaning it's rear-mounted and requires no shifting. In fact, the smooth-running, quiet power plant comes from the acclaimed Activa (a hugely popular model in scooter-crazy Asia), and touts Honda's super-efficient eSP friction-reducing technology, delivering excellent fuel economy, with an incredible Honda-tested fuel mileage rating of 110.3 mpg.
This obviously makes for an extremely affordable cost of operation, especially when one considers Honda's legendary durability and dependability. Those attributes—along with safety and convenience—were key priorities with the Navi. The engine is a fan-cooled 109.2cc, single-cylinder, two-valve, overhead-camshaft four-stroke that is tilted forward at 80º. Bore and stroke are 55.0mm and 55.6mm, respectively, and the compression ratio is 9.5:1. The Navi delivers ample usable power for accelerating from stops and overtaking traffic, and it's ready to provide miles and miles of worry-free passage.
Induction is via a 16mm carburetor, and power is transferred via Honda's proven, efficient, easy-to-maintain V-Matic® automatic transmission to a reliable belt drive. With no clutch lever or shift lever, vehicle operation is simple and intuitive, so riders can focus on navigating streets and neighborhoods while enjoying the ride.
CHASSIS / SUSPENSION
The Navi frame design utilizes the engine as a stressed member and is carefully engineered to offer excellent handling feel with superb stability—also thanks in part to the relatively long 50.6-inch wheelbase. Ride comfort is exceptional.
A sturdy 26.8mm inverted telescopic fork is matched with a side-mounted single rear shock absorber to provide a smooth, comfortable, planted ride, and the pressed-steel wheels are sized 12 inches and 10 inches front and rear, respectively, to confidently handle road imperfections. Slowing and stopping duties are performed by 130mm drum-type front-and-rear brakes, and a parking brake is actuated by a lever on the left of the handlebar.
The seat height is a comfortable 30.0 inches, and the seat narrows toward the front, making it easy for most riders to get both feet on the ground at stops. A grab rail at the back of the seat provides a secure grip for the passenger.
Fuel capacity is .9 gallons, delivering surprising range thanks to the Navi's fuel-stingy nature. Fully fueled and read to ride, the Navi weighs just 234 pounds, making it a breeze to maneuver through traffic, push into a tight parking spot or load on an RV bumper rack.
Transferable one-year, unlimited-mileage limited warranty; extended coverage available with a Honda Protection Plan.
Meets current EPA standards.
Models sold in California meet current CARB standards and may differ slightly due to emissions equipment.
CONVENIENCE
AUTOMATIC TRANSMISSION
Here's a big feature that sets this little bike apart from anything else in our miniMOTO lineup: The Navi features a CVT transmission. That not only means no clutch and no shifting, but no neutral or park either—just start it up, twist the throttle, and go-go-go!
INTEGRATED STORAGE AREA
Taking your stuff with you just got a whole lot easier. That's because the Navi has a generous, lockable, integrated storage area. It's big enough to hold a laptop, your lunch, and plenty more—what you use it for is up to you!
COMPACT SIZE
The Navi is small, which is one of the reasons it's so much fun. That also makes it easy to park. It's about the same size as another of our favorite miniMOTO bikes—the Grom.
FUEL CAPACITY
Fear the gas station no more! With a one-gallon gas tank, the Navi is super-inexpensive to fill up. And since it's so fuel efficient, you won't have to fill up very often.
TWO-UP CAPABILITY
Want to share the fun with a friend? No problem—the Navi comes equipped with a pair of passenger footpegs as standard equipment.
AVAILABLE ACCESSORIES
Here are a couple of ways you can make your Navi even more fun: Add an optional windscreen or a rear cargo rack. And check out our available graphics kit too—it's a great way to personalize your Navi's look.
PERFORMANCE
109cc FOUR-STROKE ENGINE
One of the best aspects of the Navi is its dependable Honda engine. It's air-cooled for simplicity, offers spectacular fuel efficiency, and makes plenty of power. A single-cylinder, overhead-cam design, it's low-maintenance and super reliable.
HET—Honda ECO TECH
The Navi engine offers the convenience and power of a gasoline engine, but with our HET (Honda Eco Tech) design, it's also environmentally conscious.
COMFORT
LOW SEAT HEIGHT
With a low 30-inch seat height, getting on and off the Navi is a snap. Even better, it's easy to flat-foot it in parking lots or at stop lights. The long, flat seat makes it easy to find just the right position and to move around on too, especially for taller riders.
ENGINEERING
ELECTRIC STARTER
Just turn the key, press a button and go. The Navi's electric starter and backup kickstarter make getting underway super easy.
STYLE
STANDOUT STYLE
There's no mistaking a Honda Navi, because we've given it a look unlike anything out there. It's about a world away from most scooters, and it's just begging for you to give it your own personal touches too. Hip and urban, it's going to stand out wherever you ride it.
FOUR GREAT COLORS
The Navi comes in four awesome colors, so take your pick: Red, Grasshopper Green, Nut Brown and Ranger Green.
HANDLING
10/12-INCH WHEELS
Part of the reason the Navi is so maneuverable are its wheels. They're much smaller in diameter than a full-sized motorcycle's (10-inch rear and 12-inch front).  That contributes both to the Navi's small overall size and its light, fun handling.
TELEFORK SUSPENSION
Just like a full-sized motorcycle, the Navi features a telescopic-fork front suspension for great control and road feel.
SINGLE REAR SHOCK
Thanks to the Navi's single hydraulic rear shock, you get a plush ride, even over choppy pavement.
STRONG STEEL FRAME
The Navi's sturdy underbone steel frame is designed to take what gnarly city streets can throw at it, and still provide the basis for this bike's excellent handling.
FRONT AND REAR BRAKES
The Navi's brakes are set up like a full-sized motorcycle's with a front-brake lever on the handlebar and a foot pedal for the rear brake. Plus, our combined braking system helps you make quick, secure stops.
2023 Honda NAVI – Totalmotorcycle.com USA Specifications/Technical Details
US MSRP Price: $1,807 USD
Canada MSRP Price: $2,979 CDN
Europe/UK MSRP Price: £NA GBP (On The Road inc 20% Vat)
| | |
| --- | --- |
| ENGINE |   |
| Type | 109.2cc fan-cooled four-stroke 80º single cylinder w/ eSP friction-reducing technology |
| Valve Train | OHC; two-valve |
| Bore x Stroke | 55.0mm x 55.6mm |
| Compression Ratio | 9.5:1 |
| Induction | Carburetor w/ 16mm bore |
| Ignition | Full transistorized |
| Starter | Electric (w/ kickstart backup) |
| Driveline | Belt final drive |
| Transmission | V-Matic CVT |
| Clutch | Automatic centrifugal dry |
| SUSPENSION |   |
| Front | 26.8mm telescopic inverted fork; 3.9 in. travel |
| Rear | Single shock mounted on left side; 2.8 in. travel |
| BRAKES |   |
| Front | Single mechanical 130mm drum, w/ parking brake |
| Rear | Single mechanical 130mm drum |
| TIRES |   |
| Front | 90/90-12 |
| Rear | 90/100-10 |
| MEASUREMENTS |   |
| Rake (castor angle) | 27.5º |
| Trail | 79mm |
| Length | 71.2 in. |
| Width | 29.1 in. |
| Height | 41.1 in. |
| Seat Height | 30.0 in. |
| Ground Clearance | 5.8 in. |
| Wheelbase | 50.6 in. |
| Fuel Capacity | .9 gal. |
| Curb Weight* | 234 lbs. |
| OTHER |   |
| Colors | Red; Grasshopper Green; Nut Brown; Ranger Green |
*Includes all standard equipment, required fluids and full tank of fuel—ready to ride
Meets current CARB and EPA emissions standards
2023 Honda NAVI – Totalmotorcycle.com Canada Specifications/Technical Details
Engine & Drivetrain
Engine type Air-cooled, single cylinder
Displacement 109 cc
Bore & stroke 50.0 mm x 55.6 mm
Compression ratio 9.5:1
Valve train SOHC, 2 valves per cylinder
Fuel delivery Carburetor
Transmission Honda V-Matic Automatic
Final drive Belt
Chassis & Suspension
Front suspension Telescopic, 89 mm (3.5 in) travel
Rear suspension Single shock; 70 mm stroke (2.8 in.) travel
Dimensions & Additional Information
Tires Front: 90/90 – 12
Rear: 90/100-10
Brakes Front drum;
Rear drum
Seat height 762 mm (30 in.)
Wheelbase 1,285 mm (50.6 in.)
Curb weight 106 kg (234 lb.)
Fuel capacity 3.5 litres
Colour Patriot Red
Warranty 12 months, unlimited mileage
2023 Honda NAVI – Totalmotorcycle.com Europe Specifications/Technical Details
NA
Manufacturer Specifications and appearance are subject to change without prior notice on Total Motorcycle (TMW).