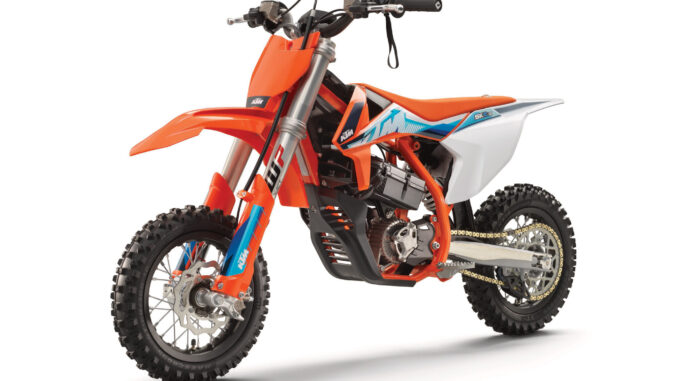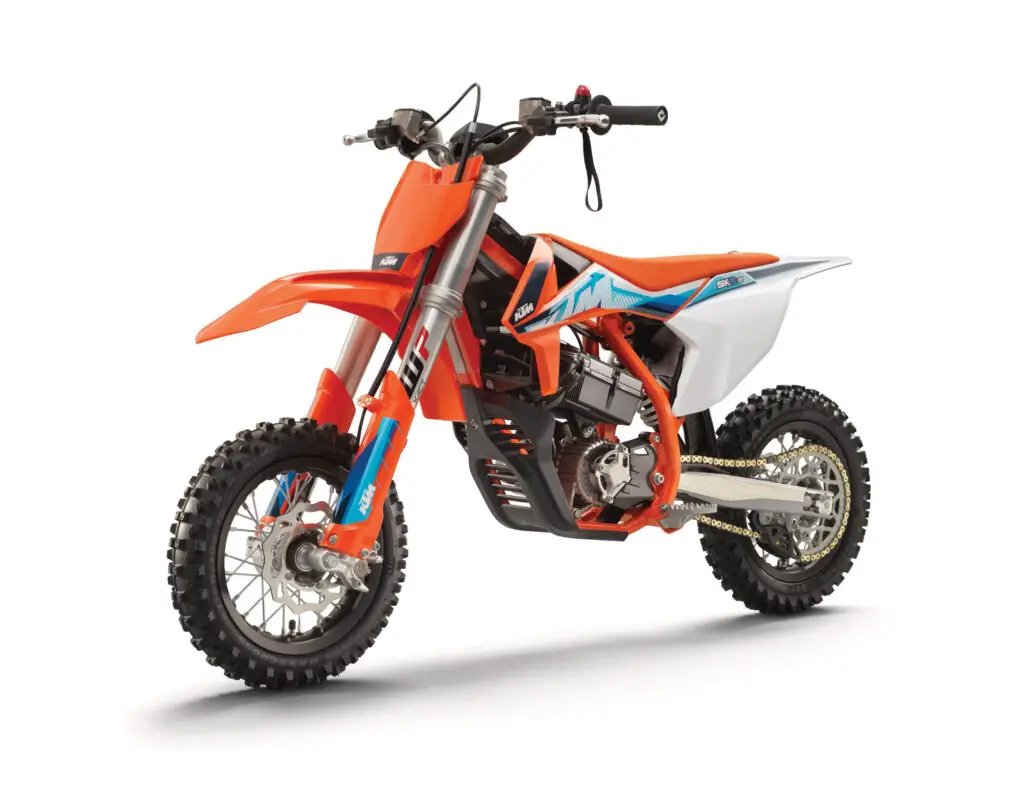 2023 KTM SX-E3: INCREASE YOUR ESG SCORE.
Introducing the 2023 KTM SX-E3…
Perfect for grass-roots level riders and just as green, the 2023 KTM SX-E 3 breaks ground at the leading edge of all-electric mini-cross. Aimed at absolute beginners, the KTM SX-E 3 slides into the range below the more powerful KTM SX-E 5 with an ever more user-friendly package. Lower power output, battery capacity, and smaller wheels make it the ideal choice for the youngest of riders finding their feet – and throttle.
KTM is pleased to introduce the latest innovation in the E-Mini range with the addition of the 2023 KTM SX-E 3. Positioning itself at the grassroots level, the 2023 KTM SX-E 3 charges into the electric lineup as the ideal starter package for aspiring young riders. With a tailored power output, smaller wheels, and lower seat height, it is the perfect choice for riders still finding their feet – and throttle.
KTM's electrified motorcycle family now includes the new KTM SX-E 3, a beginner-friendly e-mini that joins the KTM FREERIDE E-XC and KTM SX-E 5. Following its success building the Micro-E class at Loretta Lynn's Amateur National Motocross Championship, the KTM SX-E 5 has become a favorite with young mini racers and their parents. This innovative machine has paved the way for the new KTM SX-E 3, taking its position as a true entry-level motorcycle and a steppingstone into the world of motocross.
Like the KTM SX-E 5, the KTM SX-E 3 delivers the same high-quality and advanced technology as its more powerful counterpart. Featuring the same chromium molybdenum frame, durable suspension, and advanced lightweight construction, the KTM SX-E 3 retains all the "big bike" attributes, but in more user-friendly packaging.
KTM GROWS THE E-MINI RANGE WITH THE KTM SX-E 3
The KTM SX-E 5 and KTM SX-E 3 share the same permanent magnet electric motor, but the KTM SX-E 3 has a lower output of 3.8 kW (KTM SX-E 5 = 5 kW). Housed in a die-cast aluminum battery casing, 60 Li-Ion cells provide a capacity of 648 Wh in a low 48 V configuration (KTM SX-E 5 = 84 Li-Ion cells with 907 Wh), resulting in approximately 2 hours of ride time between charges.
Upfront, 35 mm non-adjustable WP XACT USD forks take care of the bumps, providing 144 mm of wheel travel. On the rear, a WP monoshock is mounted directly to the swingarm, offering 133 mm of travel, and is perfectly matched to the front forks.
In keeping with its smaller dimensions, the KTM SX-E 3 is fitted with 10″ black-anodized lightweight aluminum wheels front and rear, wrapped in MAXXIS MX-ST tires. This complements the stock seat height of 600 mm / 23.6 in.
The KTM SX-E 3 also features an adjustable seat height, which can be reduced to 555 mm / 21.8 in by lowering the bodywork/seat, mounting the rear shock in an alternative position, and lowering the front fork in the triple clamps.
Additionally, the KTM SX-E 3 is fitted with a roll-over sensor, which will cut power after a tip-over. This is supported by a wrist-worn lanyard key, which also stops the motor. In terms of accessibility, the low noise and zero emissions make the KTM SX-E 3 more approachable to younger riders by being less intimidating and more accepted in areas where riding is often restricted.
Keeping the KTM SX-E 3 charged is easy thanks to an external charger supplying up to 900 W. This can be connected to any 110- or 230-Volt socket and plugs directly into the battery pack for easy charging, with a full charge from empty taking approximately 70 minutes.
The KTM SX-E 3 sets the benchmark for electric-powered mini-motorcycles, showcasing KTM's commitment to creating opportunities for broader electric mobility by changing mindsets, starting in the mini-cross arena.
Drivetrain
Motor
This fully electric, battery-powered air-cooled permanent magnet motor produces a healthy 3.9 kW, featuring an extremely compact and slim design that perfectly matches the KTM SX-E 3's smaller chassis. It's also dust and waterproof which makes it wear and maintenance-free, while the integrated control unit (ECU) guarantees a direct, but very controllable power delivery.
Chassis
Frame
The KTM SX-E 3 has a modern frame design that is made of lightweight, high-strength chromium-molybdenum steel profiles and combines maximum longitudinal stiffness with optimum torsional rigidity. The subframe is made of lightweight, fiber-glass reinforced extruded plastic elements, which can be mounted in two positions for different seat heights.
Wheels
The 2023 KTM SX-E 3 is fitted with 10″ wheels front and rear, and just like the bigger machines, these lightweight, black anodized, aluminum rims provide the highest strength and durability. These are wrapped in new MAXXIS MX-ST tires, to provide unmatched traction on any surface.
Front suspension
Featuring advanced suspension technology, the KTM SX-E 3 is fitted with non-adjustable upside-down WP XACT 35mm forks. Class-leading in their own right, the forks provide exceptional damping and comfort characteristics allowing the rider to push their limit with complete confidence, while the 144 mm of wheel travel means the limit is a far way off indeed.
Rear suspension
The non-adjustable, high-quality WP monoshock is linked directly to the swingarm and is perfectly matched to the front suspension, providing excellent damping performance. The shock absorber also allows for 133 mm of rear-wheel travel, providing advanced comfort on all terrains.
Brakes
Featuring the same level of technology offered on the full-size motocross range, the KTM SX-E 3 is fitted with hydraulically operated brake calipers and wavy discs front and rear. The hand-actuated system ensures advanced brake feeling and stopping performance in all conditions while allowing young riders a more natural way of getting to grips with the brakes.
Ergonomics & comfort
Handlebar
The KTM SX-E 5 uses high-quality tapered NEKEN handlebars, made of aluminum alloy ensuring top stability and safety. Its diameter tapers from 28 mm in the central area, to 22 mm in the bends, to 18 mm in the handhold area. This allows for a thinner lock-on ODI grip to be mounted on the left side while the right side features a newly developed throttle assembly with a vulcanized ODI grip, specifically developed for the electronic drive. An additional crash pad on the handlebar brace protects the rider from rough contact.
Seat height
The seat height on the KTM SX-E 3 can be adjusted to multiple levels. The standard setting is at a seat height of 23.6 in (600 mm), which can easily be reduced to 21.8 in (555 mm) in two easy steps by lowering the bodywork and seat and mounting the shock absorber in an alternative position. The front fork can also be lowered in the triple clamps.
Bodyworks & Graphics
Decals
The 2023 KTM SX-E 3 features the latest in-mold graphics, with a bold orange and blue design that perfectly sets off the factory-look orange frame, orange seat and race-sharpened bodywork.
Software & Electronics
Battery
The KTM SX-E 3 is fitted with 60 modern lithium-ion cells in a robust die-cast aluminum casing mounted just above the motor, storing 648 Wh of energy. This allows more than two hours of riding for a beginner, with even the fastest young riders only able to deplete the battery in around 30 minutes. And should you want more time between charges, the battery can be upgraded to the SX-E 5 battery with 907 Wh.
Charger
The external worldwide charger supplying up to 900 W can be connected to any 110 or 230 volt socket and plugs directly into the battery back for easy charging.
Charging time 0 – 80% = 35 minutes
Charging time 0 – 100% = 70 minutes
Ride modes
A multifunctional instrument display is located between the steering head and seat. Here, the user can select between the six different ride modes. Each mode offers different power characteristics suited for pure beginners all the way up to experienced racers. The instrument also displays the remaining charge of the battery.
Safety
The KTM SX-E 5 is fitted with a rollover sensor that cuts off the power in the event of a fall, while a wrist lanyard cut-off key stops the motor in the event of an uncontrollable riding scenario. For further safety measures, the ride modes can be locked and saved with a dongle located below the seat. This prevents younger, less experienced riders from changing to more powerful ride modes on their own.
2023 KTM SX-E3 – Totalmotorcycle.com International Specifications/Technical Details
US MSRP Price: $ See Dealer USD
Canada MSRP Price: $ See Dealer CDN
Europe/UK MSRP Price: £ See Dealer (On The Road inc 20% Vat)
Engine
Rated output 2 kW / 3,200 rpm
Torque 10.5Nm
Traction battery Lithium-ion
Charger line voltage 80-240 V/50-60 Hz
Charging power 900 W
Charging time 100 % 60min.
Cooling Air cooled
Electric motor 48 V – BLDC motor with outer rotor
Chassis
Front brake disc diameter 160mm
Rear brake disc diameter 160mm
Front brake Disc brake
Rear brake Disc brake
Chain 1/2 x 3/16″
Frame design Chrome-molybdenum steel central-tube frame
Front suspension XACT 35 WP Upside-Down fork, Ø 35 mm
Ground clearance 152mm
Rear suspension WP monoshock
Seat height 555mm
Steering head angle 66°
Suspension travel (front) 144mm
Suspension travel (rear) 133mm
Manufacturer Specifications and appearance are subject to change without prior notice on Total Motorcycle (TMW).