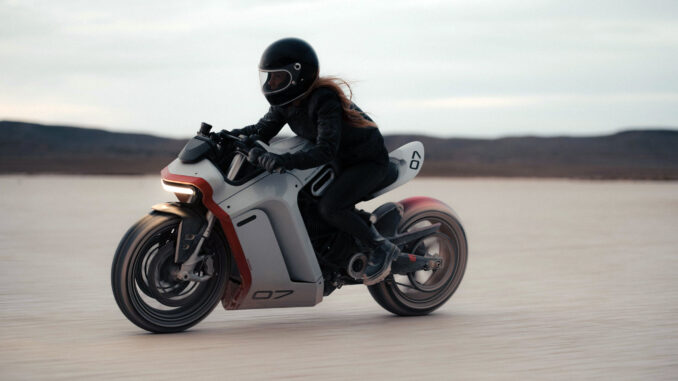 2023 Zero SR-X Concept: HUGE LEAP FORWARD.
Introducing the 2023 Zero SR-X Concept…
Zero Motorcycles is proud to introduce the SR-X concept, the latest creation from Huge Design, in our Design the Future Development Program. This program brings together some of the industry's most talented designers and engineers combined with the Zero team to push the boundaries of what's possible with electric motorcycles.
Bill Webb from Huge Design has played a key role in Zero's vision for the future. He inspired the popular FXE motorcycle by designing its concept bike predecessor. The SR-X is the latest example of his visionary concepts and Zero's commitment to innovation. This semi-faired concept bike showcases Zero's industry-leading electric powertrain and boasts both performance and style.
"The SR-X concept bike strives to hit a design sweet spot for the near future of electric motorcycles by combining clean lines and disciplined design-detailing with the aggressive stance and raw performance found in modern liter bikes.
This bike is an attempt to define a new sub-category for high performance electric, something between a streetfighter and a track bike. We wanted true sport riders to appreciate the subtle and balanced design approach — modern, futuristic and clean without sacrificing the raw-performance look and overtly mechanical appeal of high-performance motorcycles.
The team wanted to create a dramatic and low 'front-heavy' silhouette with the bodywork that could juxtapose the fully exposed mechanicals towards the back of the bike in an unconventional way. The SR/S chassis/mechanicals that zero designed are impressive to look at and we wanted the raw bike underneath to be part of the final composition." — Bill Webb
"Working with Bill on the SM concept and FXE over the past few years has led to a great partnership with Huge Design. When we originally spoke about the SR-X project, I couldn't wait to see Bill's clean, structured aesthetic applied to our premium sport platform. The result exceeds expectations and points the way forward for our internal design teams." — Brian Wismann, VP of Product Development at Zero
2023 Zero SR-X Concept Totalmotorcycle.com Features and Benefits
Powered by Zero's advanced ZF75-10 electric motor and the latest ZF17.3 lithium-ion battery, the SR-X represents a bold vision for the future of motorcycling. At Zero Motorcycles, we are driven by a passion for design and technology, and the SR-X is the perfect expression of this passion. We can't wait to see how this concept bike will inspire the future of the industry and continue to push the boundaries of what's possible.
2023 Zero SR-X Concept – Totalmotorcycle.com USA Specifications/Technical Details
US MSRP Price: from $ USD
Canada MSRP Price: $ CAD
Europe/UK MSRP Price: £ GBP (On The Road inc 20% Vat)
Concept motorcycle only.
Manufacturer Specifications and appearance are subject to change without prior notice on Total Motorcycle (TMW).