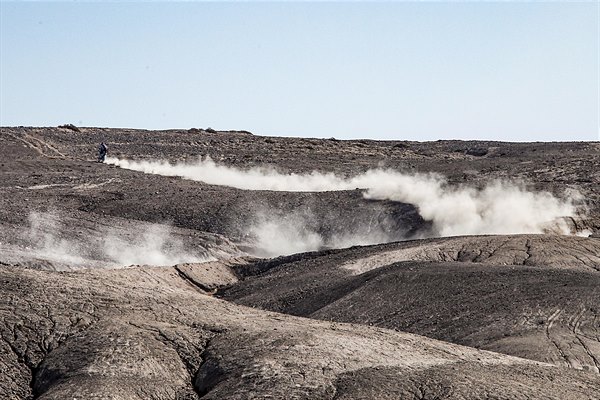 Rockstar Energy Husqvarna Factory Racing's Pablo Quintanilla has placed fifth fastest on stage four of the 2019 Atacama Rally. Leading the entire timed special from start to finish, the Chilean rider goes into the final day of the event as the provisional overall rally leader. Enjoying a strong pace on the second half of the race's marathon stage, Andrew Short finished in sixth.
Including a timed special of 353.92 kilometres, Friday's route took competitors south from the temporary bivouac in Diego de Almagro, back to the host city of Copiapó. Following his win on Thursday's stage three, Quintanilla had the unenviable task of leading out the riders on the 426.68-kilometre day four.
With the length of the stage and the nature of the terrain proving extremely taxing on both body and mind, the former FIM Cross-Country Rallies World Champion put in a supreme ride to not only successfully navigate the entire stage, but also defend his lead at the top of the provisional rally standings. Although Pablo's advantage going into the final day's stage is less than one minute, he enjoys an advantageous start position and hopes to be able to make up time by chasing down the riders ahead.
Andrew Short placed sixth fastest on the testing stage four and lies seventh in the provisional standings. Free from the GPS issues that had plagued him on previous stages of the rally, Short was able to find a good rhythm on the rough pistes and demonstrate his significant pace. Enjoying the stage, Andrew now aims for a strong finish to the rally, hoping to earn himself valuable championship points.
The final stage of the event, Saturday's stage five, will see riders take on a 185-kilometre timed special that once again pits riders against the Atacama Desert in a looped course around the Chilean mining town of Copiapó.
Pablo Quintanilla: "I'm feeling good right now. After the marathon stage I'm happy with the race and how things are going. Today was really tough, I led the entire stage at the front all day and it was really tricky to stay focused for so long. Keeping to a good rhythm on such a fast stage like that isn't easy but I feel that day-by-day I'm getting more used to being back on the bike again. I've got a good start for tomorrow's stage now so all being well, I should have a good chance at the podium."
Andrew Short: "For me, I had a much better day today – my GPS device worked for the whole day and I felt much more comfortable on the bike. The stage was really fun, especially the end in the dunes. Some of the roads were tough – I'm still not 100 percent on the extremely fast sections. Overall, it was cool, it seemed like we were in different terrain for this stage, so that was nice. The road book was nice and accurate too, so I was able to get a good flow and everything clicked into place." 
2019 Atacama Rally – Stage 4 Provisional Classification
1. Toby Price (KTM) 4:07:28
2. Sam Sunderland (KTM) 4:09:37
3. Joan Barreda (Honda) 4:09:58
4. Matthias Walkner (KTM) 4:11:54
5. Pablo Quintanilla (Husqvarna) 4:13:09 
6. Andrew Short (Husqvarna) 4:13:26
2019 Atacama Rally – Provisional Overall Classification [After Stage 4]
1. Pablo Quintanilla (Husqvarna) 13:17:57
2. Sam Sunderland (KTM) 13:18:51
3. Toby Price (KTM) 13:23:17
4. Joan Barreda (Honda) 13:24:39
5. Kevin Benavides (Honda) 13:27:56
6. Ricky Brabec (Honda) 13:33:59
7. Andrew Short (Husqvarna) 13:39:30