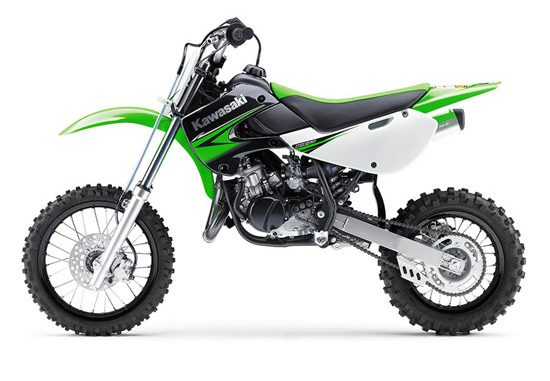 Back to 2010 Kawasaki Motorcycle Index Page
Click photos to enlarge.
They make great desktop images.
– 2010 Kawasaki KX65

2010 Kawasaki KX65
Young riders craving a crack at racing once theyve mastered the basics need the perfect bike to take that first step. Enter the ideal choice, the Kawasaki KX65. Whether its a day at the track with a group of friends or competing in a fully-sanctioned motocross race, the KX65 is an excellent platform for developing and honing racing skills. With its liquid-cooled, high-performance engine, full-race chassis, long-travel suspension and disc brakes, the smallest KX model is a perfect beginning for young riders who aspire to motocross greatness.
Boasting aluminum rims, adjustable suspension, new digital CDI, and fast revving flywheel, the KX65 is a serious competitor.
The Consumer Product Safety Improvement Act of 2008, intending to monitor and limit lead content in accessible parts and components in children's products, took effect Feb. 10, 2009.
As written, this new law includes thousands of products that may never expose children to harmful amounts of lead. Unfortunately, some youth model off-road motorcycles and all-terrain vehicles currently fall into this category. The Kawasaki KX™65 is one of those products.
Industry associations are working to obtain clarification of the Act or its implementing regulations which would permit us to resume selling these youth models. For now, Kawasaki Motors Corp., U.S.A. regrets that our dealers cannot sell the affected products starting February 10, 2009.
Comments regarding this regulation should be addressed to your congressional representatives in Washington, D.C. To view the latest information regarding this regulation, visit: http://www.cpsc.gov/about/cpsia/cpsia.html
Features and Benefits:

64cc Two-Stroke Engine
o Digital ignition offers ideal timing for better throttle response throughout the rev range
o Rotor equipped with rare-earth magnets making it smaller, lighter and more durable with low inertial moment improves low-rpm response
o High capacity ignition coil delivers a higher secondary voltage for a hotter spark; the punchier response gives an improved acceleration feeling
o Connecting rod big-end bearing has a cage for durability
o Primary gear is secured using a lock-nut to help reduce mechanical noise
o The oil seal of the left crankcase has a stopper for increased engine reliability
o Metafoam gaskets are used for the generator cover, water pump cover and water pump elbow for improved sealing
Electrofusion Cylinder o Advanced exhaust and transfer ports for increased power and performance at higher rpm
o Bridge between exhaust ports is machined for increased reliability and resistance to wear and seizure
o Lightweight cylinder liner transfers heat efficiently
Liquid Cooling o Large radiator provides more even-running temperatures, keeping the power output consistently strong
o Provides greater reliability and less wear on the engine
24mm Mikuni Carburetor
o Feeds a four-petal reed valve for excellent throttle response
o Allows the engine to produce more power and torque at all rpm
Six-speed Transmission
o Positive action and rugged durability
o Hard chrome-finished shift-fork ends resist wear
o Manual clutch mechanism mirrors larger KX models
o Clutch cover gasket made of metal-carbon composite material
High-tensile Steel Frame
o Exceptional torsional rigidity for excellent handling
o Reinforced down tube for increased strength and durability
o Engine and chassis bolts have rust-resistant coating
Front Fork
o Four position rebound-damping adjustment accommodates different riding styles and terrain
UNI-TRAK® Rear Suspension
o Rising-rate action, so as the suspension compresses, the spring and damping strength increase progressively for a more controlled ride
Nitrogen-charged Shock
o Four-way adjustable rebound damping offers a variety of settings for various track conditions
o External reservoir helps maintain consistent damping
o Rebuildable aluminum body
Swingarm
o Rocker arm made from forged aluminum to reduce weight and improve durability
Front and Rear Disc Brakes
o Light and powerful
o Revised front brake lever shape offers better feel
o Resist fading
o Require less lever pressure
Aluminum Rims
o Reduce unsprung weight for improved suspension action
Detachable Aluminum Silencer o Silencer is removable from the exhaust pipe and the packing is replaceable
o Oval shape mimics the styling of larger-displacement KX models
2010 Kawasaki KX65 Technology
Overview

Engine

Liquid cooled, two-stroke produces 16.7ps @ 12,500 rpm.
24mm Mikuni Carburetor feeds a 4-petal reed valve for excellent throttle response.
Electrofusion cylinder improves heat transfer for consistent power output, provides excellent wear and seizure resistance and allows closer piston-to-cylinder clearances for more power.
The bridge between the exhaust ports is machine finished for increased seizure resistance.
The silencer is oval design with large volume to provide excellent power while reducing sound levels.
Connecting rod big-end bearing has a more rigid cage for improved durability and smoother action at high-rpm.
Crankshaft primary gear is now secured using a lock-nut instead of a snap ring. The reduced play helps reduce mechanical noise.
Ignition coil delivers a higher secondary voltage for a hotter spark. The punchier response gives an improved acceleration feeling
Digital CD Ignition allows for improved timing control and better response across the rev range.
Lighter magneto rotor uses powerful neodium (rare-earth) magnets to lower inertial moment from 6.5 kg/cm2 to 4.0 kg/cm2 which improves low-rpm response.
The rotor boss and yoke are unitised. The unitised piece is both smaller and more durable, offering improved overrun performance.
Engine kill switch attached with a waterproof coupler for more reliable connection.
A stopper added to the oil seal of the left crankcase improves engine reliability.
Gasket material for the generator cover, water pump cover and water pump elbow are changed from paper-base to metafoam (SPCC+foam) to improve sealing. Likewise, the clutch cover gasket has been changed from a paper-base to a metal-carbon composite (SPCC+carbon sheet) material. (SPCC: Steel Plate Cold Commercial)
The clutch basket and hub ride on involute splines and are fastened with a circlip instead of a bolt to ease servicing. The steel clutch plates have a special surface treatment to improve the feel.
6-Speed transmission features a short shift lever that keeps the shift throw short for quick shifts.
The ends of the shift forks are hard-chrome finished for added durability.
The shift drum rides on roller bearings for smooth shifting.
The fuel tank cap vent hose has a check valve to reduce the possibility of fuel seepage.

Chassis
High Tensile Steel Semi-Double Cradle Frame. Frame strength and durability is assured with thick tubing for the backbone and swingarm pivot area.
Large cast steel footpegs resist bending in the case of a tip-over and offer secure grip.
Engine and chassis bolts have a rust-resistant coating. A removable left side rear frame piece eases air box and shock servicing.
Tapered steering head bearings add precision and durability.
Bottom-Link Uni-Trak® Rear Suspension. The rear shock has 4-way adjustable rebound damping, stiff springing and damping settings to accommodate more aggressive riders.
The bottom link design keeps the weight low for a lower center of gravity, which makes the bike feel lighter and easier to handle.
External reservoir cools the shock fluid, increasing fade resistance to help keep damping consistent.
33mm Conventional Fork. Front fork tubes project 20 mm above the triple clamp to allow for ride height adjustments.
The front fork springs and damping are stiff to reduce bottoming for more aggressive riders.
Large 33mm inner tubes assure rigidity for great handling in the rough stuff.
Front and Rear Disc Brakes. Large 180mm front and rear brake rotors with single piston calipers offer eye-popping brake performance.
The rear brake pedal has O-rings sealing the pivot for smooth operation.
Aluminum Rims front and rear reduce unsprung weight and their strength adds durability.
Two-tone seat pattern complements the KX65's graphics and brings its appearance in line with the other KX models.
Seat cover uses a slip-resistant top surface for good grip when seated and smooth sides for excellent rider mobility.
Drive chain adjusters like the big KXs ease chain adjustments and add rigidity.

Colours
Lime Green
2010 Kawasaki KX65 – USA Specifications
MSRP $2,999 USD

Engine Two-stroke single

Displacement 64.7cc

Bore x stroke 44.5 x 41.6mm

Cooling Liquid

Carburetion Mikuni VM24SS

Induction Four-petal reed valve

Compression ratio 8.4:1

Ignition Digital CDI

Transmission Six-speed

Final drive Chain

Frame Semi-double-cradle, high-tensile steel

Rake / trail 27 degrees / 2.4 in.

Front suspension / wheel travel 33mm leading axle conventional fork with four-way rebound damping / 8.3 in.

Rear suspension / wheel travel UNI-TRAK® single shock system with four-way rebound damping and fully adjustable spring preload / 9.4

Front tire 60/100×14

Rear tire 80/100×12

Front brake / rear brake Hydraulic disc / Disc

Overall length 62.6 in.

Overall width 29.9 in.

Overall height 37.6 in.

Ground clearance 12.0

Seat height 29.9 in.

Curb weight 132.2 lbs.

Fuel capacity 1.0 gal.

Wheelbase 44.1 in.

Color Lime Green



*Note: Specifications and pricing are subject to change.





2010 Kawasaki KX65 – Canada Specifications
MSRP: $4,099 CDN
ENGINE
Type Liquid-cooled, 2-stroke Single
Displacement 64 cc
Bore and Stroke 44.5 x 41.6 mm
Compression Ratio 8.4:1
Carburetor Mikuni VM24SS
Induction 4-petal reed valve
Ignition Digital CDI
Lubrication Pre-mix (32:1)

DRIVETRAIN
Transmission 6-speed, return
Primary Drive Gear
Final Drive Chain
Primary Reduction Ratio 3.500 (77/22)
Gear Ratios: 1st 2.846 (37/13)
2nd 2.125 (34/16)
3rd 1.722 (31/18)
4th 1.428 (30/21)
5th 1.217 (28/23)
6th 1.083 (26/24)
Final Reduction Ratio 3.615 (47/13)
Clutch Wet multi-disc, manual

FRAME
Type Semi double cradle, High-tensile steel with detachable left-side rear section
Suspension: Front 33 mm telescopic fork, 4-click adjustable rebound damping
Suspension: Rear Bottom-link Uni-Trak with gas-charged shock fully adjustable spring preload, and 4-click rebound damping
Wheel Travel: (Front, Rear) 210 mm, 240 mm
Tires: (Front, Rear) 60/100-14, 80/100-12
Caster (Rake) 27°
Trail 60 mm

BRAKES
Front Single-piston caliper, 180 mm disc
Rear Single-piston caliper, 180 mm disc

DIMENSIONS
Overall Length 1,590 mm
Overall Width 760 mm
Overall Height 955 mm
Wheelbase 1,120 mm
Ground Clearance 305 mm
Seat Height 760 mm
Curb Mass 60 kg (132.3 lbs)
Fuel Capacity 3.8 litres

DETAILS
MSRP $4,099
Colour Lime Green
The specifications mentioned here apply to and have been achieved by production models under standard operating conditions. We intend only to give a fair description of the vehicle and its performance capabilities but these specifications may not apply to every machine supplied for sale. Kawasaki Heavy Industries, Ltd. reserves the right to alter specifications without prior notice. Equipment illustrated and specifications may vary to meet individual markets. Available colours may vary by market.