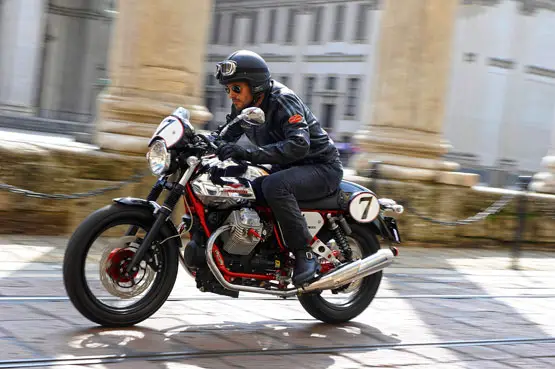 Back to 2011 Moto Guzzi Motorcycle Index Page
Click photos to enlarge.
They make great desktop images.
– 2011 Moto Guzzi V7 Racer

2011 Moto Guzzi V7 Racer
Italian style and superb craftsmanship in a motorcycle created for collectors in search of vintage appeal.
The Moto Guzzi V7 Racer pays homage to the extraordinary racing career of the V7 Sport, an icon in the glorious history of the marque from Mandello del Lario.

Among its many merits, the legendary V7 Sport – with its technical excellence and outstanding performance – was also the most desirable bike of all in the modified production class. This class, reserved for gentleman riders, enjoyed an avid following spurred on by the passionate rivalry between supporters of Japanese bikes, which were extraordinarily powerful but difficult to ride, and fans of Italian sports bikes which, while disadvantaged in terms of pure horsepower, boasted better engineered chasses and superior braking performance than their multi-cylinder adversaries.

Away from the circuit, this rivalry between the two factions continued in heated discussions around café tables, and if you happened to have a Moto Guzzi V7 Sport parked in front, with its single-seater saddle in suede, its racing exhaust and its unmistakable top fairing, it was proof that you belonged to an elite group of expert motorcyclists for whom riding is a true art.

Moto Guzzi has captured the essence of that magical moment in time from over three decades ago, and reinterpreted it with the marque's hallmark passion and skill to create a genuine production special: the new V7 Racer. Produced in a numbered edition, as demonstrated by the commemorative plaque on the steering yoke, the V7 Racer celebrates the classic styling cues of the Moto Guzzi brand in a perfectly balanced blend of craftsmanship and technology evident in every aspect of this stunning motorcycle.

The first thing to catch your eye is the chromed tank – created using innovative metal particle deposition technology – embellished with an elegant leather strap. This is a clear reference to legendary bikes of the past, as are the metal accents of the Moto Guzzi badge, which is colour-coded with the frame. The red frame, itself inspired by the legendary first 150 examples of the V7 Sport with CrMo frames, has been given a special treatment – as have the hubs and swingarm – which accentuates the gloss finish and emphasises the aesthetic purity of the double cradle structure. Perched on top of the frame's tubes is an ultra sporty single-seater saddle (a two-seater saddle and pillion footpegs are available as optional accessories), upholstered in suede and terminating in an aerodynamic tail fairing that also incorporates lateral race number panels in true Seventies style.

With its tiny Plexiglas screen above a race number panel, the top fairing – an exemplary expression of the Guzzi school – cites the front of the legendary Gambalunga. This unequivocally sporty element is in perfect harmony with the new design of the front mudguard. One of the most distinctive features of this unique special edition is the widespread use of bespoke components in brushed, drilled aluminium. This hand-crafted treatment, which requires superb artisan skill, has been applied to the side panels, the throttle body guards and the silencer mounting brackets.

Other premium components include the aft-mounted footpegs machined from solid billets, the lightened steering stem and the steering yoke guard consisting of a double chromed ring, which is so exquisitely crafted that it looks like an ornamental feature.

Any gentleman rider in the mood for a track day simply needs to don a single colour helmet and an understated leather riding suit, find the perfect setup for the fully adjustable pair of Bitubo gas shock absorbers and aim the 18 inch front wheel as close as possible to the apex. Riding enthusiasts who want to take it a step further can also choose the Arrow exhaust system (not homologated for street use), which is in perfect keeping with the visual balance of the bike and produces a spine-tingling sound as well as a significant increase in performance.

Technically, the V7 Racer retains the same winning formula used for the V7 Café in terms of both frame architecture – with a double cradle layout and detachable bolted lower elements – and geometry, with a steering rake of 27°50′. Doing duty together with the fully adjustable Bitubo rear shock absorbers is a 40 mm Marzocchi front fork, with a wheel travel of 130 mm and fitted with dust gaiters.

The brake system uses the finest components that the market has to offer, with a 320 mm floating front disc gripped by a fixed 4-piston Brembo 30/34 calliper, and a 260 mm rear disc with a 32 mm Brembo calliper. Measuring 2.50 x 18 at the front and 3.50 x 17 at the rear, the wire wheels, with silver spokes and nipples mounted on a matte black rim, are the same size as on the V7 Café, but are shod with higher performance and more visually impressive Pirelli Demon Sport tyres.


2011 Moto Guzzi V7 Racer Features
MAIN CHARACTERISTICS

DESIGN
– Numbered limited edition plaque
– Frame, swingarm and hubs in red finish.
– Chromed tank.
– Leather fastener strap along centreline of tank.
– Single-seater saddle in suede.
– Singe seat tail fairing with integrated race number panels.
– Top fairing with integrated race number panel.
– Sports mudguard
– Side panels in brushed, drilled aluminium.
– Throttle body guards in brushed, drilled aluminium.
– Silencer mounting bracket in brushed, drilled aluminium.
– Chromed upper steering yoke guard.
– Chromed valve cover.
– Adjustable chromed half-handlebars.
– Chromed heat shield.
– Front fork stanchion dust gaiters.
– Instrument cluster with chrome elements and 1970s dial graphics.
– Chromed taillight.
– Chromed, lockable fuel filler cap.

ENGINE
– Two-valve 744 cc 90° V-twin.
– Weber Marelli electronic fuel injection.
– Single plate clutch.
– Raised silencers
– 5-gear gearbox.
– Euro 3.
– Exhaust system with dual chromed silencers (high performance, track only aluminium Arrow system available as optional accessory)

FRAME
– Closed double cradle in ALS steel with removable lower elements.
– Front fork with 40 mm stanchions.
– Lightened steering stem.
– Double, fully adjustable Bitubo gas rear shock absorbers.
– 320 mm front brake discs with calliper with four opposed pistons.
– 260 mm rear disc with two-piston floating calliper
– Special wheels with black rim and silver spokes and nipples.
– Front tyre: Pirelli Sport Demon 100/90- 18 56H TL.
– Rear tyre: Pirelli Sport Demon 130/80 -17 65H TL.

---
2011 Moto Guzzi V7 Racer – North American Specifications
American MSRP: TBA
Canadian MSRP: TBA
ENGINE
Type: 4-stroke 90° V-twin.
Engine capacity: 744 cc
Bore and stroke: 80×74 mm
Compression ratio: 9.6:1
Timing system: 2 valves with light alloy pushrods and rockers
Valve timing diagram:
intake valve opens 18° BTDC
intake valve closes 50° ABDC
exhaust valve opens 53° BBDC
exhaust valve closes 15° ATDC
(with 1 mm control clearance between rockers and valves)
Maximum power: 35.5 kW (48.8 hp) at 6,800 rpm
Maximum torque: 54.7 Nm at 3,600 rpm
Fuel system: Weber-Marelli electronic fuel injection.
Exhaust system: with 3-way catalytic converter and oxygen sensor.
TRANSMISSION
Transmission: 5-speed
Gear ratios:
1st 11/26 = 1 : 2.3636
2nd 14/23 = 1 : 1.6429
3rd 18/23 = 1 : 1.2778
4th 18/19 = 1 : 1.0556
5th 20/18 = 1 : 0.9
Lubrication: forced circulation with lobe pump – circuit capacity: 1.78 Kg
Primary drive: gear, drive ratio: 16/21=1: 1.3125
Final drive: cardan shaft, drive ratio 8/33=1 : 4.825
Clutch: single plate dry clutch with flexible coupling
CHASSIS, SUSPENSION AND BRAKES
Frame: double cradle tubular frame in ALS steel with detachable elements.
Centre to centre distance: 1.449 mm
Trail: 109
Steering rake: 27°50′
Front suspension: telescopic hydraulic Marzocchi fork with 40 mm stanchions
Front wheel travel: 130 mm
Rear suspension: die cast light alloy swing arm with 2 fully adjustable Bitubo shock absorbers
Rear wheel travel: 118 mm
Brake system: Brembo
Front brake: 320 mm floating stainless steel disc,
calliper with 4 differently sized opposed pistons
Rear brake: 260 mm stainless steel disc
Brake pump cylinder diameters:
Front pump 13 mm
Rear pump 13 mm
Calliper piston diameters:
Front calliper 30/34 mm
Rear calliper 32 mm
Braking surface area: front 21.3 cm2, rear 16.1 cm2
Friction material: front Ferodo 222, rear Ferodo ID 450
Wheels: Steel wire wheels
Front wheel 2.50″ X 18″
Rear wheel 3.50″X17″
Tyres:
Front Pirelli Sport Demon 100/90- 18 56H TL
Rear Pirelli Sport Demon 130/80 -17 65H TL
ELECTRICAL SYSTEM
System voltage: 12 V
Battery: 12 V – 12 Amp/h
Alternator: 12 V – 350 Watts
Headlamp: 12 V – 55/60 W
Taillight: 12V – 5/21 W
Turn indicators: 12V – 10 W
DIMENSIONS
Length: 2,185 mm
Max width: 800 mm
Height: 1,115 mm
Saddle height: 805 mm
Minimum ground clearance: 182 mm
Steering angle: 32° per side
Dry weight: 182 Kg
Kerb weight 198 Kg
Tank type: Nylon
Fuel tank capacity: 17 litres
Reserve: 2.5 litres
---
2011 Moto Guzzi V7 Racer – Europe Specifications
European MSRP: €9,290 Euro

Motore bicilindrico a V di 90°, 4 tempi
Cilindrata 744 cc
Potenza MAX 35,5 (48,8 CV) kW a 6.800 giri/minuto
Coppia MAX 54,7 Nm a 3.600 giri/minuto
Impianto di scarico catalizzato a 3 vie con sonda Lambda
Cambio 5 marce
Trasmissione finale a cardano rapporto 8/33 = 1:4,825
Sospensione anteriore forcella telescopica idraulica, Ø 40 mm
Sospensione posteriore forcellone oscillante pressofuso il lega leggera con 2 ammortizzatori Bitubo
pluri-regolabili
Freno anteriore disco flottante in acciaio inox Ø 320 mm, pinza a 4 pistoni differenziati e
contrapposti
Freno posteriore disco in acciaio inox Ø 260 mm, pinza a 2 pistoni contrapposti
Pneumatici 100/90 – 18 56H TL (ant.) – 130/80 17 65H TL (post.)
Lunghezza max 2.185 mm
Larghezza max 800 mm
Altezza 1.115 mm
Altezza sella 805 mm
Peso a secco 182 kg
Capacità serbatoio 17 litri (riserva 2,5 litri)