Back to Total Motorcycle Continental Tire/Tyre Guide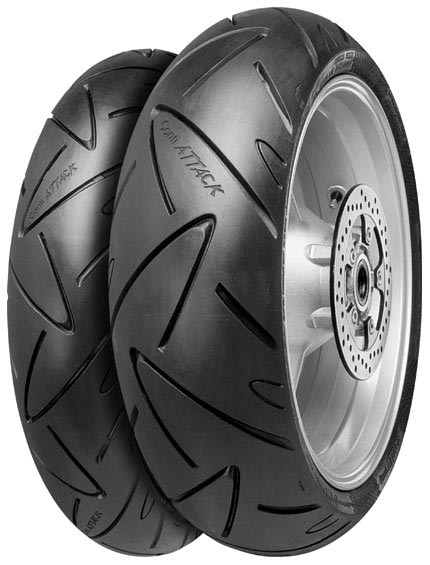 Continental Conti RoadAttack Sport Mileage Radial
– Continental Conti RoadAttack Sport Mileage Radial
Continental Tire announces the new Conti RoadAttack "Sport Mileage" Radial!
Due to increasing demand for high performance and extended durability from sport radial tires, Continental is addressing this market by releasing a new product line which creates a new performance category, "sport mileage."
The release of the Conti Road Attack further reinforces Continental's intention to be at the forefront of performance tire technology.
Conti Road Attack Features:

o Engineered to meet the demands of today's powerful high performance sport
bikes, sport standards, and sport-touring machines.
o Offers the grip of a high performance sport radial with the mileage of a
sport- touring radial.
o Exclusive 0° High-Impact Steel Belt construction delivers the highest levels of
grip, high-speed stability, control, and comfort.
o Exclusive Dynamic Footprint Technology ("DFT") gives a 12% larger contact
patch than the competition which delivers better cornering grip and less slip
which equals better mileage.
o State of the art compound and carcass design technology allow for deeper
tread depth; so even though grip levels are exceptionally high, mileage is
exceptionally high as well.
o Takes wet grip to new heights.
o Unique tread design compliments the sleek look of today's modern
motorcycles.
o Precise handling thanks to multi curvature design.
o Long lasting high performance at a competitive price.
What kind of rider is the new Conti Road Attack aimed
at?:
o The Road Attack is the best choice for riders who prefer a long lasting tire, but
also desire the grip of a high performance sport radial.
o The Road Attack's superior wet weather performance and quick warm up time
meet the demands of year-round riders.
o The Road Attack's handling characteristics and high levels of grip make it
suitable for a broad range of bikes such as the GSX-R1000, FZ-1, 1200 Bandit,
VFR800 Interceptor, ZRX1200, Z1000, CBR1100XX, and ZZR1200R as well
as smaller displacement bikes.
Conti Road Attack Sizes & '05 Retail Price Ranges:

120/60ZR17 (55W) TL, front = $119.00 + USD ($170 + CAD)
120/70ZR17 (58W) TL, front = $119.00 + USD ($170 + CAD)
150/70ZR17 69W TL, rear = $140.00 + USD ($205 + CAD)
160/60ZR17 (69W) TL, rear = $140.00 + USD ($205 + CAD)
170/60ZR17 (72W) TL, rear = $150.00 + USD ($220.00 + CAD)
180/55ZR17 (73W) TL, rear = $150.00 + USD ($220.00 + CAD)
190/50ZR17 (73W) TL, rear = $160.00 + USD ($235.00 + CAD)
160/60ZR18 (70W) TL, rear = $150.00 + USD ($220.00 + CAD)