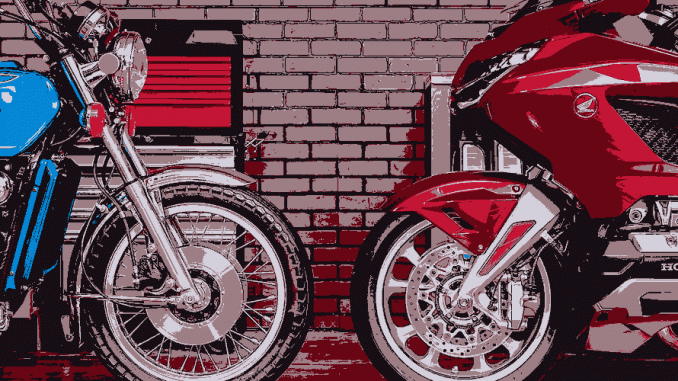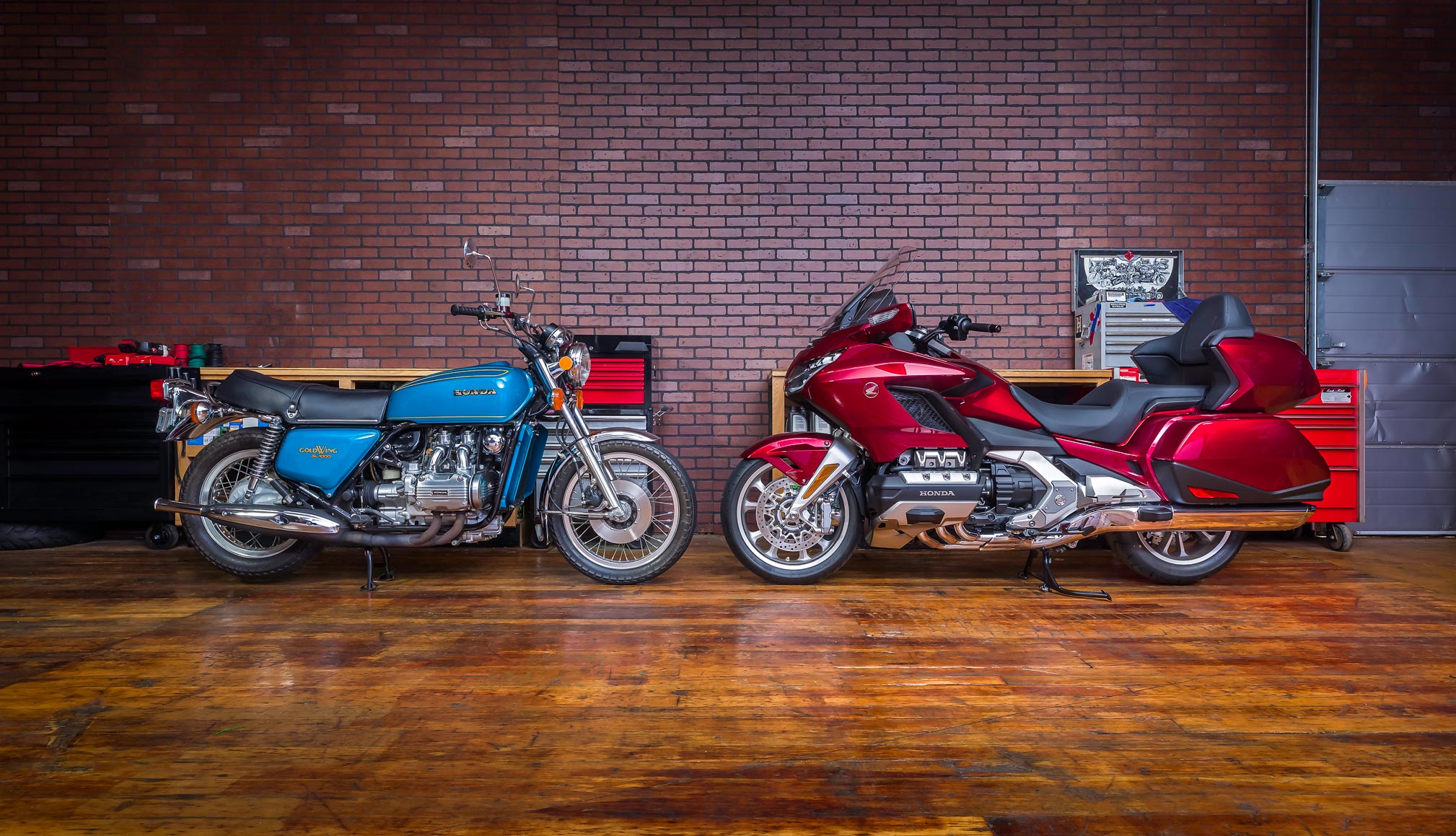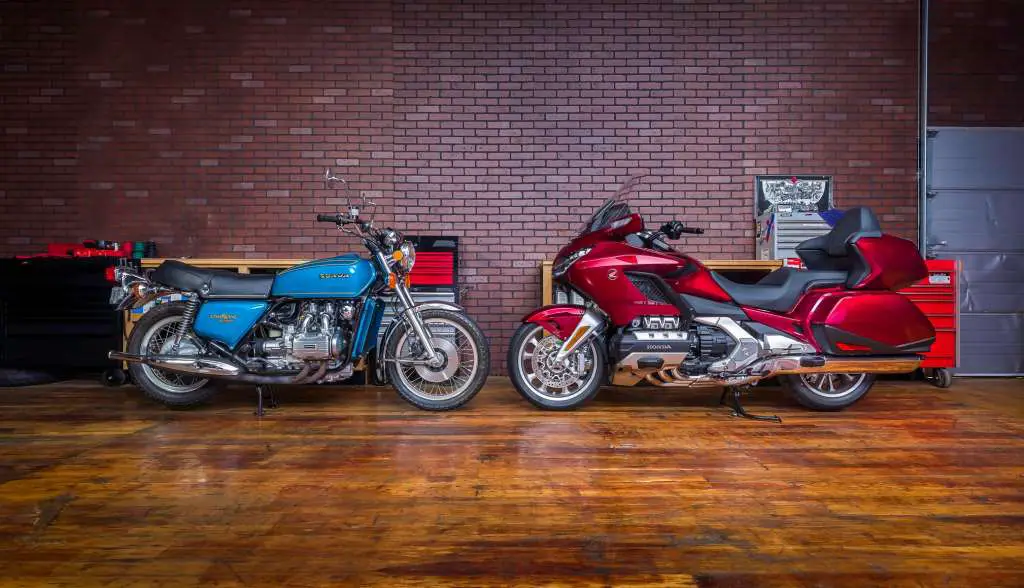 The most radical change to the Gold Wing in 43 years! The Gold Wing maybe the crowning champion of touring motorcycles, but it suffers from perception. Big, heavy, slow, hard to ride. But no more. The redesigned 2018 Honda Gold Wing is going to radically your perceptions! Agile, Sporty, Youthful, Smaller, Lighter, Automatic Transmission, Apple Car Play. Not words associated with a Gold Wing at all… till now.
Introducing the 5 New redesigned 2018 Honda Gold Wing models, each unique in its own way, ready to commute or take you across the country. Pure Gold. Each one I have over 20 pages of information on that you won't find anywhere else. Hand selected HD photos of each model showcasing its features and last but not least, specifications and MSRP from not only the USA, but Canada and Europe as well. I hope you enjoy the new 2018 Honda Gold Wing and Total Motorcycle as well!
– 2018 Honda Gold Wing – New model (USA, Canada, Europe)
– 2018 Honda Gold Wing Automatic DCT – New model (USA)
– 2018 Honda Gold Wing Tour – New model (USA, Canada)
– 2018 Honda Gold Wing Tour Automatic DCT – New model (USA, Canada)
– 2018 Honda Gold Wing Tour Airbag Automatic DCT – New model (USA, Canada)
The 2018 Motorcycle Model Guides, brought to you by, Total Motorcycle. If you are not seeing the new Total Motorcycle 2018 Honda Motorcycle Lineup, then you are not seeing the very best.
New Bike Reviews, Huge Photos, Full Specifications. Get it all at Total Motorcycle.
From the Manufacturer
This is a bike 43 years in the making. Rebuilt from the road up. Refined inside and out. Ready for anything. There's a new engine. New front suspension. Available 7-speed DCT. All in a more agile body that's over 85 pounds lighter. You'll also find the latest in technology, including Apple CarPlay integration, and five distinct trim levels to suit your style. The redesigned 2018 Gold Wing is designed to push the limits of what a touring bike can be. And expand the adventure beyond anything imagined.
Redesigned from the wheels up, the new Honda Gold Wing is sharper, more compact and lighter; its monumental flat six-cylinder engine now features 4-valves per cylinder and comes equipped with Throttle By Wire, 4 riding modes, Honda Selectable Torque Control and Hill Start Assist. The new chassis features an aluminium beam frame, double wishbone front suspension and single-sided Pro-Arm – damping is electrically adjustable, as is rear spring preload. An electric screen, Smart Key and Apple CarPlay are also standard equipment. An entirely new, third generation of Honda's unique Dual Clutch Transmission – with seven speeds – will also be available.
The Honda Gold Wing, since its introduction as a naked 1000cc machine in 1975 has always been the ultimate in two-wheeled travel. And it's a motorcycle that's been very much on its own journey, growing in physical size and displacement over the decades, all the while creating an enduring and unrivalled reputation for luxury, quality and comfort.
Now, in response to the evolutions of demographics and the motorcycle market, the development team in charge of the bike's future have decided on a radical departure from what would be a traditional update trajectory.
So the redesigned 2018 Honda Gold Wing G1800 takes a new direction and is brand new from the wheels-up. It still has an evocative, flat six-cylinder engine that delivers an avalanche of torque and power, and it still remains Honda's flagship premium tourer, loaded with features that allow two people to ride in style. Yet it's smaller, much lighter and much more agile – very much a true 'rider's motorcycle'.
And as a result the new Gold Wing's appeal is broader, reaching out to a younger generation of motorcyclists that may have overlooked – or simply not been aware of – the previous design. As happy on an urban commute as it is the open road, the Gold Wing is now a bike for all reasons, rather than just one.
Mr Yutaka Nakanishi, Large Project Leader (LPL) 18YM GL1800 Gold Wing
"We wanted our new redesigned 2018 Honda Gold Wing to maintain its luxury but to be a much more 'rounded' motorcycle. A machine as useful to its owner around the city as it is out on tour. And more exciting to ride than ever. So we started from a blank piece of paper and made the Gold Wing smaller and lighter, and added all the technological hardware and software the modern rider could wish for. Now, just as in 1975, it remains a flagship model for Honda – and we are very proud to start this new chapter for such an important name."