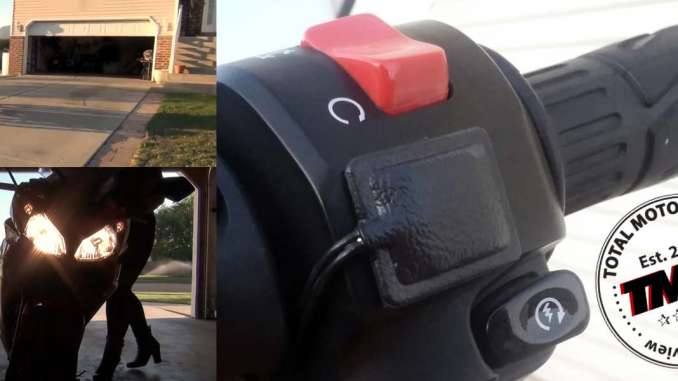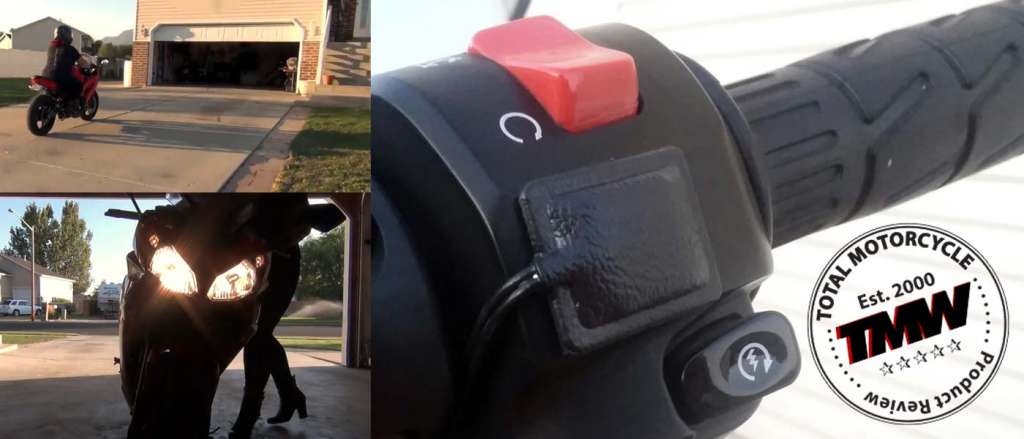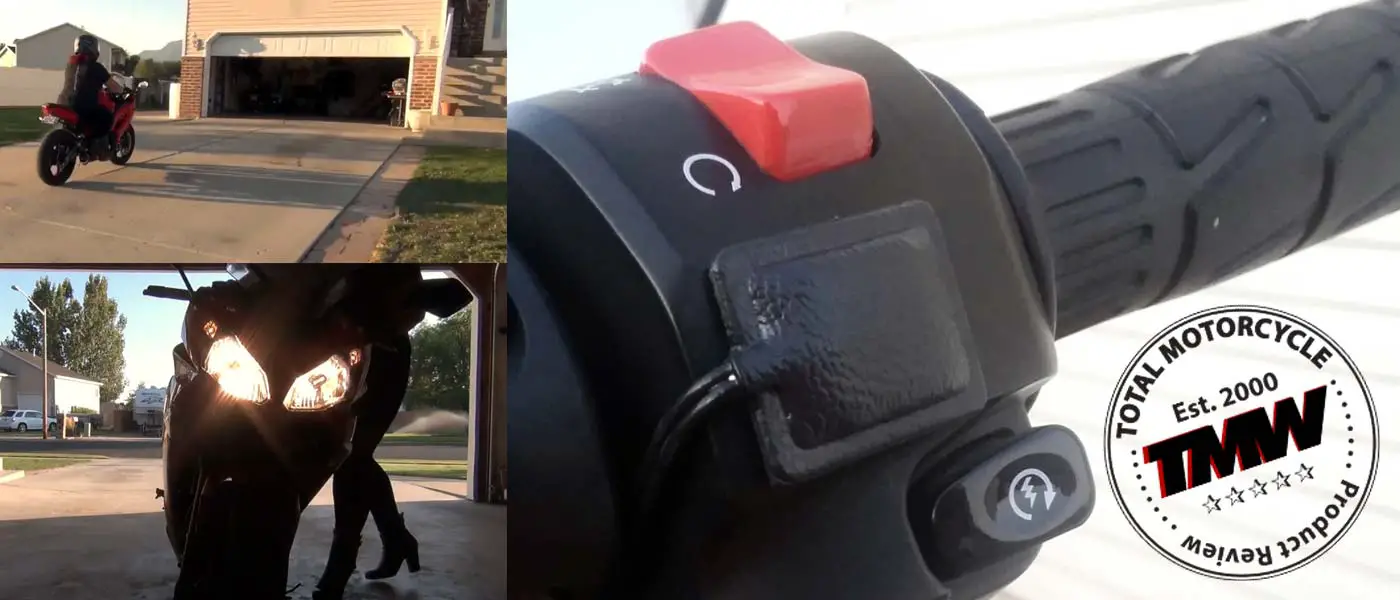 Keeping track of your remote garage door openers can be a real headache, especially for motorcyclists. They're the perfect size for loosing in a door pocket, console cubby or saddlebag. The clips never stay put, or if they do they don't grip your sun visors reliably. And they're not as easy to find for purchase as you might think when you decide you need more. We were having a special problem with this in our household, so when we saw the Mo-Door Motorcycle Garage Door Opener at the Colorado Motorcycle Expo last January, we were more than a little intrigued. Read on to see what this little device is all about, and if it might be just what you're looking for.
Mo-Door Independent Garage Door Opener for Motorcycles
Background 
Garage door openers have been a special problem for Carrie and I for a long time. We have three cars that share time in the garage with our three bikes, and we drive or ride to work separately most days. Combine that with multiple choices for outer layers, staggered work schedules and random grocery runs, and we were passing around our small collection of remote openers multiple times a day across multiple vehicles.
"Have you ever tried to climb inside an econo-box with your helmet and gloves already on to retrieve a garage remote? I'm a pro at it."

 
Most problems you can throw money at, but even that wasn't much help in this situation. Even if you have enough garage remotes to go around, they just don't ride well on motorcycles. You can stash them in a pocket or windshield bag to keep them accessible, but even that's not perfect. Pawing through your clothes or bags is hard enough at the best of times. When you need your garage opener, you're likely on the clutch or downshifting though. The obvious solution is to mount your remote somewhere you can reach it easily, but cockpit space is usually limited. Not to mention the remotes tend to be ugly and utilitarian in design. It's a small, silly problem to have, but it is a problem. Fortunately, with the Mo-Door Garage Door Opener, there's a way to solve it.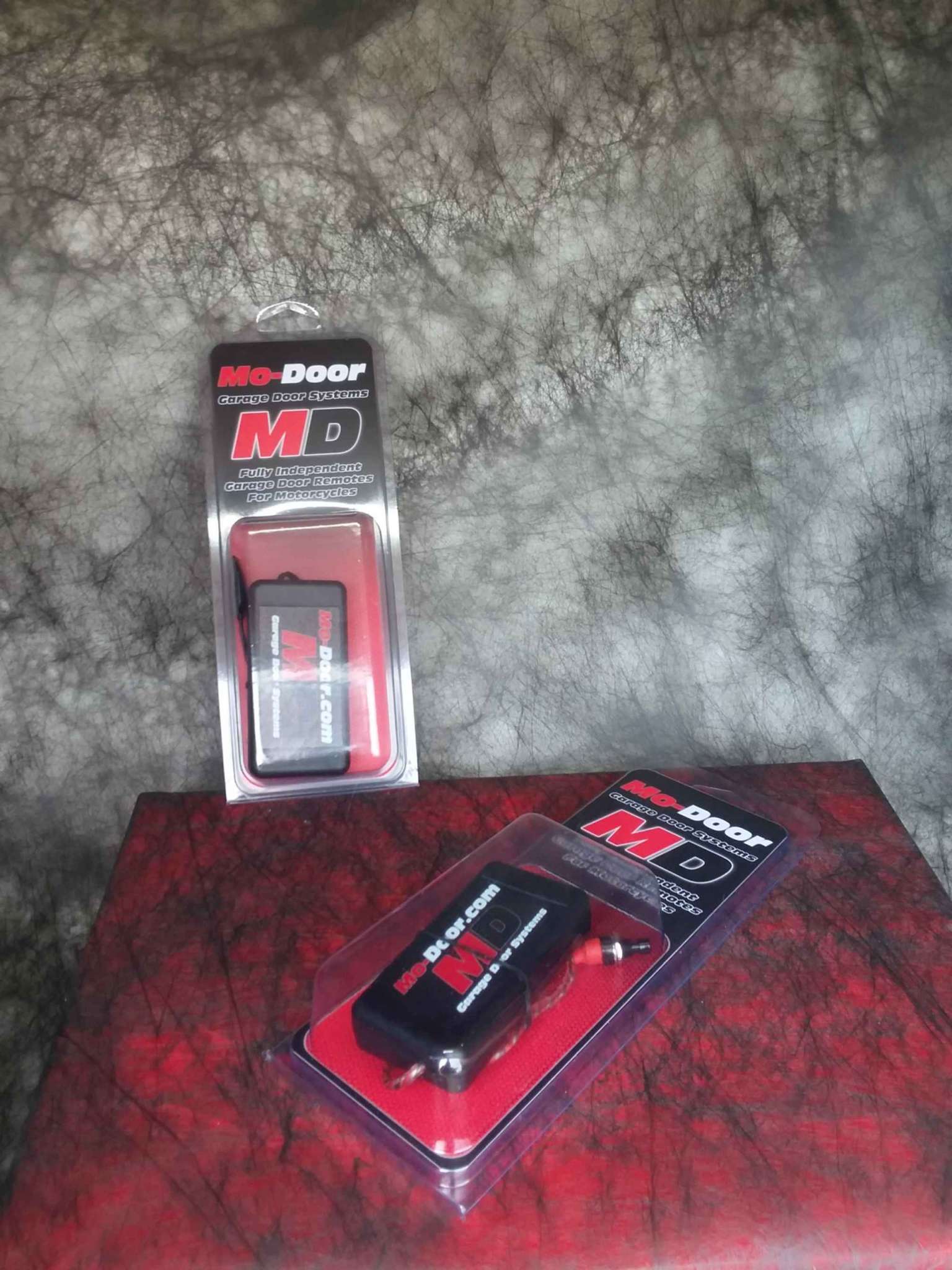 Overview
The Mo-Door Garage Door Opener is a simple, elegant device. It consists of a transmitter, a wire lead, and the actuator button, of which they offer several different styles. The two units we tested were the "Micro-Switch" and the "Simple Push Button". Functionally they're identical, but differ in key ways we'll outline later.
The Mo-Door transmitter contains all the hardware for communicating with your garage door opener and a long-life, replaceable battery. Physically it's a black rectangular box, measuring 1.75 x 3.5 x .75″ (44 x 89 x 19mm). Double-sided hook-and-loop pads with peel-and-stick adhesive provide the mounting solution. The wire lead is 19″ (48cm) long. On the "Simple Push Button" unit the wire lead is a thick, braided wire, whereas the "Micro-Switch" boasts a thinner wire similar to what typical audio earbuds use.
The actuator buttons are where they differ the most, of course. The "Simple Push Button" is exactly that, a simple round button with a threaded stud and hexagonal nut. It's meant to be installed by drilling a hole in some thin medium, such as a cockpit shroud or other plastic component. The "Micro-Switch" is a small, rubberized pad about the size of a postage stamp. It's designed for minimalist or covert installation somewhere inconspicuous, and features more peel-and-stick adhesive. In addition to the two styles we tested, Mo-Door also offers a larger heavy-duty switch with more tactile feedback, and two different options for dual switches if you have two garage doors, or a garage door and a driveway gate.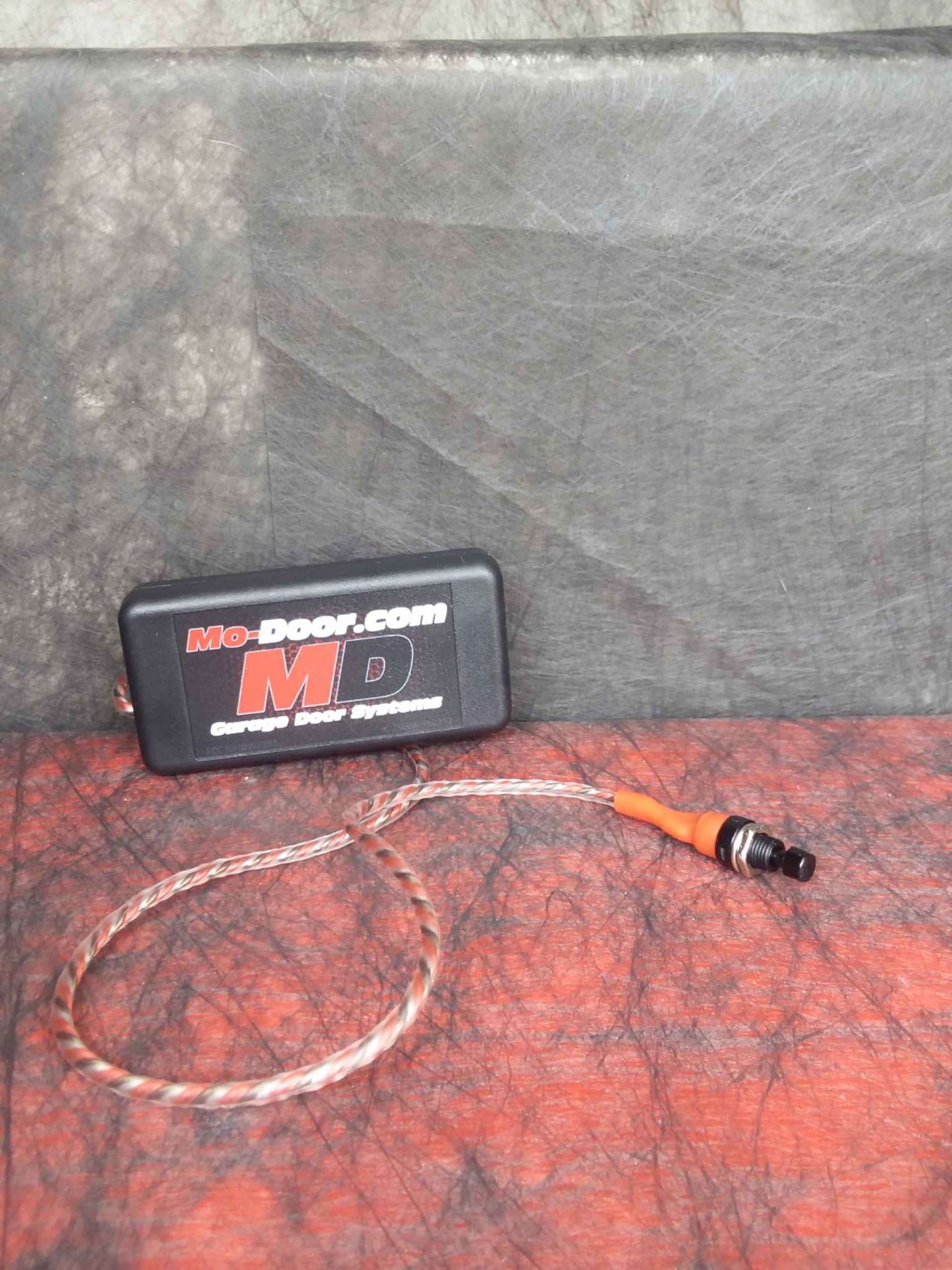 Compatibility
The Mo-Door unit is compatible with most common automatic garage door openers. I adapted the following chart from their website:
| | | | |
| --- | --- | --- | --- |
| | BRAND | TYPE/COLOR/LEARN | YEARS |
| 1 | Linear | Mega-Code | 1997-Current |
| 2 | Chamberlain* | Orange | 1997-2005 |
| 3 | Chamberlain* | Purple | 2005-Current |
| 4 | Chamberlain* | Green | 1993-1996 |
| 5 | Genie/Overhead Door | Intellicode | 1995-2005 |
| 6 | Genie/Overhead Door | Intellicode | 2005-Current |
| 7 | Stanle | Secure Code | 1998 |
| 8 | Chamberlain* | Yellow | 2012-Current |
| 9 | Wayne Dalton | Rolling Code | 1999 |
*LiftMaster, Do-It, Master Mechanics, Raynor, True Value and Sears Craftsman are all compatible with Chamberlain.
Mo-Door's website also says they can provide dip-switch models if your garage door opener is a vintage unit. You will have to contact them directly to get it done, but don't let that intimidate you. Mo-Door is great to work with and their customer service is excellent.
Installation
Installing our Mo-Door units was child's play for the Micro-Switch, and only slightly more complicated for the Push Button model. Essentially, you select a suitable location for the switch, and then find the best location for the transmitter as dictated by the lead. We installed the Micro-Switch directly underneath the kill switch on the Ninja and attached the transmitter to the inside of the right fairing. The Simple Push Button we installed on the right cockpit shroud of the Versys, which required drilling a hole large enough to mount the button stud through. The transmitter we attached to the headlight housing. In both cases, we used the provided hook-and-loop fasteners with adhesive backing.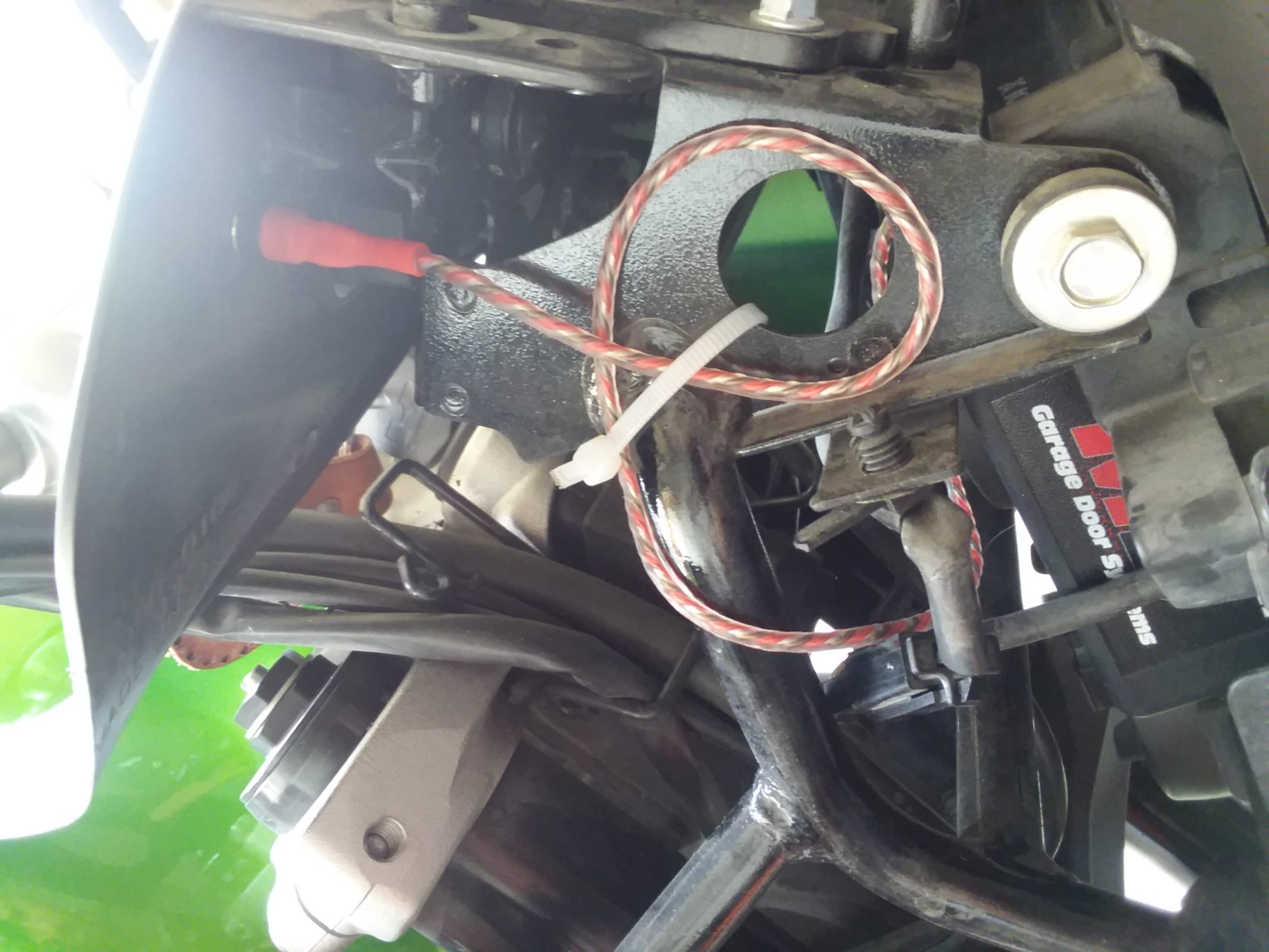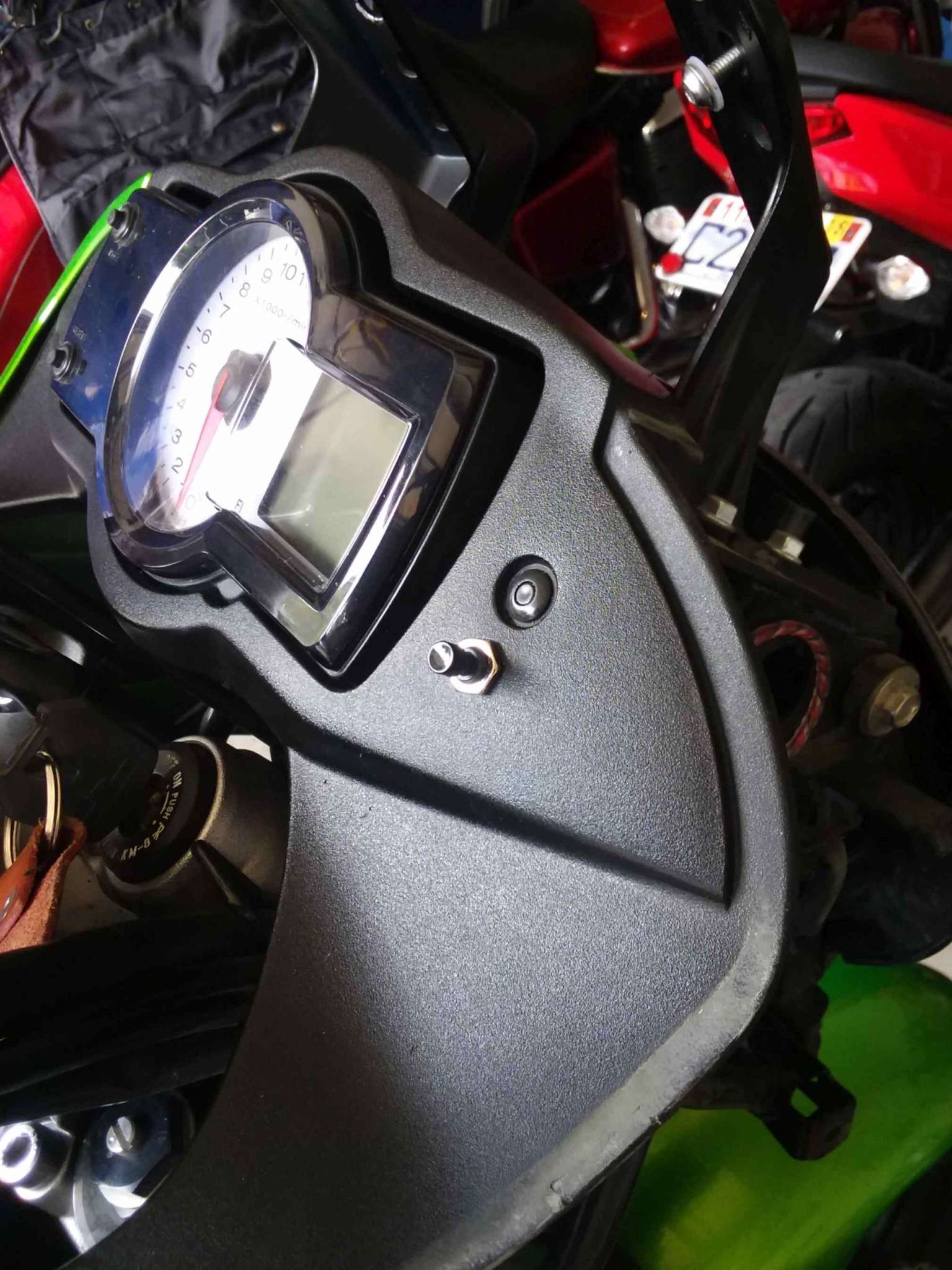 Programming
Our garage door opener is a 2008 Chamberlain 1/2HP chain type opener with a purple Learn button. Programming our Mo-Door units to work with it was brief and painless. Following the instructions Mo-Door provided, we reset the transmitters and placed our opener in Learn mode. We then pressed the actuator button until our garage door opener flashed, three times in this case for our model. To confirm the code, we pressed the reset button on the transmitter a final time. Done and done.
Use and Function
Our Mo-Door openers perform exactly as they're supposed to. Both units trigger our garage opener motor from an acceptable range, and do so reliably. The actuator switches are easy to use, even with gloves on, and they're in accessible locations on both bikes. The Micro-Switch especially is easy to use, requiring no more contortions than lowering your right thumb.
Also, the Mo-Door transmitter boxes have stayed firmly where we mounted them. We recently took a three-day, 1,000 mile trip through several different regions here in Utah and Colorado. Road conditions included everything from smooth interstate to crumbling, degraded mountain passes. Temperatures ranged from 50°F in the mornings to 95°F in the afternoons (10° to 35°C). Despite high speeds, sketchy road surfaces, and wild temperature gradients, the adhesives didn't fail.
"The Micro-Switch especially is easy to use, requiring no more contortions than lowering your right thumb."
Conclusions
Simple problems require elegant solutions. Mo-Door offers that with this product, a dedicated garage door remote that words with a wide array of garage door openers and installs in minutes without any complicated wiring or modifications to your machine. With this solution, you'll never be without your garage door opener while on your motorcycle again.
The only improvement I could see to the Mo-Door Garage Door Opener would involve the wire lead. Nineteen inches isn't a lot to work with, and if you have a naked bike or bar hopper without front fairings, your options for an attractive, accessible installation could be limited. It would also be nice to see an option to disconnect the lead from the transmitter, to facilitate cleaner wire routing. These would be welcome improvements only, though, and don't rise to the level of complaints. Our units do exactly what we need them to do, and they do it well.
I knew from that first moment my garage door started to trundle open after I programmed my Mo-Door that I potentially had an Editor's Choice product on my hands. My only concern was if the transmitters would stay attached with their adhesive mounting patches, and somewhere between Douglas Pass and Dinosaur National Monument on Colorado State Route 139, that final question was laid to rest. This elegant solution to a simple problem has fundamentally changed the way we interact with our home and our bikes, and that is worth five stars. Congratulations Mo-Door, it's been a pleasure!
Total Motorcycle Editor's Choice Award