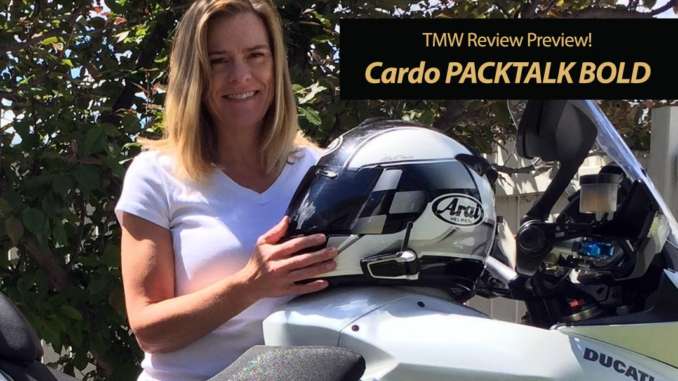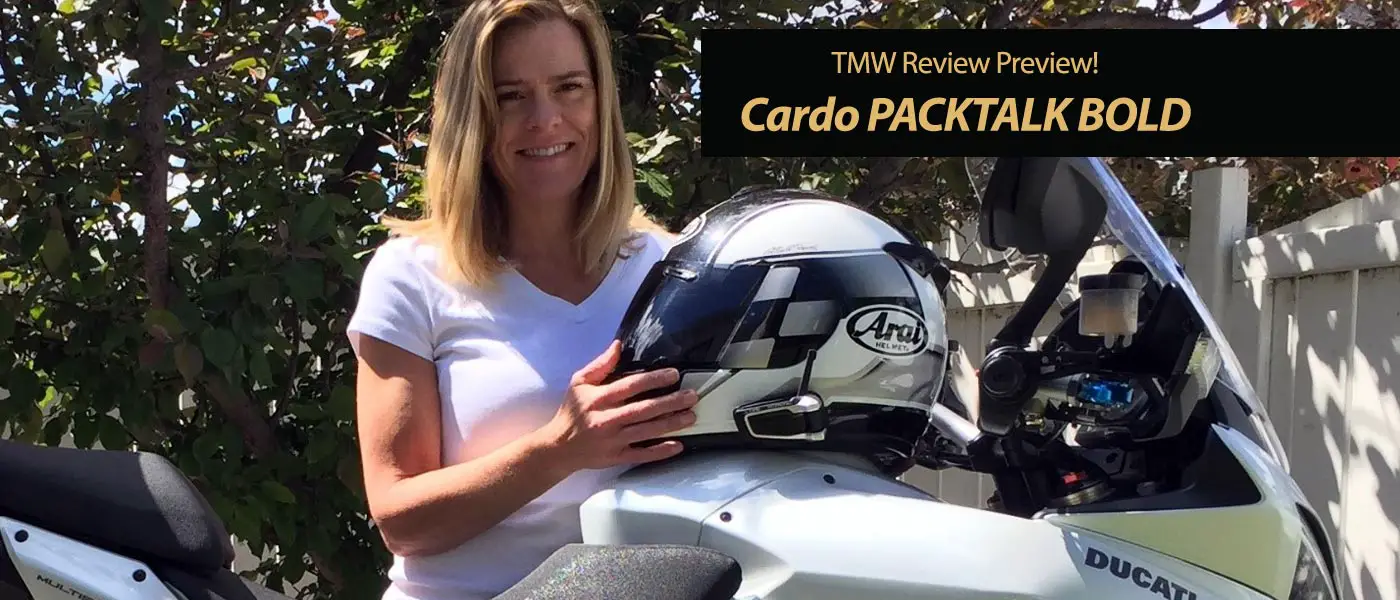 Total Motorcycle tests the new Cardo PACKTALK BOLD in the Rocky Mountains before bringing it along on our big Alaska motorcycle adventure. Is the BOLD worth the price? Is Dynamic Mesh Technology a game changer? How far as Cardo come since we tested the Cardo TeamSet PRO years ago? Stay tuned for an extensive review of the PACKTALK BOLD plus incredible Alaska motorcycle adventure photos! Please enjoy our 4-week Cardo PACKTALK BOLD preview below.
Cardo PACKTALK BOLD Helmet Communications System
| | |
| --- | --- |
| Reviewed By: | Bruce and Jennifer Ross |
| Review Dates: | May 19th 2019 to June 16 2019 |
| Price As Tested: | $359.99 USD |
OVERVIEW
As consumer electronics are evolving at an astounding rate, our expectations have increased to match.  Several years ago, when we first evaluated the Cardo Team Set PRO it was our first experience with a communication system that was functional for a long trip without sustained wind noise blasting in our ears while it was on.  It really was a revelation, and because it was meant to be used rider to passenger only, and my "passenger" rides her own bike, we later upgraded to a Cardo G9. The G9 expanded on the functionality of the Team Set PRO, as well as the range. We regularly paired with a 3rd rider running a Cardo G9X while riding extensive tours in the Pacific Northwest, the Dakotas, and British Columbia.  The benefits of this were felt every day on the road, alerting each other to problem areas up ahead or discussing lunch, gas and hotel stops.  There were some short comings, however like most consumer electronics, you do not really know what you are missing until something new changes the rules and all your expectations.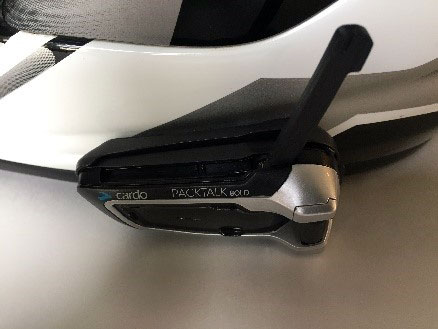 Enter the Cardo PACKTALK BOLD with a host of new features and design structure.  The DMC technology allows up to 15 riders to stay connected at any one time, and the expanded Bluetooth functionality allows connectivity to any Bluetooth communications device from any other substantial brand.  There is even the ability to merge incoming phone calls into the intercom conversation!  Other features included are:
Audio sharing of downloaded music or FM radio stations with other devices
Automatic volume compensation for ambient noise.
FM Radio listening
Private chat options to speak discreetly to another member of the group ("Hey buddy, your blinker has been on for the past 10 minutes….").
Uninterrupted music while riding – the volume will drop but the music will still be there.
SHORTCOMINGS
A couple of the short comings of the older Cardo G9s are directly addressed with the PACKTALK BOLD.  Previous VOX control was so poor, that I had to admit defeat and turn the functionality off completely to avoid the lovely female Cardo voice from randomly announcing "RADIO ON", and blasting me with either a FM station or an ear full of static if I was out of the radio station range.  Multiple attempts to correct this proved that the technology was not quite there yet, although the later G9x of our riding partner performed slightly better in this area.  Initial impressions with the PACKTALK BOLD have shown the "hey Cardo….."voice prompts to be quite effective*.
*For a more in-depth review of the effectiveness of the VOX control, please look to an upcoming long-term product impression, where the devices will be extensively tested on a 12-day ride to Alaska and back.
  The other challenge with the older G9 and G9X 3-way Bluetooth pairing was in the way that they stayed linked through one common device.  Therefore 1 of the 3 communicators in our group would be the "primary" or "hub" and the other two would connect via the primary.  If the primary rider happened to move out of range, the other two riders could be very close together, yet unable to communicate.  This is where the Dynamic Mesh Communications technology has the potential to provide a leap in effectiveness that can make either a short, day group ride or multi-day holiday ride that much more enjoyable.
"Hey buddy, your blinker has been on for the past 10 minutes…."
WHAT EXACTLY IS DYNAMIC MESH COMMUNICATIONS TECHNOLOGY?
Dynamic Mesh Technology (DMC) reimagines how helmet to helmet communicators work.  Without getting too technical, the PACKTALK communicators when in DMC mode will self-heal the network, meaning that if one or two riders go out of range, communication remains with the others.  When the missing riders return to range the network seamlessly integrates them back in to the group.  As Jennifer and I often lead and tail group rides with our local motorcycle and social group; this has been a challenge for us in the past when getting out of town and part of the group gets caught up at a traffic light.  As we try to bring the group together there is a lot of trying to initiate a connection again which is a distraction when trying to keep everyone together and safe.  We are eagerly awaiting the chance to test out the functionality of the DMC technology with the group when we return from our upcoming Alaska adventure (and extensive communicator test)!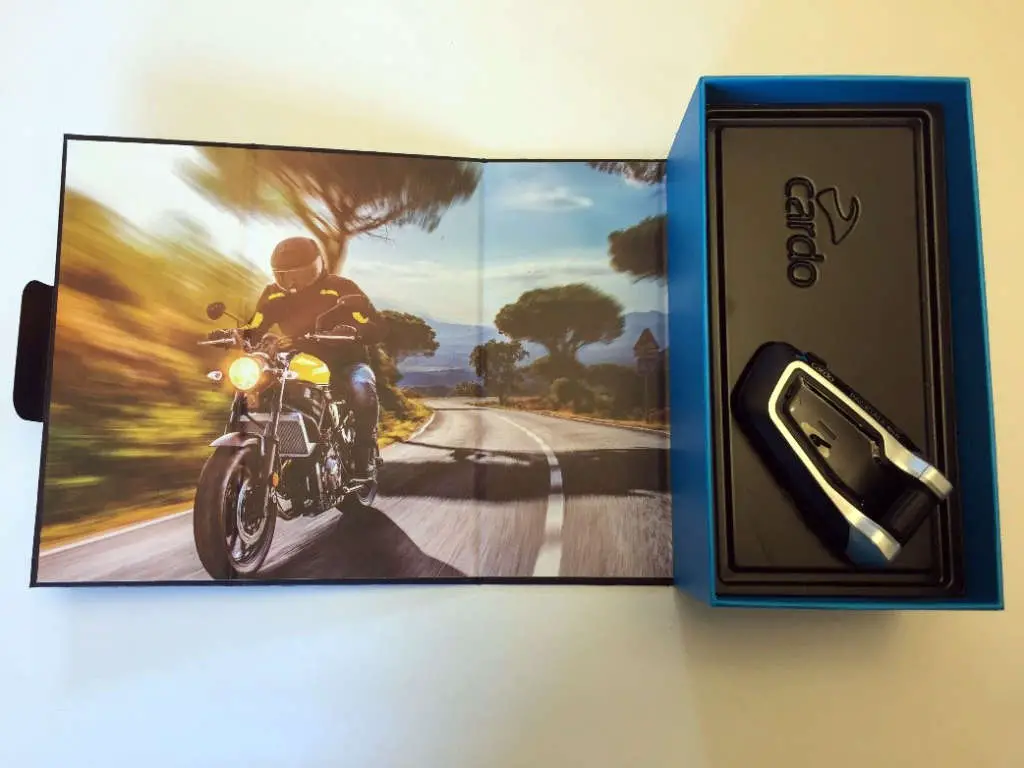 IS PACKTALK BOLD WORTH THE PRICE OF ADMISSION?
There is no doubt that with a retail price of $359.99 US for a single unit, purchasers should expect a premium quality communicator.  It is a serious investment, but users will somewhat future-proof themselves with this purchase over lower to medium level communicators with the additional compatibility capabilities of the PACKTALK Bold units.
  Opening up the package clues you in that the price may be justified with by the quality and feel of the units.  Buttons are much simplified over our previous Cardo G9 units, and both the buttons and scroll wheel are easier to operate with a gloved hand, and move with a quality feel.  In fact, the PACKTALK BOLD units look much more plain than the older models due to the simplicity of their design but far exceed them in practical use.
"…users will somewhat future-proof themselves with this purchase over lower to medium level communicators…"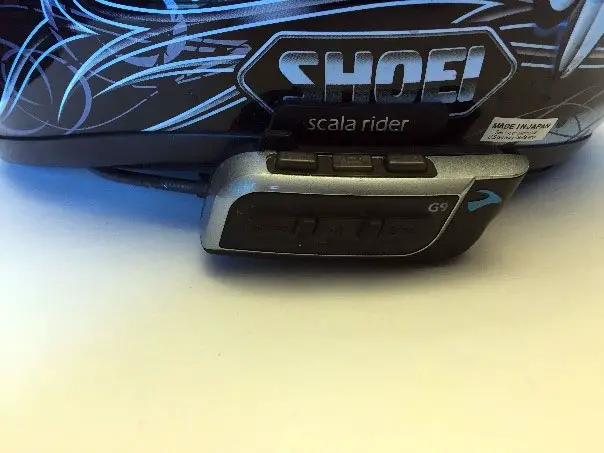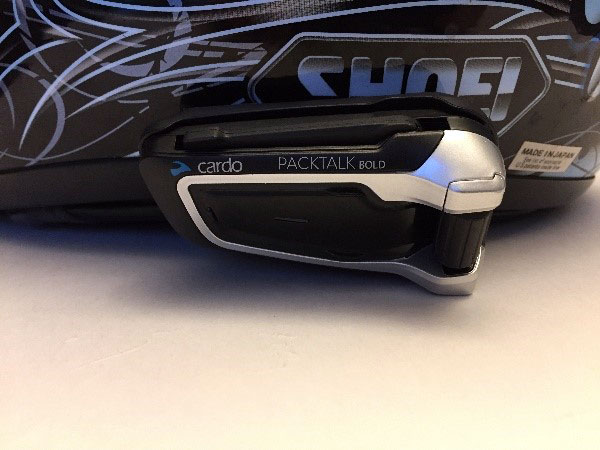 CONCLUSIONS ON THE CARDO PACKTALK BOLD
As long-time users of previous generation Cardo communicators, the evolution and upscale product targeting is appreciated.  While the previous generation units came with somewhat simplistic and tiny helmet speakers, the new units include premium JBL helmet speakers which are on another level for sound quality. The larger size of the speakers comes with a bit of a challenge however in fitting in to the ear-pockets on Jennifer's Shoei helmet (shown above).  We believe we have the issue solved but will include a follow up in our upcoming final product review.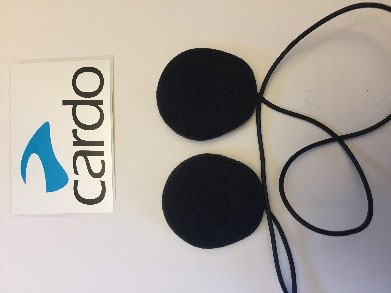 While both helmet mounting options remain (stick-on and mounting clamp), the mounting clamp has evolved to a much more simplistic and quality feeling spring-clamp design.  While clamping or sticking is a personal preference (See Eric Leaverton's Cardo 4+ test and opinion here ), we tend to prefer the positive reassurance of using the clamp on our personal helmets, and on both Jen's Shoei and my Arai, installation was very quick and simple.
The mounting cradle has also thoughtfully evolved from previous units.  Having used my G9s in everything from driving rain to dusty gravel adventure rides, the mounting contacts would periodically require cleaning to prevent a bad connection.  The PACKTALK BOLD cradle has evolved from a more passive contact type of design to contact with a spring edge to them. This is a minor evolution but one that will drive long term reliability – nice.
And finally even the long range antenna received some attention and is slightly easier to release (it springs upwards), with just an inward tap with a gloved hand.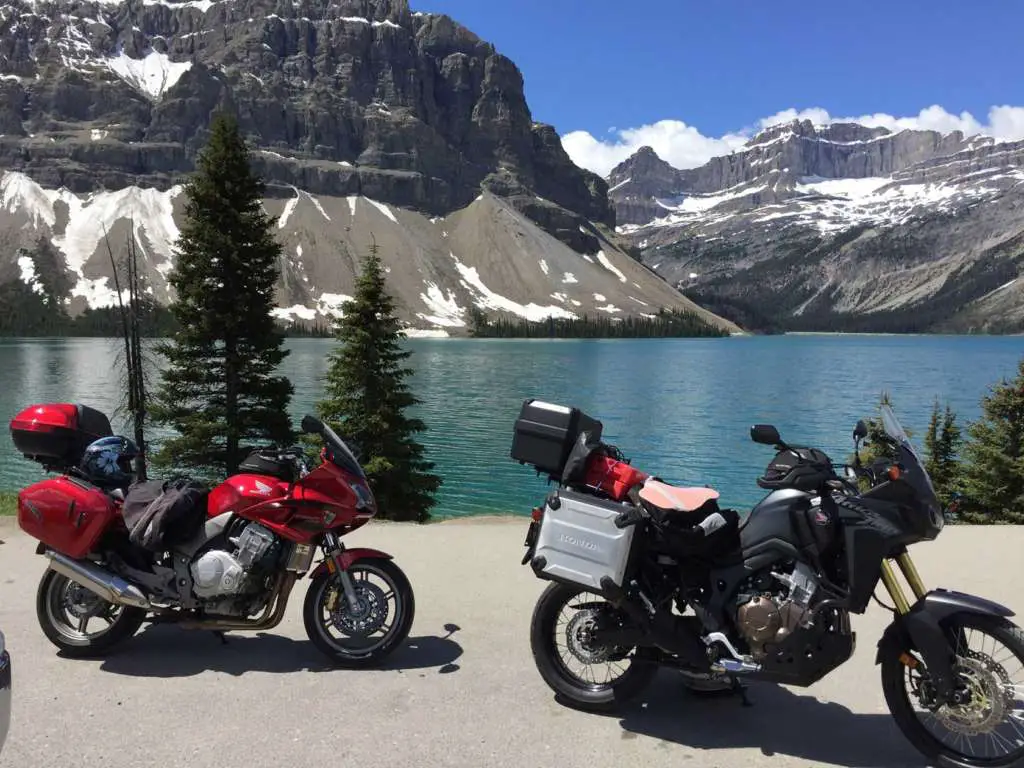 EXTENSIVE REVIEW TO FOLLOW SHORTLY
With that said, join us in a few weeks when we return from our Alaskan adventure and extensive product test.  We will have all the details on how the units performed on long days, likely inclement weather (although I hope not!), and long term repeatable use.
We hope you enjoyed reading our Cardo PACKTALK BOLD preview and Stay tuned for an extensive review of the PACKTALK BOLD plus incredible Alaska motorcycle adventure photos in the few couple of weeks.
Until then,
  Cheers Everyone!