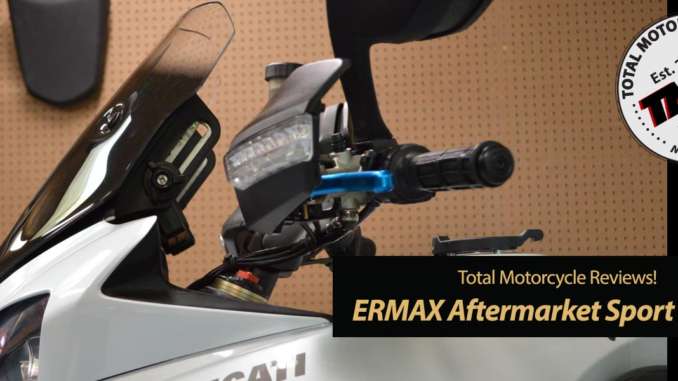 ERMAX; French supplier of aftermarket windscreens and a number of other aftermarket motorcycle parts. The ERMAX Sport Screen is a stylish alternative to the stock windscreen and available for many models from different manufacturers. Total Motorcycle recently had the opportunity to mount one to our 2010 Ducati Multistrada 1200 and evaluate quality, performance and durability of this reasonably priced aftermarket alternative.
ERMAX Sport Screen
| | |
| --- | --- |
| Reviewed By: | Bruce Ross |
| Review Dates: | July 15th 2019 to July 28th 2019 |
| Price As Tested: | ~$106 USD |
Motivation to replace your bikes windscreen can vary wildly from rider to rider.  For some, turbulence is a significant issue, while others are looking for something to improve the looks of their bike.  At a fairly average 5'11" height, I have never suffered from buffeting like many other riders have and have never had a driver to invest in an aftermarket screen.  As my Multistrada is now in its 10th year, the windscreen scratches are beginning to accumulate and it's time to consider the options. I'll admit to being in the dark for what options are out there, so when the opportunity to test the ERMAX Sport Screen, it seemed like the perfect opportunity.
A quick search of who ERMAX is revealed that they are a French company that make several of the screens that I have noticed on both Multistradas and Africa Twins (which I also ride).  They also supply seat cowls, lower fairings, under-tails, and miscellaneous cowlings to dress up just about any naked, sport or adventure bike that you can think of.  A trip through the ERMAX website is fun time if you enjoy seeing what money can do with some reasonably vanilla models of bikes, as this tastefully modified 2019 CB650R demonstrates.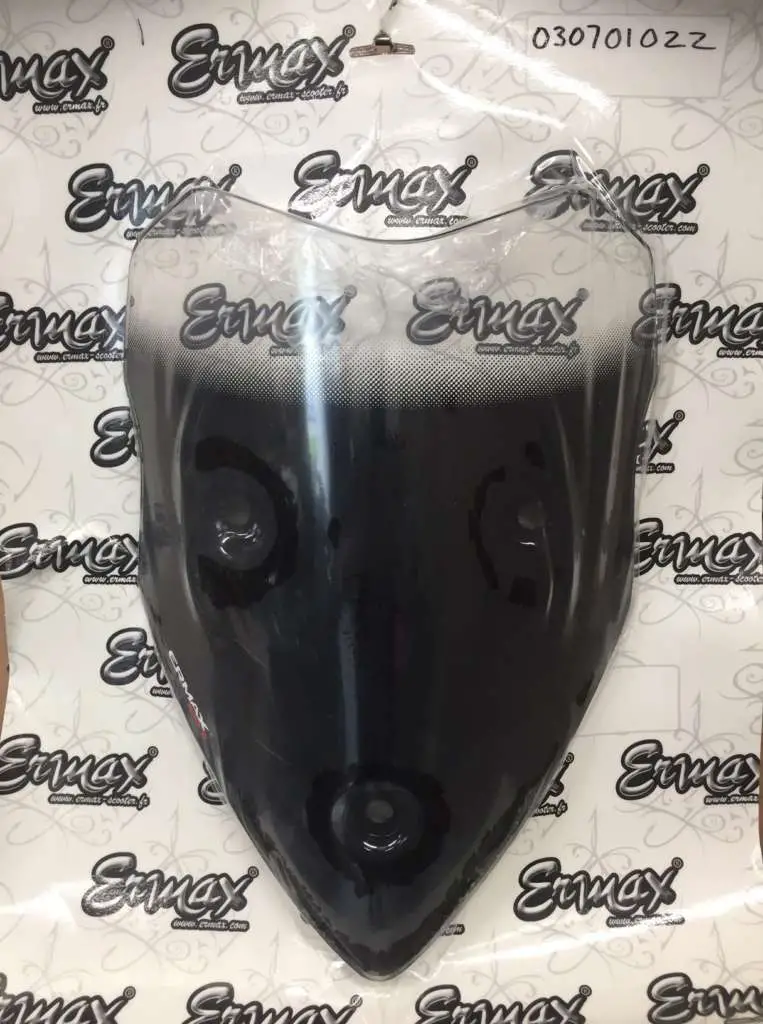 Quality Impressions 
Initial impressions of ERMAX Sport Screen that I received for my Multistrada were, once out of the cheap looking packaging, it is a quality looking piece.  Although it is too short to reasonably look though when riding, optically it is perfect, and there are no unfinished or rough looking edges.  This particular screen is blacked out at the lower end, fading to clear at the top 2-3" of the screen.  It actually looks to be a higher quality piece than the stock Ducati shield which was perhaps the biggest surprise of this product review.
Durability was also accidentally tested when I dropped my hex-key set on it from a few inches up.  While it wasn't a scientific test, I am not a scientist, and to me it proves that it will provide reasonable resistance to rock chips out on the road.  The science is settled. 98% of all lazy fake scientists agree.
"It actually looks to be a higher quality piece than the stock Ducati shield which was perhaps the biggest surprise of this product review…"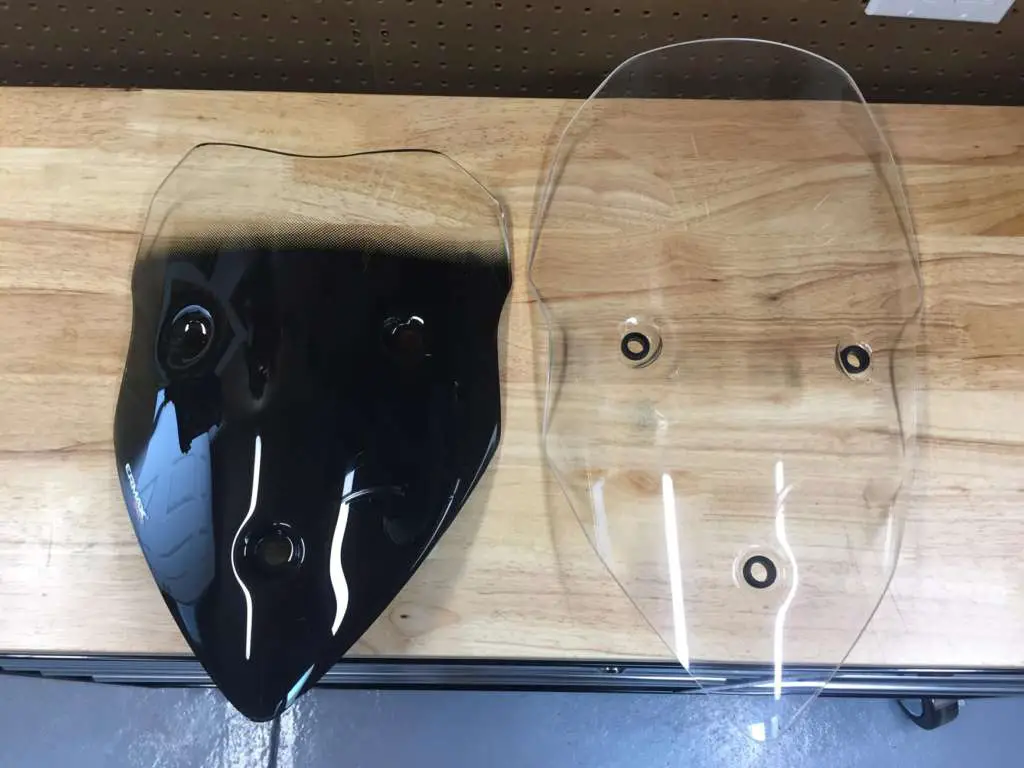 Installation
Installation of the ERMAX Sport Screen on the 2010 – 2012 Multistrada can be reasonably straightforward, or a royal pain in the rear if you neglect to backup the lower mounting nut behind the dash.  If you allow this nut to fall it can land within your fairing, and your small job just became a 3-beer endeavor.  I learned this lesson the hard way when previously removing the windscreen to detail the bike, so fortunately for me, this windscreen change took a matter of a couple of minutes vs. an evening in the shed.
One small gripe is that the ERMAX screen does not come with grommets for the three mounting screws and you are required to re-purpose the grommets from your stock windscreen.  This is not a big deal, unless you are regularly swapping screens for touring and local rides, at which point these grommets might get fatigued or lost.  This is nothing more than a minor gripe and considering the price point (~$100 USD), it really isn't a big deal. 
 The Ride
One surprising thing that I learned about windscreens is that often, airflow can be less fatiguing with smaller screens than larger screens.  I've bought used bikes with aftermarket barn-door sized screens that caused all kinds of turbulence, and back-turbulence and have immediately jettisoned them and replaced them with a stock, or stock sized screen.  That said, the stock Multi screen is decent if not stellar, and the benefit that the ERMAX Sport Screen provides is undoubtedly aesthetics more than coverage.  As the ERMAX Sport Screen measures approximately 5" shorter than stock, in the highest adjustable position it was still ~3" shorter than the stock screen in the lowest position.  In this position the turbulence was slightly worse with the ERMAX Sport Screen, as could be expected.  However, it was only a minor difference and one that I expected to be much more significant.
Summer finally occurred here in southern Alberta for my initial test ride and I had the pleasure of riding in approximately 32 deg C (90 deg F) air vs. the rainy and cold weather we have had thus far this year.  This also kept most of the Alberta bugs away, and it was a perfect opportunity to utilize the shield in the lowest position.  Airflow was surprisingly pleasant, and welcome, considering Canadians are not conditioned to riding in what would be considered a cool day in the Southern US.  The only downside in fact, was that the few bugs that did come out to play, ended up directly on my helmet visor.  This is a reasonable trade-off and all but expected on a screen measuring 5" less than the stock item.
 The Look
Looks are subjective, but damn I think that this thing looks great on my Multi!  I couldn't fully appreciate how ratty the old screen was making my bike look, but the ERMAX Sport Screen seems to have given it a more modern and cleaner look.  The quality of the screen is also evident, and it manages to dress up my ageing Italian Supermodel….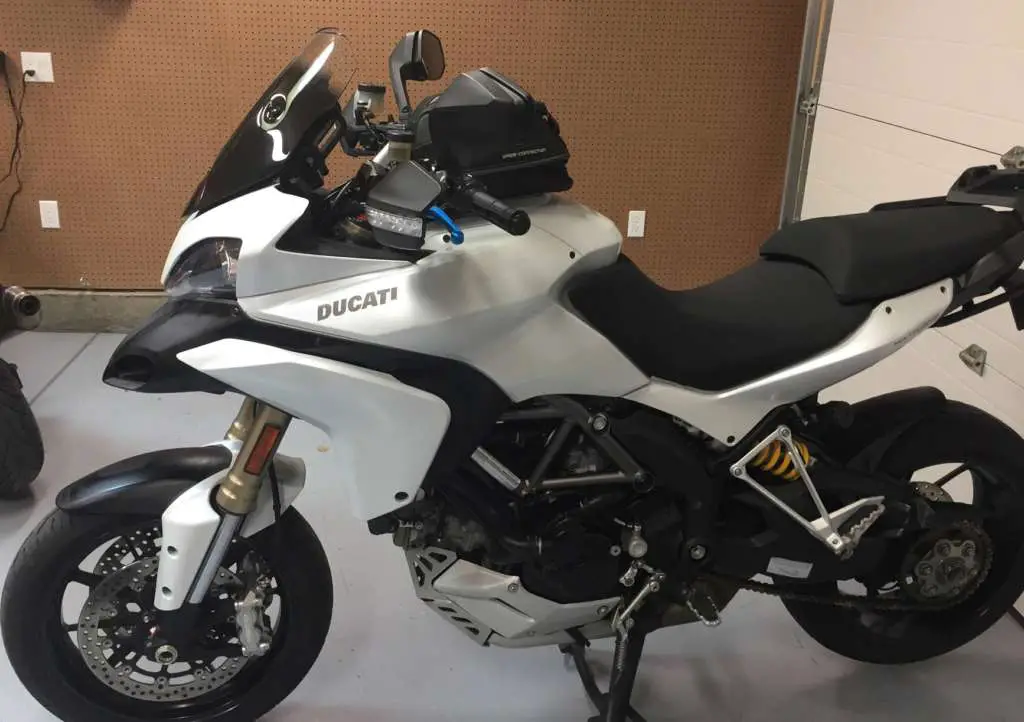 Conclusion
 A windscreen is a subjective choice, and rider size, personal preferences, and model of bike all impact whether or not this screen is for you.  General conclusions are that it is a quality piece that impressed more than could be expected in both performance and aesthetics.  In fact, after seeing it on my Multi, I will be sourcing out stock sized ERMAX screens for both it and my Africa Twin to replace the battle scared stock screens that I have.  Overall, there is nothing I can fault with the screen with it exceeding my expectations in every category, thus earning 5 out of 5 starts on the TMW product rating scale.

Moto Machines is the official U.S. importer of Ermax, Hepco & Becker and Scorpion Exhausts