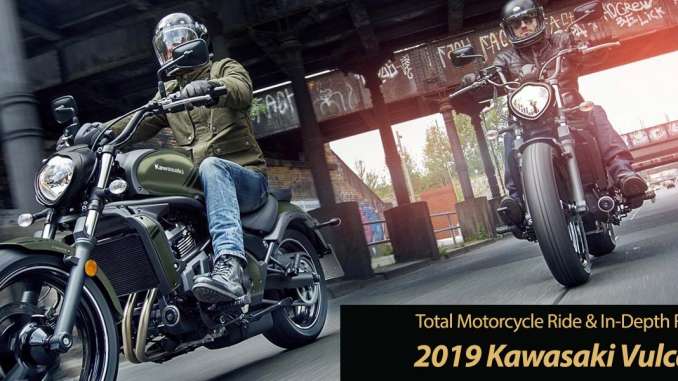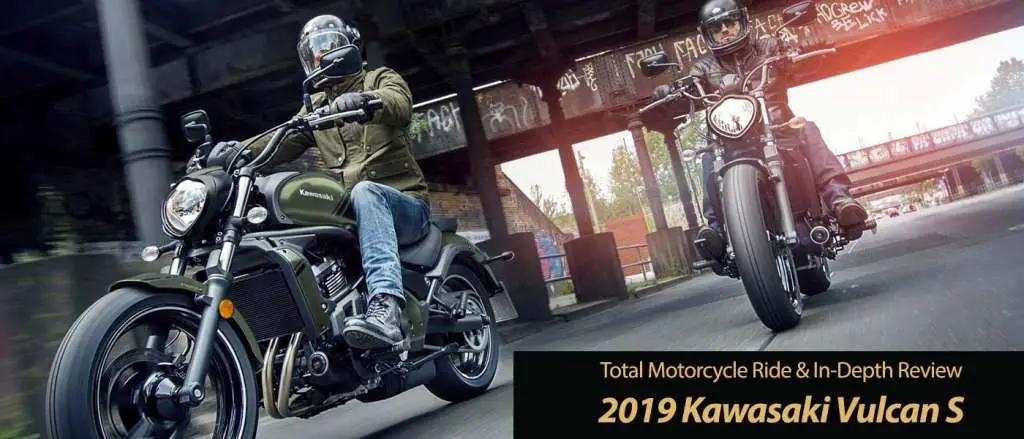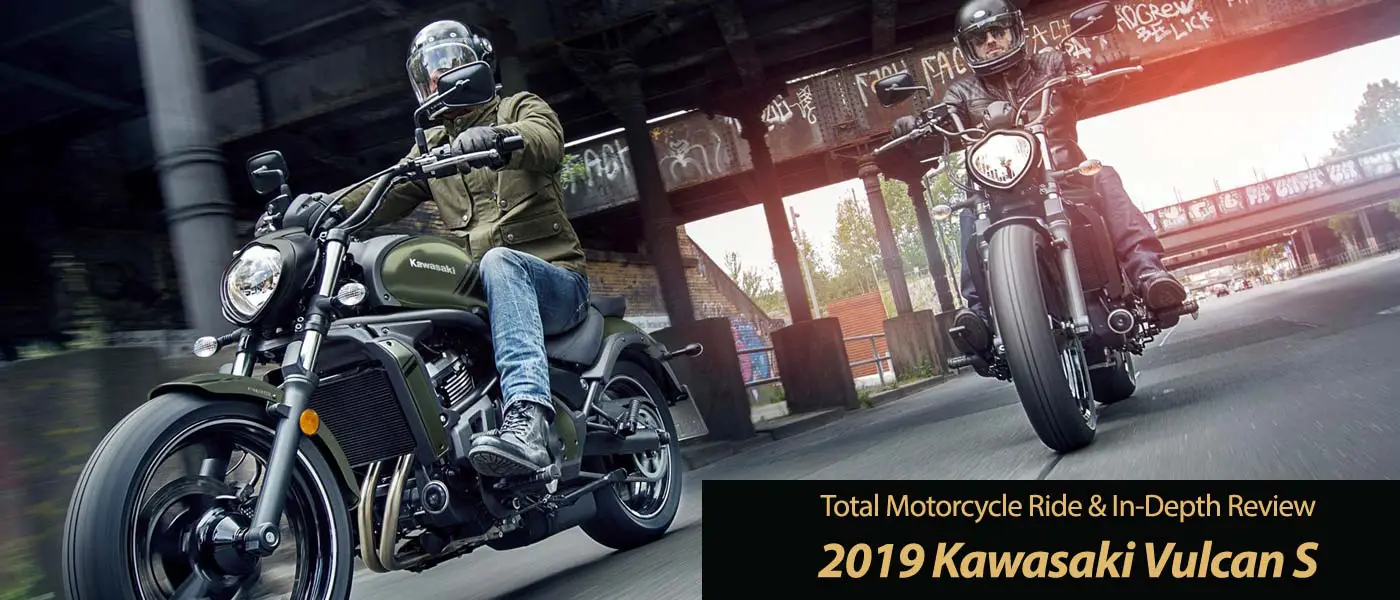 The 2019 Vulcan S offers cruiser style blended with sport bike handling and technology. The low-slung seat and long trail provide cruiser attitude, while the parallel twin motor, digital fuel injection, and offset rear shock inject the Vulcan S with sporty performance and crisp, nimble handling. Combine all that with an MSRP under $8k, and you've got a potent contender in the entry-level cruiser segment.
Staff writer Eric Leaverton had the opportunity to test ride the 2019 Vulcan S 650 at the AIMExpo in Las Vegas in October 2018. Read on to hear his impressions.
2019 Kawasaki Vulcan S 650 – First Ride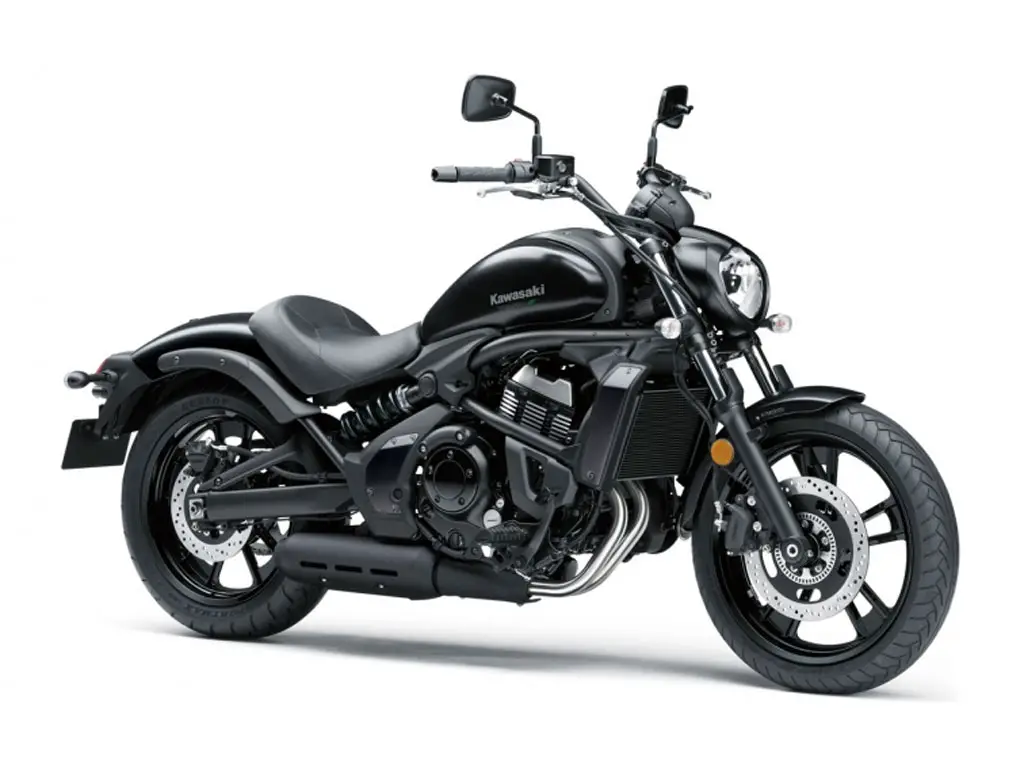 In the interest of full disclosure, I ought to mention I've been a fan of the Vulcan S since it was first introduced. In fact, when it first appeared on the TMW Cool Wall, it's fair to say I gushed about it. I even came close to buying one before I bought my Versys, but that particular dealership has a 'no test rides' policy so they missed out on the potential sale. Anyway, it's safe to say I liked this bike and was excited to take the 2019 for a spin that day in Vegas. Did that affection survive an actual test ride, though? 
"…the 2019 Vulcan S feel supremely manageable."
First Impressions
The first thing that struck me about the 2019 Vulcan S was it's size. Standing next to it, the bike seems fairly small. The 17″ rear tire mostly disappears beneath the muscular fender.  I also found the cockpit and instrumentation are minimal, and the engine and exhaust are tucked in and squared away.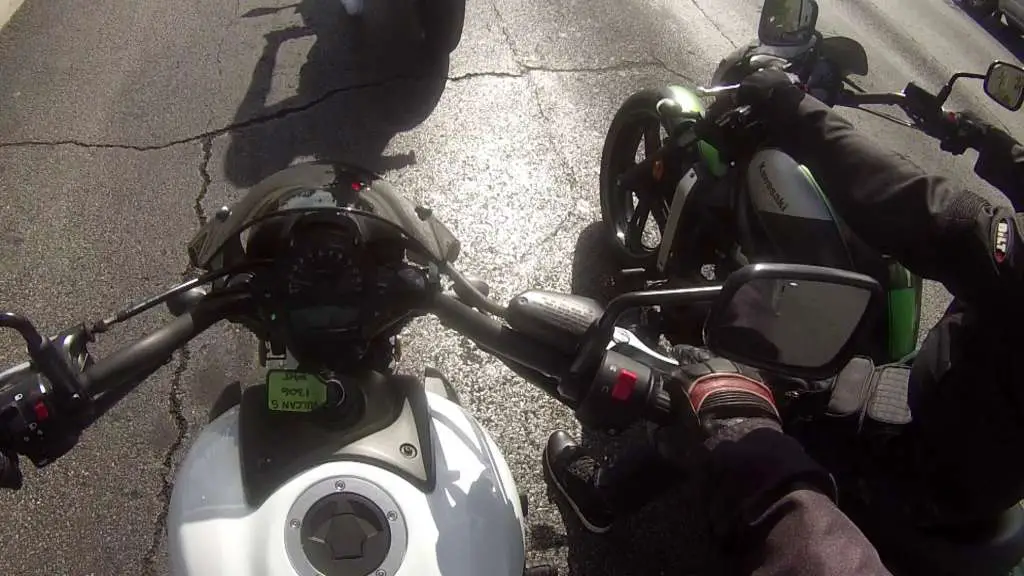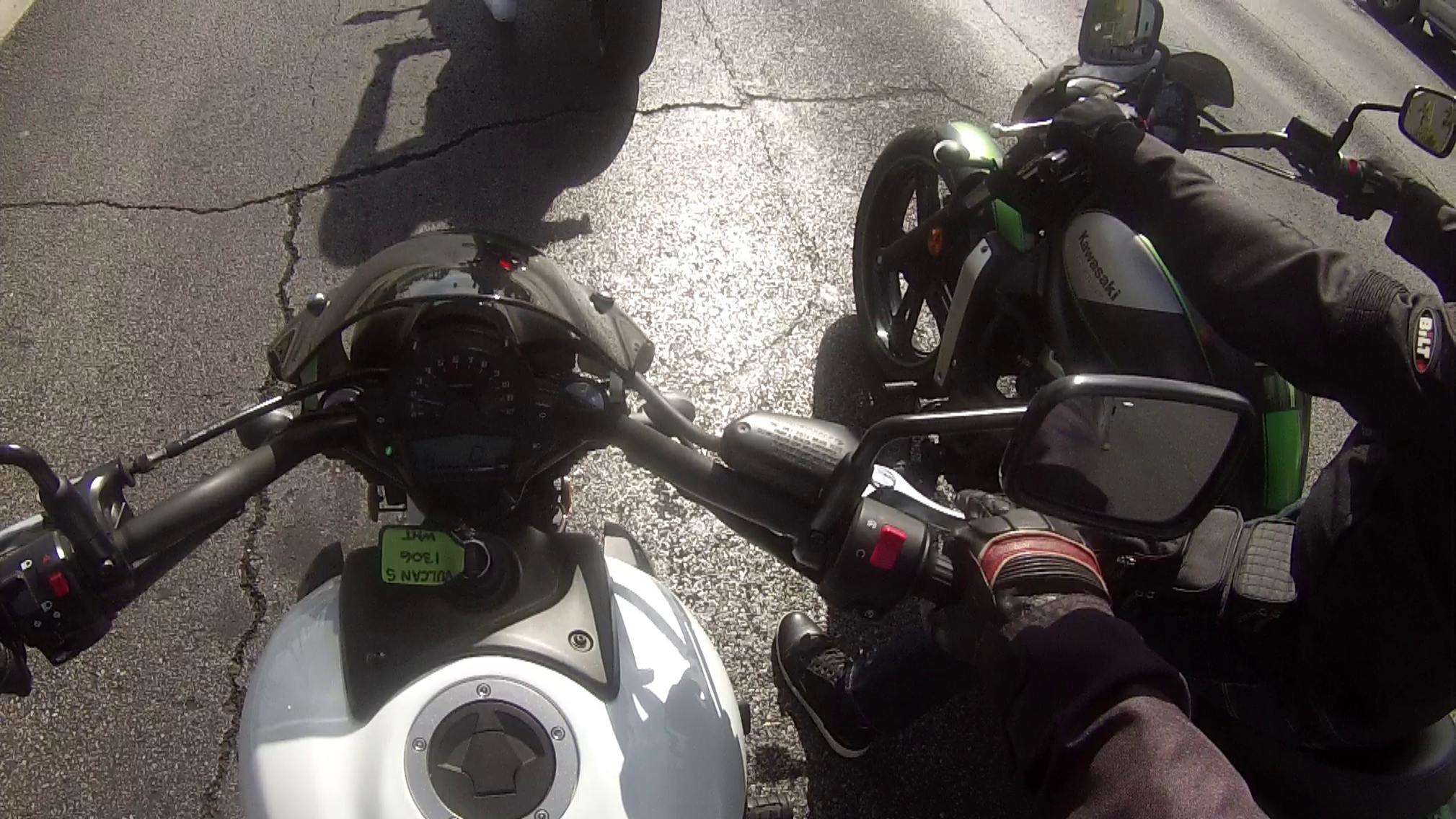 However, that impression faded away once I slung a leg over the low saddle. It feels a lot bigger once you're on it. Getting it off the kickstand isn't difficult, but there's a reassuring heft to the bike as you center it beneath you. It's 498.3 pounds but the seat height is a comfortable 27.8 inches, so you can flat foot while you sling that weight around. The instrument cluster is clean and simple, and the digital portions are visible even in strong sunlight. This all combines to make the 2019 Vulcan S feel supremely manageable.
ERGO-FIT™
If all that wasn't enough, the 2019 Vulcan S offers three ergonomic layouts to fit a wide range of riders. The Reduced Reach iteration will accommodate riders 5'6″ (168cm) or shorter. If you're 5'7″ to 6′, (170-183cm), the Mid Reach layout will take care of you. And if you're 6'1″ (185cm) or taller the Extended Reach is what you'll want. These adjustments, and the parts that facilitate them, can be installed for free at an authorized dealer. Do your homework on this, as only authorized ERGO-FIT dealer outlets can provide the service free. Other dealers not authorized to do the work may charge you for the parts, the installation, or both. And, of course, all that is if it's an original sale. If you buy one used, free installation isn't an option.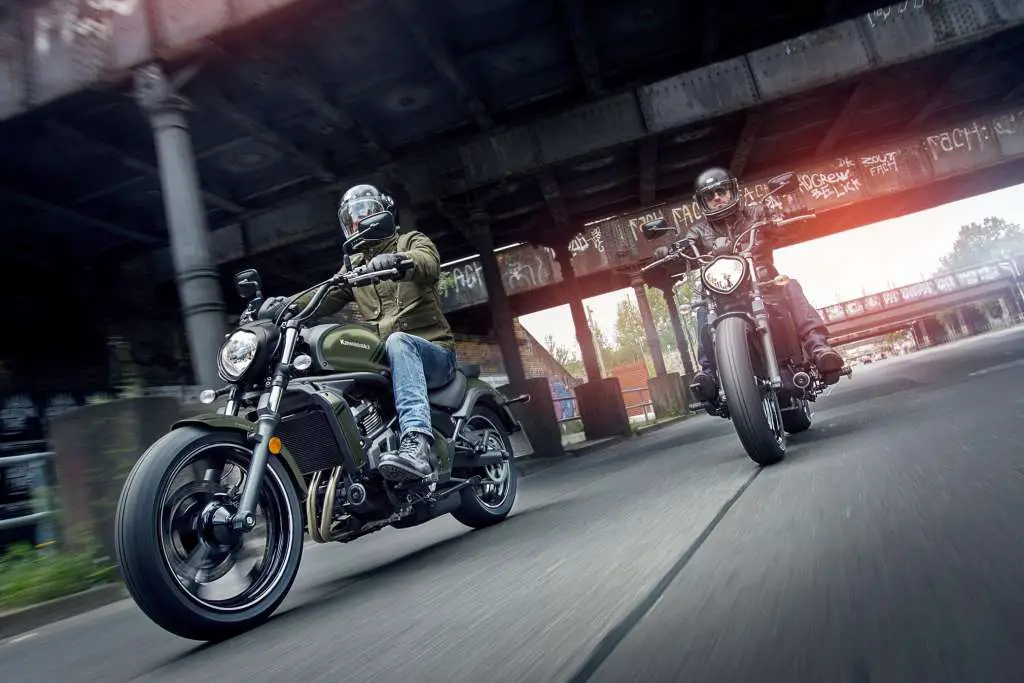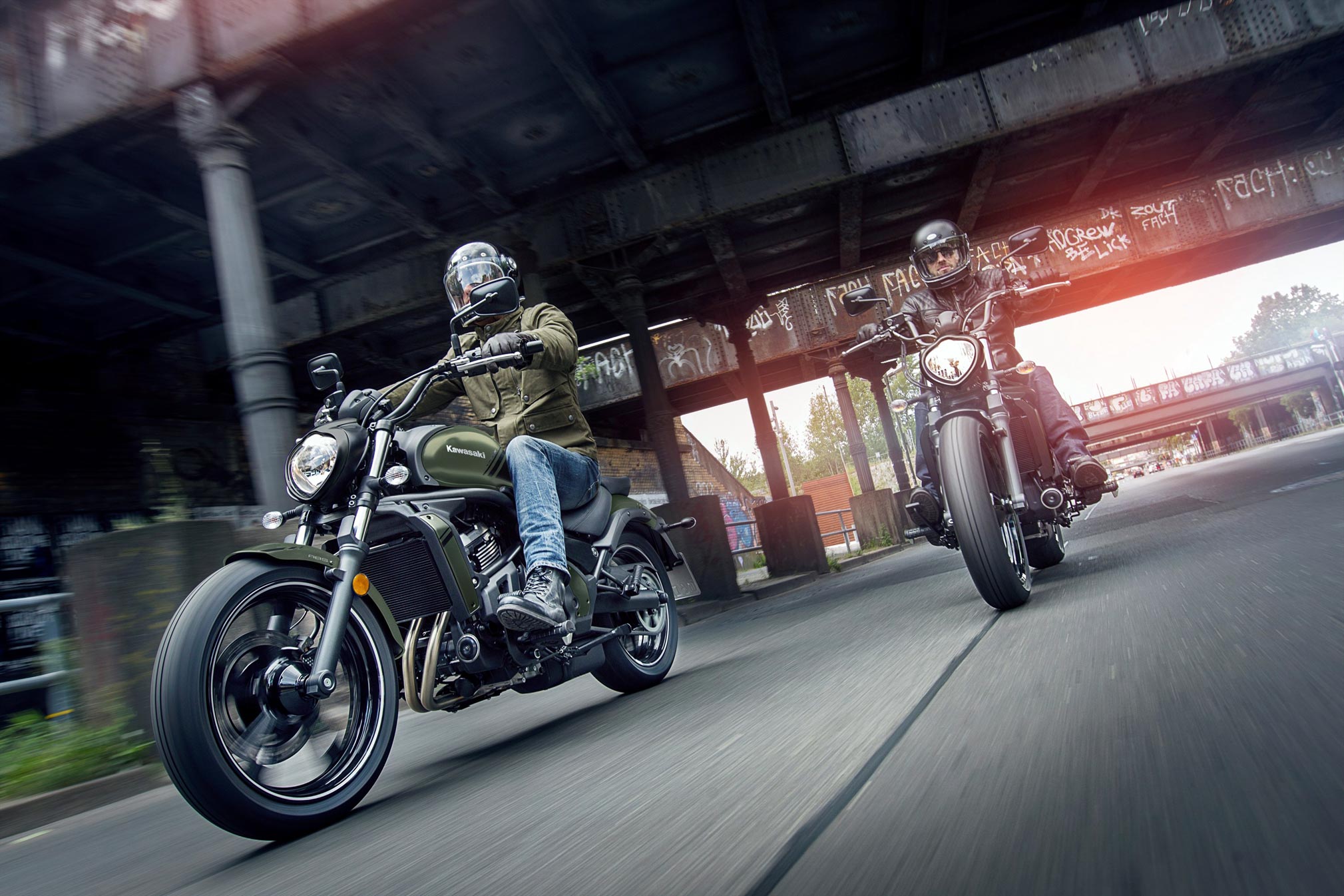 At the AIMExpo, Kawasaki had all three layouts available in the demo fleet. I chose to ride the Extended Reach, which may not have been the best choice. I'm 6′ even, and it's fairly normal for me to feel a bit too tall on most bikes, especially cruisers. This was not the case on the Extended Reach Vulcan. The bars were a comfortable reach, but the foot pegs were much too far forward for me and I spent my ride hanging by my toes. More on that later.
My wife Carrie rode the Mid Reach layout version, and it was true to it's stated measurements as well. At 5'6″, she had just a bit of a reach to comfortably operate the controls. The Reduced Reach might have been a better choice, but on our ride that version was chosen by a very short, very friendly gentleman from Australia so was not available to Carrie. He reported it was a very comfortable ride for his 5'2″ frame.
"…with a weight-to-power ratio of 10.6. That's better than a Subaru WRX STI"
Performance and Transmission
Hang around in motorcycle message boards, forums, or groups long enough and you'll invariably hear the same question repeated in a hundred ways. "I'm (HEIGHT) and (WEIGHT), will a (INSERT BIKE) do freeway speeds with me on it?" This question is especially common in the sub-liter segment, and even more so with sub-liter cruisers. If you're considering a Vulcan S as your next bike, or your first bike, it's probably one of your questions too. So let's answer it for you.
The 649cc parallel twin engine on the 2019 Vulcan S develops 61 HP @ 7,500 rpm, and 63 ft-lb of torque at 6,600 rpm. For the real performance nerds out there, assuming a 170lb rider, this comes out to a weight-to-power ratio of 10.6. That's better than a 5.7l Dodge Challenger RT (11.2), a 2.5lT Subaru WRX STI (11.1), or a 2.0lT Mitsubishi Lancer EVO (12.0).
This is all plumbed through a slick six-speed transmission with Kawasaki's exclusive Positive Neutral Finder (PNF). If you're unfamiliar with PNF, this feature makes it easy to find neutral from first when at a standstill. It prevents the transmission from engaging second at a standstill, so there's no vague half-shifting. Just one click and you're there. Completing the powertrain is a sealed chain final drive on 15/46 sprockets.
So what does all that mean? Simply put, the 2019 Vulcan S had all the power I wanted for the riding we were doing, and would work as my daily rider too. Standstill and roll-on acceleration were both crisp and linear, and I easily achieved freeway speeds in excess of 80mph. There was more there, too, but this was a chaperoned event on a bike I hadn't paid for. I wasn't interested in testing our guide's patience with any shenanigans.
None of this is to say the S was fast, but it was fully capable and competent on the open road. I had no trouble keeping up with the group, merging or passing in interstate traffic, or closing gaps when traffic patterns spread us out.
Handling and Suspension
The 2019 Vulcan S was a willing and energetic dance partner on our route through Las Vegas. It only takes a minute on this bike to feel the Ninja ancestry humming through the nimble chassis. In fact, it's so incongruous with the rest of the bike that it starts to feel like a bug rather than a feature. I'm sure the effect would lessen after a few days getting used to it, but at first it felt a little cumbersome trying to flick the Vulcan around with my feet so far out in front of me. It seemed like I just didn't have the leverage in the laid-back riding position to lean like it wanted to lean. I wanted my feet under me so I could really put it through it's paces.
Part of that, though, was the Extended Reach layout. Remember earlier I said I was literally hanging by my toes? My right heel was, at one point, the lowest part of the whole shebang. I know this because I dragged my shoe in one particularly aggressive right-hander.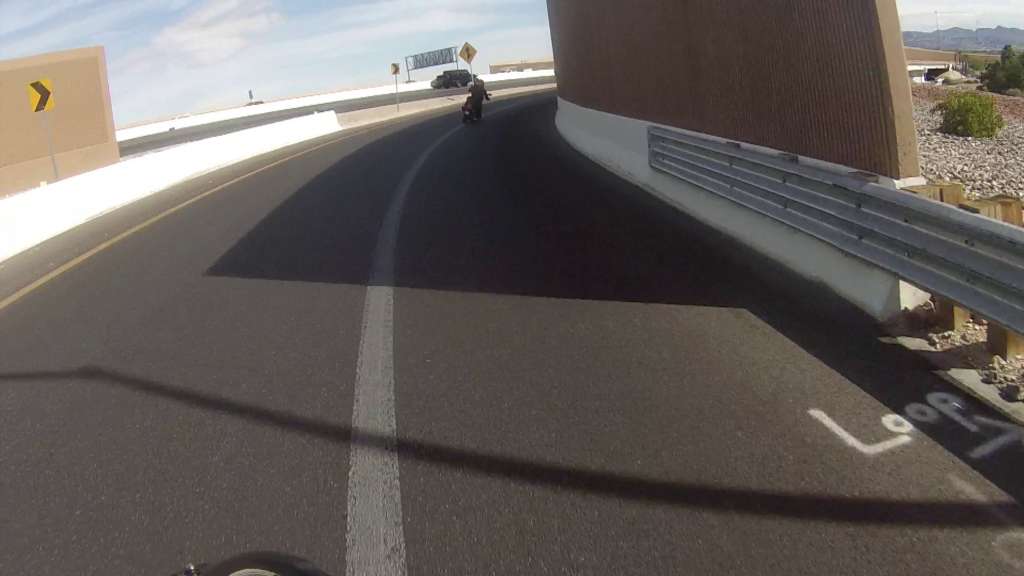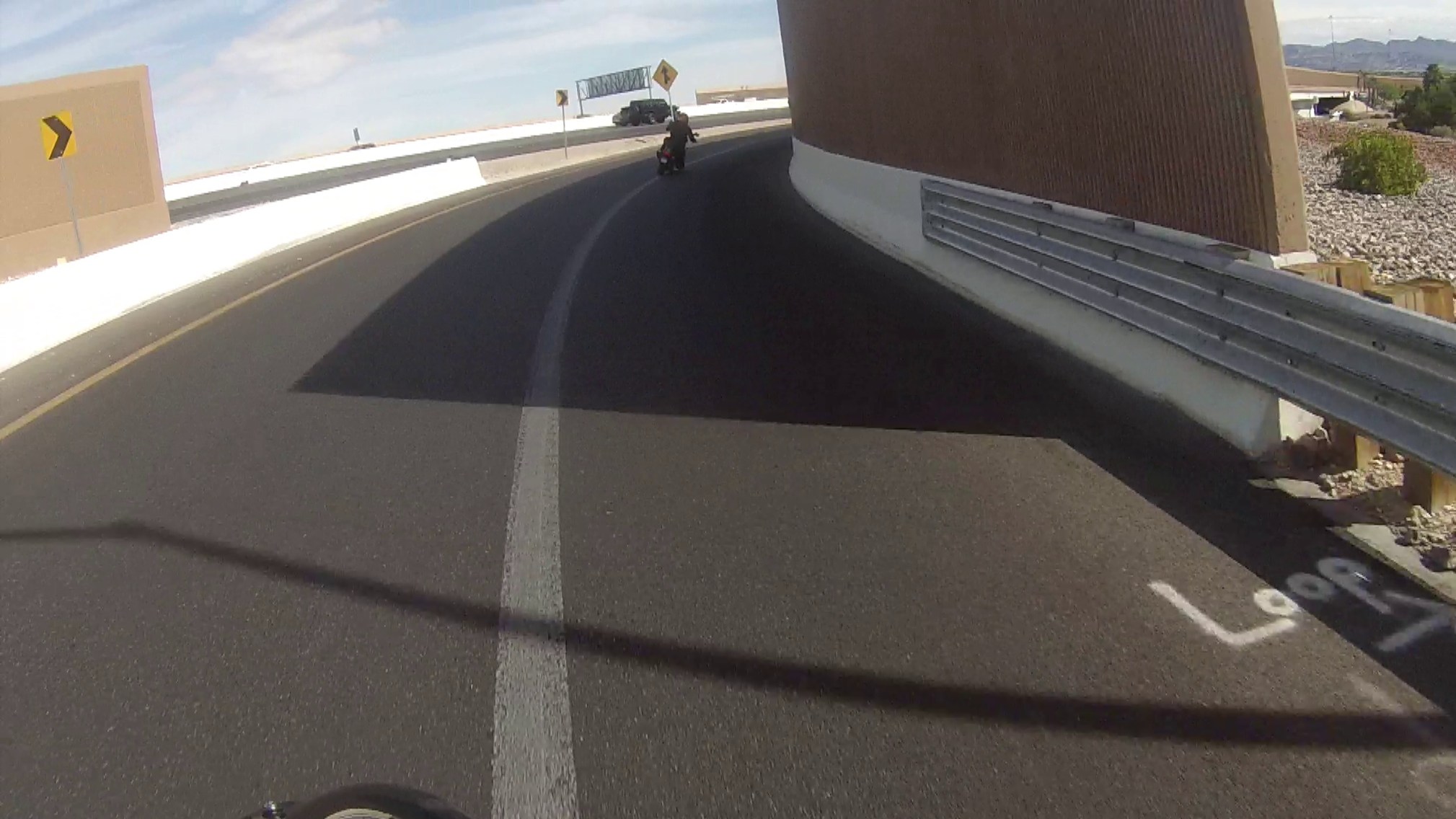 The Vulcan S does have drag knobs under the foot pegs, but in this instance my heel was lower than the knob. Let me tell you, that's a wake up call! My riding boots have Vibram™ soles though, so it wasn't a big deal. Let that serve as an example of how much snappier the handling is than you might expect it to be. I thought I'd need a lot more lean for that corner than I really did.
Braking
We didn't do a lot of aggressive braking on our ride, but the braking I did do felt great. The 2019 Vulcan S has a single caliper, 300mm disc with dual pots up front, and a 250mm single-pot disc brake in the rear. Braking force feels clean and predictable.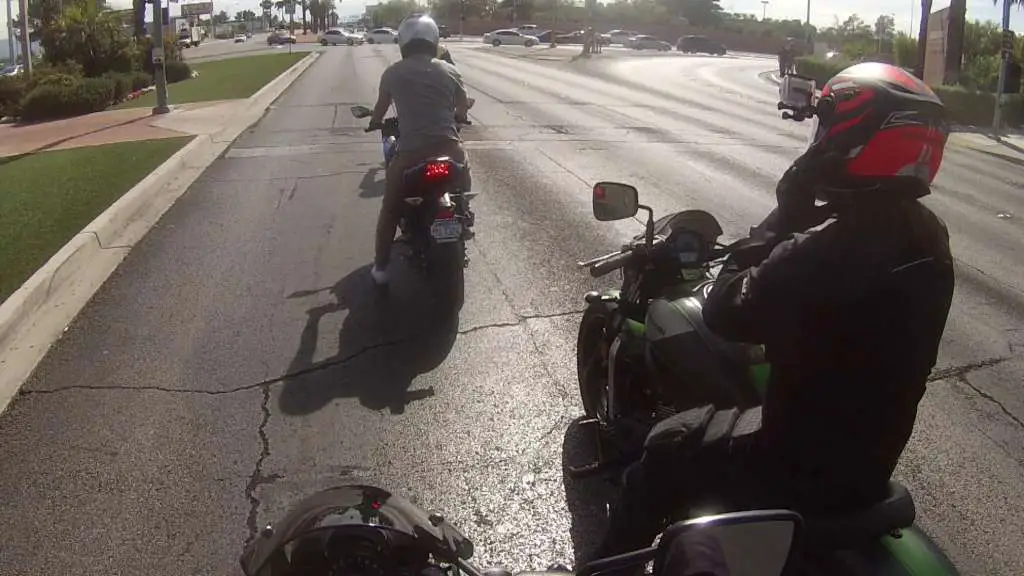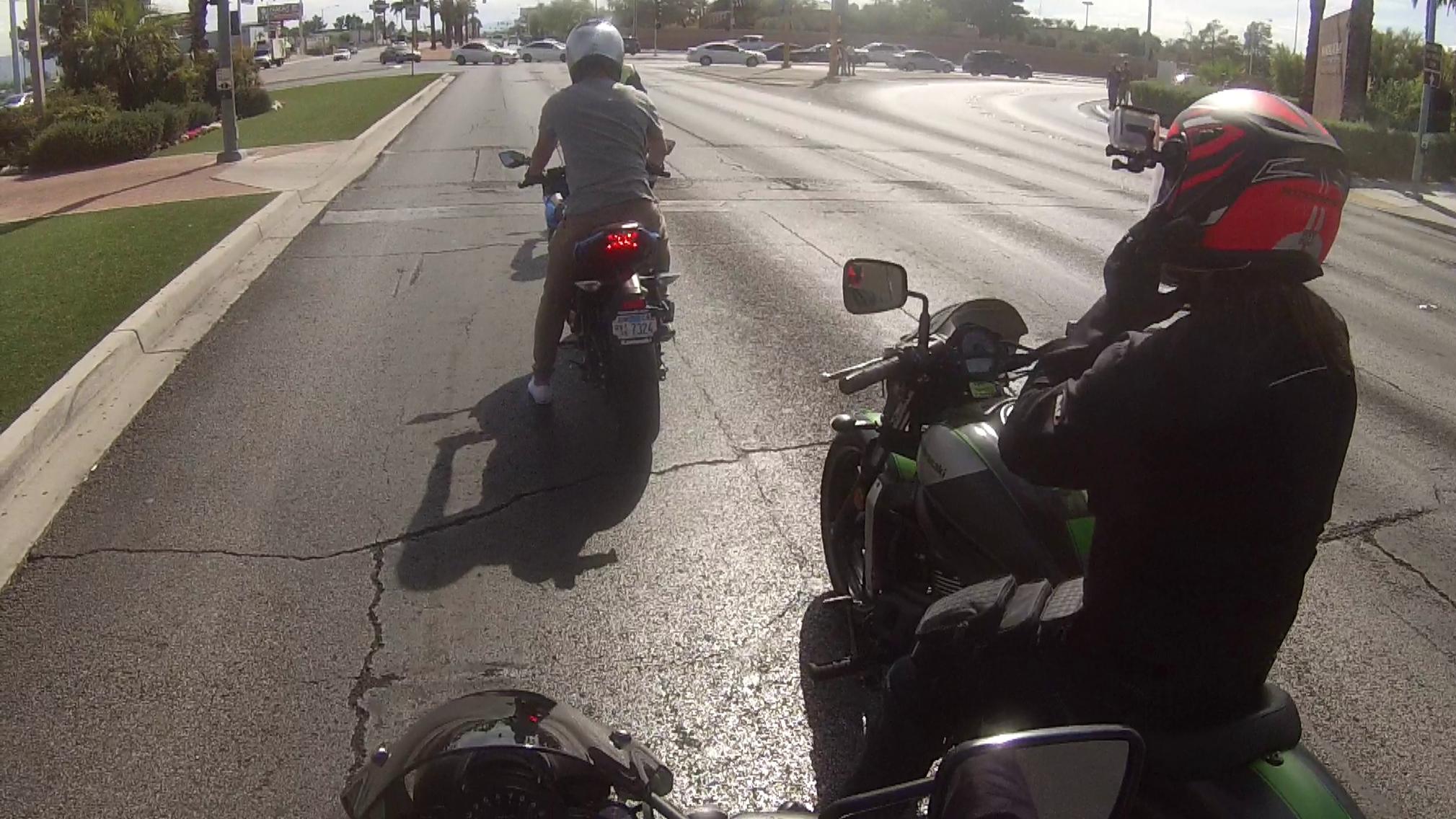 Also note the Vulcan S is available with ABS if you're so inclined.  In front you'll find a 120/70 x 18 tire mounted to 41mm telescopic forks with 5.1 inches of travel. Rake is 31° with a 4.7″ trail. In back, the 160/60 x 17 pairs nicely with a offset laydown shock with adjustable preload and 3.1 inches of travel.
"…excellent blend of cruiser attitude and sportbike performance, and it splits the difference between those two camps nicely. "
And So?
Did my affection for the Vulcan S survive a proper test ride? In a word, yes. I think it's an excellent blend of cruiser attitude and sportbike performance, and it splits the difference between those two camps nicely. This bike would look great with leather saddlebags or panniers, and either a sport windscreen or a great big proper windshield. If you're trying to blend your love of twisties with your fondness for leather vests, the Vulcan S stands ready to make that compromise for you.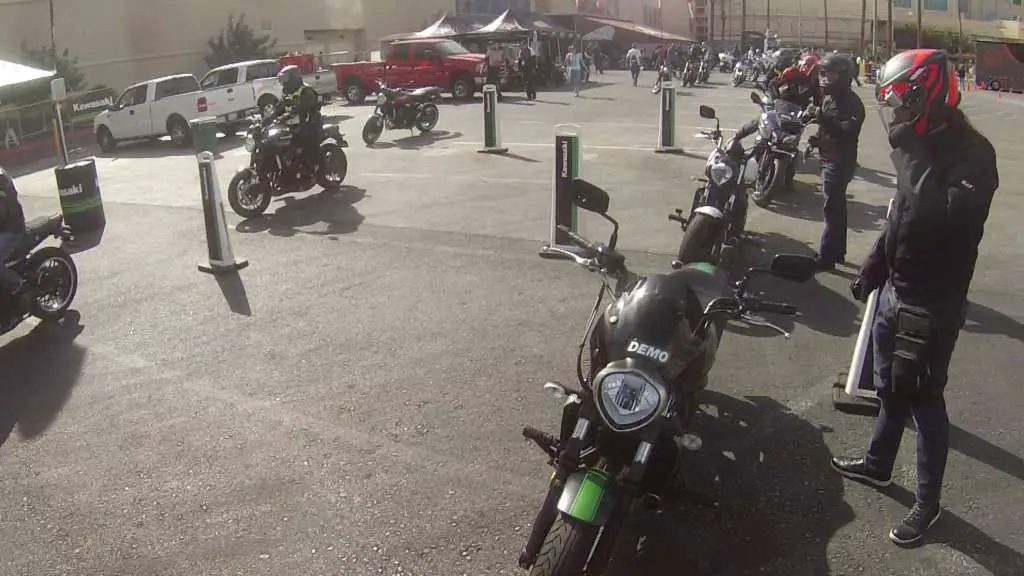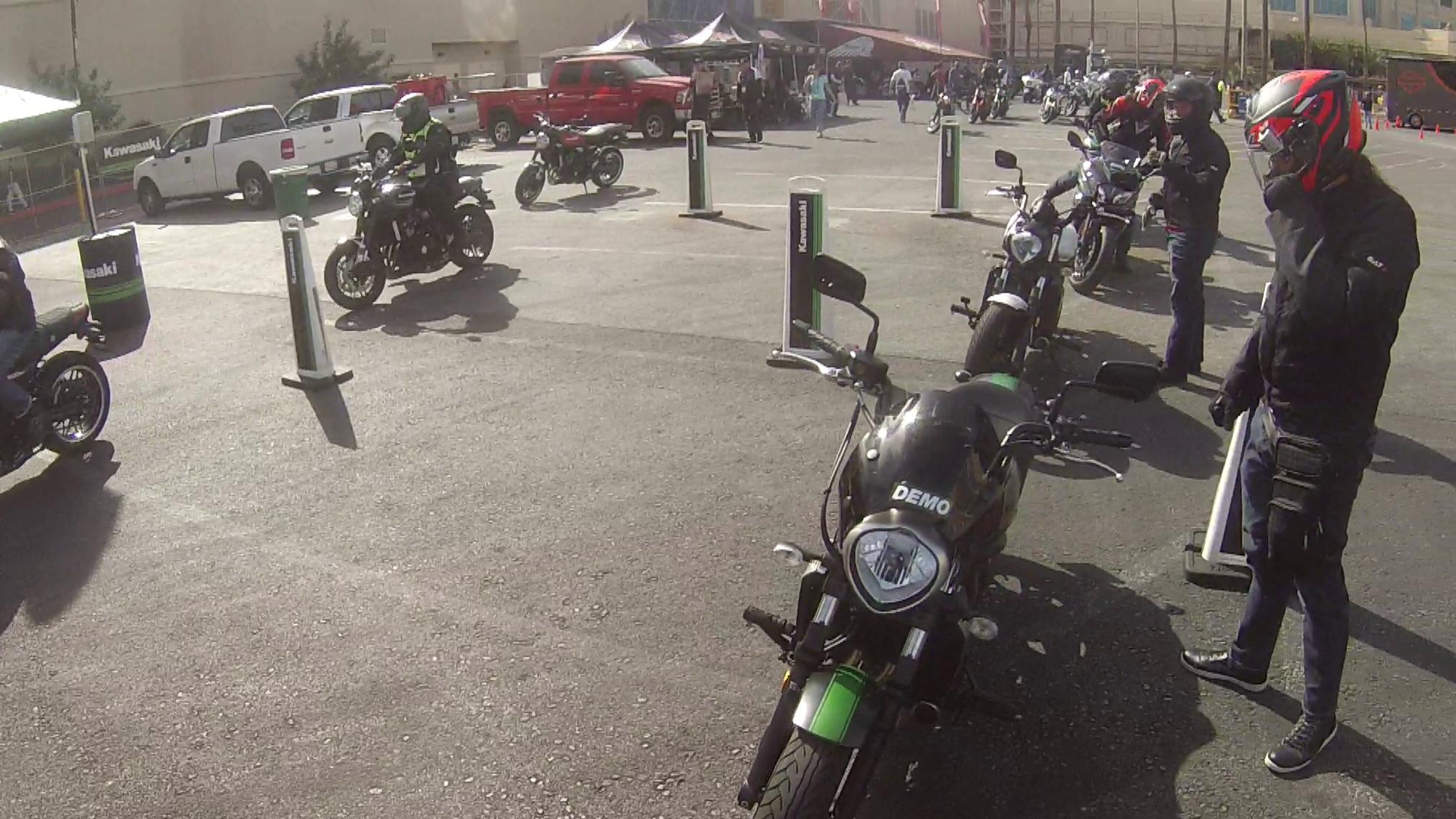 Like most compromises, it doesn't excel in either but can hold it's own in both. True purists will simply purchase two different bikes, but if your budget or your sense of decorum wont allow that, this is a great option.  No compromise is perfect, though, and the 2019 Vulcan S is no exception. At the end of the day, this bike is a better cruiser than a sport bike. The fuel tank is on the smallish side, the riding position is very laid back, and the power and handling are spirited but not stunning.
If I get to fantasize, I imagine Kawasaki reviving some of that old MeanStreak magic with the Vulcan S. Pair this bike with the 1000cc powerplant from the Z, and you'll have something truly special. What we have now is an excellent entry-level cruiser with enough performance to keep delivering long after those first 1,000 miles.
That's worth four stars, TMW Editors Gold Award!