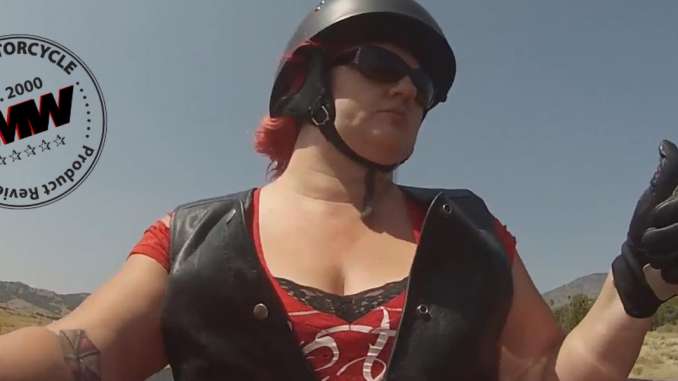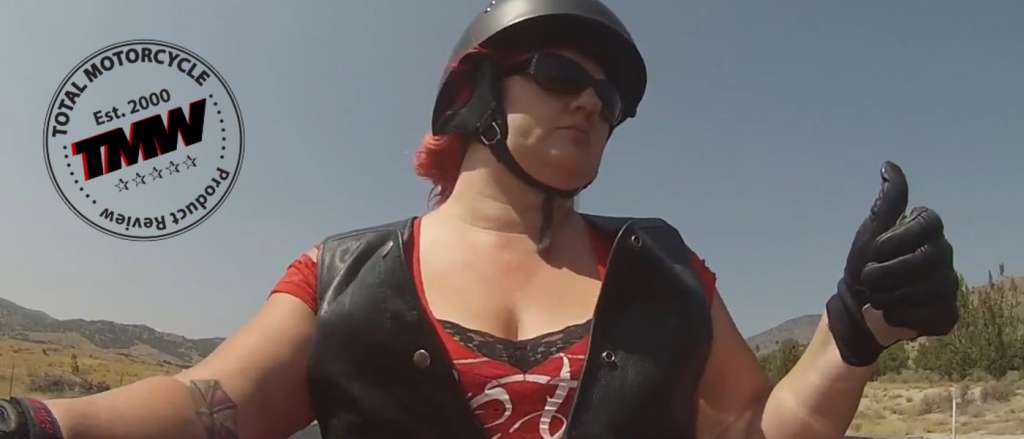 When Viking Cycle gave TMW the opportunity to review the new Rowdy Women's Vest, I just couldn't wait for it to arrive. I love a good leather vest and they're a necessity in every biker girl's wardrobe.  Whether she's getting in a little sun on an afternoon ride, showing off her tan at a bike rally, or donning layers of gear to accommodate a chilly early morning for a road trip, a good vest will do it all. This versatility makes a vest more than just a stylish accessory in a woman's collection of riding gear.
Viking Cycle Rowdy Women's Vest Review
| | |
| --- | --- |
| Reviewer: |  Carrie Leaverton |
| Review Dates: | July 10, 2018 – August 22, 2018 |
| Price as Tested: | $39.99 USD |
| Tested on: | 2012 Kawasaki Ninja 650R |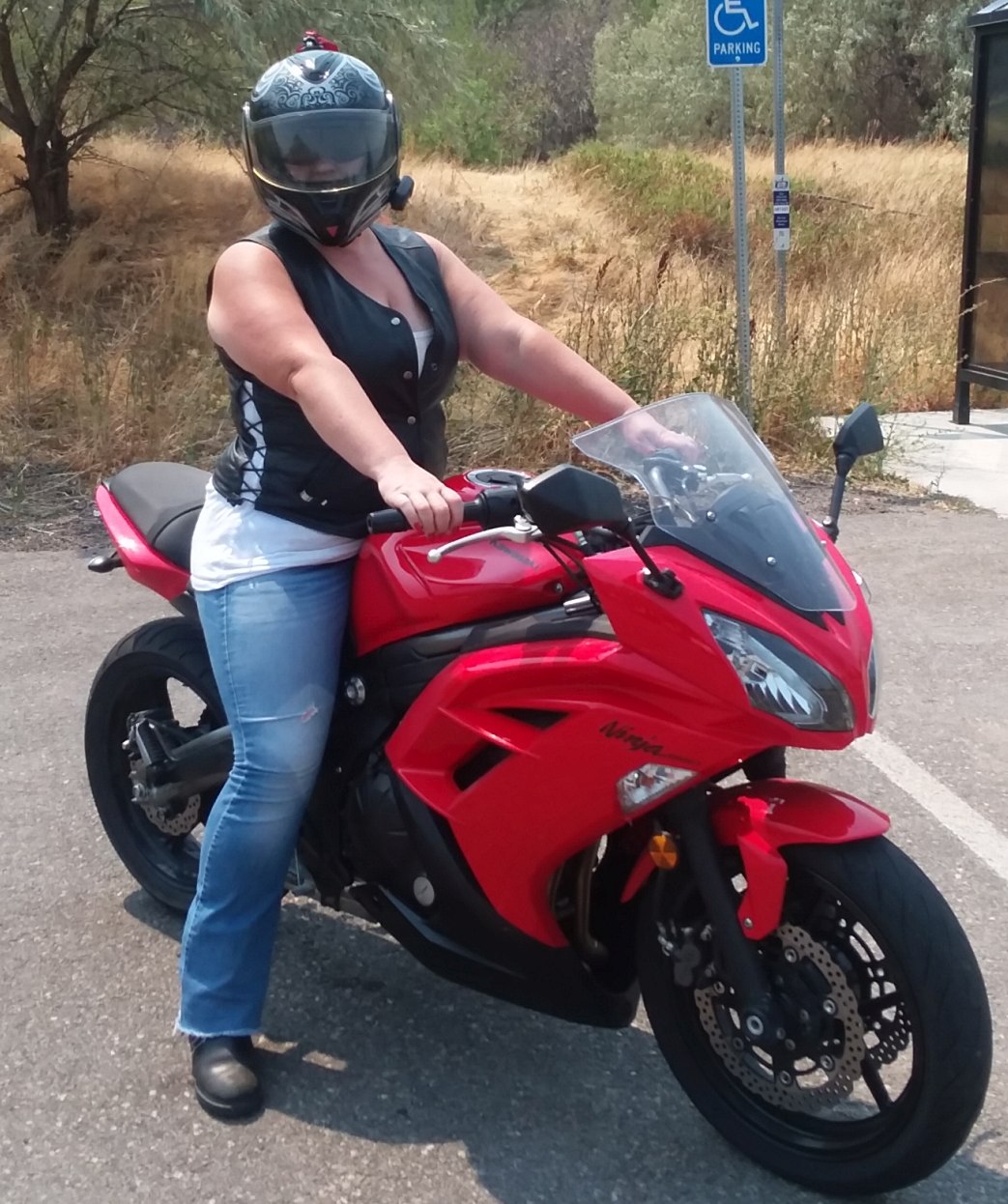 "The quality and durability of this vest is head and shoulders above any others at this price point."
Appearance
The first thing I can say is the Rowdy Women's Vest is gorgeous.  It has beautiful leather lacing up the sides and has stitched bust lines up the front that accentuate my curvy figure. The brushed nickel snaps compliment the buckles, rivets, zippers and snaps found on your classic leather motorcycle jacket, which makes it perfect for layering.  The overall execution is that of understated elegance; it accents my ensemble without overpowering it.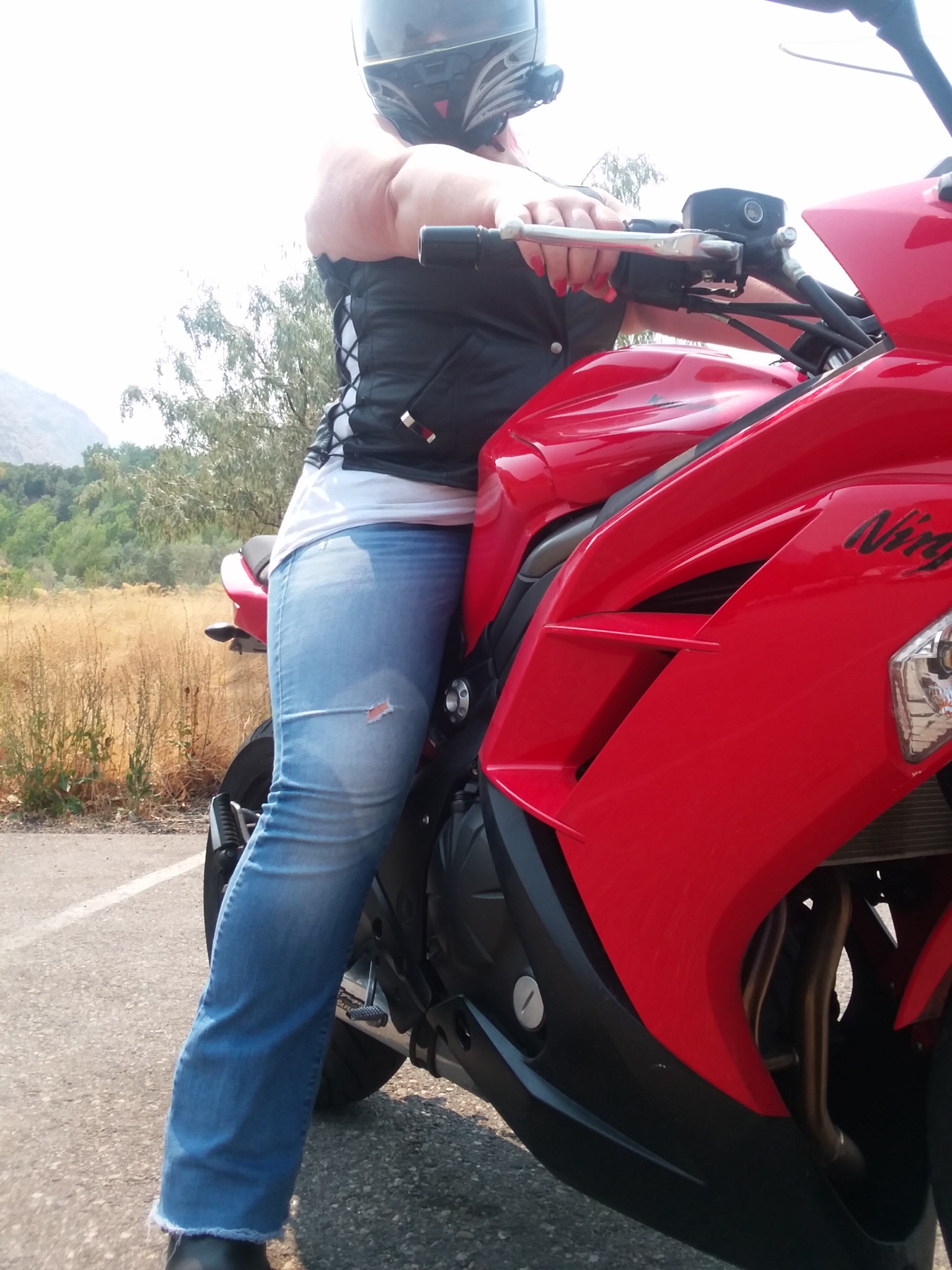 "Every stitch, every seam, and the beautiful orange liner still perfectly in place…"
Durability
At Viking's request, I really put the Rowdy Women's Vest through its paces.  I wore it back and forth to work every day, rain, shine, or wind. The summer sun really beat down on this vest too, with temperatures regularly above 100°F here in the western United States. I sometimes remembered to hang it up at home, as directed on the care instructions, but not always. Sometimes I just wadded it up and stuffed it in my saddlebags, or left it draped over my bike parked in the sun.
I've snapped the snaps hundreds of times.  It's worth mentioning that I wore it in bumper to bumper freeway traffic after visiting the all-you-can-eat sushi buffet two cities away from home. Despite it all, the snaps are still intact and my Rowdy vest is like new, as gorgeous as it was the day it arrived!  There is not a leather fold or wrinkle to be found. Every stitch, every seam, and the beautiful orange liner are all still perfectly in place.  Even wafts of that amazing leather smell still rise through my full-face helmet.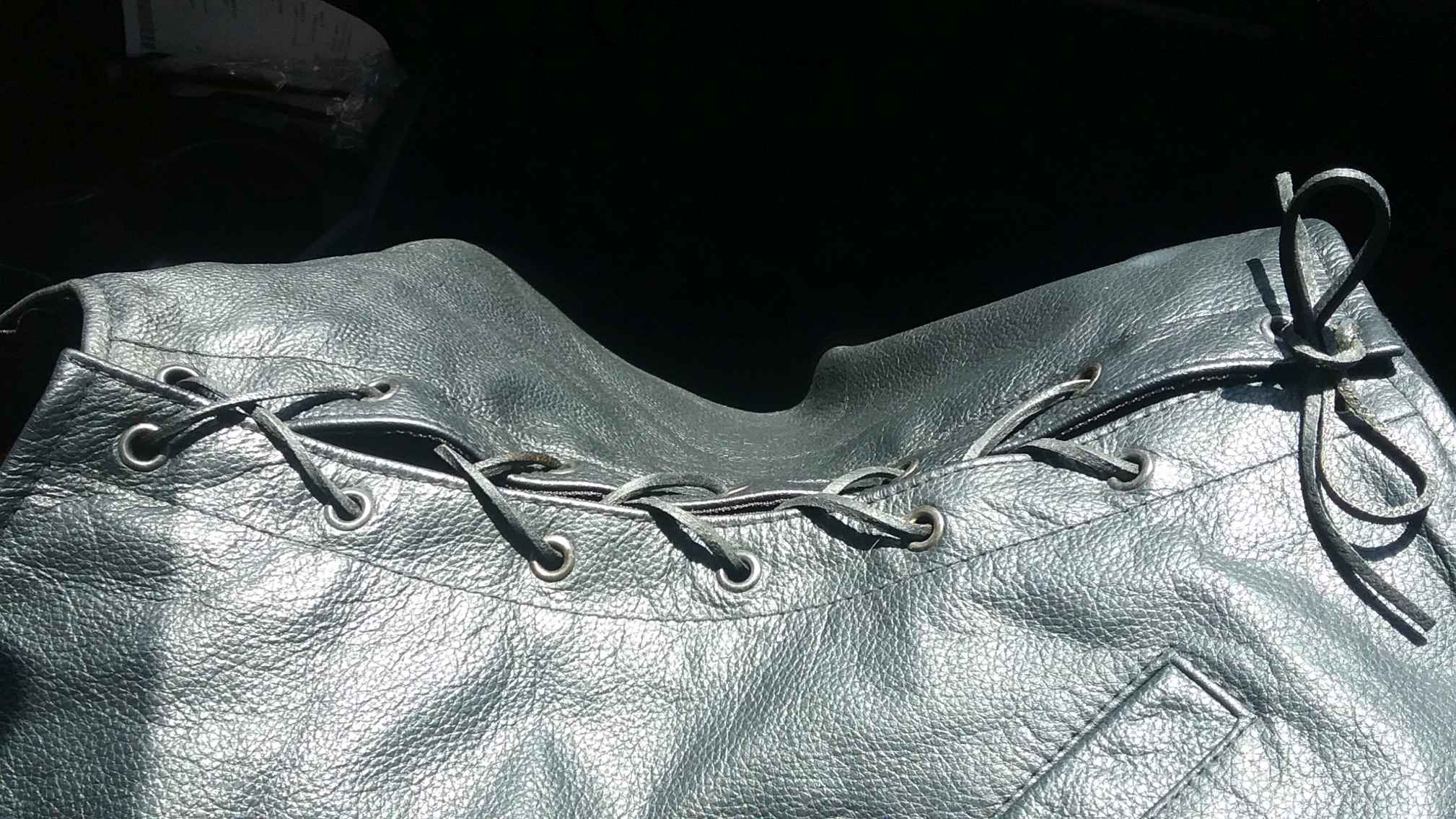 "I was leery of the durability of the snaps, but after constant use I'm pleased to report they snap into place every time like new."
Features and Functions
I opted for the snap closure 'Rowdy Women's Vest' vs. the zippered 'Haughty Women's Vest' because I love the look of it.  You don't see a lot of ladies' snap vests 'in the wild'.  I was leery of the durability of the snaps, but after constant use I'm pleased to report they snap into place every time like new.  The snap feature is consistent throughout the design, including both the inner and outer pockets.
The look is certainly appealing, but I was a little disappointed with the lack of a zippered pocket.  I prefer not to sling a bike purse when mingling in a crowd of rowdy bikers or carving a windy canyon, so I require at least one zippered pocket for my bike key, cash, insurance/registration cards and whatever else I need to secure.  I've had two mishaps with the outer snap pockets to date, one in which I bent over to pick up a dropped glove and my bike key went skittering across the asphalt, and another where I came home from work to find my mini garage door opener was missing.  On the other hand, I can fluidly remove or re-position a concealed pistol when I feel the need to carry. That would be hard with a zippered pocket.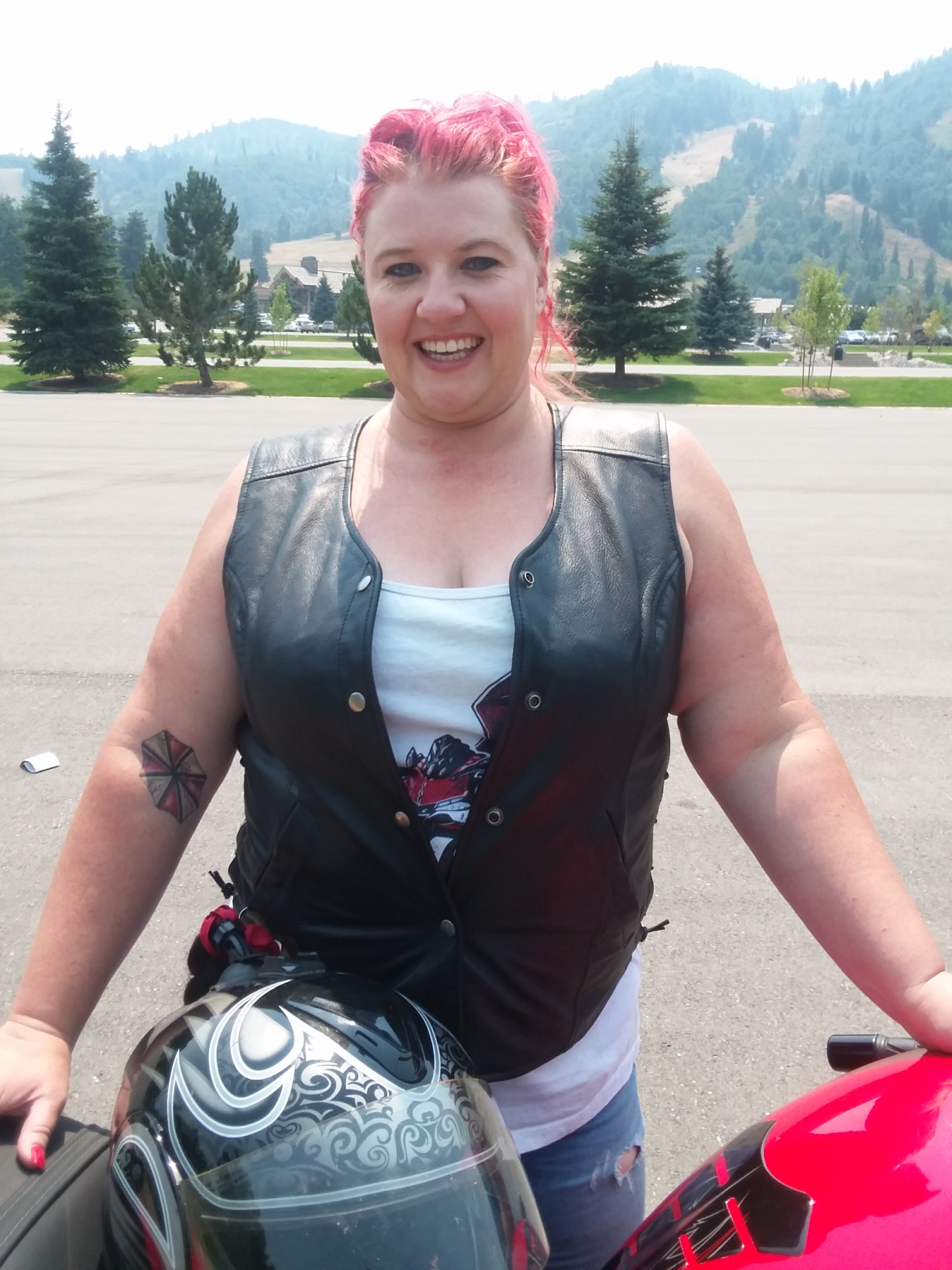 Comfort and Fit
Accurate fitting of any type of women's clothing is a touchy subject.  Respectfully, there are many a curvy biker mamas to be found out there. In fact, I could argue that larger sizes are in more demand than smaller sizes worn by biker bar poster models. I asked my sister rider social group for some statistics on this, but nobody volunteered to publicly admit sizes. Us lady riders are a complicated breed, I suspect that's part of why you love us so!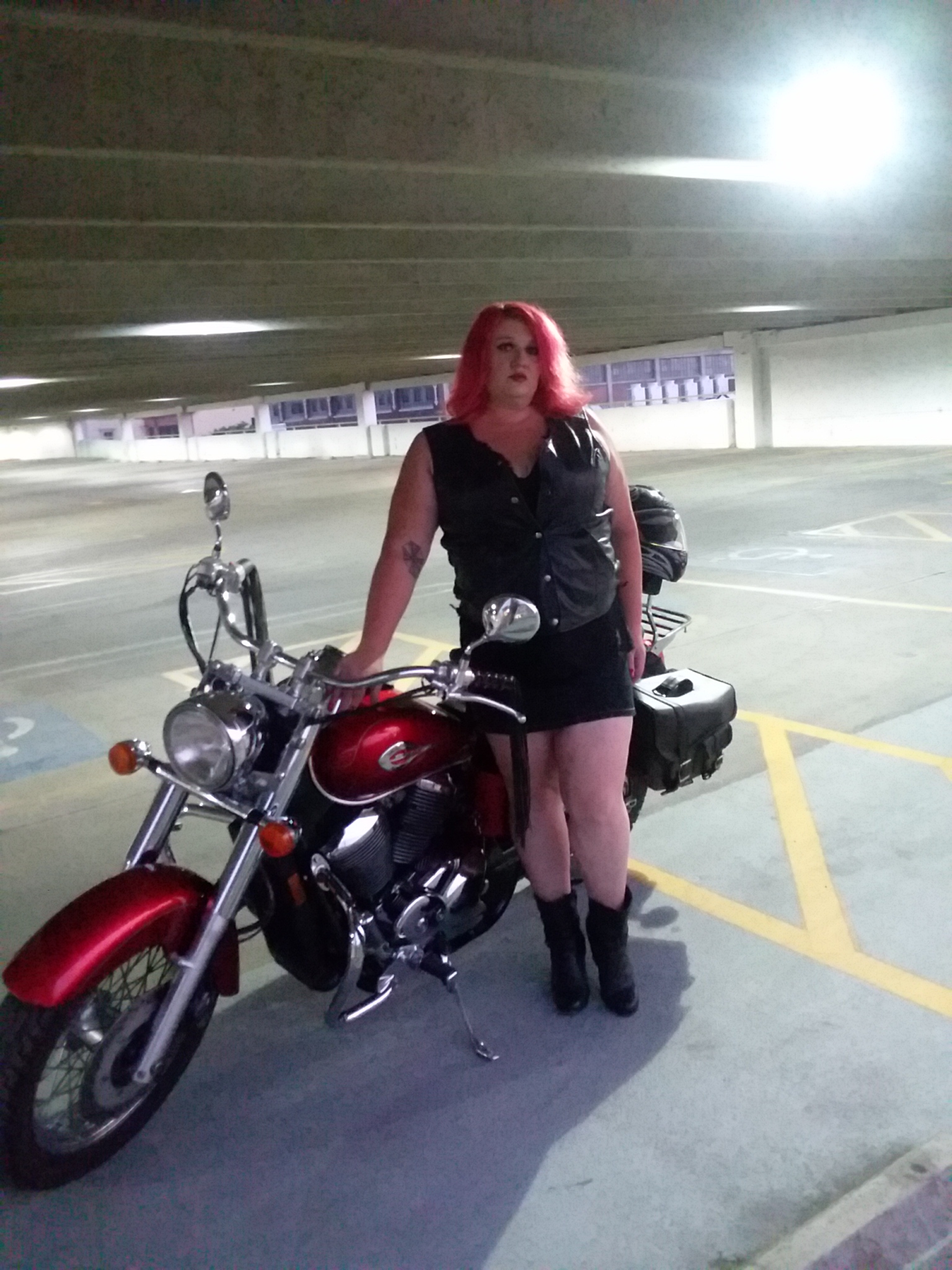 I'll be publicly honest and state up front that I ordered my Rowdy Women's Vest in the largest size available, a women's 2X. This is comparable to the measurements of a men's XL. My vest is a bit snug, just as I'd expected based on the sizing chart on the website, but it hasn't held me back in the least.  I just loosened the lace-up side panels, which is a feature I really love! I'll sometimes wear a long sleeve shirt or jacket liner with body armor under a vest for added warmth or protection, and I can adjust the laces anytime to accommodate these preferences.  Side laces on other vests I've owned haven't been functional, they're usually nonadjustable and just for decoration. Also, the leather is very supple and soft so it doesn't pinch.

Conclusions
The quality and durability of this vest is head and shoulders above any others at this price point of $39.99 USD.  It has held up exceptionally well and I trust that it will for many years to come.  It's also a wonderful investment as it's made of high quality genuine leather and vests of this particular design will still be in style when I'm 70 years old.
A big concern I have is that the sizing tends to run small with Viking Cycle apparel. This is true not only with this vest, but also with a textile jacket from Viking Cycle we recently reviewed. I feel like there are many consumer's who would love to have a Viking Cycle Rowdy Women's Vest in their collection of riding gear but would be unable to purchase one in their size.  Finally, I was disappointed that the vest didn't include even one secure pocket.  The ability to safeguard valuables while on the road can make or break a good day of riding.
Based on these assessments, we award the Viking Cycle Rowdy Women's Leather Vest The Total Motorcycle Editor's Gold Award, 4 Stars! Thank you Viking Cycle for giving us the opportunity to rate your gear and we look forward to seeing Viking products on riders just like us on the road in the future.  Ride safe and keep it shiny side up.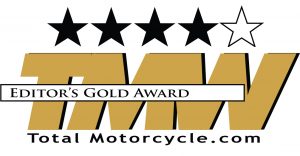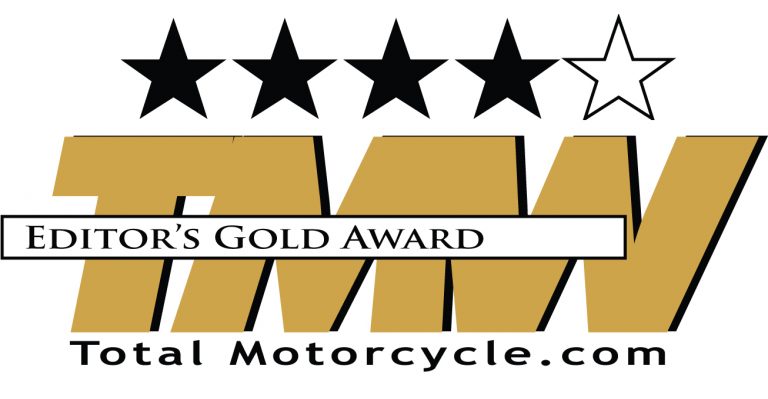 A Final Word
We wanted to give a special thanks to 64 Degree Racing for giving us a chance to check out their latest t-shirt.  The awesome edgy design and high quality modern fabric make an excellent addition to any biker's wardrobe.  http://www.64degreeracing.com