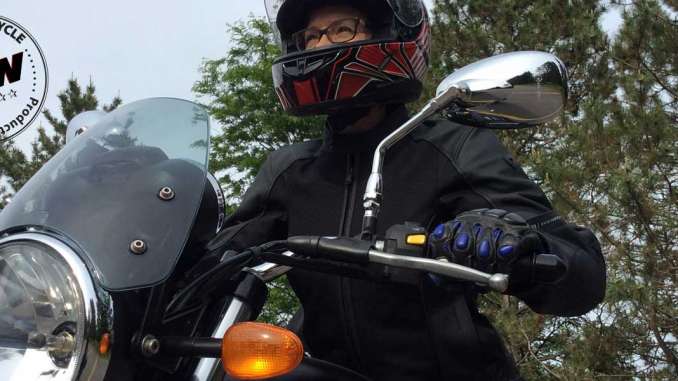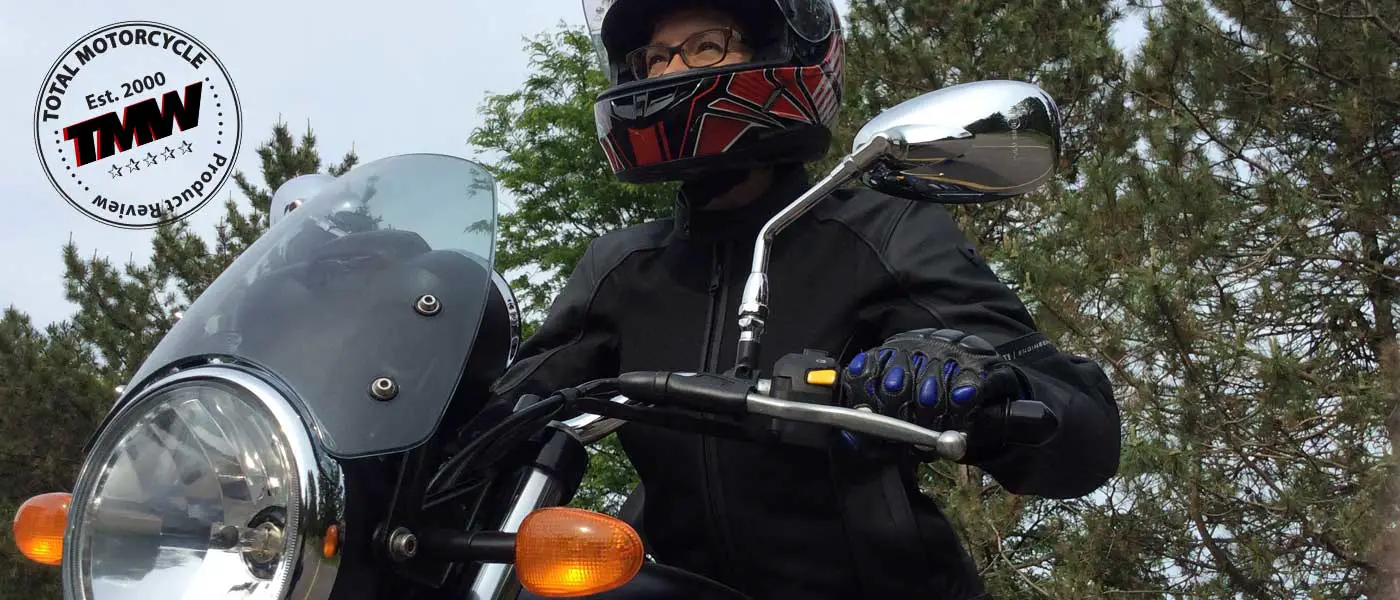 When riding you want to be prepared for anything and be comfortable.  Choosing the right riding suit is paramount in ensuring you can stay focused on the road and handle whatever weather is thrown at you.  This REV'IT! 3-Season Ladies Ignition 3 Riding Suit comprising of a jacket and trousers were put to the test by not just one but TWO Total Motorcycle reviewers.  Read below for the ladies' perspective on how this suit stood up in the Canadian springtime.
REV'IT! Ladies Ignition 3 Riding Suit
| | |
| --- | --- |
| Reviewer: | Andrea |
| Review Dates: | May 5th 2018 – June 10th 2018 |
| Price as Tested: | Jacket: $539.99 USD, Pants: $439.99 USD |
| Tested on: | 2013 Moto Guzzi V7 Stone |
REV'IT! 3-Season Ladies Ignition 3 Riding Suit Overview
This is going to be an easy review to write.  Why?  Because I love, love, LOVE this REV'IT! 3-Season Ladies Ignition 3 riding suit!  There is only one thing I can only very mildly complain about (spoiler alert it is the knee armour – more on that later), but otherwise there isn't any room for negatives in this review.  Read on to find out why this riding suit is replacing ALL of my riding gear.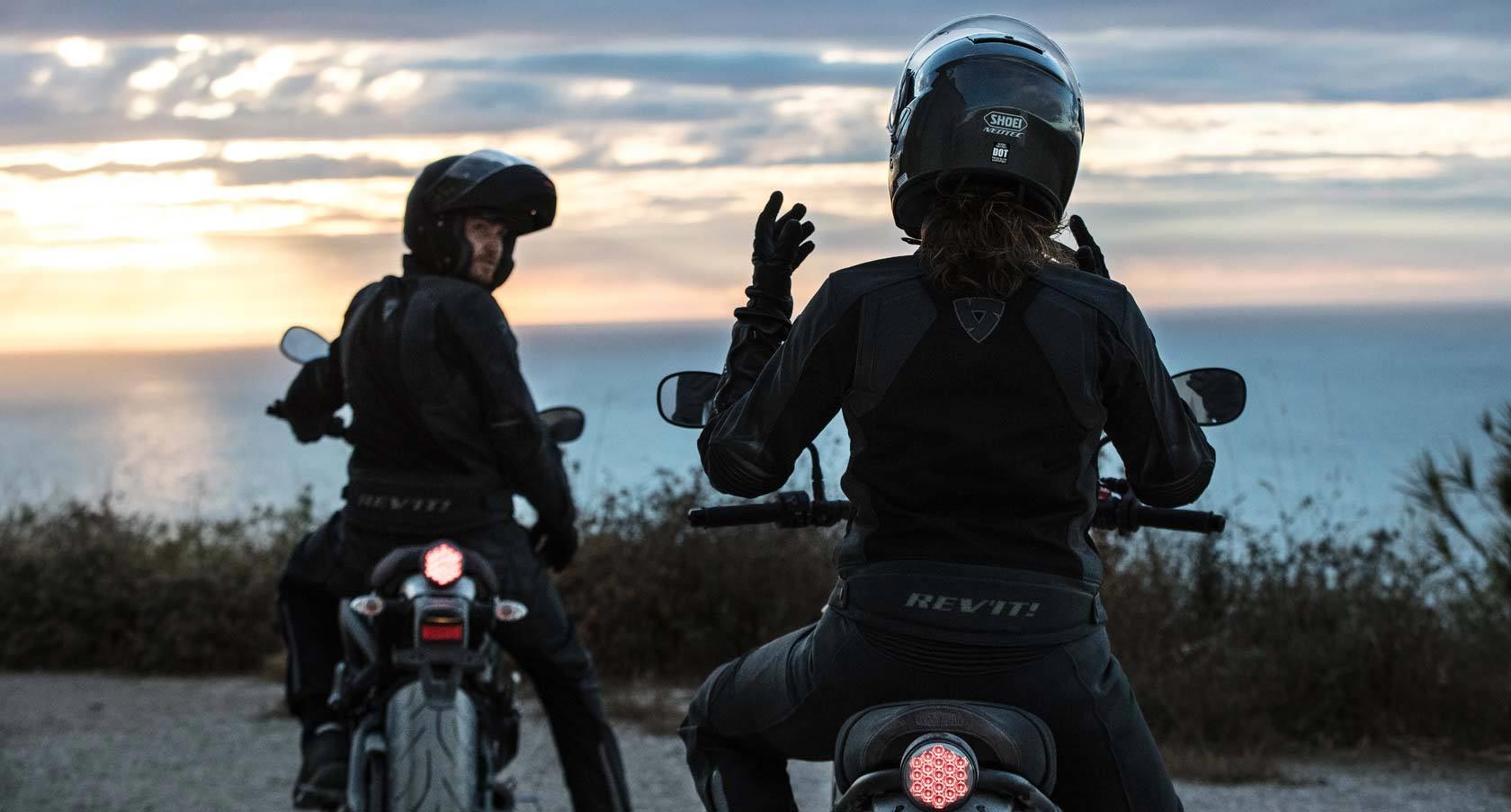 First impressions
When Total Motorcycle first approached REV'IT! we weren't sure what gear both parties would agree on reviewing, but we settled on the newly improved REV'IT! 3-Season Ignition 3 riding suit (jacket and trousers).  It is a three-season riding suit made mostly of cowhide leather and mesh.  We received one men's and one ladies' Ignition 3 suits, and I am the lucky recipient of the ladies' suit.  REV'IT! shipped it to a local dealer here in Canada (Dualsport Plus, 581 West St, Brantford, ON N3R 7C5) for me to go pick up and I've been in love ever since.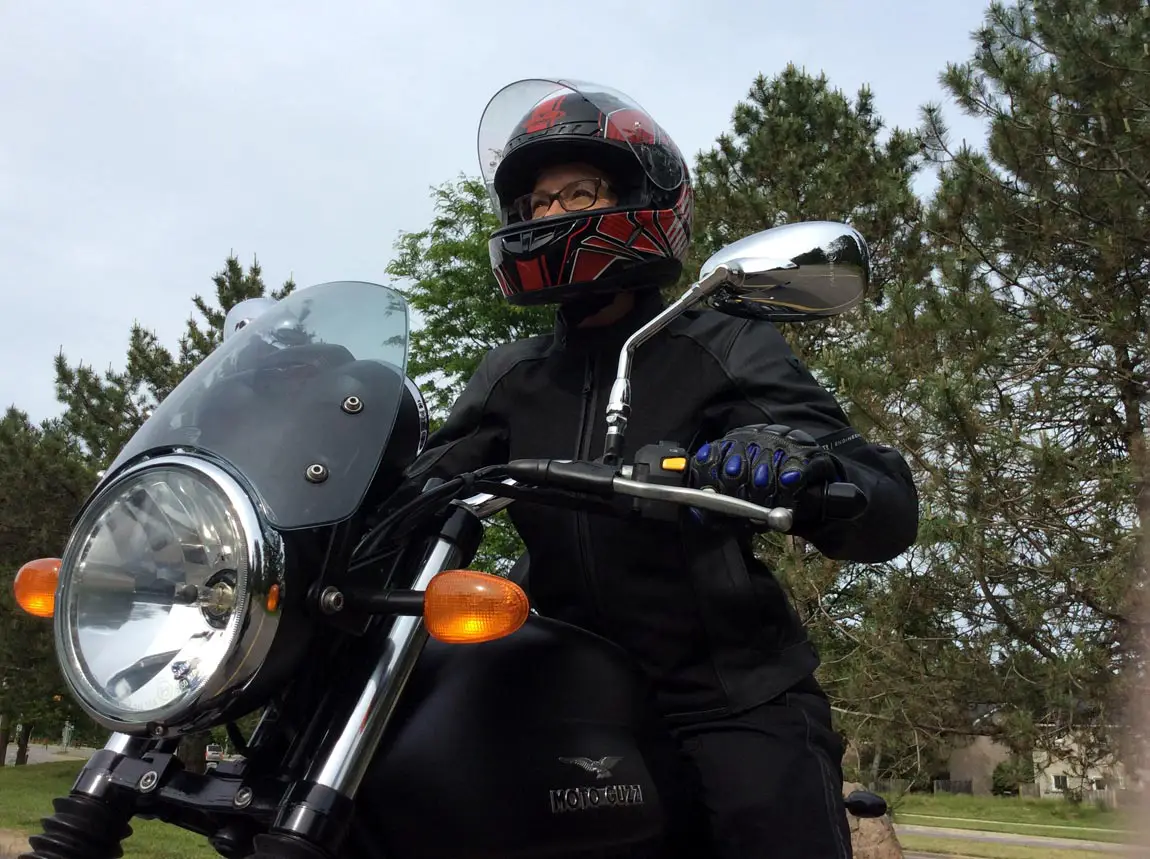 "This is no lightweight leather suit – this is a VERY high quality and safety-first set of gear."

 
The box was a bit heavier than expected, but that is because the suit is a bit heavier than expected.  This is no lightweight leather suit – this is a VERY high quality and safety-first set of gear.  It is constructed of a mix of heavyweight riding leather (Monaco performance cowhide), rigid but flexible armor made of REV'IT!s patented SEESMART (CE-level 1 protection) and SEEFLEX (CE-Level 2 protection) materials, and Dynax mesh.  I will note that while it feels heavy on a hanger, it does not feel heavy on; in fact, it feels comfortable and safe and I don't even notice the weight.
"EVERYTHING about this suit screams quality."
To describe the quality, let me just say that EVERYTHING about this suit screams quality.  The cowhide is luxurious.  The mesh is not just any lightweight mesh but a nice tight weave and fully supportive mesh (unlike some mesh jackets where the mesh is just plain flimsy).  The snaps and zippers are all top notch.  There really isn't anything about this suit that is cheap or crappy, absolutely every detail has been well cared for and it shows.

What you get for your money
The REV'IT! 3-Season ladies Ignition 3 riding suit comes with a set of three liners: two are for the jacket and one is for the trousers.  The silver linings for the jacket and trousers are made of REV'IT!'s Hydratex 3L membrane.  Their purpose is to keep rain and wind out while being breathable so that your body does not get overheated.  They are fully removable and extremely lightweight.  The other liner that is provided is a black thermal liner to keep you warm on cold or chilly days.  I've ridden with all of them at once, one at a time, and also none of them and can tell you all about the experience.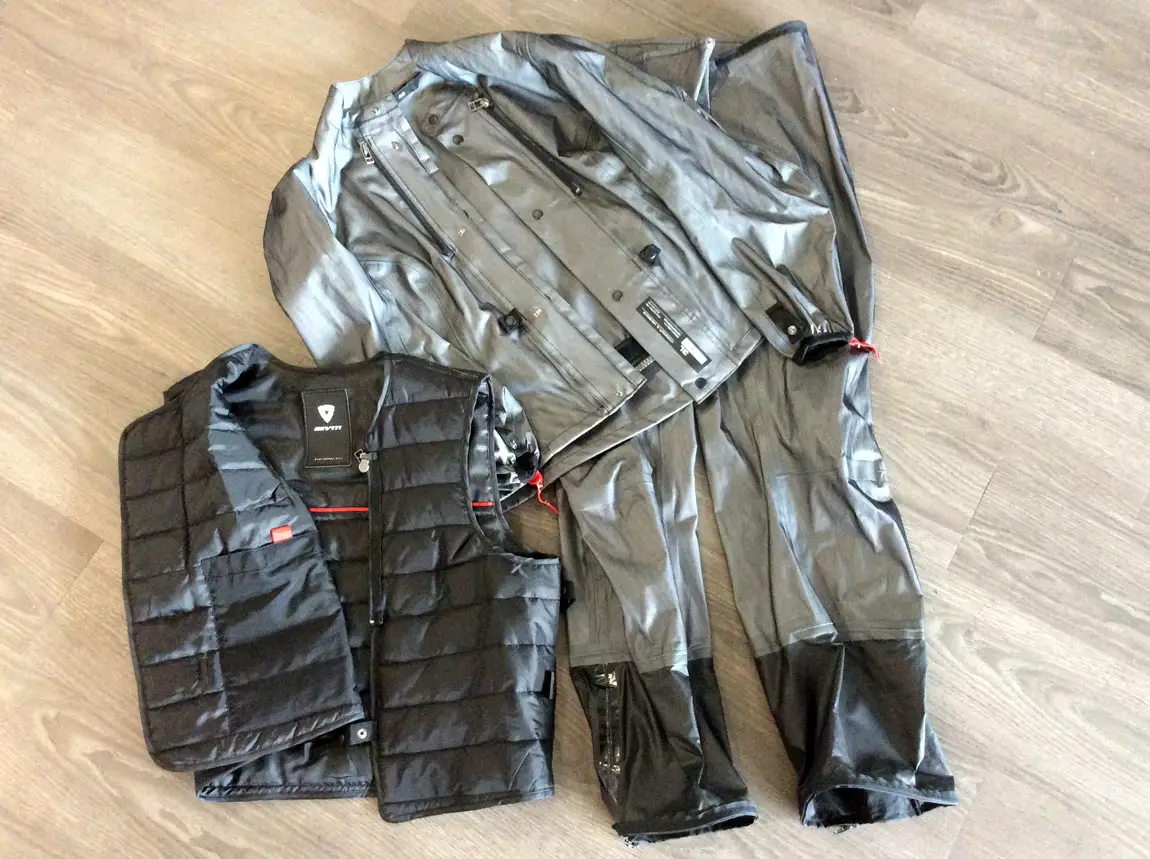 Comfort & Fitment
Being springtime in Canada I was riding between 15°C and 25°C (59-77°F) during the period of this review.  To be comfortable while riding I chose to wear a pair of light tights underneath the trousers and a standard ladies' stretchy t-shirt or long sleeve stretchy t-shirt, depending on the weather.  On the coolest days I used all three of the provided liners and stayed nicely warm but never overheated.  Note that I was not wearing a sweater or any kind of "keep warm" clothes, just what I would call base layers, and I was still warm.  On the sunniest and warmest days, I used none of the liners and was cool but comfortable.  I can only imagine that as the mercury goes up and up, the fact that this suit is nicely breathable will keep it very comfortable.  (I will have to update this review once I've ridden in the hot summer.)  I never chose to ride in the rain so I can't comment on the waterproof ability of the silver linings or how the cowhide leather stands up, but if I do happen to get caught in the rain down the road I'll be sure to update my review with my experience!
"My Ignition 3 suit fit exactly as the measurements said it would."
So let's talk fitment, a very important aspect for a comfortable ride.  Many ladies' clothes are just bloody frustrating because it is so hard to predict whether you're a small or extra large (yes, gentlemen, ladies' clothes really do vary that much).  However, I found that my REV'IT! 3-Season ladies Ignition 3 riding suit fit exactly as the measurements said it would.  The sizing chart is just plain weird (honestly, I wish they'd use standard North American sizing so you could feel a bit more warm and fuzzy that you're ordering roughly the right size), but if you use a measuring tape to accurately grab your measurements and then apply those numbers to the size chart, you'll end up with the right size.  Just note that the measurements on the website for the sizing are truly exactly what they say.  Note that if you like your suit fitted go ahead and order the one that matches your measurements, but if you want a little extra give do go a size up.  I do not like a lot of give so I stuck to my measurements and the fit is spot on – see the photos below.  Could I fit a bulky fleece jacket underneath or a pair of jeans?  No.  But that shouldn't bother you because you really should just buy a good set of base layers (REV'IT! does sell these by the way) and you will be able to stay plenty warm without all the unnecessary bulk.  Trust me.
"The trousers take a little shimmy to get them on, but once on they just fit so well."

In terms of comfort, this suit is a 9.5/10 for me.  The one and only thing that bugs me is the knee armour.  At first, I didn't know that the knee armour was movable so I was riding with the trousers just as they came out of the box.  The armour was placed too low for my body so when I was walking the knee cap of the armour was well below my natural knee cap.  When I sat on the bike the trousers would ride up to meet my seated position and I would just pull up at the knee to get the armour up just a little bit higher.  Then I read the little instruction book that came with each piece of gear and it calls out that the knee armour is movable.  What?!  While it was a little finnicky getting my hands down the inside of the pant leg to figure out the Velcro system, once I moved the armour upwards the knee area fit much better.
As you can see in the photo below, the armour now sits just perfectly in place when sitting on the bike.  The armour continues to be a bit annoying when walking because the pant legs naturally fall down towards my feet, thus bringing the knee armour down with it, but take it from me, this is very normal.  Riding trousers are made to allow for the trousers to ride up when you sit, so the armour is placed according to your seated position and not a walking position.  Like I said earlier in this review, this is the only negative I can come up with and it is no different than another pair of armoured trousers.  You can, after all, remove the armour but… why would you?  Safety first, ladies!
The REV'IT! 3-Season ladies Ignition 3 riding suit trousers take a little shimmy to get them on, but once on they just fit so well.  The waterproof liner does not take up any room at all so the trousers really fit the same with or without it.  The jacket with its shoulder and elbow armour fits beautifully; absolutely no complaints here from me.  I will point out though that the shoulders do not give the arms a lot of backwards give.  In this photo I have my arms pressed back like a pectoral fly and they are back as far as they will go.  If you look closely you will see the tightness in the seam where the chest meets the arm.  This is not at all a negative for me because (1) when you're riding you are pressed forward so you don't notice this at all (your arms aren't supposed to be behind you when you're riding, right?), and (2) I am sure this feature helps keep your shoulders intact in the case of an accident.  I give you this detail just as something to be aware of, and again, if you want more room in your jacket just go a size up, but then don't expect it to fit you so sleekly in all your other areas.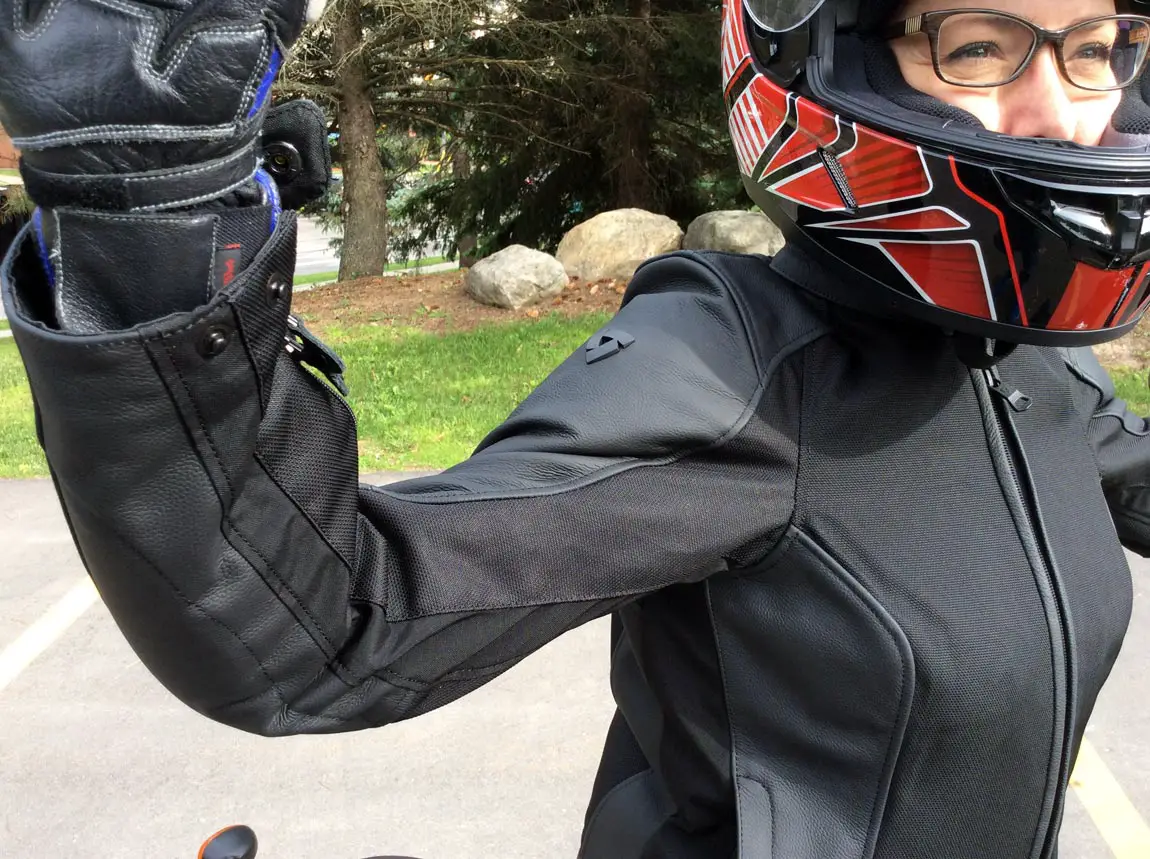 Features
At the back you have the ability to zip the jacket and trousers together.  The value here is to ensure better waterproof ability and to save the jacket from sliding upwards and exposing your back if you should take a fall.  Personally, I ride with the pieces attached by the zipper.  I use the short one but note there is also a long zipper that goes all the way around your waist for improved waterproof ability (you'll see both zippers in the photo below).  To use either of the zippers on the jacket you will zip off the one strip of the zipper (which you can see laying on the seat of my bike).  This is provided so you don't have an open zipper on your jacket potentially rubbing your clothes or back.  The long zipper on the trousers does not have a second part to remove because it can't rub you.  You can of course ride without any of the zippers being engaged, but I do recommend at least connecting the small one for safety purposes.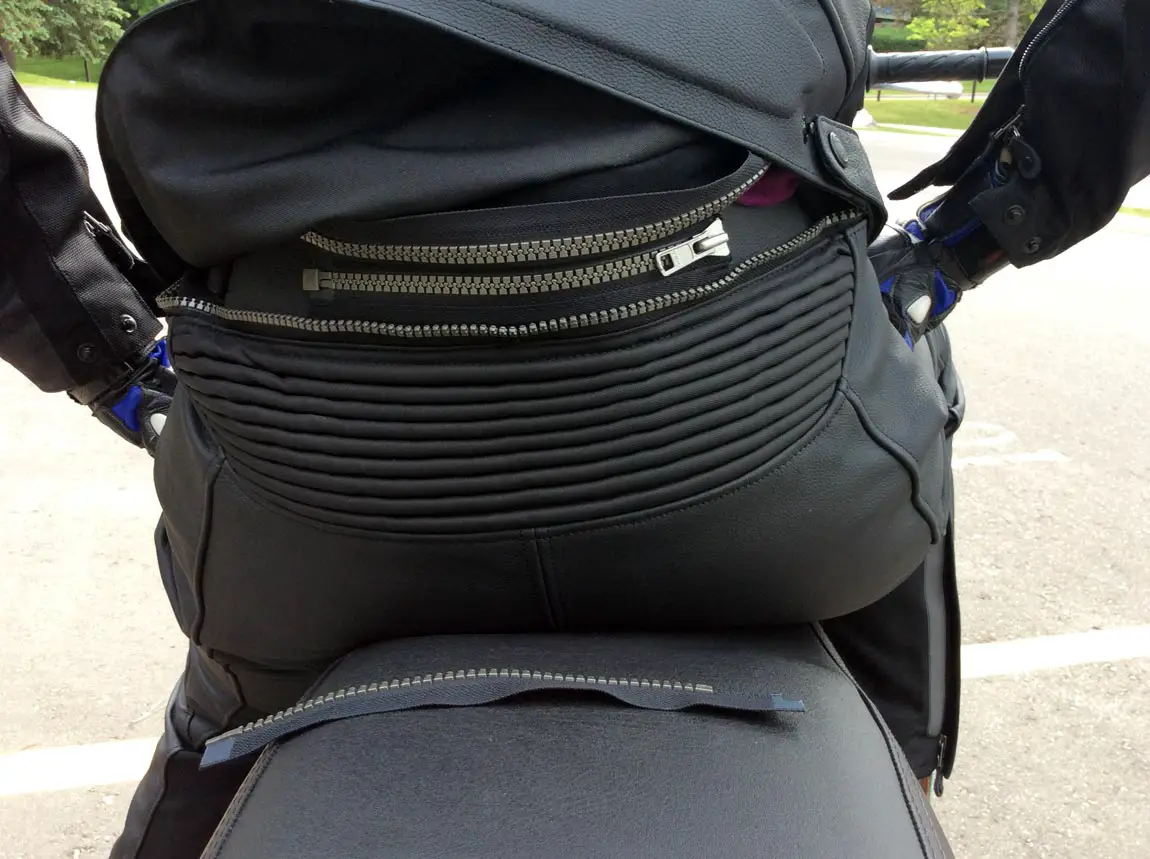 To mention a couple of additional features, let's start with the pockets.  The pockets on the outside of the jacket are really quite deep – deep enough in fact that I put my house keys in and don't do up the zipper (yeah, I know… that's not the smartest).  On the inside of the jacket there are pockets on either side; on the left is a sideways entry pocket that runs downwards upon entry, while on the right there is a standard vertical jacket pocket.  Both are made of mesh and both are capable of holding a small wallet or phone.  I used the vertical one to put my normal glasses case when I was wearing my sunglasses.  The thermal jacket liner also has one vertical jacket pocket, made of the same thermal material (i.e. not mesh).  The waterproof liners for the jacket and trousers, as well as the trousers themselves, have no pockets.
In my opinion, the neatest feature to the rider is on the sleeve of the jacket.  It's a zipper running from elbow to wrist along the forearm.  REV'IT! has graciously put in a two-way zipper that comes in so handy.  If you need to raise the bottom of the zipper up to slip your glove underneath, you can do that.  On warmer days, if you want a bit of ventilation, you can just slip both zippers down towards your wrist and you will expose breathable mesh.  Check out the photo below of the mesh exposed, and you'll also see my gauntlet glove fits nicely underneath the wrist of the jacket.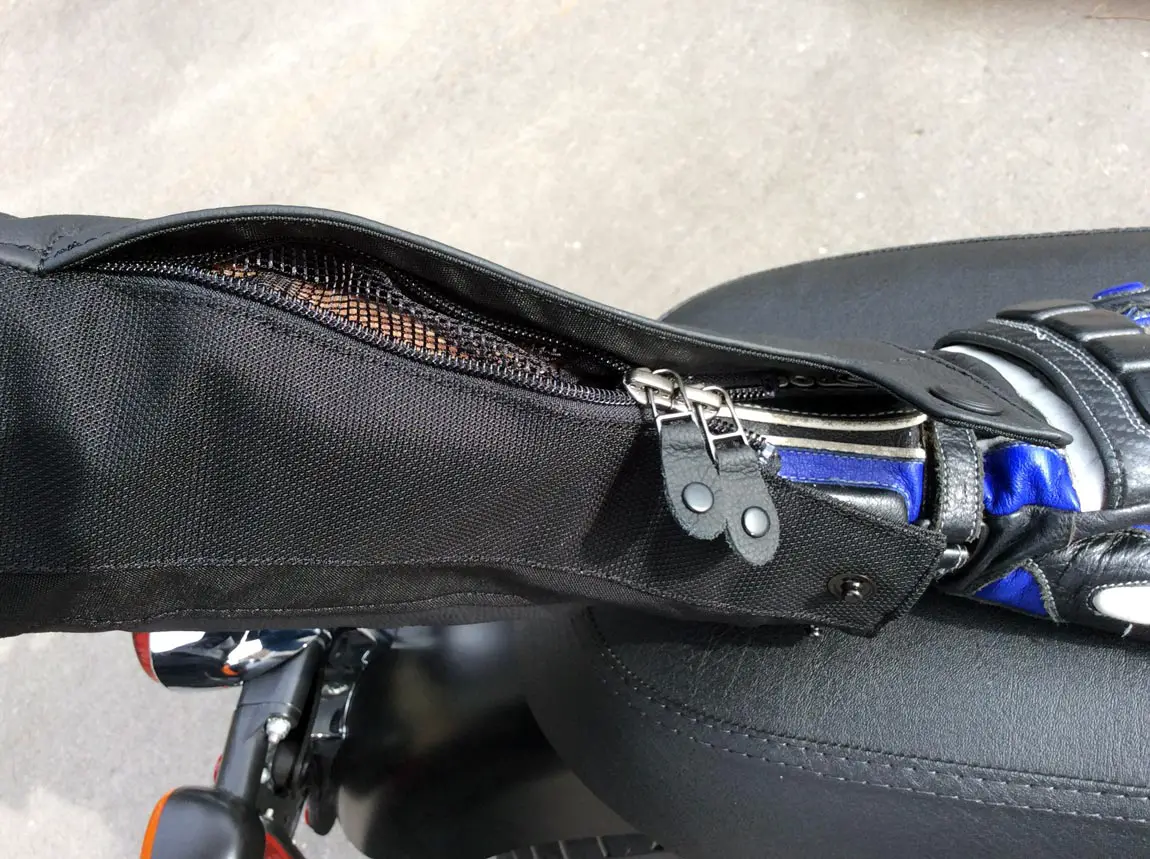 "RIP old gear."
Conclusion
I've been a rider for nearly 20 years now and I can tell you that in the early days of my riding (around the year 2000) there was extremely precious little gear that was available for a women's body.  I remember being ecstatic when I bought my first riding jacket because it came in a ladies' size – I could finally replace my basic jean jacket with something that would not only protect me much better if needed but also be friendlier to the weather!  Later on in my riding career, while living down in Texas, I bought a much lighter mesh jacket to beat the heat so I actually have two previous riding jackets.  I've kept my original riding jacket all this time but, sorry "Old Yellow", you are being replaced!  This REV'IT! Ignition 3 suit is just too amazing to keep in the closet!  Assuming that the Ignition 3 keeps to its promise of being cool in the summer, I'm not sure I'll need my mesh jacket anymore either.  RIP old gear.
Now for my final comments.  This REV'IT! Ignition 3 ladies riding suit is a boon.  I am done with Kevlar and jeans.  This suit is all of these things and more:
It's gorgeous! Have you looked closely at it?
It fits so well and is very comfortable
It's breathable but also waterproof
It's warm for cool days, and cool for warm days
And above all… it's SAFE! It's made of sturdy cowhide leather, it has armour in all the expected places, and jacket and trousers have the ability to be zipped together to protect your back in the case of a slide.
The only thing I would ask of REV'IT! is to include additional reflective stripes or subtle reflective logos to increase the chance of being seen.  It is, after all, a fully black suit and my preference is to be in colour and with lots of reflectives.  But that will not deter me from wearing this suit every single time I ride.
Give this a try, ladies… you won't be disappointed!  It is worth every penny and will be your new reason to ride, if you happen to need one.  I personally took a break from riding recently but receiving this suit has somehow re-inspired me.  You know how it is, you buy a cute dress and a sweet pair of heels and you just want to wear them.  This is really the same for me, only slightly different. 🙂
Total Motorcycle Award Level
For all these reasons, we are pleased to award the REV'IT! 3-Season ladies Ignition 3 riding suit our Editor's Choice Award, an amazing five out of five stars!  This honour is rarely given out but indicates extreme pleasure with the product.