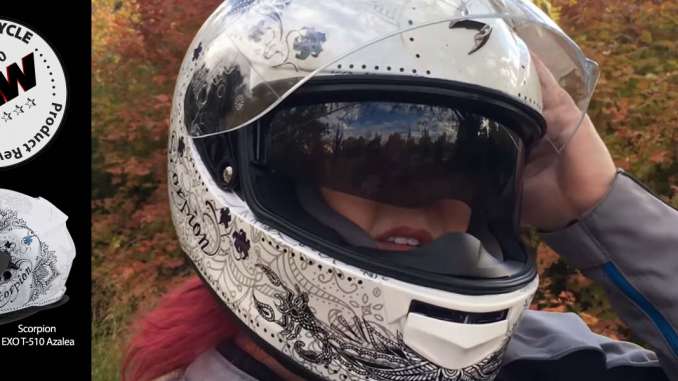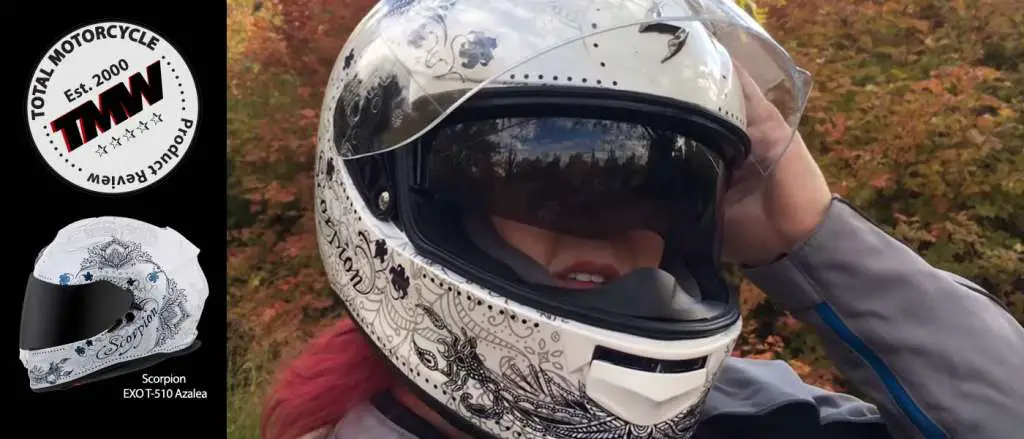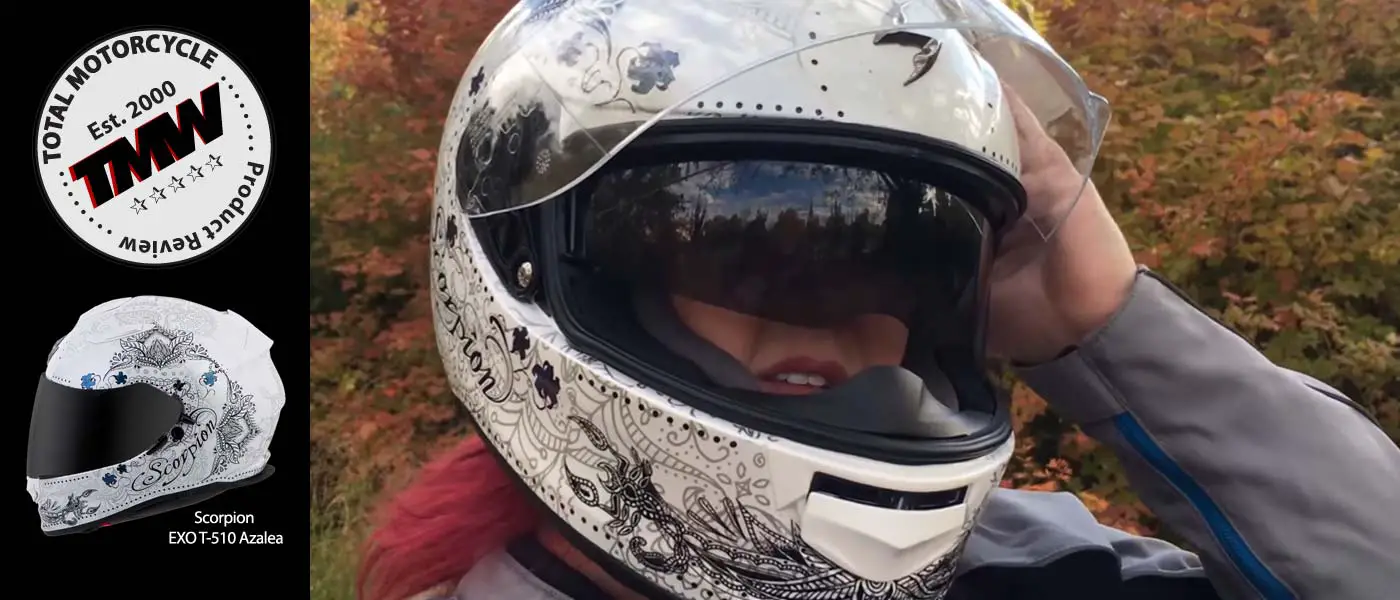 Your helmet is your trademark. It reflects your unique style. A helmet's shape, color and design is the first thing others see. It's how your friends and family pick you out from a group. It identifies you as the token motorcycle rider in the bar.  Maybe it can even help you get a date. A good helmet is the most important piece of gear you will ever wear. Choose Wisely.  Total Motorcycle got an opportunity to review a Scorpion EXO T-510 Helmet.  We're excited to show it off.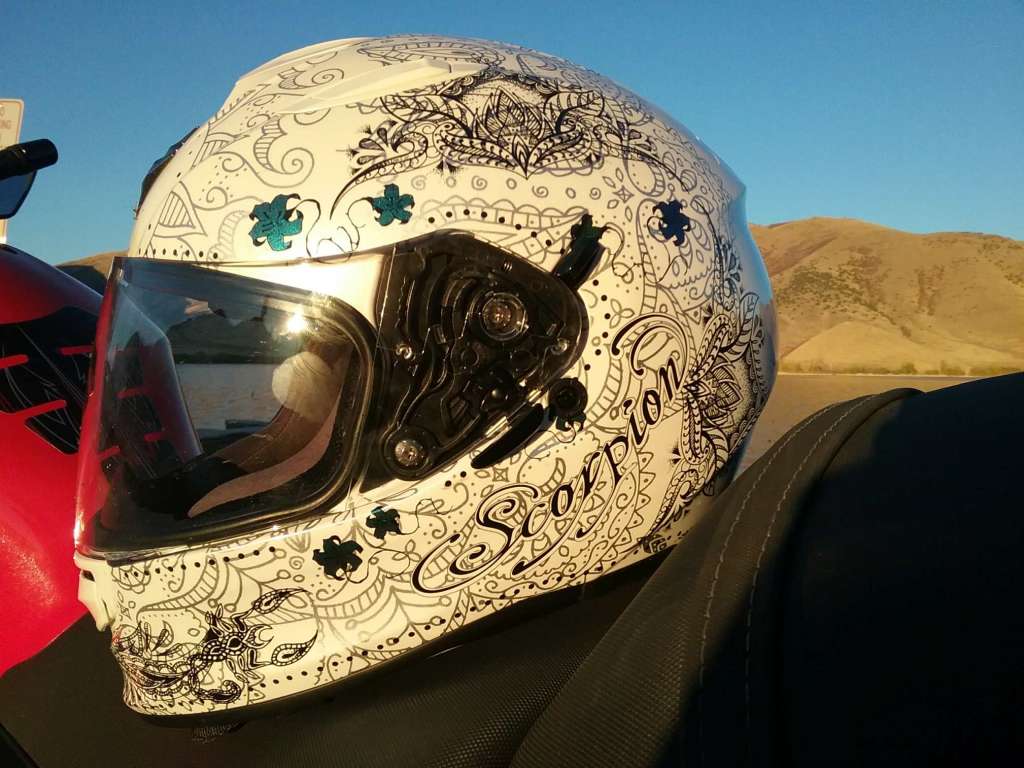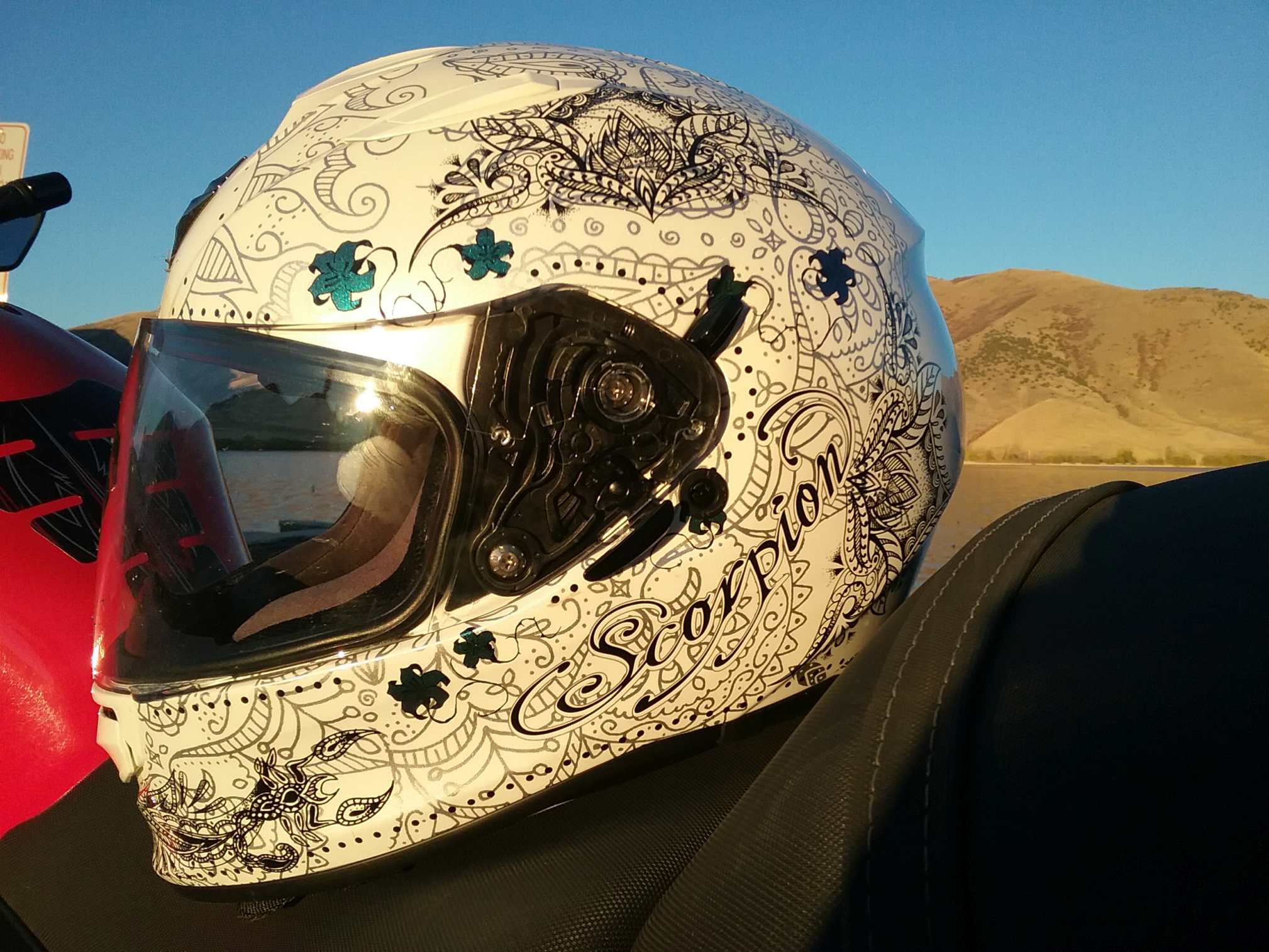 'The first thing I can say about the Scorpion EXO-T510 Azalea is it's so gorgeous.'
Scorpion EXO T-510 Azalea Sport Touring Helmet Review
| | |
| --- | --- |
| Reviewer | Carrie Leaverton |
| Bike Tested on | 2012 Kawasaki Ninja 650 |
| Price as Tested | $239.95 |
| Review Dates | 09/14/2018 – 10/14/2018 |
| Style / Color | Azalea  White/Silver |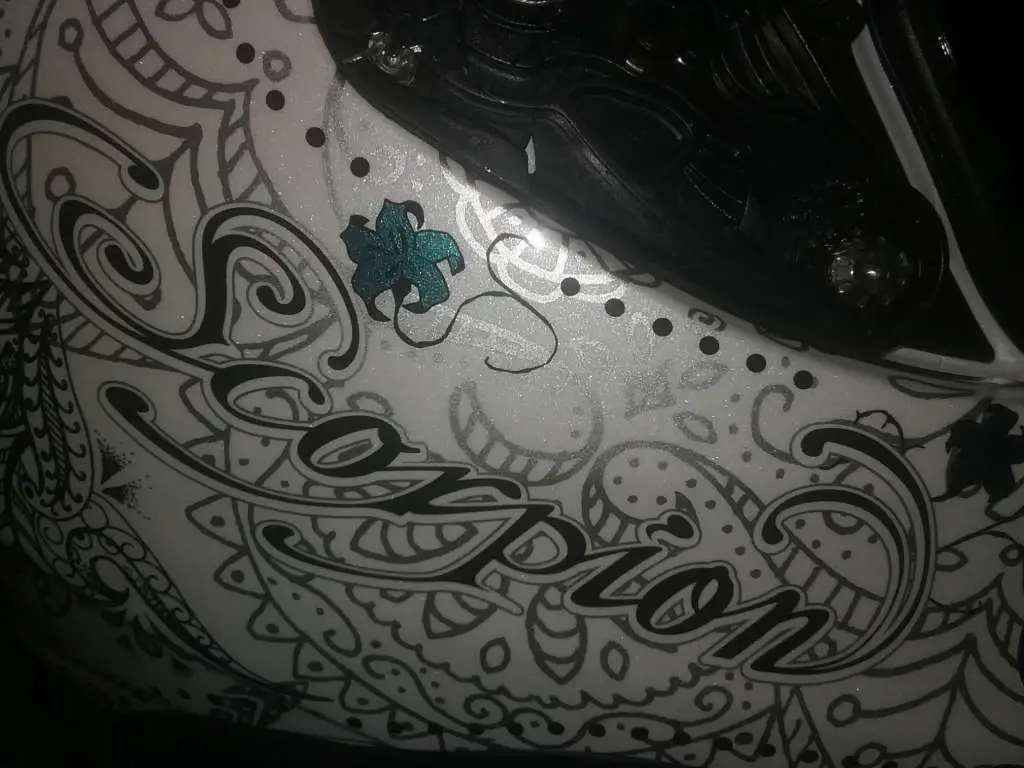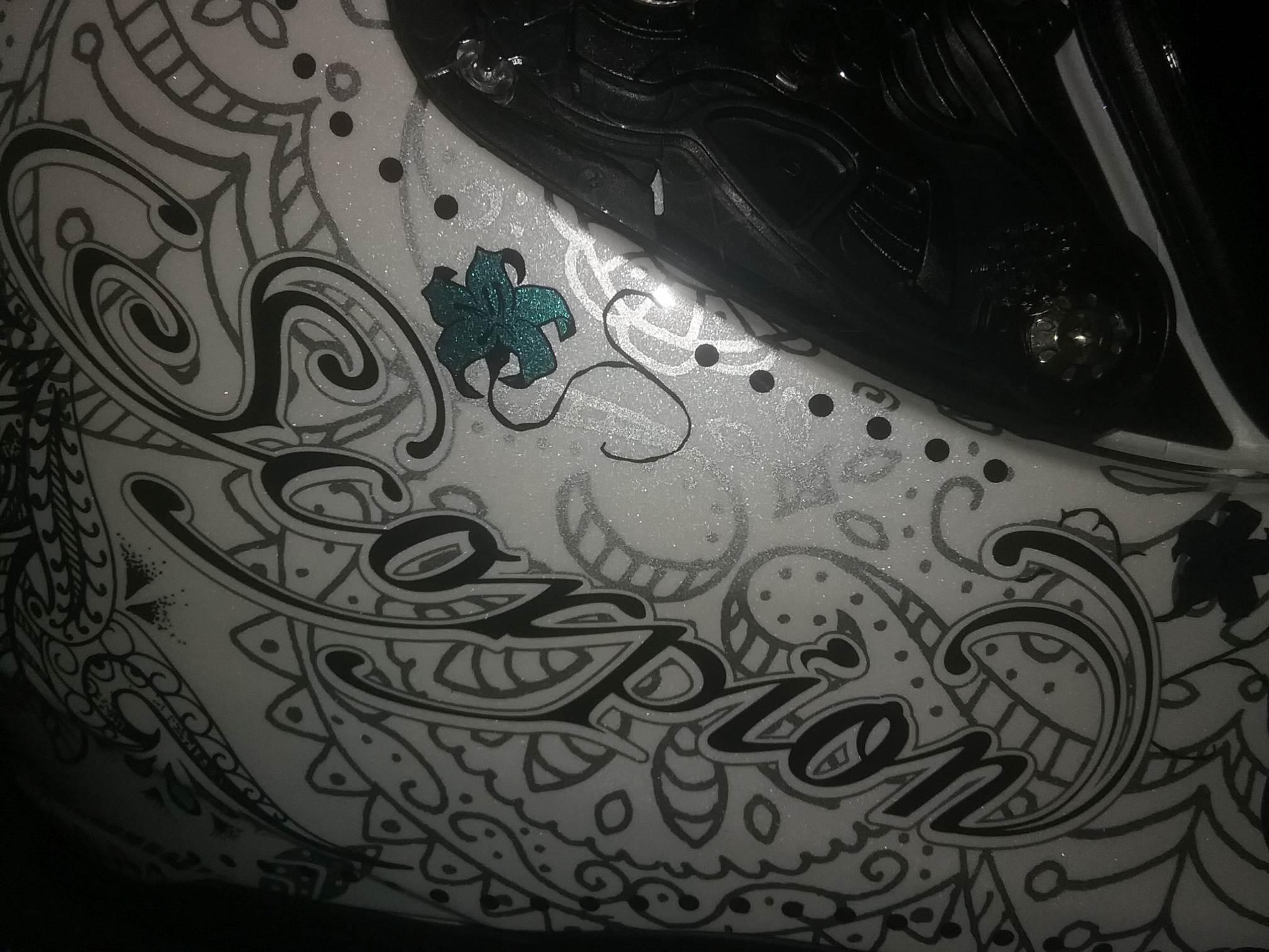 Features
The first thing I can say about the Scorpion EXO-T510 Azalea is it's so gorgeous.  The Azalea is offered in two color schemes Black/Gold and the one I received White/Silver. While I've always been a fan of black, I'm really impressed with the White and Silver combination. It's bright and shimmery. Onlookers can see it from afar.  It sparkles in the sunlight and beams when it's overcast and looks amazing just sitting on my work desk. Tribal designs are all the rage right now and Scorpion nailed it with the Azalea design. Color matching doesn't get any easier than with classic black on white or metallic tones on black. In addition the design includes little hologram style flowers to achieve just the right amount of feminine expression without overdoing it. The Azalea can be paired with any assembly of riding gear and goes great with your bike regardless of color.
This helmet has an Airfit® Liner Inflation System, a unique feature I've never used before. Once the helmet is in place, the wearer can instantly achieve perfect fit via a quick tap of a red bulb situated inside the chin guard. When ready to remove the helmet the air can be released by the simple press of a release valve.  More on that later.
Perks
Scorpion will give you a nice black and yellow logo drawstring helmet bag with any helmet purchase. It only takes a second to put the bag on your helmet after each ride to protect your lid from accidental bumps, scuffs and dust. We've all been there right? Kids are bringing in groceries from the car. The garage isn't just a grownup's toy box today, it's a wood workshop.  When your bike(s) and gear are all that stand between your dog's path from the house through the garage to potty outside.  These bags are made of lightweight anti-scratch fibers so they can be used to quickly remove bugs, dirt spot and road debris so your helmet looks like new at the beginning of each ride. Helmet bags are also crazy useful for other tasks such as packing extra gloves & balaclavas in case of unexpected cold/rainy weather, to keep your toiletries together for an overnight camp on the side of the rode on the way to Sturgis, or to keep a can of chain lube and a spark plug wrench from rolling around in your saddlebags.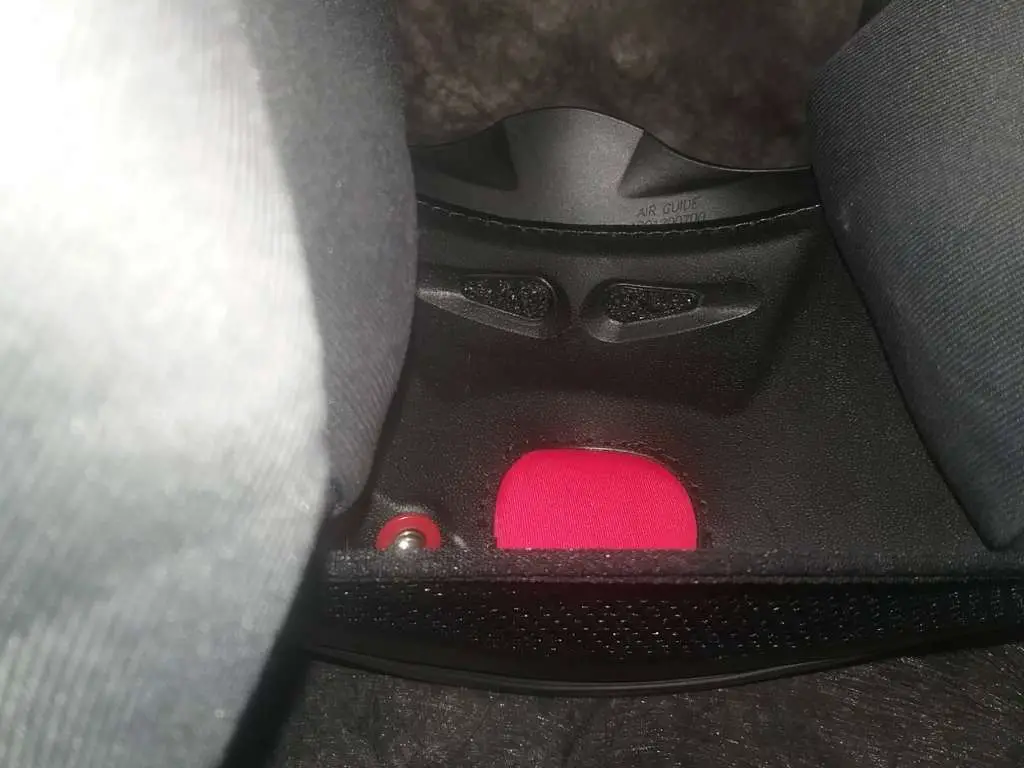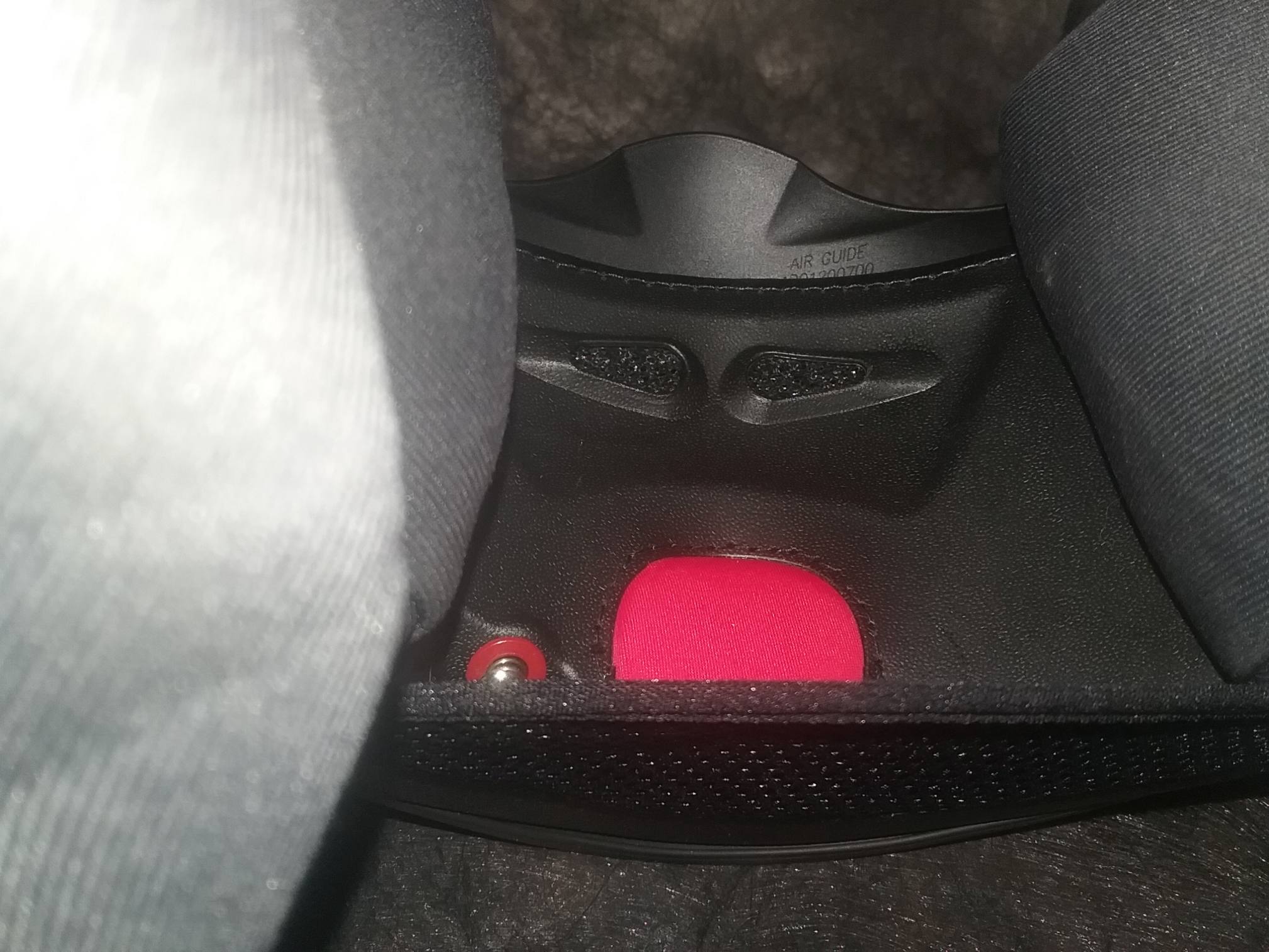 I love that the Scorpion EXO-T510 Azalea has an integrated drop down sun visor that's separate from the main visor. How many pairs of sunglasses have I lost or ruined toting them around on rides with my clear visored helmets?
'Color matching doesn't get any easier than with classic black on white or metallic tones on black.'
Performance
When I say I want to go out for an afternoon of wind therapy, that doesn't mean I actually want to feel the wind on my face. A good full face helmet should protect my face from not just the wind but from noise and debris. My Scorpion EXO-T510 Azalea did not disappoint. The face shield is easy to open and close while on the move with my gloves on. It shuts tight and stays in place every time.
It's Fall in Northern Utah. This October the mercury has dipped as low as the 37 degrees fahrenheit some mornings on my way to work. If Alexa says it's above freezing I ride to work, most days. For test purposes I did not apply any anti fog solution whatsoever and was very happy with the results.  Check out my video link above to see me huff and puff myself into a frenzy while I try to make my helmet fog on a cold morning.  I'll point at the tiny bits of condensation that built up around the edges of the visor, notably out of my line of site. The video also includes my eyeliner/lash/mascara test on a cold and windy ride.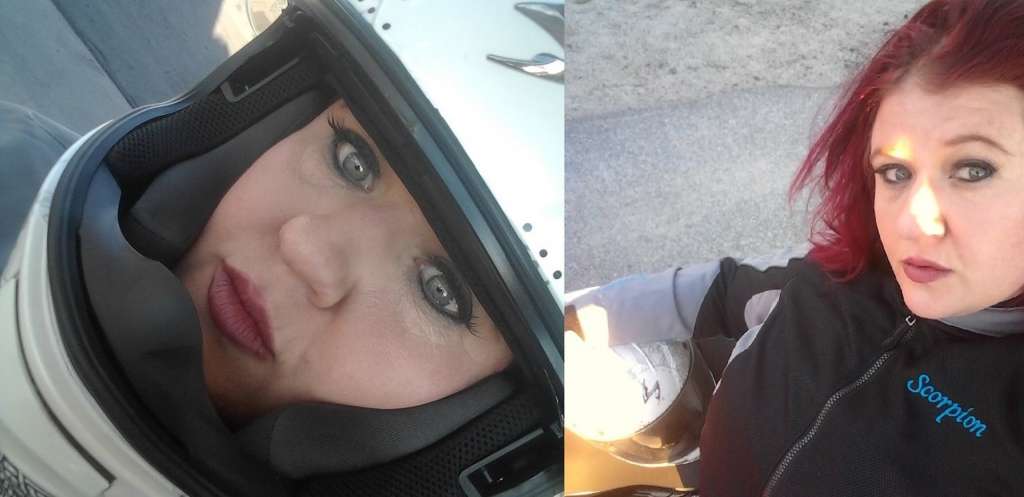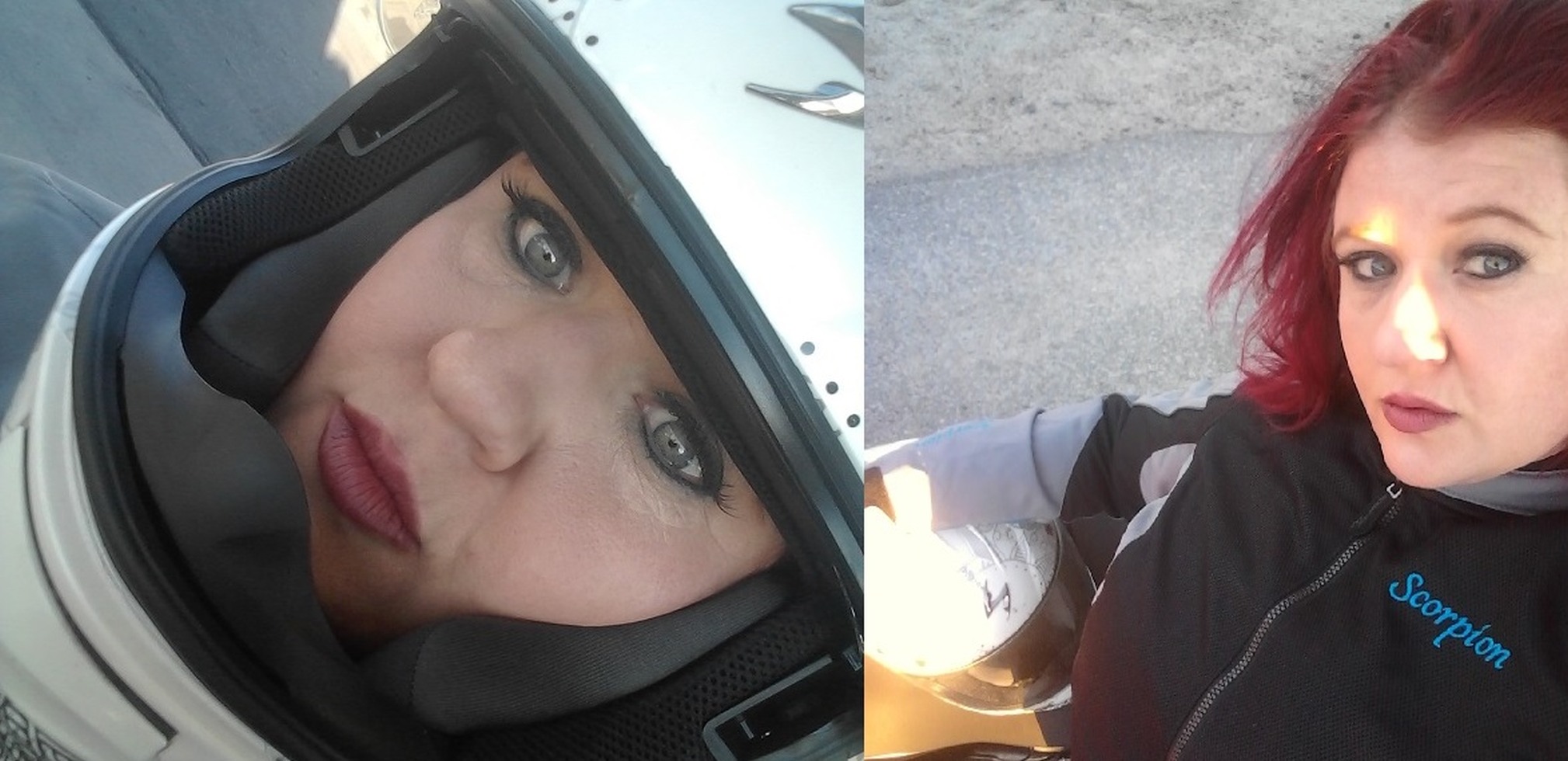 The Advanced LG® Polycarbonate Shell shape design is lightweight and seems very aerodynamic which serves two important purposes. My Scorpion EXO-T510 Azalea helmet cuts through the wind so my neck can rest for the duration of my ride. I notice less wind noise so I can focus on the road, my thoughts, tunes or my husband Eric's charming voice via Bluetooth headset.
'T'he design works wonderfully with my glasses and I never have to adjust the position of my frames.'
Comfort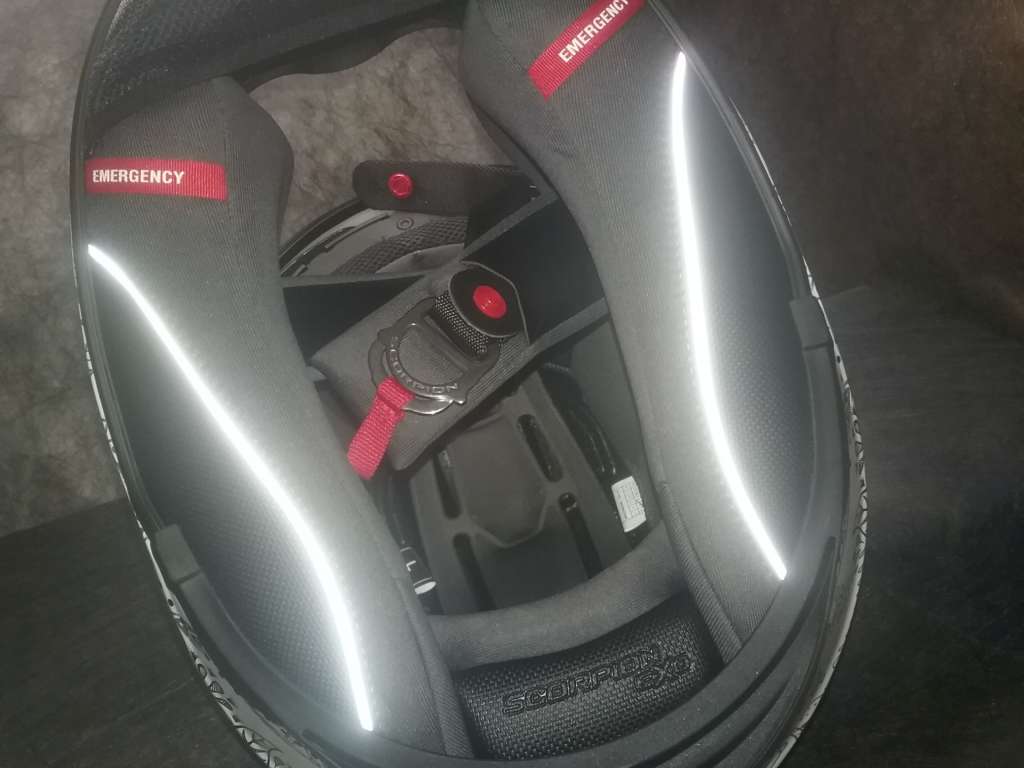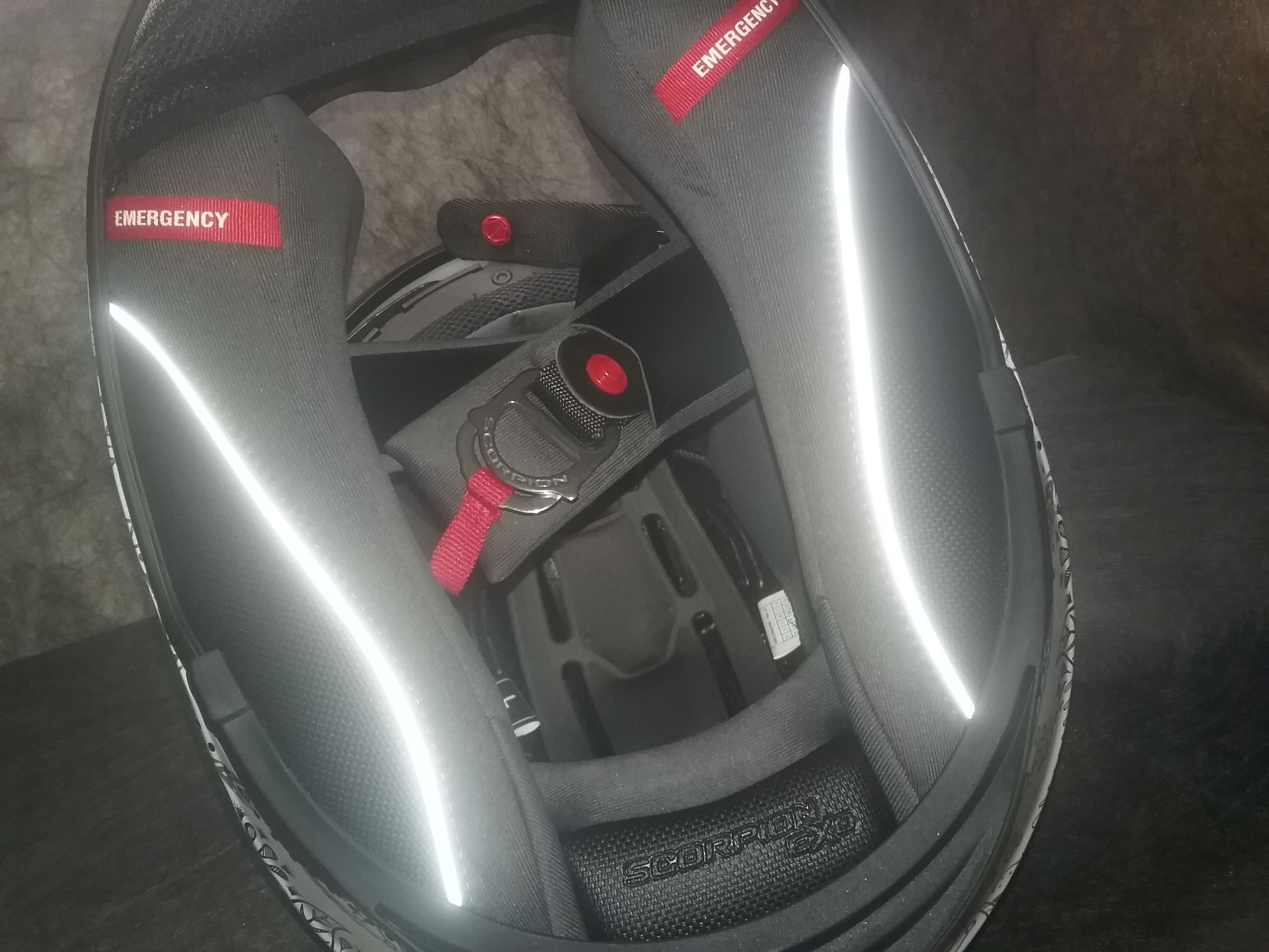 The padding inside my Scorpion Azalea is plush and soft (and washable! A blessing for hot summer head sweat and excess make-up foundation build up).  The chin strap easily adjusts to perfect fit and I forget it's there. My helmet fits tight.  My head measurement (around my head at the temple above my eyebrows) is 22.5 inches which would indicate a Medium size per the fitment chart on Scorpion's Website. I went up a size and requested a Large to accommodate my hair in a French braid, ponytail or bandanna. While the tight fit doesn't give me a headache or leave red marks on my face, I'm more than a little excited to put more wear and tear on my liner. My head just needs a little more space. Regrettably I wasn't really able to make much use out of the liner inflation system.
Some days I just don't wanna wear my contacts.  Thus a helmet that will accommodate my glasses is a must.  Even though my Scorpion Azalea fits tightly, the design works wonderfully with my glasses and I never have to adjust the position of my frames.
The ear pieces have communication system speaker pockets built in.  I love a helmet that can easily accommodate blue tooth headsets.
Quality
This Scorpion EXO-T510 Azalea helmet has a certified safety rating from DOT so Total Motorcycle completed this review with focus only on comfort, performance and function. At this price point, the helmet I received is a wonderful design and appears to be well made. Upon receipt and close inspection I noticed a small snowflake shaped blemish on the visor.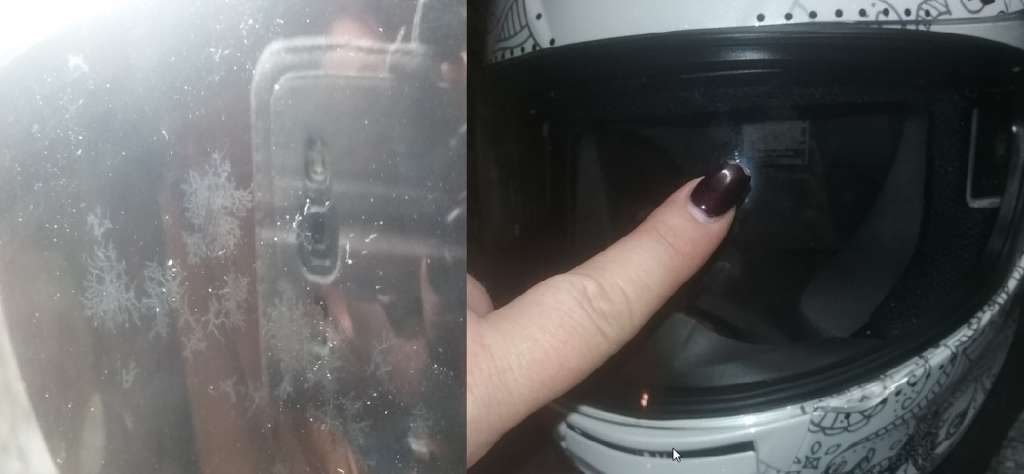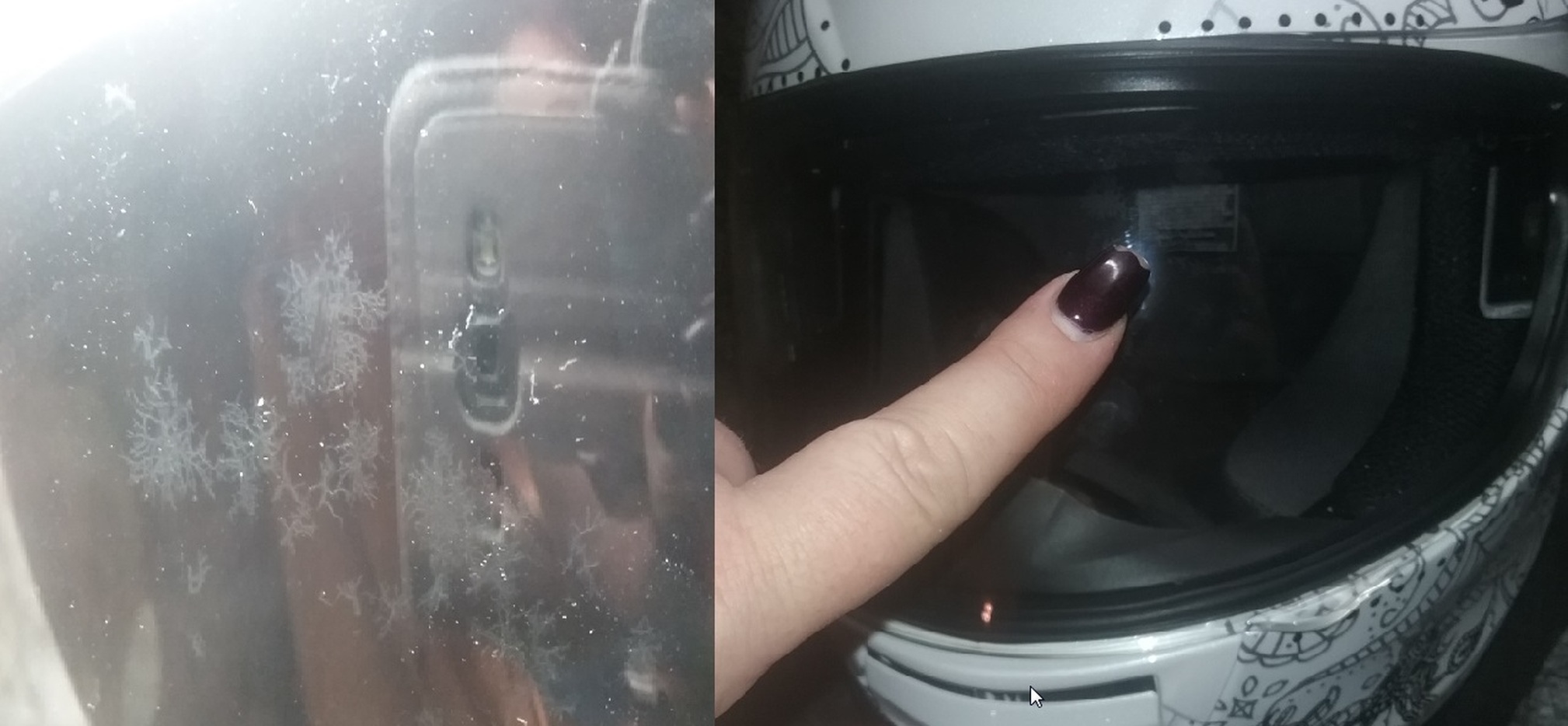 Perhaps it was stored in as warehouse in extreme cold weather? Maybe the visor wasn't left to set up in proper temperatures after fabrication? I don't know. In my opinion, the opportunity to have clear unobstructed vision through a shiny new visor is worth it's weight in gold. It was a shame indeed to unbox a new helmet at the price point of $239.95 and immediately discover a possible defect. At first I was not able to remove the snowflake, it didn't appear to be imbedded inside the visor material but it was really frozen on there.  I was hesitant do give it a good scrubbing for fear of ruining a brand new visor. Luckily, the snowflakes weren't positioned as such to impair my line of sight and I rode with it.  Just last night I sat down with a microfiber cloth and some hot water and  repeatedly massaged the blemish and was able to remove it.
Shipping
It's worth mentioning that Scorpion does not distribute their own products.  If you look online you'll see a handful of motorcycle warehouses and large retailers  such as Walmart and Amazon that offer Scorpion EXO-T510 Helmets. Thus, the quality of your shipping lies in the hands of the company that you place your order with. We placed an order for Scorpion Riding Gear (see my lovely Scorpion Maia gear in the video and pictures) that was placed by a motorcycle warehouse a state away from ours. Unfortunately,  our shipment wasn't accurately fulfilled.  The error didn't hold us back at the least and the problem was immediately rectified once we notified Scorpion. A quality shipper is definitely something to keep in mind if you're placing a last minute order before a big adventure.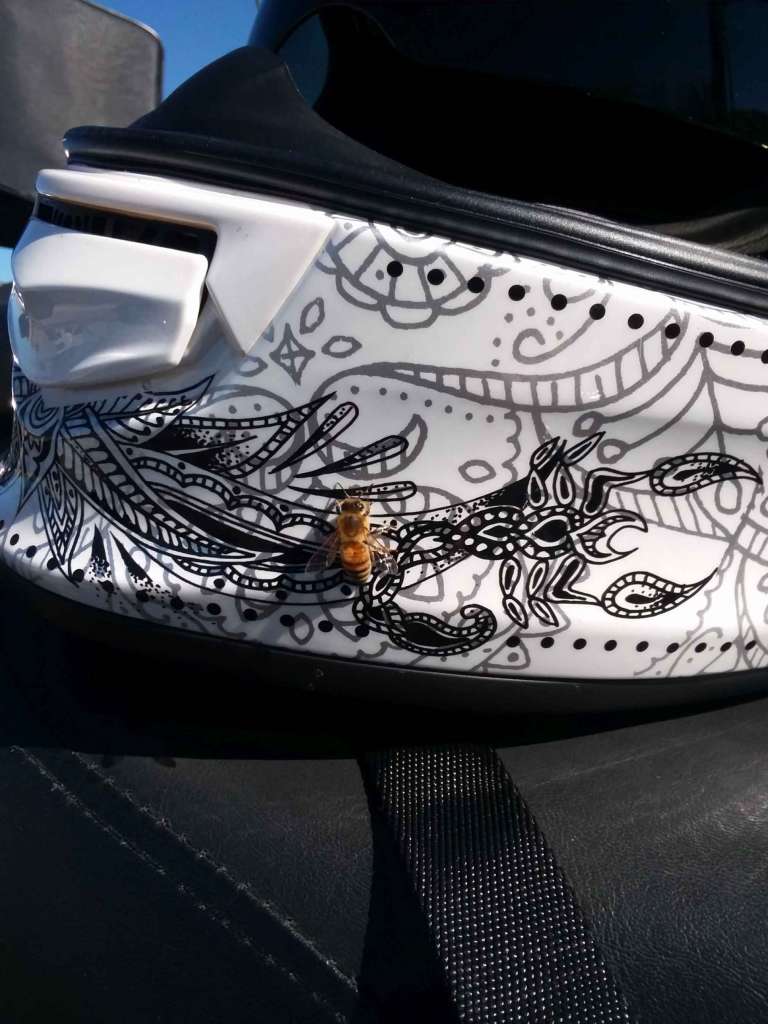 Rating
I sure had a lot of fun turning heads with my Scorpion Gear and am proud to be a part of the club of riders that proudly sport the shiny Scorpion Logo. Based on my narratives above Total Motorcycle rated the Scorpion EXO-T510 Azalea helmet with the Editor's Gold Award of 3 Stars. Congratulations Scorpion!
Thanks Scorpion for allowing us this opportunity to review some really beautiful gear. As mentioned above, please see my review of the Scorpion Maia jacket and pants.  Watch TMW for future reviews as Eric received some Scorpion gear of his own that consists of a Scorpion EXO GT-920 Helmet paired with a matching Scorpion Optima Jacket. I can't help but say they sure look good.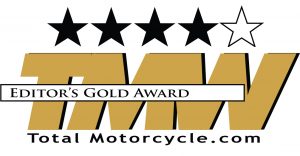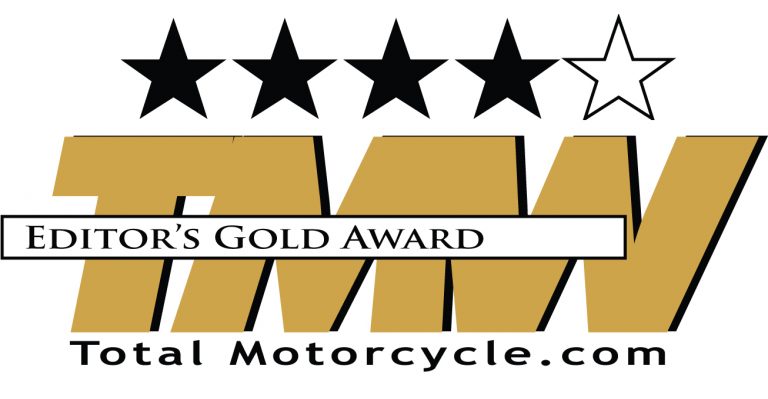 'A good helmet is the most important piece of gear you will ever wear.'
I've said this before and I'll say it again. Whatever helmet you choose to wear, wear one every ride. Wear one every time, whether you're going on a 4 day road trip or just around the block. Stay safe.  Ride like your mom's watching (She is). Race like your kids are waiting at the checkered flag. Ride like you're wearing Harry Potter's invisibility cloak in case nobody sees you.