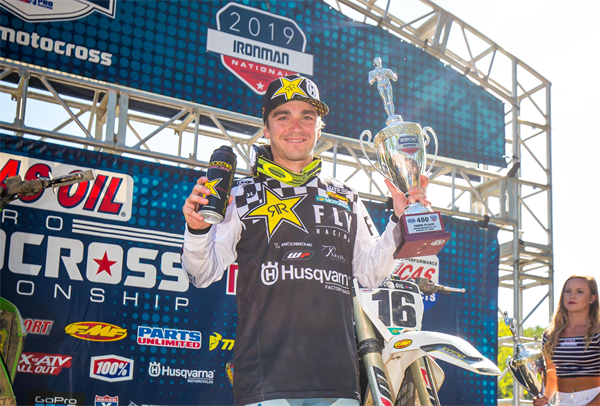 The Rockstar Energy Husqvarna Factory Racing Team took on the final round of the 2019 AMA Pro Motocross Championship on Saturday in Crawfordsville, Indiana for the Ironman National. Team rider Zach Osborne ended his rookie 450MX season on a high note after securing his sixth overall-podium of the season with a third-place finish. His teammate, Michael Mosiman, had a great day in the 250MX class as he closed out the season with a fifth overall finish.
Osborne, who is set to represent the United States in the 2019 Motocross of Nations alongside his teammate, Jason Anderson next month, has put forth a stellar season in the premier 450 class, finishing fifth overall in the 450MX standings. Osborne grabbed a sixth-place start in Moto 1 and quickly worked his way into the top-five. Battling through heavy lapped traffic, he maintained his position to capture a top-five finish in the first moto. In Moto 2, he got off to a fourth-place start and powered his way into third early on. Just after the halfway mark, Osborne pulled the trigger to move into second and from there, he charged his way to a runner-up finish.
"It's super nice to end on a high with the last race of the season and carry some decent momentum into the Motocross of Nations," Osborne said. "I'm on a bike that I feel really, really good about and I think that Jason [Anderson] and I have a really good plan to go over there and continue our success from the season. All-in-all, a really good rookie 450 season."
Anderson ended the day in sixth overall, where he concludes the 2019 championship just ahead of Osborne in fourth-place. For the finale, Anderson had a positively uneventful day in both motos. He started off in seventh in Moto 1 and made his way up to sixth just before the halfway point. From there, he chased his teammate Osborne all the way to the checkers to capture sixth. In Moto 2, Anderson got off to a fifth-place start and he battled for a top-five throughout the entire 17-lap race, where he ultimately secured fifth in the race.
"I feel like it was a very mediocre day, but all-in-all I'm happy to come out of the season healthy," Anderson said. "Now we'll look ahead to Motocross of Nations. I'm looking forward to going over there and ripping it up!"
After missing the first half of the season due to injury, Dean Wilson made a solid effort to establish himself back into racing this year. Wilson put himself into the eighth-place position off the start in Moto 1, but a crash on lap three caused him to drop back a few positions early on. He charged his way through the pack to ultimately finish ninth. In Moto 2, Wilson rounded lap one in eighth and he battled through the final race of the season to ultimately finish seventh in the race and seventh overall for the day.
"Today was a good effort for me," Wilson said. "Both races I pushed to the checkered and tried my best. This a track that I struggle with, so to end the season on that note, it's okay for me. I'm healthy and looking forward to 2020."
250MX
Team rider Michael Mosiman had a solid finish to the season with fifth overall on the day. In Moto 1, he got off to a seventh-place start but he battled hard in the early laps to reach the top-five about four laps in. From there, he worked hard to maintain a top-five position through the finish. In Moto 2, he started off in seventh-place and quickly worked his way up to sixth on lap two. With five laps to go, Mosiman powered his way into fifth, where he carried that position to the finish. With a total of three moto-podiums and five top-five's, Mosiman will secure eighth overall in the 250MX Championship.
"It was a good season for me overall," Mosiman said. "Today, it was a really solid day. I started out P1 in the first qualifying session and I felt really good all day. I'm stoked with how far we've come and where we've ended up this season and I hope to carry it into next year."
Meanwhile, Jordan Bailey started off in 21st in Moto 1 but he quickly climbed his way up to 15th before the halfway point. He continued to push his way to ultimately finish 13th in the first moto. In Moto 2, Bailey began just outside the top-10 and he quickly put himself in the 10th place position on lap two. He ran into an issue that would ultimately drop him back to finish 15th in the second moto and 14th overall for the day.
"The day started off well, I qualified fifth in the first session and 10th overall on the day. The first moto, I got a really bad start and came back to 13th. In the second moto, I got a so-so start, got up to 10th and hit a wall and got passed by a few guys and ended up 15th, which isn't ideal but we made it through the entire season healthy so I look forward to whatever is next."
It was another tough day for Thomas Covington, who continues to heal from an illness that kept him on the sidelines a lot this season. Covington ultimately finished just outside the top-20 overall with moto scores of 21-20 on the day.
"It was obviously not a great weekend in the big picture but there are a lot of positives to take from it," Covington said. "I'm just kind of building myself back up and I stayed pushing through both motos until the end, so I'm happy I was able to do that physically."
Ironman National Results
450MX Results
1. Eli Tomac (3-1)
2. Marvin Musquin (2-3)
3. Zach Osborne – Rockstar Energy Husqvarna Factory Racing (5-2)
…
6. Jason Anderson – Rockstar Energy Husqvarna Factory Racing (6-5)
7. Dean Wilson – Rockstar Energy Husqvarna Factory Racing (9-7)
250MX Results
1. Dylan Ferrandis (1-1)
2. Justin Cooper (3-2)
3. Adam Cianciarulo (2-4)
…
5. Michael Mosiman – Rockstar Energy Husqvarna Factory Racing (5-5)
14. Jordan Bailey – Rockstar Energy Husqvarna Factory Racing (13-15)
23. Thomas Covington – Rockstar Energy Husqvarna Factory Racing (21-20)
450MX Rider Point Standings
1. Eli Tomac – 521 points
2. Ken Roczen – 463 points
3. Marvin Musquin – 451 points
4. Jason Anderson – Rockstar Energy Husqvarna Factory Racing – 407 points
5. Zach Osborne – Rockstar Energy Husqvarna Factory Racing – 403 points
250MX Rider Point Standings
1. Adam Cianciarulo – 519 points
2. Dylan Ferrandis – 499 points
3. Justin Cooper – 461 points
…
8. Michael Mosiman – Rockstar Energy Husqvarna Factory Racing – 290 points
15. Jordan Bailey – Rockstar Energy Husqvarna Factory Racing – 119 points