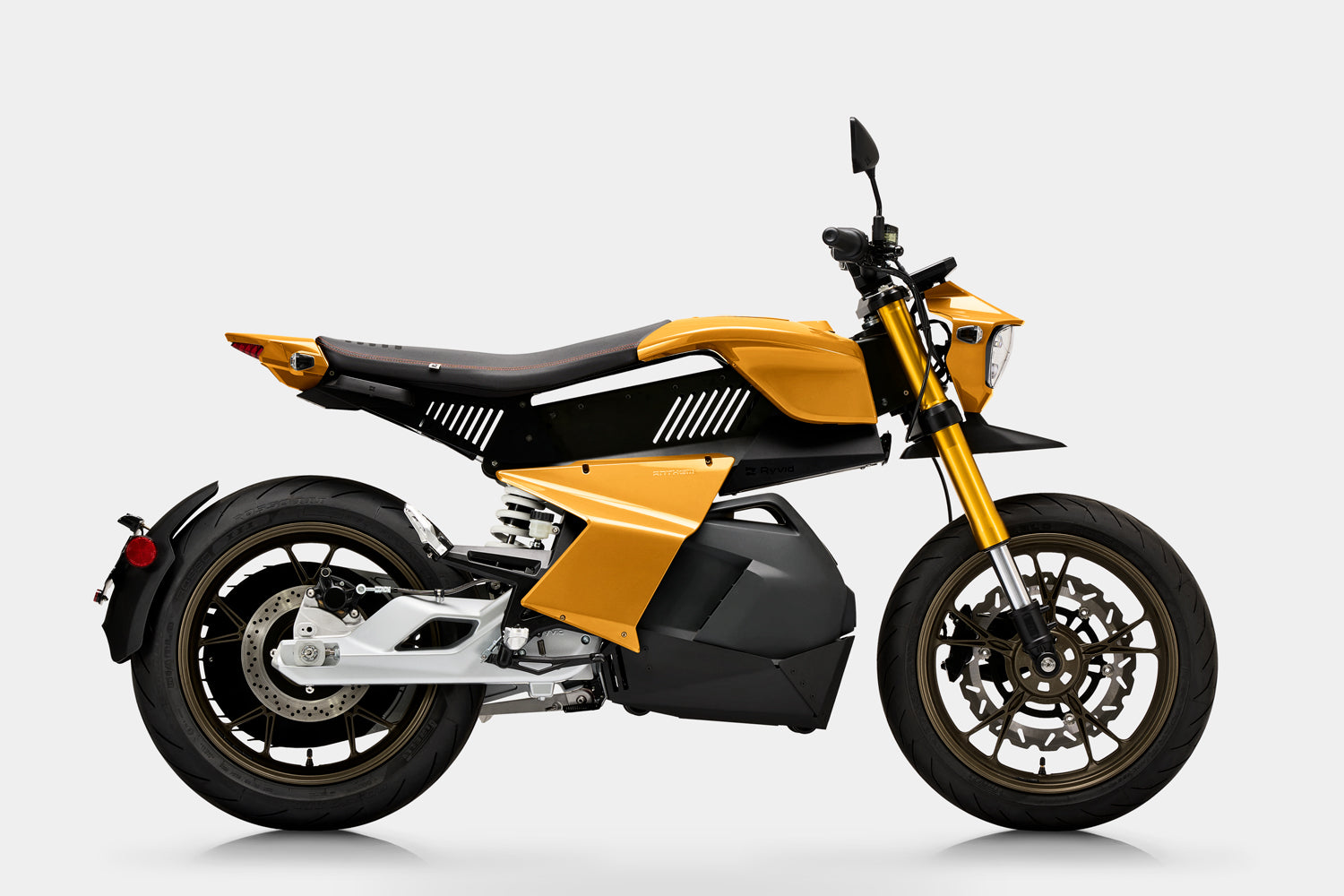 Next stops include Barber Vintage Festival, Electrify Expo Miami and Micromobility America. Riders are invited to test the Ryvid Anthem at each stop
Ryvid – the electric mobility company on a mission to produce more efficient, lightweight, eco-friendly vehicles – will be inviting motorcycle riders and media to join them at three exciting events in October. Guests can throw a leg over the company's first product, the Anthem; a lightweight two-wheel EV for commuters and adventure-seekers alike.
Designed, developed, tested and assembled in California within approximately one year, initial deliveries to the first customers began earlier this month. The Anthem's accelerated program is in part thanks to a generous funding grant that has also allowed the company to create its Hawaiian Gardens headquarters and San Bernardino manufacturing facility.
Company co-founder, automotive designer and engineer Dong Tran explained, "Making sure Ryvid will be sustainable included everything from materials to assembly and finances. While the grant we received was a generous sum, the amount was relatively modest in terms of large-scale manufacturing. The money we requested was intended to cover production and get Ryvid to a place where we would be profitable and independent, without relying on future investments."
Capable of speeds in excess of 75mph, riders require a motorcycle license to operate the Ryvid Anthem, but the power delivery and riding position will be very familiar to many existing e-bike riders. Using motorcycle brake positions and a twist throttle, existing motorcyclists will also be familiar with the Anthem, while all will appreciate the addition of the electrically adjustable seat height and selectable reverse gear – two innovative features that set the Anthem apart.
Adjustable via a rocker switch located on the handlebar, the seat can quickly be raised or lowered from 30-34". The feature overcomes one of the most common barriers to motorcycle ownership, where tall machines can intimidate shorter or inexperienced riders. It also means couples and families can share their Anthems, quickly adapting the seat height to suit the occupant.
With a simple starting procedure, bright 4.9" TFT display and easy-to-select Eco or Sport riding modes, the Ryvid Anthem is an eager companion for running errands or hitting the highway. And to ensure the rider is in full control, it's equipped with high-performance, all-season Pirelli Diablo Rosso IV tires, high-spec suspension, and powerful brakes.
"Riding the Anthem is a personal experience, with a level of customization that translates to a feeling that the bike was built just for you," Tran said. "We are a mobile sports company and are thrilled to deliver a product that will hugely impact accessibility to electric micro-mobility by introducing the Anthem to a market we know is ready for it."
RYVID ON TOUR
The Ryvid Experiential Team will be setting up camp at three diverse, leading mobility shows through October. The tour kicks off at the Barber Vintage Festival on October 6-8 at Barber Motorsports Park in Birmingham, AL (barbermuseum.org/barber-vintage-festival).
The Vintage Festival offers a packed weekend of action, including a wall of death and globe of death to entertain you in the Fan Zone, as well as the Concours de Competition where vintage bikes will compete on-track and become exhibits in the annual competition. There will also be a giant swap meet and access to the legendary Barber Vintage Motorsports Museum.
High among the exciting attractions will be Ryvid on the Proving Grounds. The demo lot will incorporate a number of leading manufacturers providing the latest products for visitors to ride. Registration for Demo Rides will begin at 8am each day, Friday-Sunday, giving attendees plenty of opportunities to sample the unique qualities of the Ryvid Anthem. Every rider will be gifted a bandana, and helmets will be available to anybody without.
The second stop is at Electrify Expo Miami on October 14-15 at Miami Dade Fairgrounds (electrifyexpo.com/miami). As the leading festival for every form of electric transportation, Electrify Expo provides visitors the opportunity to sample the latest electric cars and SUVs plus skateboards, scooters, bicycles, motorcycles and more. There's also the Thrill Zone with a 1400hp Ford Mach-E demo, vendor area, kid's zone and a riding area. Again, the Ryvid Anthem will be available for test rides by qualified riders. Helmets will also be available, as required, and a complimentary bandana provided to each demo participant.
With Florida offering spectacular weather for riding, the Anthem EV is the ideal way to deal with traffic, parking and commuting at a price little higher than top-of-the-range e-bikes and significantly cheaper than the majority of full-size motorcycles.
The October Ryvid Anthem Tour concludes at Micromobility America on October 19-20 at Craneway Pavilion in Richmond, CA (micromobility.io). As the world's largest conference for small vehicles and micro-mobility, the San Francisco event includes a trade show, panel discussions and more. Attending media will be able to discover and ride the Ryvid Anthem on Thursday 19th, while Ride Expo @ Micromobility America is open to the public on Friday 20th. Visitors will be able to demo the latest scooters, bikes, bicycles and, most importantly, the Ryvid Anthem e-motorcycle on a street course. Candidates must hold a valid license. Helmets will be available.
"We're thrilled to confirm the Ryvid team will embark on a national tour in October, conducting demonstrations in three time zones. Our journey will commence in the east, specifically Birmingham, Alabama at The Barber Vintage Festival. We then proceed to Miami, Florida for Electrify Expo before returning to San Francisco, California to collaborate with Micromobility America. These three partnerships with diverse events in different states perfectly align with Ryvid goals and the Anthem's capabilities," Tran said.
RYVID ANTHEM SPECS
Power System: 72V air-cooled brushless, DC motor, 4.3 kWh Lithium-Ion battery, removable, integrated 3.3kW charger
Peak Torque: 53 ft-lb, 250 ft-lb at wheel with 4.7:1 gear ratio
Drivetrain: clutchless Direct Drive transmission, 117T/25T Poly Chain and HTD carbon belt with 4.7:1 final drive, selectable reverse gear limited to 5mph
Charging time: 110V – 0-80% in 2.3hr, 0-100% in 3.25hr. 220V or Level 2 adapter – 0-80% in 1.3hr, 0-100% in 1.85hr
Range: 75+ miles (Eco Mode), 50+ miles (Sport Mode, without Regenerative Braking)
Speed: 75+ mph
Frame: lightweight, folded stainless steel, 12 lb, individually numbered
Tires: Pirelli Diablo Rosso IV tires
Brakes: four piston front caliper with 320mm rotor, twin-piston rear with 240mm rotor
Suspension: Inverted, adjustable front forks, preload adjustable rear damper
Weight: 313 lb with battery
Carrying capacity: 330 lb
Wheelbase: 52"
Rake & Trail: 26 degrees, 6"
Seat height: Electrically adjustable from 30-34"
Rider display: 4.9" TFT display
Price: $8,995
Colorways: Galactica Black, Rapid White, Carbon Grey, Atomic Gold
ABOUT RYVID
Ryvid is a cutting-edge electric vehicle (EV) manufacturing corporation in the new, high-growth field of electric Mobile Sports. Founded by enthusiasts, engineered by innovators, and designed by aerospace industry gearheads, Ryvid was formed by a mission to enable more sustainable and enjoyable personal mobility. The company name was derived by the merging of rhythm and avid, elements of motion and emotion that define the experience of using our products. Ryvid's first product is the Ryvid Anthem, an electric motorcycle that is a revolutionary vehicle with much lighter frames and a lower carbon footprint for production than any of its competition. The innovative aero-spaced electric vehicle is poised to revolutionize urban commuting for the next generation. Ryvid products are designed and assembled in the United States.
The Ryvid Anthem is available to reserve for 2024 delivery at $8,995