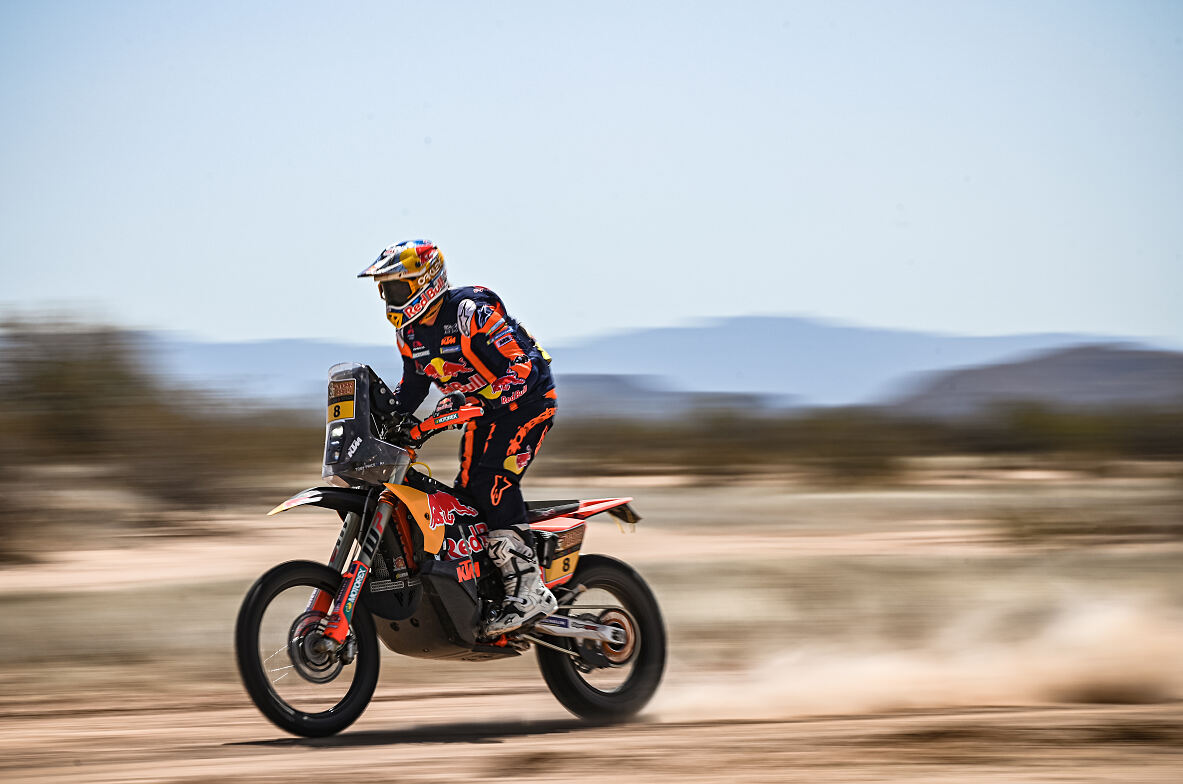 Red Bull KTM Factory Racing's Toby Price has fought back from his day one disappointment to place fourth fastest on today's stage two of the Sonora Rally. Well in contention for the stage win, Price finished just one minute behind the day's winner, but dropped to fourth, three minutes back after time bonuses were applied. Kevin Benavides and Matthias Walkner also delivered excellent rides over the Mexican terrain to finish the special in seventh and 10th respectively.
Shortened to just 162 kilometers and delayed for an hour due to safety reasons, stage two of the 2023 Sonora Rally still posed a sizeable challenge to all competitors. Featuring fast, broken tracks and a section of dunes on the way to Puerto Peñasco, the stage was as beautiful as it was demanding.
After a navigational mistake cost him dearly on the opening day, Toby Price knew he had to push hard to stay in contention on day two. Second quickest on time for much of the stage, Toby lost out slightly when the time bonuses were awarded to the top three riders who had opened the stage. Despite that, Price placed fourth, just under three minutes behind the provisional leader and now sits ninth overall in the provisional standings with three days left to race.
Toby Price: "It was a good stage, I'm pleased with my speed out there, it was just all really fast with little in the way of navigation. Not the best stage to start behind and try and make up time, but I gave it my all and I'm pleased to make the finish safe and in one piece. We'll see what tomorrow brings." 
Continuing to settle back into the pace of rally-raid while taking extra care not to make any mistakes, Kevin Benavides completed stage two as seventh fastest, a further two minutes behind Price. Pleased with how he rode the stage and happy with his performance on his return from injury, Kevin now looks forward to stage three as he aims for a solid and safe finish to the event.
Kevin Benavides: "The stage was shortened today – they cut the second part. But the beginning of the special was really fast with a lot of dangers, too. There were a couple of crashes in that early section, but thankfully the riders are ok. Because of that, I was careful to make sure I got through ok. After that, the stage was a little more technical, which I enjoyed a lot and felt a lot more comfortable pushing. I did a good job and placed seventh for today, which is a strong result for me right now as I'm taking extra care. I'll keep focused and look forward to the next few days."
Fourth into the stage following on from his impressive result on day one, Matthias Walkner once again delivered an excellent ride, which saw him lie just three minutes behind the leader at kilometre 134. Completing today's special in 10th, less than six minutes from the winner, Matthias will be looking to chase down his rivals tomorrow on the long, third stage of the race.
Matthias Walkner: "It was a super-nice stage – I really enjoyed the landscape. For a lot of the stage it was like a slalom, steering in and out of the cactuses. I gave my best today, but this kind of terrain doesn't suit me so much. I struggled a bit with my rhythm early on, so I didn't push too hard and risk a crash. In the end, I didn't lose too much time and I'm happy with my riding. Hopefully tomorrow's stage isn't shortened and we get a good long day."
Provisional Results – 2023 Sonora Rally, Stage 2
1. Daniel Sanders (AUS), GASGAS, 1:28:08
2. Tosha Schareina (ESP), Honda, 1:29:23 +1:15
3. Ricky Brabec (USA), Honda, 1:30:26 +2:18
4. Toby Price (AUS), KTM, 1:31:07 +2:59
5. Ross Branch (BWA), Hero, 1:32:18 +4:10
Other KTM
7. Kevin Benavides (ARG), KTM, 1:33:01 +4:53
10. Matthias Walkner (AUT), KTM, 1:33:49 +5:41
Provisional Standings – 2023 Sonora Rally (after 2 of 5 stages)
1. Daniel Sanders (AUS), GASGAS, 3:46:59
2. Tosha Schareina (ESP), Honda, 3:47:20 +0:21
3. Ricky Brabec (USA), Honda, 3:51:15 +4:16
4. Pablo Quintanilla (CHI), Honda, 3:51:55 +4:56
5. Luciano Benavides (ARG), Husqvarna, 3:53:48 +6:49
Other KTM
6. Matthias Walkner (AUT), KTM, 3:54:04 +7:05
9. Toby Price (AUS), KTM, 3:56:01 +9:02
10. Kevin Benavides (ARG), KTM, 3:56:43 +9:44