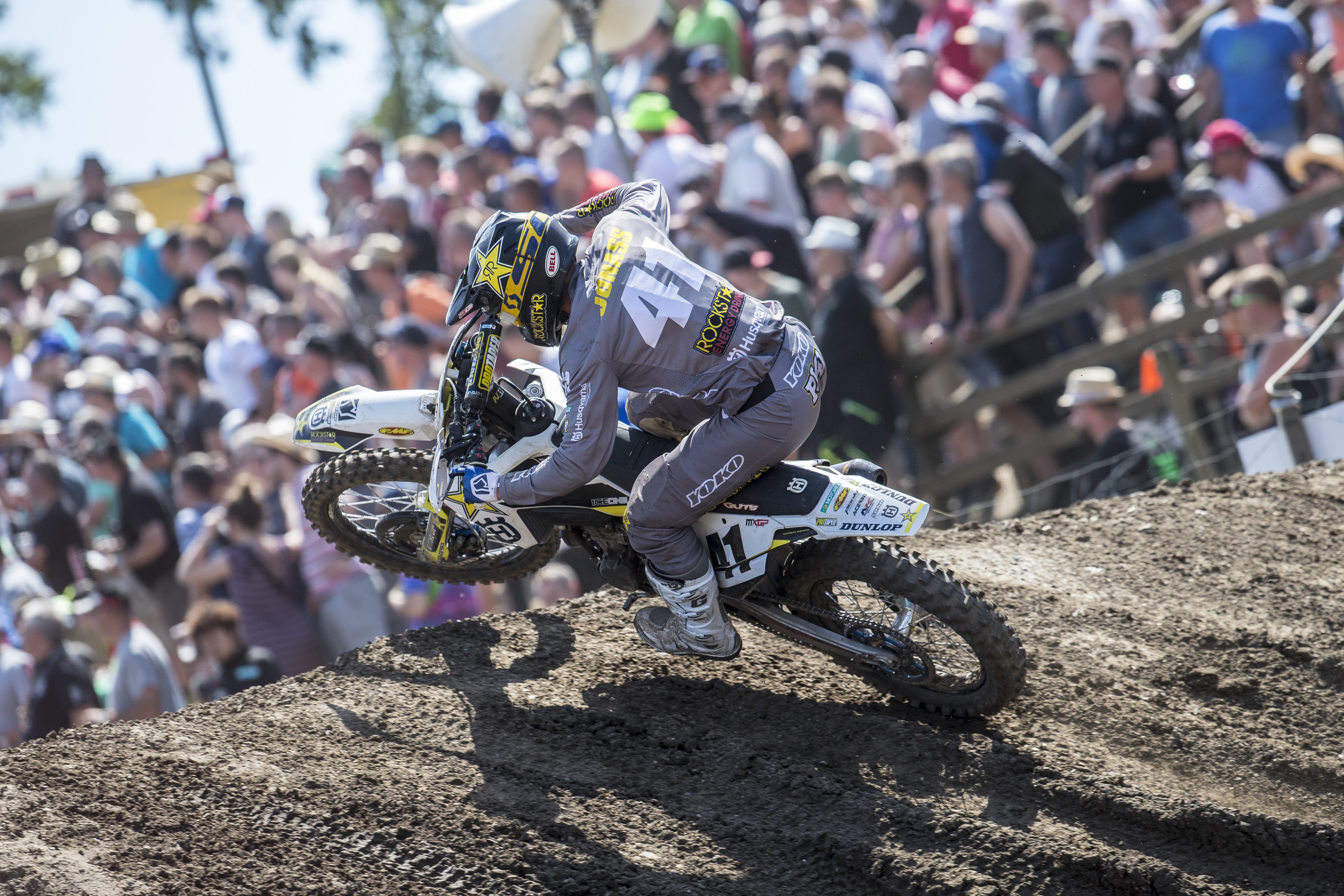 SOLID PERFORMANCES FROM ROCKSTAR ENERGY HUSQVARNA FACTORY RACING'S MX2 AND MXGP RIDERS AS JONASS AGONISINGLY MISSES THE PODIUM BY A SINGLE POINT
Successfully completing round 10 of the 2019 FIM Motocross World Championship, Rockstar Energy Husqvarna Factory Racing's Thomas Kjer Olsen and Pauls Jonass have both earned fourth place overall results in their respective MX2 and MXGP classes. With Kjer Olsen securing 4/4 results at the GP of Germany, Jonass overcame a challenging opening moto to finish a strong second in the final MXGP race, missing the overall podium by just one point.
In placing second in the day's final MXGP race Jonass very much put a frustrating opening moto performance behind him having struggled with arm pump following a good start. Pushing hard around the fast and rutted track, Jonass looked poised to battle for a top-five result. But in struggling to find his rhythm, and subsequently suffering with arm pump, he dropped from seventh on lap one to 12th on lap seven before upping his speed and improving to an eventual 10th.
MXGP race two saw Jonass deliver a mistake-free ride from the drop of the gate to the chequered flag. Holding a tight line around the first turn he slotted into second, following race leader Tim Gajser closely for much of the opening lap. Fast from the off the former MX2 World Champion opened up a gap over the third-placed rider and completed the 18-lap race in second.
The GP of Germany didn't go as Jonass' teammate Arminas Jasikonis hoped it would. Feeing good throughout Saturday's qualifying, in hitting the start gate in moto one and falling in the third turn he was forced to charge hard throughout the race and eventually finished 12th. The second race ended with a better result of seventh, with the tall FC 450 rider placing 10th overall.
Ending the Grand Prix tied on points with third-placed rider Mathys Boisrame, Thomas Kjer Olsen finished fourth overall in MX2 following fourth place results in both motos. A little slow to get into the opening race, TKO pushed hard but frustratingly was unable to break inside the top three. Race two started well but a mistake saw him crash and drop to sixth. Working his way back to fourth he matched his first moto result to leave the GP of Germany second in the MX2 championship standings.
Jed Beaton enjoyed positive results at round 10 of the FIM Motocross World Championship, rounding out the day with 6/5 performances. Continuing to improve, the Australian saw his first moto result effected by a fall. In moto two he briefly battled with teammate TKO before finishing a well-deserved fifth.
In the 125cc European Motocross Championship, Kay de Wolf finished 11th overall. Placing one lap down on the leaders in the opening race he then improved to place sixth in moto two.
The Rockstar Energy Husqvarna Factory Racing team will next be in action at round 11 of the FIM Motocross World Championship, the MXGP of Indonesia, on July 7.
Thomas Kjer Olsen: "Fourth isn't what I wanted from this weekend, but it's not too bad. In the first moto today, I got a good jump but I don't know exactly how I lost some places in the first few corners. I just didn't feel great and wasn't able to push like I wanted. I was slow getting into the race, so fourth was the best I could do. I was really ready to give my all in the second race, and things were going well before I fell. I lost my balance a little and bounced across some ruts and clipped a hay bail. I'll take a breather now and prepare for the upcoming fly-away races. I feel like the first half of the series has gone really quickly and I'm looking forward to the second half now. I've been starting well recently, so I'm feeling positive for the races ahead."
Jed Beaton: "I'm really happy with the way things have gone this weekend. To get sixth overall is another very important step forwards. I felt like both races were pretty similar really, just with a fall in the first moto that cost me some places. I didn't get the best of jumps from the start in either race, but I held a tight line around the first turn and made up some places. That put me around 10th and I just pushed hard from there. Falling in the first race cost me some places but overall I was pleased with my riding. Fifth in the second race was good – it's been a while since I've been racing with the guys near the front so it's just good to be back racing there. It's a really positive way to the end the GP. To be hitting some good form mid-way through the season is great. I'm looking forward to the overseas races now, and hope I can build on today's results."
Pauls Jonass: "I'm super pleased to finish as runner-up in the second moto, but also a little disappointed for myself and the team that I missed third overall by just one point. It was two very different motos for me this weekend. The first race was tough because I got arm pump. I'm not sure if I pushed too hard after a decent start, but I lost my rhythm and went backwards for most of the race to finish 10th. My speed was good during the last 10 minutes, but it was too late then. The second moto was great, really important for me to show I have the speed to be up front for a full race. I followed Gajser for a while and managed to pull a gap over third and then just stayed consistent and stayed there all race. One point from the podium is frustrating but the result is really important ahead of the fly-away races that are coming up next."
Arminas Jasikonis: "It's bee another frustrating race day where I haven't managed to show my qualifying speed. The rider next to me moved at the start in the first race and I went too early and hit the gate. Then I crashed in the third turn, so I was dead last. I pushed hard to come back to 12th, but it wasn't where I wanted to be at all. The second race was better but again not what we were hoping for. I'll re-group now and prepare for Indonesia."
Download high-res images from the MXGP of Germany here.
Results – 2019 FIM Motocross World Championship, Round 10
MXGP – Overall
1. Tim Gajser (Honda) 50 points; 2. Arnaud Tonus (Yamaha) 42; 3. Gautier Paulin (Yamaha) 34; 4. Pauls Jonass (Husqvarna) 33… 10. Arminas Jasikonis (Husqvarna) 23… 15. Tanel Leok (Husqvarna) 10…
MXGP – Race 1
1. Tim Gajser (Honda) 34:25.465 18 laps; 2. Arnaud Tonus (Yamaha) 34:31.310; 3. Jeremy Seewer (Yamaha) 34:32.354… 10. Pauls Jonass (Husqvarna) 34:59.817… 12. Arminas Jasikonis (Husqvarna) 35:11.987… 16. Tanel Leok (Husqvarna) 35:31.073… 22. Klemen Gercar (Husqvarna) 34:28.589 17 laps
MXGP – Race 2
1. Tim Gajser (Honda) 34:20.466 18 laps; 2. Pauls Jonass (Husqvarna) 34:27.559; 3. Arnaud Tonus (Yamaha) 34:31.005… 7. Arminas Jasikonis (Husqvarna) 34:40.537… 16. Tanel Leok (Husqvarna) 35:28.087… 28. Klemen Gercar (Husqvarna) 36:02.337 17 laps…
MX2 – Overall
1. Jorge Prado (KTM) 50 points; 2. Tom Vialle (KTM) 42; 3. Mathys Boisrame (Honda) 36; 4. Thomas Kjer Olsen (Husqvarna) 36… 6. Jed Beaton (Husqvarna) 31… 13. Dylan Walsh (Husqvarna) 14… 18. Alvin Ostlund (Husqvarna) 6…
MX2 – Race 1
1. Jorge Prado (KTM) 35:01.812 18 laps; 2. Tom Vialle (KTM) 35:13.426; 3. Henry Jacobi (Kawasaki) 35:21.280; 4. Thomas Kjer Olsen (Husqvarna) 35:24.005… 6. Jed Beaton (Husqvarna) 35:27.839… 14. Dylan Walsh (Husqvarna) 36:14.342; 15. Alvin Ostlund (Husqvarna) 36:15.089…
MX2 – Race 2
1. Jorge Prado (KTM) 35:00.126 18 laps; 2. Mathys Boisrame (Honda) 35:14.481; 3. Tom Vialle (KTM) 35:16.957; 4. Thomas Kjer Olsen (Husqvarna) 35:18.167; 5. Jed Beaton (Husqvarna) 35:20.858… 14. Dylan Walsh (Husqvarna) 36:02.498… 21. Cyril Genot (Husqvarna) 36:38.923; 22. Enzo Toriani (Husqvarna) 36:42.016… 25. Alvin Ostlund (Husqvarna) 35:02.486 17 laps…
Championship Standings – After Round 9
MXGP
1. Tim Gajser (Honda) 441 points; 2. Antonio Cairoli (KTM) 358; 3. Jeremy Seewer (Yamaha) 289… 6. Arminas Jasikonis (Husqvarna) 249… 9. Pauls Jonass (Husqvarna) 219… 19. Tanel Leok (Husqvarna) 92…
MX2
1. Jorge Prado (KTM) 447 points; 2. Thomas Kjer Olsen (Husqvarna) 403; 3. Jago Geerts (Yamaha) 313… 11. Jed Beaton (Husqvarna) 160… 13. Davy Pootjes (Husqvarna) 157… 16. Alvin Ostlund (Husqvarna) 104; 17. Dylan Walsh (Husqvarna) 95…