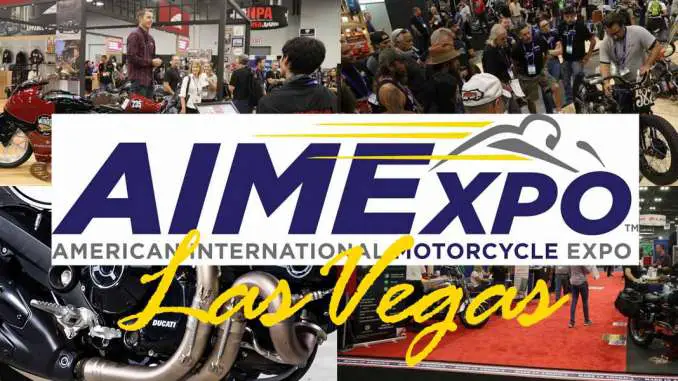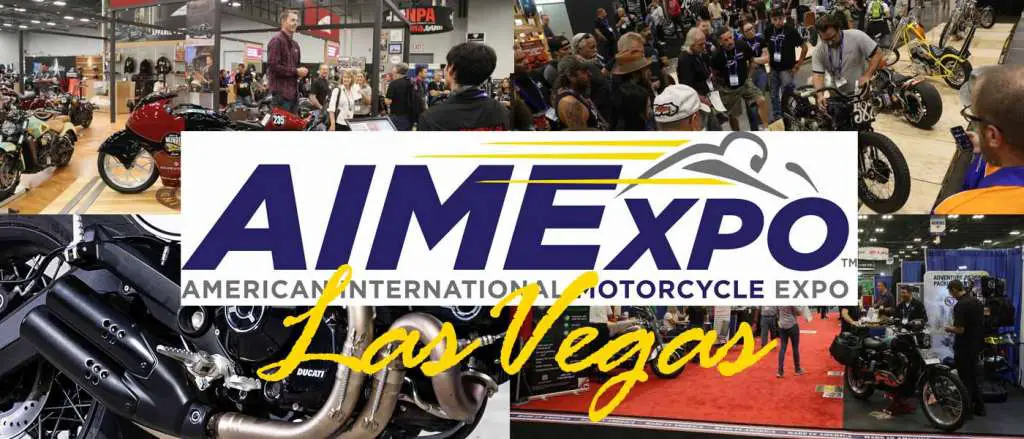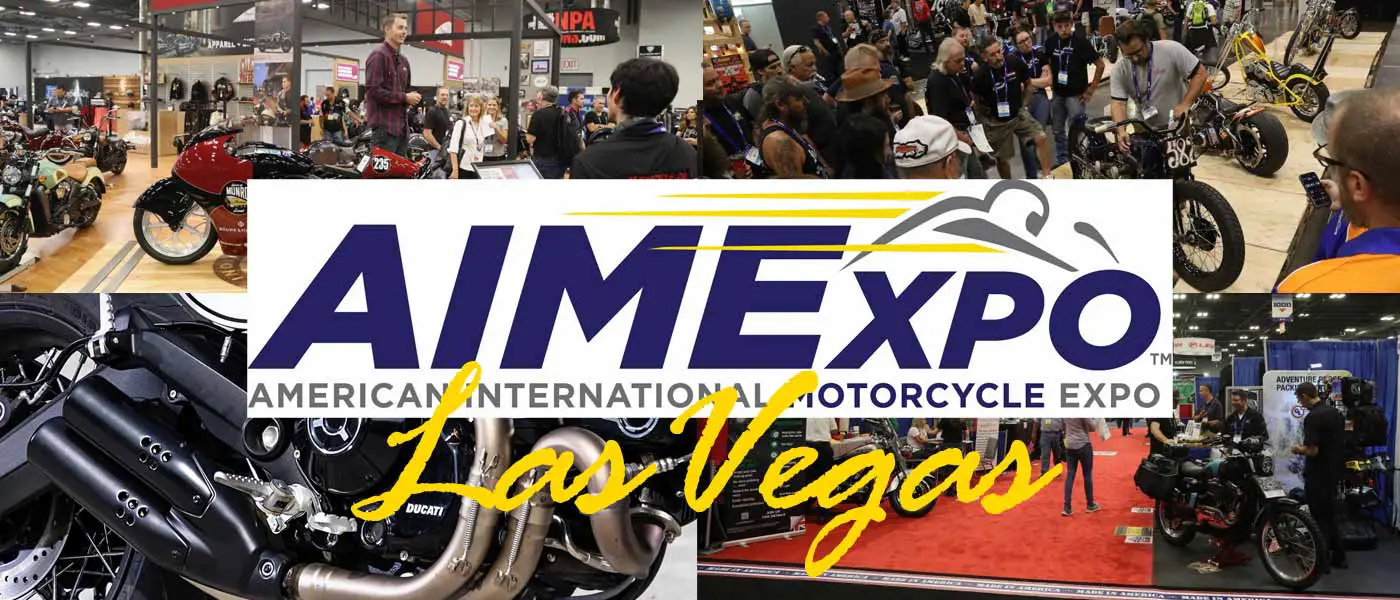 Total Motorcycle is sending two of our review staff to cover the first motorcycle show of the year in Vegas by AIMExpo! They will be reporting back on new 2019 models, inside information, show exhibits and more!  It's the most wonderful time of the year; with the 2018/2019 Motorcycle Shows starting and everyone telling you should be here; It's the hap-happiest season of all…
So stick with Total Motorcycle and our two lucky review staff (Eric Leaverton and Carrie Leaverton) who are going down to Vegas this weekend to cover the show for you all. If you happen to be at the show, the will be wearing TMW press badges and TMW T-shirts so feel free to say HI to them if you see them.
With 400,000 square foot dedicated outdoor demo space is one of the many exclusive features that makes AIMExpo presented by Nationwide North America's premier powersports trade show, and this year's event will be highlighted by the presence of eight manufacturers at AIMExpo Outdoors! Returning participants Harley-Davidson, Honda, Indian, Kawasaki, and Yamaha will each bring a fleet of their latest road-going models.

Total Motorcycle to Cover AIMExpo Vegas this Weekend – About AIMExpo:
AIMExpo Outdoors! to Feature Eight Manufacturers and Unique Array of Vehicles for 2018
Polaris Slingshot, SSR Motorsports / Benelli USA and Vanderhall To Make Outdoors Debuts
Only a few weeks remain until the sixth edition of the American International Motorcycle Expo presented by Nationwide (AIMExpo) makes its debut at the Mandalay Bay Convention Center in fabulous Las Vegas, October 11-14. While more than 500 exhibitors will fill the showfloor with a wide and dynamic range of new products and vehicles, the show's hugely popular experiential element, AIMExpo Outdoors!, will once again be the destination to put many of these new models to the test.
Harley-Davidson, Honda, Indian, Kawasaki, and Yamaha will each bring a fleet of their latest road-going models, ranging from the increasingly popular small 125cc street bikes like the Kawasaki Z125 and the Honda Grom, to legendary cruisers from Harley-Davidson and Indian, as well as high-performance YZF supersport bikes from Yamaha. A trio of manufacturers will also make their AIMExpo Outdoors! debut in Las Vegas, with SSR Motorsports / Benelli USA, Polaris Slingshot, and Vanderhall Motorworks each providing their own distinct demo experience.
"A dedicated space for attendees to fully experience the latest products from exhibiting OEM's is part of the foundation of AIMExpo presented by Nationwide, and each year AIMExpo Outdoors! has grown to include more manufacturers and increasingly unique experiences," said Larry Little, Vice President and General Manager, MIC Events. "The ability to see a brand-new model on the show floor and then have the opportunity to go outside and experience a true test ride provides an unparalleled level of engagement. It's an added benefit for OEM participants to connect with consumers, as well as members of the industry during the exclusive trade days."
Thanks to its economical price structure, SSR Motorsports / Benelli USA has made a name for itself among entry-level riders. The California manufacturer has a diverse lineup of vehicles, including scooters, dual-sport, off-road, street motorcycles, in addition to a side-by-side model, all of which are priced under $5,000. AIMExpo Outdoors! provides an ideal platform to bring increased awareness to SSR's efforts, where new riders will be able to get a first-hand look at this cost-effective lineup.
Vanderhall and Polaris Slingshot are producers of two distinct avenues of autocycles. The three-wheeled lineup from Utah's Vanderhall are hand-crafted vehicles designed in the spirit of the American roadster. They feature a retro design and a refined elegance that enters into a new area of luxury, built from a foundation of exceptional power and performance. Attendees will have one of the first major public opportunities to test drive select Vanderhall models at AIMExpo Outdoors!
The Slingshot stormed onto the powersports scene in 2014 with unbridled levels of power that provide an exhilarating experience, and the buzz it generated remains to this day. Its raw looks and performance helped pave the way for the three-wheel autocycle segment, and while attendees won't have the opportunity to get behind the wheel of a Slingshot, they can experience the thrill ride of a lifetime with the official Slingshot Joyride. Passengers will buckle in alongside a professional driver, who will then showcase the true performance capabilities of the Slingshot on a specially design drift course.
Collectively, hundreds of motorcycles and thousands of attendees will provide a constant stream of traffic and customer engagement over the course of four days at AIMExpo Outdoors! Interested participants are required to have a motorcycle endorsement on their driver's license and can register for a ride directly with each manufacturer on site. Participants are also encouraged to bring a DOT approved helmet, eye protection and gloves. Suggested attire consists of ankle shoes/boots, long sleeve shirts and long sleeve pants. Each individual manufacturer may have its own requirements for riders.
Total Motorcycle to Cover AIMExpo Vegas this Weekend – What To Do In Las Vegas: Epic Rides & 4 Wheel Fun
Usually, when people make a trip to Las Vegas for an event – like the sixth annual American International Motorcycle Expo presented by Nationwide (AIMExpo) – they often think of amazing shows, hanging by the pool and gambling as the top things to do. But for many members of the powersports industry, the thought process is a little different. Adventure is in our blood, so the Las Vegas Strip is better served as the launching pad for adventure, and an invitation to seek out the most scenic parts of Southern Nevada. With its expansive beauty ready to be explored, riding and adventure enthusiasts have several ways to experience the picturesque landscape that surrounds this desert jewel.
For those traveling by plane and looking for a riding experience, EagleRider rentals are offered through Las Vegas Harley-Davidson, which is just a short 10-minute walk from the show floor at Mandalay Bay Convention Center. If you have something other than a Harley-Davidson in mind, EuroCycles also offers additional rental options for your metric preferences.
If four wheels are more your thing, Speed Vegas puts you behind the wheel of a thrilling exotic car you never knew you could have the chance to drive. Speed Vegas is set to host AIMExpo attendees on its own exclusive track with long straights and banked curves to allow for even faster speeds and intense cornering. The unique venue hosts a Cars and Coffee event every Saturday, with AIMExpo sponsoring two events in September leading into Powersports Industry Week in October!
Want to tackle the dirt on four wheels? Just 20 minutes from the strip is Zero1 Desert Adventures where participants get buckled into a Polaris RZR XP 1000 and set off for either a half-day or overnight experience. Traveling with family, friends or colleagues? Zero1 offers a thrilling alternative to explore a different side of Las Vegas for anyone that might not have much experience on two wheels.
Whether you've brought your own ride or decided to rent, there is one event that should definitely be on your radar – the Las Vegas Ride For Kids! We know that the powersports industry is a very charitable industry, and one of the organizations that has benefited greatly from its generosity is the Pediatric Brain Tumor Foundation, which hosts the Ride For Kids events throughout the country. In conjunction with AIMExpo presented by Nationwide, the Las Vegas Ride For Kids event will be hosted on Sunday, October 14, and will culminate at the front doors of the show floor. It's a great event that not only satisfies your need to ride, but also provides much-needed benefits for the kids. We hope to see you there.
Looking to get out on your own adventure? Here's some can't-miss spots just outside The Strip.
Red Rock Canyon
For a short but scenic ride, Red Rock Canyon is located just 15 minutes from Las Vegas and is a popular destination for motorcyclists looking to escape the hustle and bustle of the city. The loop inside the park is about 13 miles, so this ride could be a quick one to satiate a craving for two wheels.
Mt. Charleston
Just over an hour outside the city, riders can make the climb up Mt. Charleston to enjoy great tree-lined views. Once you've ascended to the top, you can enjoy a nice lunch or dinner at the Mt. Charleston Lodge, which features music in the evenings on Friday and Saturday. The ride may be short, but it is immensely beautiful.
Looking for something a little longer? We've got you covered!
Lake Mead State Park/Valley of Fire
For a longer ride full of amazing twists on windy roads paired with beautiful scenery, look no further than the Lake Mead National Recreation Area and the Valley of Fire. The two landscapes are right next to each other and provide an amazing opportunity to see the breathtaking views.
Hoover Dam
In just 40 minutes you could throw out your kickstand and witness one of the greatest marvels of engineering – the Hoover Dam. This is considered a longer trip because we'll assume anyone making the ride out will almost certainly want to take in the various tours of this historic landmark, but it could just as easily be a shorter excursion to simply enjoy the great views of the landscape that surrounds this immense piece of history.
This is just a sampling of the exhilarating two and four-wheel adventures that can be enjoyed during your time in town for AIMExpo presented by Nationwide.
With perfect weather on tap for October, don't miss out on a great opportunity to see what lies beyond the Las Vegas Strip.
Total Motorcycle to Cover AIMExpo Vegas this Weekend – What To Do In Las Vegas: Stay and Play at Mandalay Bay
The American International Motorcycle Expo presented by Nationwide will bring North America's premier powersports trade show to the entertainment capital of Las Vegas this October, for what is scheduled to be the ultimate week-long celebration of motorcycling. The already bustling city will be filled with enthusiasts from around the country, taking in the sights and sounds of Powersports Industry Week℠, which includes Las Vegas BikeFest, the Monster Energy Cup, and of course, AIMExpo presented by Nationwide.
In addition to the myriad of motorcycling festivities taking place during Powersports Industry Week℠, Las Vegas is the setting for what is hands down the most dynamic collection of activities, entertainment, and dining options on the planet. "What to Do in Las Vegas" is AIMExpo's chance to put the spotlight on some of the experiences that cater to the interest of the powersports audience.
While Las Vegas' infamous Strip is loaded with an array of options to satisfy the interest of any visitor, AIMExpo presented by Nationwide's host hotel has something for every attendee. From the finest dining establishments on the planet to unique social experiences, Mandalay Bay has some of the best the city has to offer, without ever having to deal with the hustle and bustle of Las Vegas Boulevard.
Enjoy World Class Food
The range of dining options in Las Vegas is arguably the most dynamic in the world, and the sheer volume of restaurants alone is enough to satisfy any craving. However, AIMExpo presented by Nationwide attendees don't need to look any further than our home base to find a collection of incredible dining experiences.
For more of a casual and social atmosphere, both Libertine Social and RX Boiler Room are stellar options. At Libertine Social, James Beard Award-winning chef Shawn McClain provides a unique dining experience at this next-generation gastropub that features senses-stimulating New American bar food and a pioneering cocktail program. RX Boiler Room is helmed by celebrity chef Rick Moonen (Top Chef Masters) and showcases a spin on classic comfort food that is an ideal shared dining experience. It also boasts a comprehensive drink menu with the finest spirits and innovative libations.
Very few chefs have the kind of global notoriety enjoyed by Wolfgang Puck, and while his many endeavors are well known, Mandalay Bay is home to his first Italian restaurant – Lupo. Leaving lasting memories with diners for nearly 20 years, Lupo specializes in tableside service where guests can watch culinary creations come to life. For two decades it has remained the preeminent Italian restaurant in Las Vegas.
One can never go wrong with something as simple as a nice steak, and STRIPSTEAK by acclaimed chef Michael Mina could very well be Las Vegas' best option. Considered to have the best steak in the United States, STRIPSTEAK provides guests with the perfect filet in a modern alternative to the traditional steakhouse setting. The restaurant features a can't-miss A5 Japanese Wagyu and a selection of 100 single malt scotches.
Be Entertained
At Nashville Unplugged, attendees will get the story behind the song as hosts Aaron Benward, an acclaimed songwriter, and Travis Howard, an actor and songwriter for Miranda Lambert, welcome special guests every Friday night to the Rhythm & Riffs stage located in the heart of Mandalay Bay's casino. This showcase is the longest-running songwriter series outside of Nashville and has become a go-to for country music lovers in search of an intimate, all-acoustic experience.
The concept of "chilling out" takes on a whole new meaning at Minus5 Ice Bar, which offers a sub-zero experience inside a winter wonderland filled with over 90 tons of interactive ice sculptures and ice cold cocktails. After the experience, attendees can warm up in the Ice Lounge, filled with TVs, billiards, ping pong, foosball, and more.
Guests in search of a good old-fashioned pint need to look no further than Ri Ra Irish Pub. A meticulously restored true Irish pub was shipped straight to Vegas and epitomizes the pub experience with its friendly neighborhood atmosphere. While food and drink options are ample, Ri Ra makes an extra effort to provide live entertainment seven nights a week, including several visiting bands direct from Ireland.
Over at the adjacent Delano tower, guests can get a breathtaking, panoramic view of The Strip at Skyfall Lounge. Considered to be a multi-sensory experience with the view, dramatic interior, chill out sounds, and a high-quality selection of creative plates and artisan cocktails, Skyfall offers a unique escape from the noise of the city.
Ample Amenities
It's no secret that it can get hot in the desert, so why not enjoy the world famous Mandalay Bay Beach? Voted by TripAdvisor as one of the best pools in the country, this aquatic playground features 2,700 tons of sand and 1.6 million gallon wave pool. As with any Las Vegas pool, there is an abundance of rentable cabanas, day beds, bungalows, and personalized villas for anyone looking to enhance their experience.
The Shark Reef Aquarium is one of Mandalay Bay's standout attractions and one of the many things that separates the host hotel from the rest of the city. Guests can see more than 2,000 animals, including sharks, giant rays, endangered green sea turtles, piranha, and even a Komodo dragon. Young visitors can take advantage of the opportunity to feed some of these animals at the Animal Encounters program, while those feeling a little more adventurous can dive in alongside one of the highest concentrations of exotic sharks in the world.