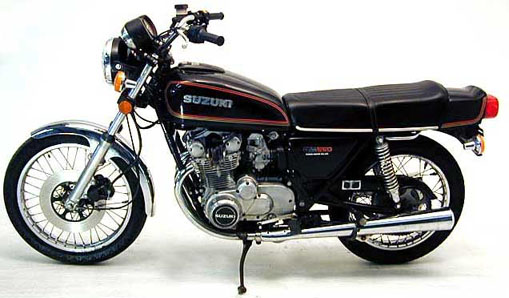 "Shitsickle"
SUZUKI GS550
1977-85, 549cc DOHC four,
54hp, 110mph, 50mpg, 450lb
"The GS550, in particular, being overbuilt, almost indestructible and often lasting for more than a 100,000 miles.. " – UMG
1978 Suzuki GS550C
The Suzuki GS550 seems to be quite a classic motorcycle in the business. The rock solid engine just keep going longer and harder than even Suzuki even intended.
Finished (YAY)
Total Parts List: (items in brackets are an estimate)
1.) "New" (90% tread life) front tire (mechanic)
2.) Front tire balance & alignment (mechanic)
3.) Replace, check and tighten spokes on front rim (mechanic)
4.) Leather recover and refoam seat (professional job)
5.) Replace Tail light
6.) Replace front break lever, battery cables, fuse holder, throttle cable
7.) 4 new sparkplugs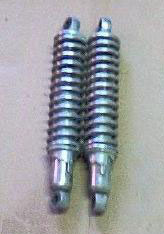 8.) Replace rear tail light bulb
9.) Replace speedo cable (x2)
10.) New front break pads
11.) Replace front sport
12.) Replace Rear sport (2 extras)
13.) Replace chain guard
14.) Replace tank badges
15.) Restore original paint
16.) Replace Clutch cable
17.) Replace flash modulator
18.) Repaint frame
19.) Used "new looking" shocks
20.) Replace 4 footpegs with NOS
21.) Replace gear shift lever
22.) Replace both mirrors
23.) New battery
24.) Carburetor cleaned, sync'd and adjusted (mechanic)
25.) Check and adjust Valves (mechanic)
26.) Replace headlight
27.) Replace 4 sparkplug caps
28.) Replace speedometer
29.) Replace stock air filter with a K&N Performance air filter
30.) Complete oil and filter change x2
31.) Replace throttle cable
32.) Replace bottom end gasket
33.) New valve cover gasket
34.) New clutch push rod oil O-ring
35.) Replace front brake lever
36.) Replace battery holder
37.) Replace battery leeds and grounds
38.) Rebuild starter
39.) Custom paint job on starter cover, rotor, airbox
40.) Replace 2 handgrips
41.) Cut 2 new backup keys
42.) Purchased Claymer and Hayes GS550 manuals
43.) Replace oil cover nuts (x3)
44.) Replace front fender
45.) Replace stock exhaust with Performance 4-into-1 exhaust pipes
46.) Repaint/touchup front fork tree
47.) Restore aluminum engine casings.
48.) Replace front tire intertube with new one (mechanic)
49.) Replace Fuel Petcock
50). Replace fuel lines with performance versions
51). Replace fuel filter
52.) Still going….
For now, here are some hard to find links on information about the Vintage Suzuki GS550 on the net, Enjoy!
The Restored Suzuki 1978 GS550
Well here you go, the restored 1978 Suzuki GS550, first year offered in Canada. It was a lot of work and a lot of money but glad to say I didn't go over budget. 🙂
Some of the interesting things during the project:
– Front tire was a Carlisle tire I purchased used. For those that do not know about Carlisle, they stopped making motorcycle tires in the early 80's. Probably the only motorcycle in Canada still using a Carlisle motorcycle tire!
– Head gasket leaked quite a bit using 10w40 motoroil, but when I switched to 20w50, it was much better. I still purchased the head gasket anyways in case it sprung a leak.
– Clutch gear push rod O-Ring seal leaked badly (about 100ml oil a day when riding). Felt like I owned an older Harley for a long time! Purchased a O-Ring for it but turns out the rod was from a CAR and was jury rigged to work in this bike! Though to be 100% Honest, I didn't know about that until I sold the bike.
– The engine chain drive cog was spot welded on to hold it on. It wasn't a problem to install/uninstall if you had a MiG welder handy.
– Purchased a new speedo cable but after 500km the speedo froze on me and broke the cable, had to replace the speedo (pain in the butt and expensive).
– Always seemed like the bike was never really happy I took it from junk to cruising the roads again and it seems it just wanted to be left alone to rot and die. Everytime I fixed something another would brake and it was a constant battle to keep it perfect. Was really weird in that way, it definitely had a personality, I even had a pet name for it after a while.
Things I will stay away from: Points and Condensers (what a pain!). For those that know no explanation is needed. For those who don't know, it is the previous form of ignition and spark plug firing. Rather than it being the electronic type it was fully manual and you had to set the points by hand every few months. Plus actually getting the new points and condenser was hard!
UPDATE: Sold the bike to a new owner. I had mixed feelings on seeing it go. I knew the bike mechanically better than anything I've ever owned and spent so much time, effort and money to restore it. On the other hand I was getting tired of the constant (almost everday) work of fixing something on it, and the gut feeling of it being "unreliable". I was sure glad it had a kick start because it never left me stranded.
I saw my old bike at the mechanics when I brought in my "new" XJ650 Seca. Seems the bike has seen better days, the petcock was leaking over the engine, the oil seal needed replacing, the shiny engine and paint finish was unkept and rapidly disappearing. My heart sank when I saw her like that.
Here are the restored photos of her after all my work. Sorry I didn't think of taking any photos of the before (dumb of me) but think of a junk yard bike and that is it.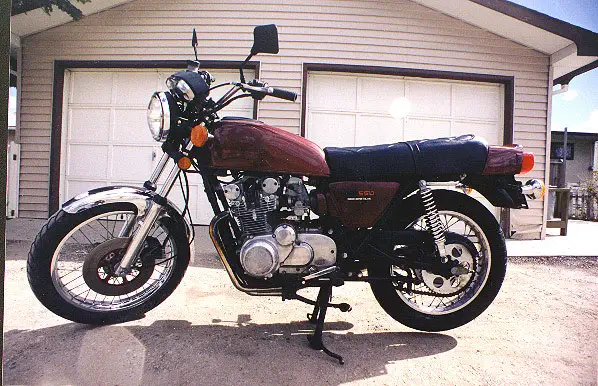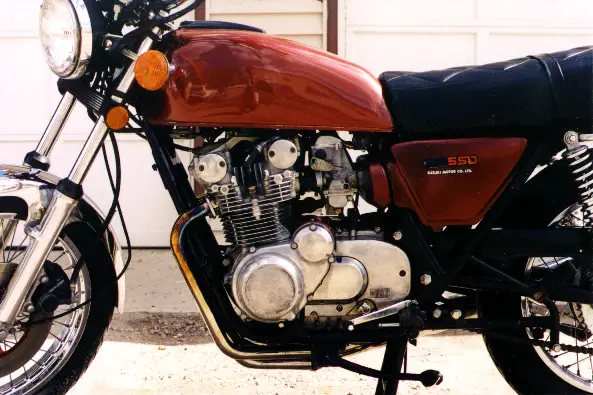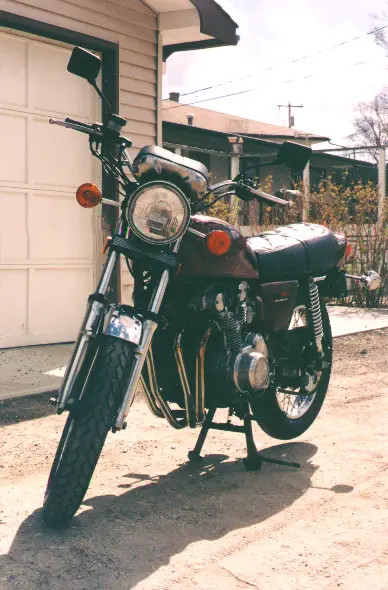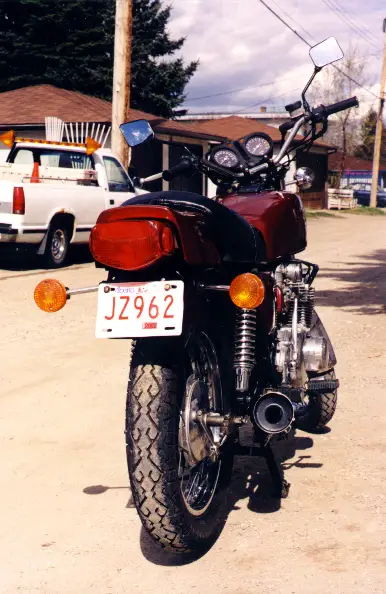 1978 GS550 Oil filters: WIX 24931 $8.06 cdn$ (Application Chart)
……………………………… Purolator ML16800 $8.60 cdn$ (Application Chart)
…………………………. …..Fram CH6000 $9.99 cdn$ (Application Chart, 2)
…………………………. …..Suzuki OEM 16500-45810
K&N Air Filters for 1977-82 Suzuki GS 550
Air Filter: SU-5500 (old part #SU-150)
Clamp On: RC-2314 (GS550 77-79 only)
Oil Filter: KN-133
Other Bikes that ALSO USE SU-5500:
GS550 1982 Katana
GS550E 77-80 SU-5500
GS550L 80-83 SU-5500
GS650E/G 81-83 SU-5500
1978 GS550 NGK Spark Plugs:
Spark Plug ….. Part No. ….. Stock No. ….. Plug Gap
Standard …. .. B8ES ….. …… 2411 ….. ….. .. .032 ….
Fine Wire ….. .B8EV ….. ….. 6824 ….. ….. .. .032 ….
VX Platinum …B8EVX ….. …7051 ….. ….. ….032 ….
1978 GS550 Chain Type: 530 x 110 links
1978 GS550 Yuasa Battery Type: YB10L-A2
1977-79 GS550 EBC Front Pad Disc Brakes: FA38
1977-79 GS550 EBC Rear Shoe Drum Brakes: FA36
Other Bikes that ALSO USE FA38: 1977 GS 550 B, 1979 GS 750 LN (8 Valve)*, 1978-78 GS 1000 C/N, 78-79 GS 1000 EC/EN/SN/LN*,
Other Bikes that ALSO USE FA36: 1980 GS 550 ET/LT, 82 GS 550 MZ, 81 GS 550 LX/TX, 81-82 GS 650 EX/EZ, 83 GS 650 MD, 83 XN 85 D (673cc), 81-83 GS 650 GX/GZ/GD/GLX/GLZ/GLD, 85 GS 700 EF/ESF, 77 GS 750 B (8 Valve), 78-79 GS 750 C/N/EC/EN (8 Valve), 79 GS 750 LN (8 Valve), 80-82 GS 750 ET/EX/EZ (16 valve), 80-81 GS 750 LT/LX (16 valve), 83 GS 750 ED/ESD/SD, 79 GS 850 GN, 80-81 GS 850 GT/GX/GLT, 80-83 GS 850 GLX/GLZ/GZ/GLD/GD, 78-79 GS 1000 C/N/EC/EN/SN/LN, 80-82 GS 1000 ET/ST/SZ, 80-81 GS 1000 GT/GX/GLT/GLX, 80-83 GS 1100 ET/EX/EZ/ED/ESD, 80 GS 1100 LT, 82-83 GS 1100 GZ/GD/GLZ/GLD/GKZ/GK2/GKD, 83 GS 1100 SD, 85-86 GV 1200 GLF/GLF2/GLG 'Madura'.
1977-79 GS550 Vesrah Front Pad Disc Brakes: VD320
1977-79 GS550 Vesrah Rear Shoe Drum Brakes: VB-307
Other bike that ALSO USE : GS1000 C/N 78-79, GS1000E, GS1000S, GS1000L 1978-79, GS750 LN 79, GS5500 B/C/N/EC/EN 77-79
1977-79 GS550 SBS Front Pad Disc Brakes: 515
1977-79 GS550 SBS Rear Shoe Drum Brakes: 2099
FERODO Brakes
1977-79 GS550 FERODO Front Pad Disc Brakes: FDB178
1977-79 GS550 FERODO Rear Shoe Drum Brakes: ?
LOCKHEED Brakes
1977-79 GS550 LOCKHEED Front Pad Disc Brakes: LMP115
1977-79 GS550 LOCKHEED Rear Shoe Drum Brakes: ?
Suzuki Links (GS550)

Suzuki Motorcycles Canada Website
Suzuki Motorcycles USA website
Suzuki Owners Club
1978 SUZUKI GS550 550cc
Spark Plug Part No.…………Stock No. Plug Gap
Standard B8ES ……………….2411…………. .032
Fine Wire B8EV ……………..6824………….. .032
VX Platinum B8EVX ……….7051………….. .032
Yuasa Battery (Battery Type: YB10L-A2)
CLICK to go to our Maintenance Section for much more information
Information
Tire Size: You should use a 100/90-19 front and 110/90-18 rear.
Thanks,
Bridgestone Motorcycle Tire Dept.
Parts
Progressive Suspension USA Home Page Application Chart
Late Evening Reads