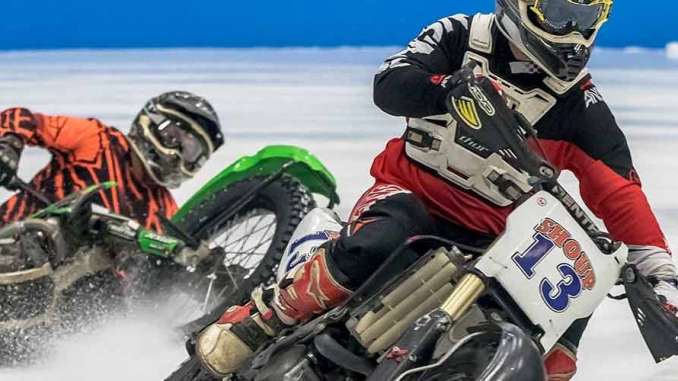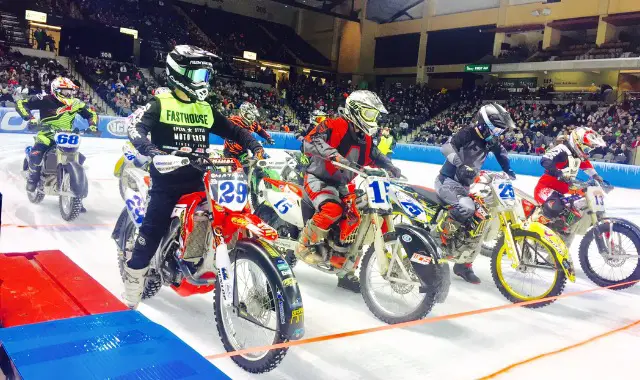 Ice, Ice, Baby Story by Aaron Heinrich.
In states north of the Mason-Dixon line, Fall is starting to slowly give way to Winter. And as the days grow shorter and the cold lasts longer, the faint of heart stay home and the guys with brass cojones insert screws in their tires with one goal in mind – tear around an ice track as fast as you can to see who finishes first. Welcome to the world of motorcycle ice racing.
Ken Remer runs the World Championship ICE Racing Series with his wife Kristi. Theirs is the biggest indoor ice racing series in the U.S. It consists of eight events held at hockey arenas across the Midwest and North. Competitors run bikes no larger than 450 cc and, like flat track racing on dirt ovals, there is no front brake. But unlike flat track, riders will often file down the left peg to keep it from catching in the ice, and the tires have a series of screws to help gain and keep some semblance of traction on the slick surface.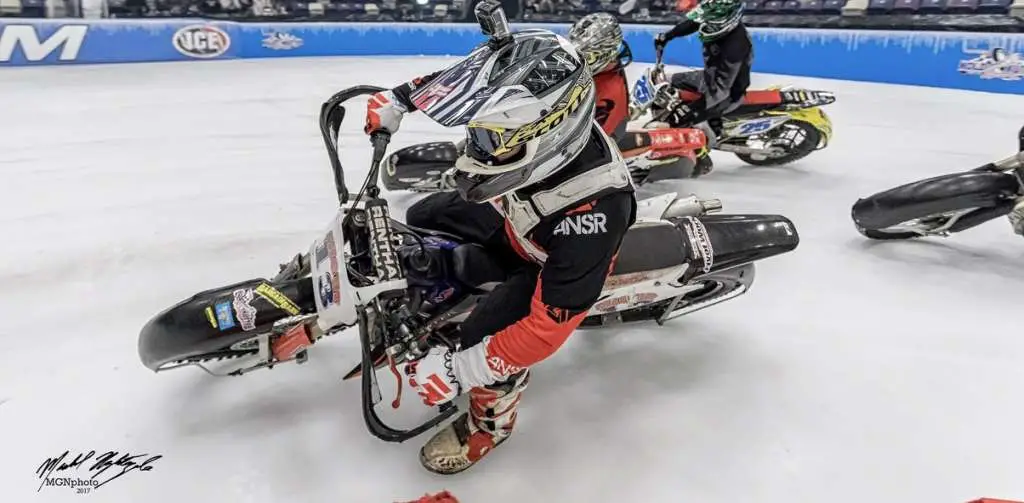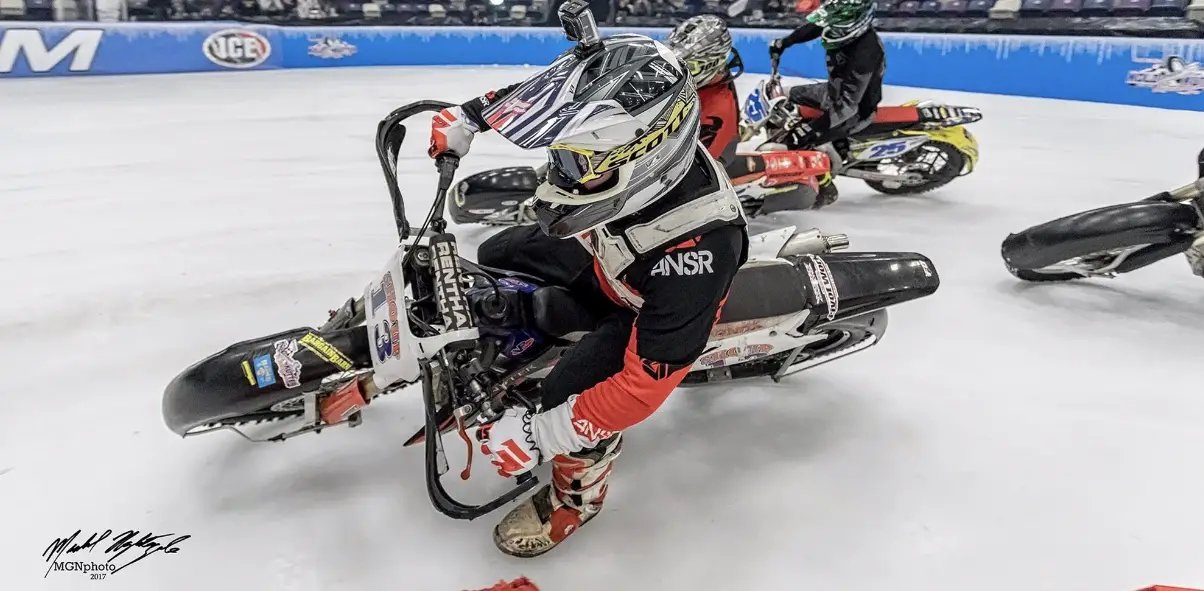 "Basically, the only changes riders can make is in their suspension. Engine and exhaust must remain stock. And they all have to use the same type of ice screws," explained Remer. "The key is to try to find the balance between a loose front end and a stiffer rear to maintain control and traction."
Not to be confused with the outdoor ice races sanctioned by the American Motorcycle Association, Remer's series is held in hockey arenas. That leaves even less room for error – 75 to maybe 125 feet of track at best. That's a lot shorter than the half-mile to mile tracks that flat track racers are on, and shorter than the ice races that are run on outdoor venues. Indoor racers may not reach the high speeds for flat track or outdoor racing, the close quarters requires even more finesse, and the crowds probably get to see more close action and wipeouts.
"We can get as many as 5000 people at an event, and the sport is growing," said Remer. "The typical fan is probably the same as someone who likes flat track racing or has the ability to try ice racing like this in their backyard."
To get some idea of what indoor ice racing is like, check out the accompanying images. A lot of crashing, some insane maneuvering, and significant handlebar banging before someone is finally declared the winner. If Mad Max Beyond Thunder Dome had taken place in the Great White North instead of the Outback, this is probably how Auntie Entity would have had Max fight his way out.
While these races are held in hockey arenas, at three and a half inches thick, the ice is double what a normal hockey rink ice might be since it's getting chewed up a lot more…and quicker. The Zamboni makes a run about every other heat to keep the surface in racing form.
There are typically three heats per class and the top four finishers from each heat go to the front of the main race. Classes or divisions include the Manufacturers World Cup (motorcycles), Outlaw Quads, Amateur Quads, and X-Treme Quads.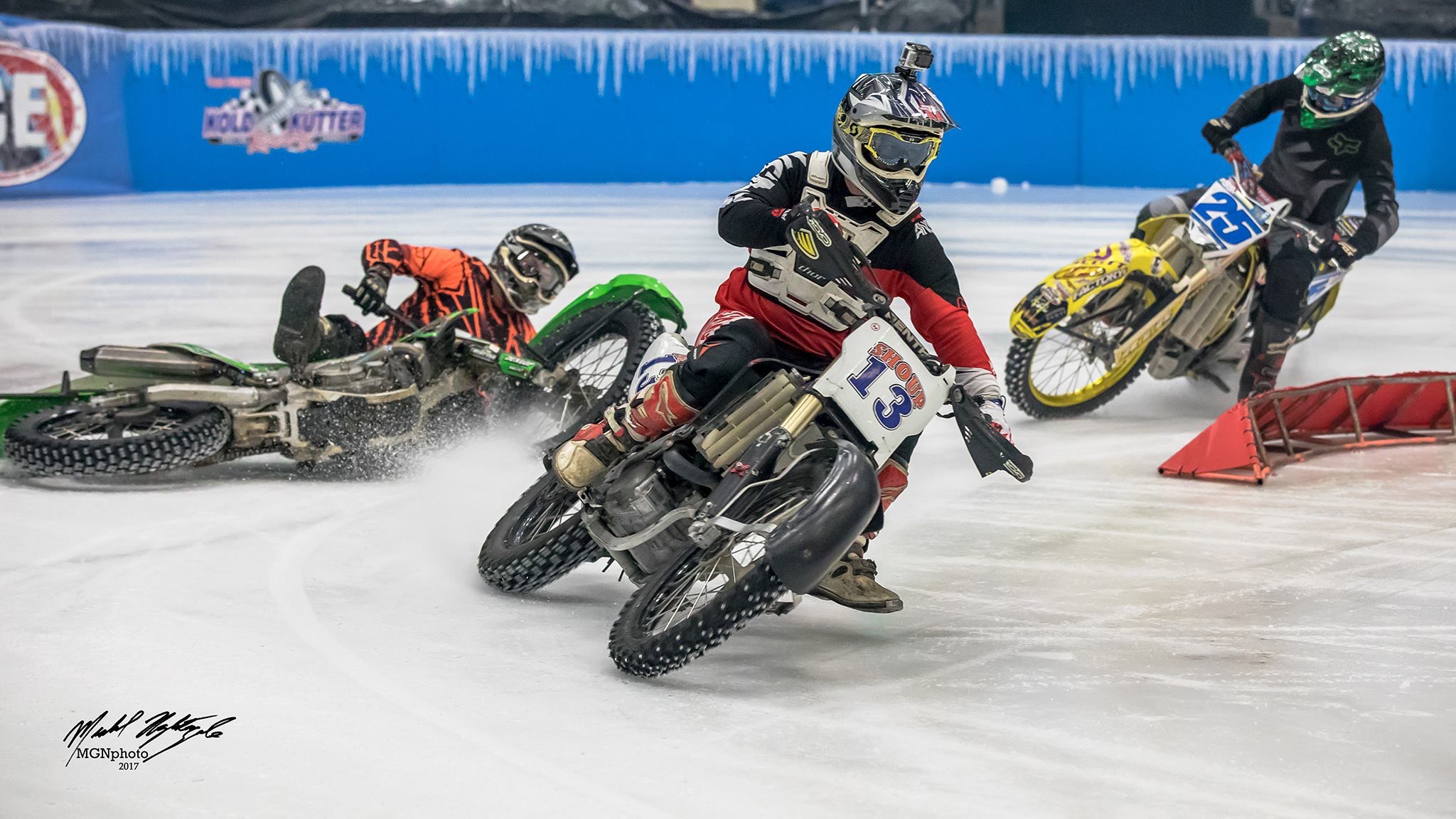 Photos Used With Permission. Credit: World Championship ICE Racing
Remer pointed out that the series tends to attract a lot of flat trackers, including some guys who are now so entrenched in racing on dirt they can no longer find the time to compete on ice.
This year's AMA Flat Track champion, Jared Mees, is one example. He was the ICE champion in 2007 in the Manufacturers Cup, then took it again three years in a row in 2010-2012.
"We used to do the smoke and pole challenge where the racer in the number one pole position puts themselves at the back of the pack. Jared would do that and still win," remembered Remer.
But no one's getting rich in this sport. At $1,000 a win, and overall season costs running somewhere around $2,000, plus bike setups up to $6000, a rider would have to win several races to come out ahead. Sponsorships help defray some of the costs, and those can come from a range of national companies to local businesses where the racers live.
Remer provides some help that is relatively unheard of in most racing events. He'll load up a group of racers' bikes in a semi-truck and haul them to each race. The racers just need to find their way to the event and bring their gear. It keeps their costs down and provides some incentive to the riders to stay on for the season.
The first race of the season is on December 9 at the Mohegan Sun Arena in Wilkes-Barre, Pennsylvania.
Video Used With Permission. Credit: Ben Lynn at MXPTV
About the Reviewer
Aaron Heinrich is an experienced motorcyclist, passionate storyteller and published author. He recently completed a motorcycle trip to the Balkans and now has the overseas travel bug. Aaron is also a product reviewer and correspondent for Total Motorcycle.