You are here: Index — The Future
The Future
The Future of Motorcycles – An Opinion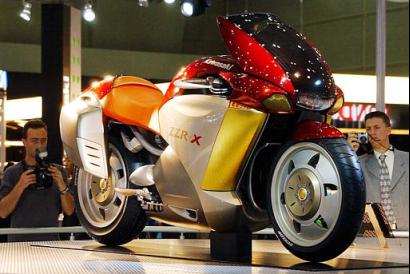 1800's — First motorcycle
1900-1955 — Creation of Large Motorcycle Companies
1945-1985 — Motorcycle Growth
1978-1987 — Motorcycle Decline
Very Late 1980's — The Motorcycle Rises Again!
Present — Times Are Good.
The Future of Harley-Davidson…

Hybrid Gas/Electic Motorcycles?
Diesel Motorcycles?
Electric Motorcycles?
The future of motorcycling is really anyone's best guess. Since there are very few opinions on this subject on the internet (believe it or not) I thought I would write this section and I'll give you my best guess on the future of motorcycling.
I've studied motorcycle history, trends, sales, model failures and successes over the years for many different manufacturers and here is what I think…
Before we get to the future though, we have to understand the past.

Sylvester Howard Roper 1869 Steam Cycle

Motorcycles are descended from the "safety" bicycle, bicycles with front and rear wheels of the same size, with a pedal crank mechanism to drive the rear wheel.

The first motorbike was built in 1868. It was not powered by a gasoline engine, but by a steam engine. Its builder was Sylvester Howard Roper. His steam-powered bike was demonstrated at fairs and circuses in the eastern US in 1867 and did not catch on, but it anticipated many modern motorbike features, including the twisting-handgrip throttle control. There is an existing example of a Roper machine, dated 1869. It's powered by a charcoal-fired two-cylinder engine, whose connecting rods directly drive a crank on the rear wheel. This machine predates the invention of the safety bicycle by many years, so its chassis is also based on the "bone-crusher" bike. "Bone-Crusher's" appeared around 1800, used iron-banded wagon wheels, and were called "bone-crushers," both for their jarring ride, and their tendency to toss their riders.




World's first gasoline-driven motorcycle, the 1885 Daimler Reitwagen
1900-1955 — Creation of Current Large Motorcycle Companies
1902 – Triumph
1903 – Harley-Davidson (Harley-Davidson Motor Company)
1946 – Honda (The Honda Motor Company)
1952 – Suzuki (Suzuki Motor Co., Ltd.,)
1954 – Kawasaki (Kawasaki Heavy Industries)
1955 – Yamaha (Yamaha Motor Corporation)
1945 – 198,000 motorcycles registered in the U.S.
1955* – 450,000 motorcycles registered in the U.S.
1958 – Over 500,000 motorcycles registered in the U.S
1962** – 646,000 motorcycles registered in the U.S.
1965*** – 1.4 million motorcycles registered in the U.S.
1970**** – 2.8 million motorcycles registered in the U.S.
1975***** – 5 million motorcycles registered in the U.S.
1985****** – 5.4 million motorcycles registered in the U.S.
1990******* – 3,650,000 million motorcycles registered in the U.S.
1998 – 4,809,000 million motorcycles registered in the U.S.


* 1953 — Movie The Wild One released
** 1959 — First Japanese motorcycle manufacturer (Yamaha), enters U.S. market
***1962 — "You meet the nicest people on a Honda" campaign launched
****1969 — Stock motorcycles run quarter-mile in less than 13 seconds, 1970 — Movie Easy Rider released
***** 1972 — FMVSS 123 standardizes motorcycle controls, 1973 — MSF created
****** 1978 — Stock motorcycles run quarter-mile in less than 12 seconds, 1980 — First International Motorcycle Safety Conference sponsored by MSF, Stock motorcycles run quarter-mile in less than 11 seconds
******* 1986 — Superbike ban proposed and defeated, Stock motorcycles run quarter-mile in less than 10 seconds
1978-1987 — Motorcycle Sales Decline
The motorcycle market was timed spot on for the baby boomer generation. In 1944-46, servicemen (and women) were returning from World War II and has a thirst for life and living and wanted to do more than settle down. Motorcycles were popular in WWII and people wanted to try them, and they did and they sold in good numbers. But it was not untill the 1960's when their kids grew up that motorcycling took off like a rocket. 1962 argueably the most famous and successful motorcycle campaign was launched on earth from Honda and it changed everything. The "You meet the nicest people on a Honda" ads took North America by storm! In just 3 years (1965), the number of registered motorcycle doubled, 5 years later (1970) doubled again, and 5 more years in 1975 doubled again! From 646,000 to 5 million in just over 10 years, thank you Honda!

So to fully understand the BUST you need to understand the BOOM. For argument sake the average motorcycle buyer in 1962 was 16-18 years old, they were happy with the cheap 50-450cc motorcycles of the time. Roads were being expanded on a massive scale across North America as years propressed. They gained riding experience and wanted to go faster and futher than the small bikes would let them. So they moved up to larger motorcycles as they grew older such as the 1969 Honda CB750K (750cc) and thus sales increased again. As the 1970's were here, even larger and more specialized motorcycles were produced and again they bought. Standard motorcycled ruled the earth.

Unfortunately, as the 1970's grew to a close the motorcycle industry was suffering as sales dropped drasticly. Those 16-18 year olds in 1962 were now wanting to start families, settle down and raise their own kids. Their spirit of adventure was put on the back burner. They stopped buying and Motorcycle manufacturers started to panic. Motorcycle magazines from the time (1979-1983) and manufacturers didn't know the cause (we do today) and it was spelling DOOM for the motorcycle industry. The manufacturers even tried new designs such as the Cruiser, Tourer and Sport Bike, but few were listening. New motorcycles sat on the sales floor for years, dealerships didn't want to order more because they couldn't sell what they had already (even with very steep discounts). The manufacturers needed to sell what they had too many of and discounted new motorcyles lower than the previous year(s) models. It was bad…

That is why it is hard to find a good used 1980-1988 motorcycle.
Very Late 1980's — The Motorcycle Rises Again!
It was bad near the end of the 1980's. Sales were just horrible from 10 years before. Those motorcycle dealerships who survived were in bad shape. But, there were a light at the end of the tunnel that only a few forsaw.

Two things most unexpected happened. The baby boomers came back to motorcycling and so did their kids. Seems they never forgot the fun and good times and with increased incomes could now purchase large and more expensive motorcycles. Their kids also wanted to get into the action and they did. Suddenly, things were looking up… but for how long?

The popularity of Cruisers and Sports Bikes took off which isn't surprising when you look at it closely. Older riders (baby boomer crowd) like luxury and comfort and don't need the rush of speed thus Cruisers. The younger croud can take the riding position of the Sport Bike and wanted the new rush of speed…

The Standard motorcycle was being left behind the new race of owing a Cruiser or Sport Bike. By the early 1990's you almost couldn't find a manufacturer offering one!
Times are indeed good for motorcycle dealerships and manufacturers. We are now approaching the highest registered motorcycle numbers yet again and the motorcyclists are happy. We are seeing more and more models of Cruisers and Sport Bikes offered every year and what is this? the Standard is back in the line up and it is now the largest increasing sales category. Today those "standards" are now fashionably called "Retro", "Naked", "Streetfighters" but with their re-tuned sport bike engines, comfortable riding position and do-it-all attitude, they are a glimpse into what is to come.

Update October 24th, 2003

We enter the 2004 model year with excitement as even more bikes are available with little to no models dropped. It does seem like a boom time for the motorcycle industry! Massive cruisers of 2000-2300cc's, super ultra light weight 180+hp sportbikes and surprise, many more standards/naked bikes introduced. In fact, there has never been this much selection!

Since the year 2000 it really does appear that almost every manufacturer is getting the style, choice, comfort, price and performance mix right! This has truely never happened before in this industry.

The Future of Harley-Davidson…

With all these positives, what can be bad? Indian and Harley-Davidson.

World wide sales in the retro type cruiser are again starting to go down. Sales seem only to be strong in the USA. Indian Motorcycle has closed up shop, yet again, due to slow sales of the cruiser models. Harley-Davidson is still ignoring a huge market (younger crowd) and is still continuing to design models that appeal to fewer each year at prices even fewer can afford. With HD's 2004 "major" updates really being a "minor" change, has HD missed its mark again? Will Harley-Davidson be the next to go? (Sorry Harley riders)

Honda is now selling the Honda Rune, a style that is very impressive to see with your own eyes. This is a bike that looks like Harley-Davidson will make 20 years from now. Not only is the Honda Rune a big problem for HD, but the Vulcan 2000, Triumph Rocket III and even the Kawasaki/Suzuki Mean Streak are as well in the future design department. It used to be everyone copied HDs style, it was "the" cruiser look. Now you can have a sea of HD bikes, and if one of the above bikes shows up, it just gets noticed more.

So, what is Harley gonna do? They made the V-Rod. Beautiful lines, great engine, fuel injected, sporty looking… But… it doesn't sound like a Harley, doesn't look like a Harley, infact, it looks like a "Japanese" bike! The V-Rod as much an"outsider" to the HD community as a Buell, horrible shame that is too…

So, does Harley-Davidson keep making retro looking cruisers with very old and outdated technology so they have the look and sound? OR do they gamble on newer designs like the V-Rod? With an average consumer age of 46+, and thus you see the problems facing Harley-Davidson's future today.
A very new (and now in production) is the Alligator A6 (A6 = 6th Generation), built by Dan Gurney, an American driving legend, the Alligator is built around the benefits of its main principle: a low center of gravity. Before you start to snicker or laugh at the looks, read this:

When Cycle World tested an A6, its 0-30-mph time of just 1.1 second turned out to be quicker than any streetbike the magazine has ever tested!

How about the low center of gravity on braking? Just as impressive was the A6's braking performance, stopping from 60 mph in just 114 feet, nine feet shorter than the radial-mount brakes slow Kawasaki's new ZX-6R.


When Cycle World tested an A6, its 0-30-mph time of just 1.1 second turned out to be quicker than any streetbike the magazine has ever tested!

Eddie Lawson quotes: "It's pretty amazing in this day and age that you can build something unique and that hasn't already been done," Lawson continues. "I enjoy it because I can get on a motorcycle and it's different and it's fun." and yes, he purchased an Alligator A6 for himself.

So, thank you Dan Gurney for living your dream, and quite possibly revolutionizing the motorcycle industry at the same time.

More Photos Here. Full Story Here.

With gas and oil prices going through the roof and supplies of the non-renewable resource getting lower everyday motorcycles should continue to grow in demand. Today most of us ride motorcycles in North America for fun or as a hobby but it is not this way in other parts of the world. Even in first world countries (like the UK) people are riding them due to the savings in gas, oil, insurance over other vechicles and even riding them year round. Will that happen here as well? Yes, and probably sooner rather than later. As I write this, gas is over $2.10US a gallon in the U.S.A, and here in Canada (I'm Canadian BTW) we are paying up wards of 91 cents a litre! Last year it was 33% less (in both Countries).

So there is a greater need for motorcycles than ever before, but what will they evolve into?

Updated: September 24, 2003:

Revealed at 2003 Milan Motorcycle Expo: Kawasaki ZZR-X

"Probably the most radical machine of the show has yet to turn a wheel under its own power. The ZZR-X is Kawasaki's forward-looking concept bike that combines advanced technology, super-sport potential and touring capability. "This is the ultimate high-speed tourer," reads the Kawasaki press material. "The future of supersport touring."



The ZZR-X features hub-mounted steering that uses a two-pronged aluminum swingarm actuating a shock absorber instead of the ubiquitous telescopic fork. Handlebars sweep through the area that looks like a fuel tank; the actual tank is placed near the center of the bike. Perimeter rim-mounted disc brakes are fitted to both wheels.

Touring amenities include a shaft drive hidden inside the aluminum rear swingarm, an adjustable-rake, flip-up windscreen and a large storage area in front of the seat. Kawasaki doesn't mention any details about the ZZR-X's engine, but it's safe to say there will be ample power if the bike is ever built. The rear seat cowl flips up into a backrest, probably to keep the passenger from flying off at 186 mph."

Updated: October 24, 2003:

Revealed at 2003 The Tokyo Motorshow : Suzuki G-Strider

Suzuki presented their G-Strider concept motorcycle, a cross between a scooter and a motorcycle. The two wheeler is powered by a 916 cc engine with automatic transmission.


Revealed at 2003 The Tokyo Motorshow : KTM

The new 990RC8 is a streetfighter type, with a 75° V2, 999.8 cc engine.

The seat is the fuel tank, giving this 175 kg (385 pounds) motorcycle a low center of gravity.

Top speed: 280 kilometers per hour ( 174 miles per hour)


Car manufacturers to make motorcycles?

Dodge introduced its Tomahawk V-10, 8.3-liter (505 cubic inch) concept motorcycle at the North American International Auto Show in Detroit on January 6, 2003. The superbike features independent four-wheel suspension, and its engine, borrowed from the Viper sports car, can propel the Tomahawk at speeds of nearly 400 mph [sic], according to Dodge. REUTERS/Rebecca Cook


The 1,500-pound Tomahawk can reach 60 miles an hour in about 2.5 seconds, and has a theoretical top speed of 300 mph. Each pair of wheels is separated by a few inches and each wheel has an independent suspension. [Chrysler Chief Operating Officer Wolfgang] Bernhard said four wheels were necessary to handle the power from the engine.… Chrysler executives said while the chrome-draped Tomahawk was outlandish, they were seriously considering whether to build a few hundred at a price of at least $250,000 each.

Official Dodge Tomahawk website

 

The Evolution has already begun…

Hybrid Gas/Electic Motorcycles?


Learn more about the Hybrid eCycle here
eCycle is developing a 180mpg motorcycle. The motorcycle features a 219cc direct injected diesel engine and a 8kW electric motor drive. The weight is 230lbs, with a top speed of 80mph and acceleration of 0-60 mph in 6 seconds.

We all know that a motorcycle is not only fun but cheap to own over other types of vechiles. With cars evolving into Hybrid (Gas/Electric), Hdrogen and fully Electric vechiles it wouldn't be long before motorcycles would follow. Those types of vechiles are getting great fuel milage and even better than a lot of motorcycles! (e.g. Honda Insight* 70mpg).

*Honda tested EPA mileage for the Insight at 61 for city and 70 for highway driving (compared to 32 city and 37 highway for the Honda Civic 3 Door).80mph).

Not to be outdone in the engine development area, the US Army has a Kawasaki KLR650 that runs on Diesel fuel rather than normal gasoline! With a range of 120 miles per gallon the bike develops 33ftlb of torque and has a top speed of 85 MPH.

Read more about the Kawasaki Diesel KLR here

So, does that mean motorcycles will be going electric? It is quite possible.


This electric motorcycle does a 1/4 mile in 9.450 seconds @152.07 mph. Link:

So, should you be worried about loosing a gasoline engine and having an electric one instead?

That all depends, there are positives and negatives (of course) of anything new over something old. The internal combustion engine has been around for more than 100 years. We have pretty much done everything we can with the basic design. The biggest reason we haven't "evolved" to another type of engine (electric/hydrogen/ect) is money (or the loss of) from the oil companies. Oil (as if you didn't know already) companies make Billions of dollars an hour worldwide, they don't want to give that up.

Electric engines offer advantages that could never be offered by an Internal Combustion engine such as:

– There is almost no noise at all.
– No vibration at all.
– Total Linear power availability.
– Zero moving parts.


Imageing cruising down the road, all you hear if the sounds around you, the wind on your face and nothing disturbing that. Not even virbration gets in the way (at any speed) of this feeling that is like flying. With a twist of the throttle you can go from 0 to 100mph in one gear if you want to with no hesitation, stuttering or loss of power anywhere, a perfect power curve.

As with the horse and buggie, we will all be sad to see them go. The Film camera industry is going though the same drastic change with Digital camera's. I own 9 professional SLR film cameras and don't want a Digital, I enjoy film and the process of taking a photo on film. To me that is what photography is all about and I don't want to change to digital at all. Some of you will be in the same boat when it is time for the internal combustion engine to leave the motorcycle and electric engines are all the rage. For you, you should hang on to those old outdated motorcycles then and enjoy it while you can. Personally I dread the day a roll of film costs $20 and developing is scarce, and you have to drive 20 miles out of the way to find it… But that is life and on a positive note, the world didn't end when we gave up a real horse for the iron horse (car).

Unfortunately, I don't know who made this image in photoshop, but it gives a good idea what a "retro" hover bike might just look like!