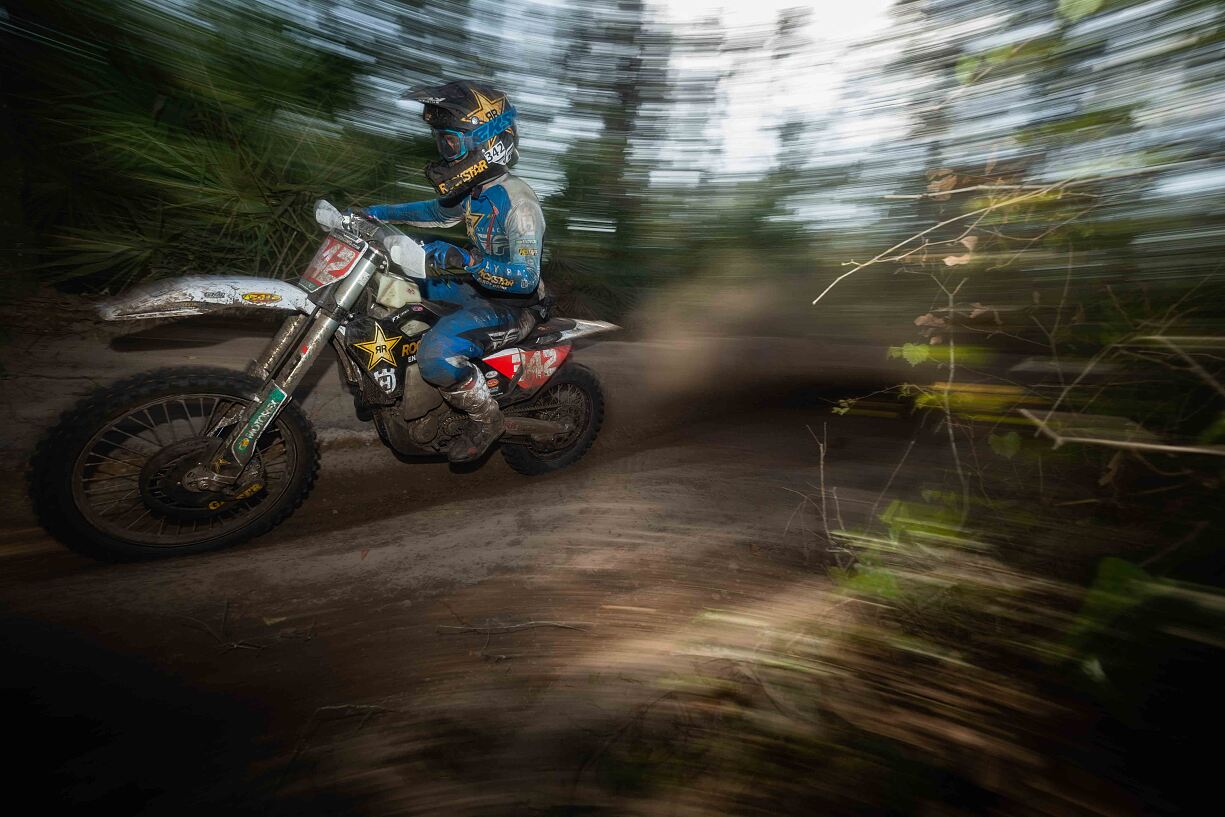 It was a solid podium finish for Craig Delong and Rockstar Energy Husqvarna Factory Racing in the second round of the 2023 Grand National Cross Country Championship (GNCC) at the Wild Boar GNCC, elevating him in the standings with third position, as teammate Trevor Bollinger completed what was a challenging day out P8 in the XC1 Open Pro class.
Off the back of a top-five result at the Big Buck season-opener, Delong made a great start in Florida to lead throughout the first two laps. Dropping back to fourth in the mid-part of the race, the FX 350 rider mounted a charge to regain third place, where he would ultimately finish to lift him to fourth in the XC1 Open Pro class standings.
"I'm happy," reflected Delong. "I went out and led some laps, that was my goal and we did that. I struggled there through the race when Ben [Kelley], Johnny [Girroir] and Ricky [Russell] caught me – they were going faster than I was and I wasn't comfortable running that pace. I kind of got shuffled back, then regrouped and got moving again. I felt good, just these whoops are gnarly, and had a lot of close calls just riding the front wheel through the whoops. Happy to come out of here healthy, and ready for Georgia."
Recovering from a challenging first GNCC round in 2023, Bollinger rode to a calculated eighth position in the XC1 Pro class, making methodical progress forwards throughout the five laps as the race progressed.
"It was good, we were able to finish and score some championship points,"
Bollinger said.
"Florida is a rough one to do your first race at, so to get through it I'm proud of and we did the best we could, so we will come out at Georgia and try to improve."
Husqvarna Motorcycles-backed Jordan Ashburn started strong and ultimately finished fifth in class, the reigning XC1 Open Pro class champion's performance a result to build upon following the Wild Boar GNCC.
Next Round (3): Washington, GA – March 12, 2023
Wild Boar GNCC Results
XC1 Open Pro Class
1. Ben Kelley (KTM)
2. Steward Baylor Jr. (KTM)
3. Craig Delong, Rockstar Energy Husqvarna Factory Racing
…
5. Jordan Ashburn – Husqvarna
8. Trevor Bollinger – Rockstar Energy Husqvarna Factory Racing
Overall Championship Standings
1. Ben Kelley, 55 points
2. Steward Baylor Jr, 55 points
3. Ricky Russell, 39 points
…
4. Craig Delong – Rockstar Energy Husqvarna Factory Racing, 37 points
5. Jordan Ashburn, Husqvarna, 34 points
11. Trevor Bollinger – Rockstar Energy Husqvarna Factory Racing, 4 points