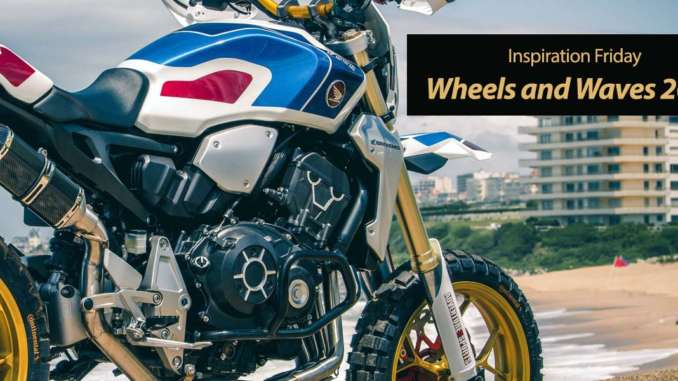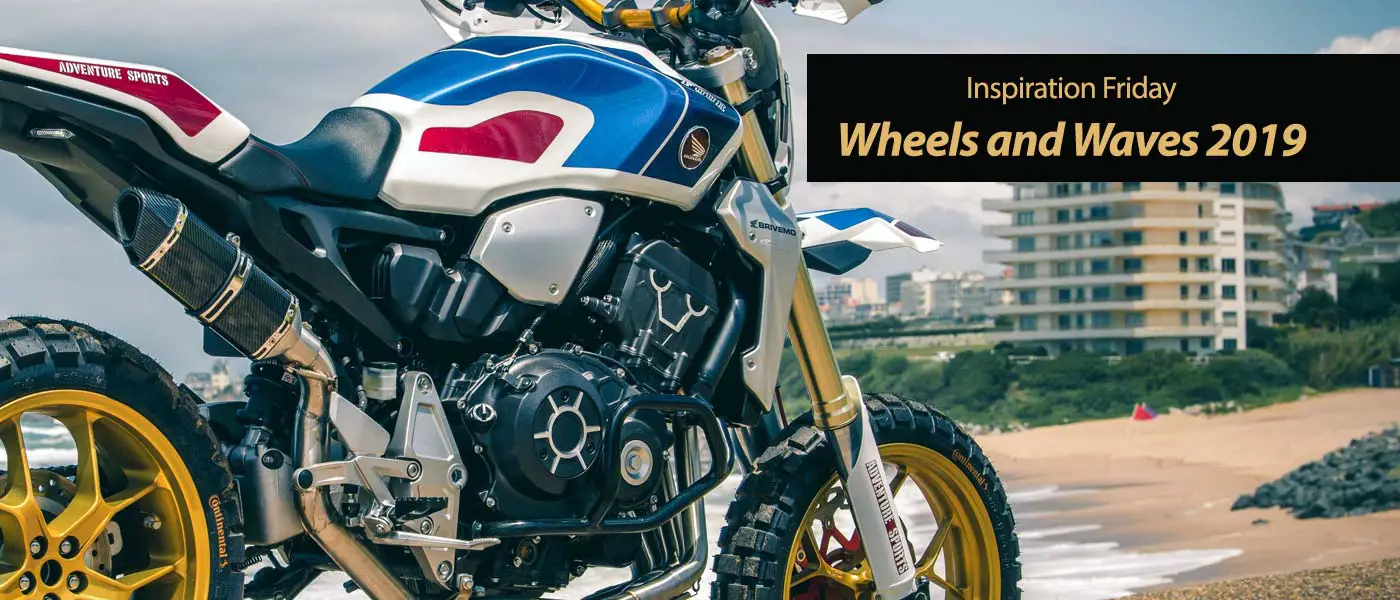 Total Motorcycle Presents 12 inspirational custom inline-4 bikes to get your motor running! Honda Motor Europe this week returns to the Wheels & Waves 2019 festival to celebrate 50 years of Honda's inline-four heritage, since the CB750 first went on sale in 1969. Plus 50 years of CB heritage, history, a ton of photos and so much more just for you, only at Total Motorcycle!
While you are here, don't forget to check out our 50 YEARS of Honda Motorcycle Model Guides!! Yes, 50 years of Honda, right here on Total Motorcycle! No one does it better, Period.
Honda is presenting twelve customised versions of the CB1000R – the flagship of its Neo Sports Café range – at the Wheels & Waves 2019 show in Biarritz, France.
The bikes have been created by Honda, its dealers and partner custom shops from France, Italy, Switzerland and Spain – and draw their influence from a wide range of models, personalities and design themes.
Wheels & Waves 2019 Show Bikes
1) The 'CB1000R-adical'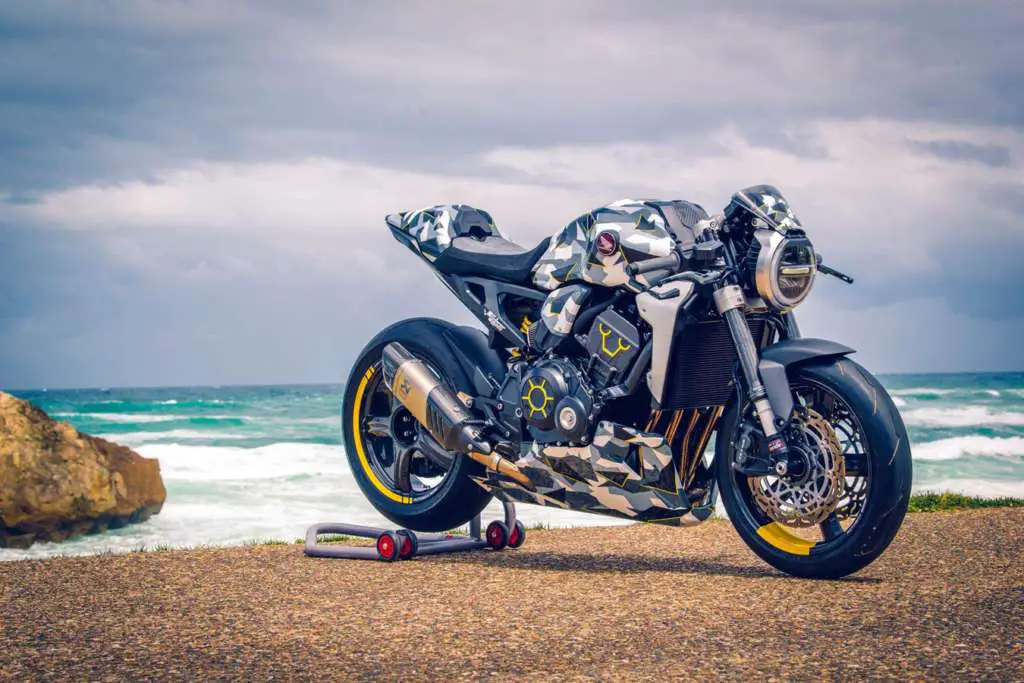 By: Gannet Design and Fuhrer Moto, Switzerland
Inspiration: 'Take it to the Limit'
Contact: Instagram/fuhrermoto and Gannet Design
Work includes:
Ultralight CeraCarbon racing front fork and custom sprockets
Bespoke Rotobox carbon fibre wheels
Synto Evo brake and clutch levers
Fibreglass belly pan
K&N air filter
Titanium and carbon fibre Akrapovic end-can
Hand-painted 'camo' bodywork by Walter Oberli
2) The 'Africa Four CRF1000R'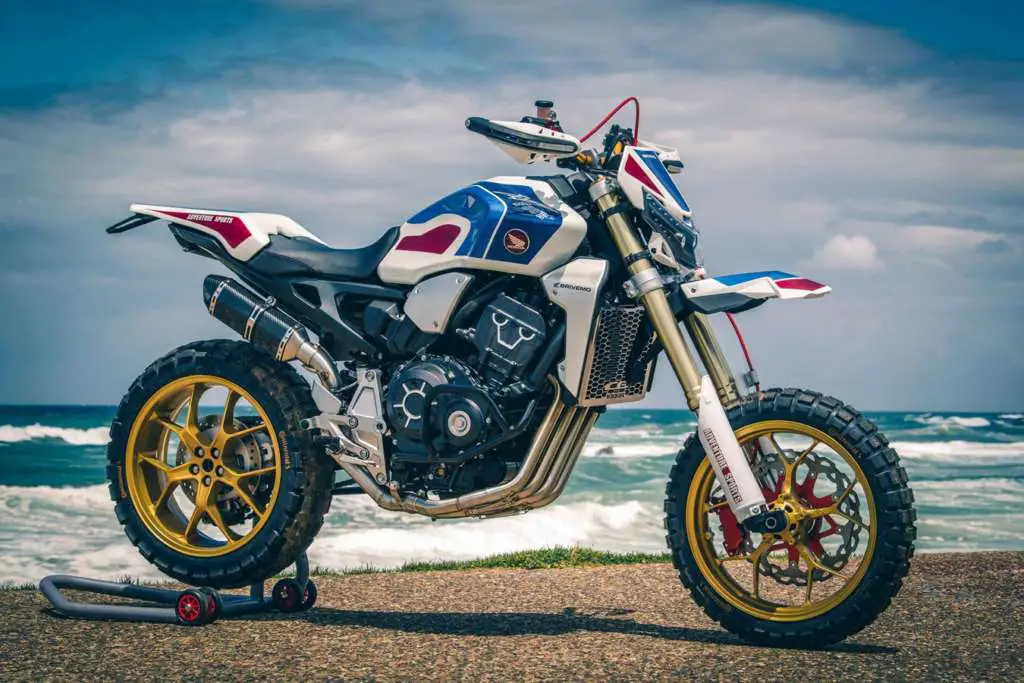 By: Brivermo Motors dealer, Switzerland
Inspiration: the CRF1000L Africa Twin
Contact: brivemo.ch
Work includes:
CRF450R front end, inc. single large front disc and anodised 4 piston caliper
Bespoke 4 into 1 exhaust with stubby carbon fibre end-can
Custom rear seat cowl (with original seat)
New headlight and mudguard
New aluminium handlebars
Engine bars
Serrated footpegs
Mini LED indicators
Bodywork in Africa Twin colours
3) CB1000R 'Monkey 1000R'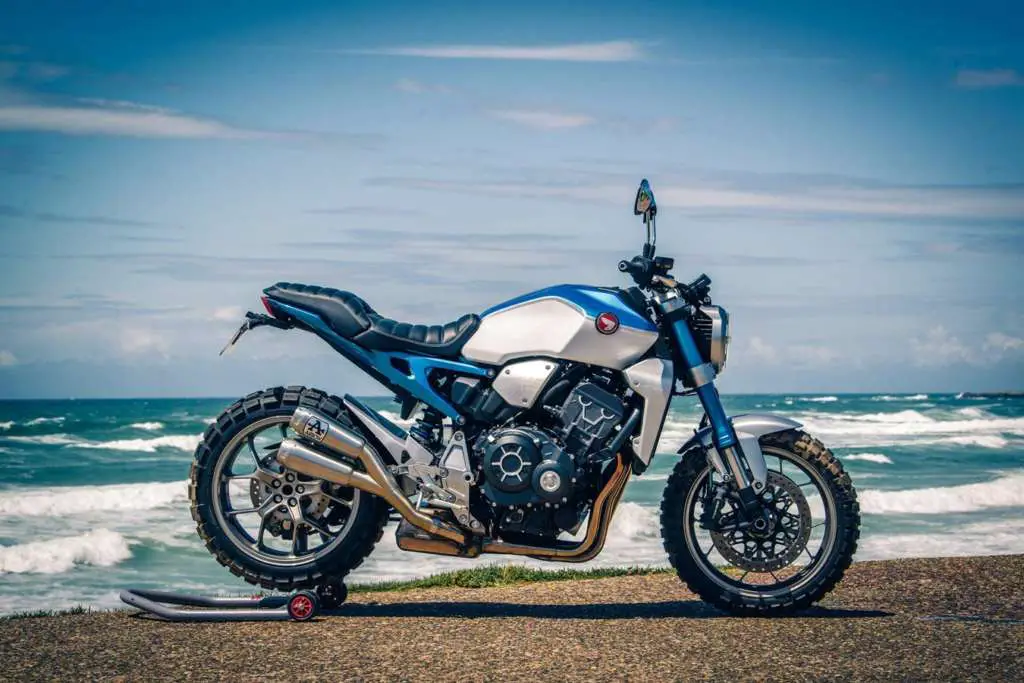 By: Werther Honda, Nice, France
Inspiration: Honda Monkey
Contact: honda.werther.nice
Work includes:
Frame, covers and fork legs painted Glittering Blue
Monkey mirrors and handlebars
Mini LED indicators
Undertray tail tidy
Arrow double exit high exhaust
Enduro tyres
4) CB1000R 'Black Edition'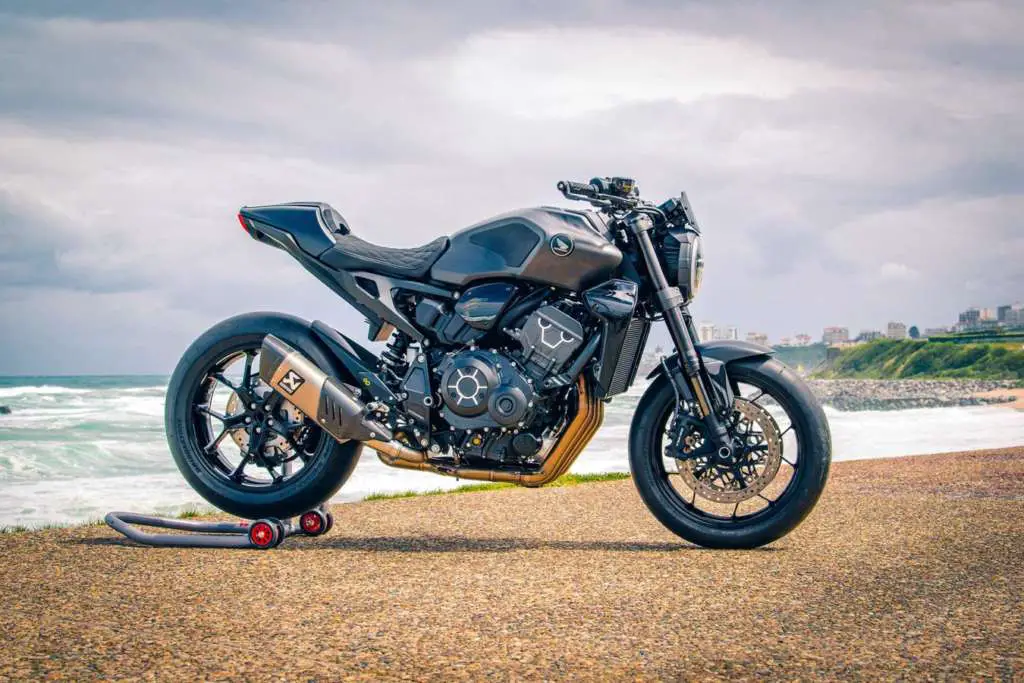 By: 3C Motos dealer, Biarritz, France
Inspiration: 'Full Black'
Contact: Instagram/hondamotofr
Work includes:
Three shades of black paint scheme
Black forks, swingarm and frame
Gloss black wheels and rear shock
Akrapovic exhaust
Special engraved 'Black Edition' plate
5) CB1000R Neo Sports Café Endurance Team Replica
No Media Image was available. Sorry
By: National Motos, France
Inspiration: 2006 24hrs LeMans winner
Work includes:
Spoked wheels,
2006 24hrs Le Mans race winning paint scheme
Classic Honda logo
Contact: Instagram/nationalmotos
6) The Café Chic CB1000R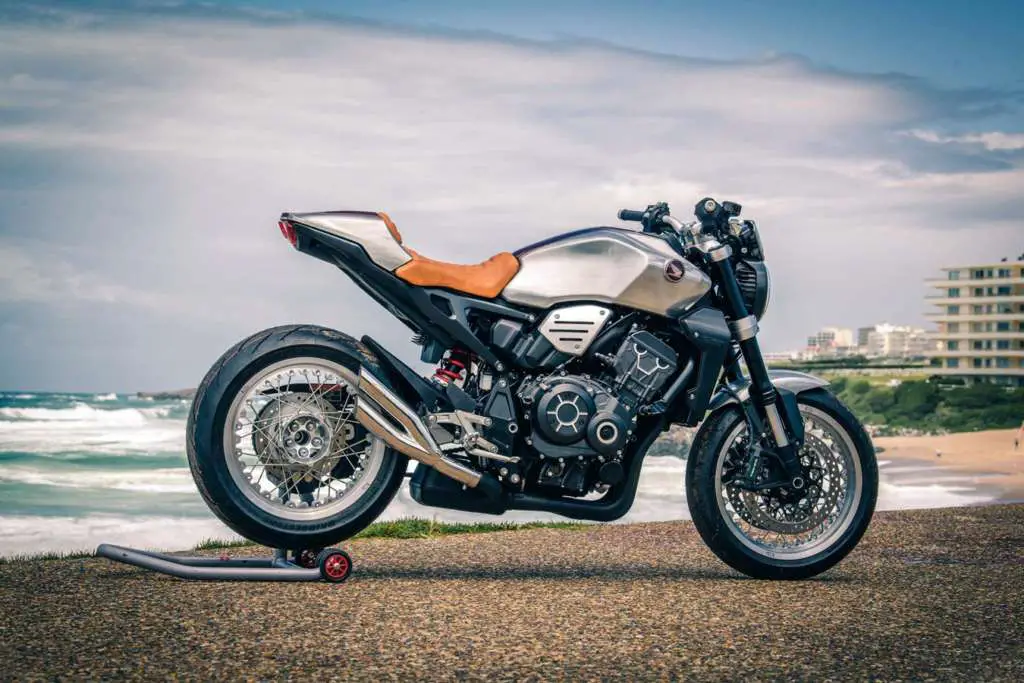 By: Horizon Racing Vergy 95, France
Inspiration: Café Chic
Contact: Instagram/horizonracingcergy95
Fully brushed aluminium and candy red paint
Fawn coloured leather saddle and seat pad
Customised rear seat cowl
Kineo spoked wheels with mass-cut hubs
Moriwaki silencer
Thermal paint on exhaust and headers
7) CB1000R 'Dirt Endurance'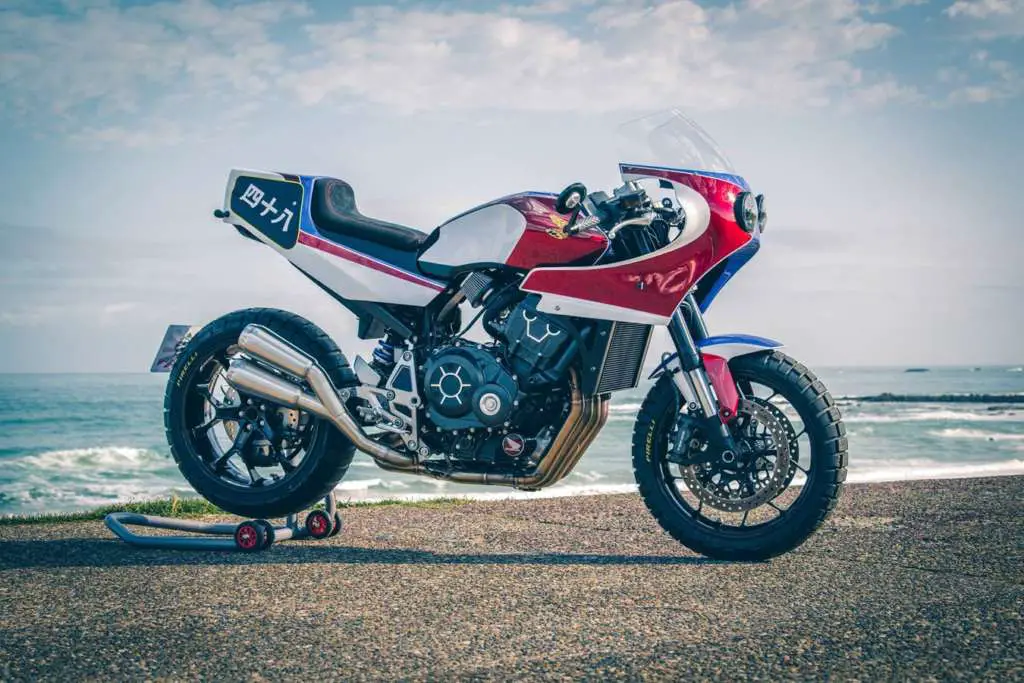 By: VC Moto dealer, Sabadell, Spain
Inspiration: classic Honda colour scheme
Contact: Instagram VC moto
Work includes:
The number '48' in Japanese on the rear cowl to honour the foundation of the Honda Motor Company in 1948.
Bespoke fairing inspired by vintage café racers
Bespoke rear cowl, with standard headlight
Racing handlebars with Soichiro Honda quote 'improves the breed'
Bar end mirrors
New split-level silencer
Air filter mount made by 3D printer
8) 'Monkey Kong'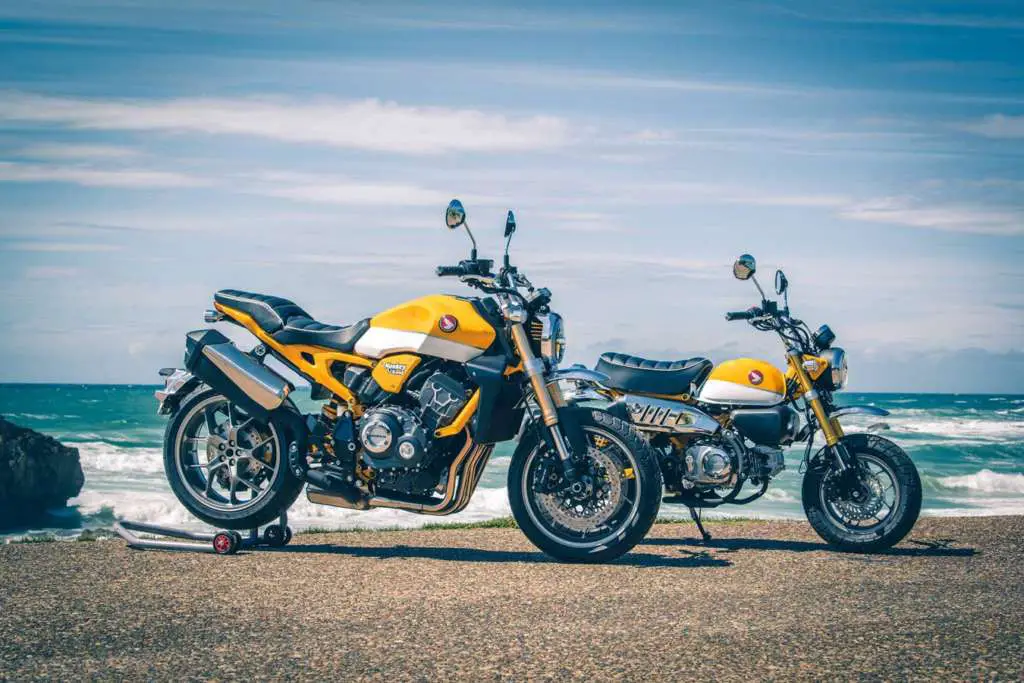 By: Mallorca Motos dealer, Spain
Inspiration: the Honda Monkey
Contact: Instagram MallorcaMotos
Work includes: original Monkey mirrors, indicators and front mudguard
Engine cover with original Monkey style chrome plate ring
Headlight details in original Monkey yellow, with chrome surround
Original Monkey yellow and white paint scheme
Customised seat inspired by original Monkey
High mounted handlebar with chrome finish
Chrome finish to rear mudguard
Africa Twin silencer
Gold forks, yellow rear shock spring
9) 'Alfredo'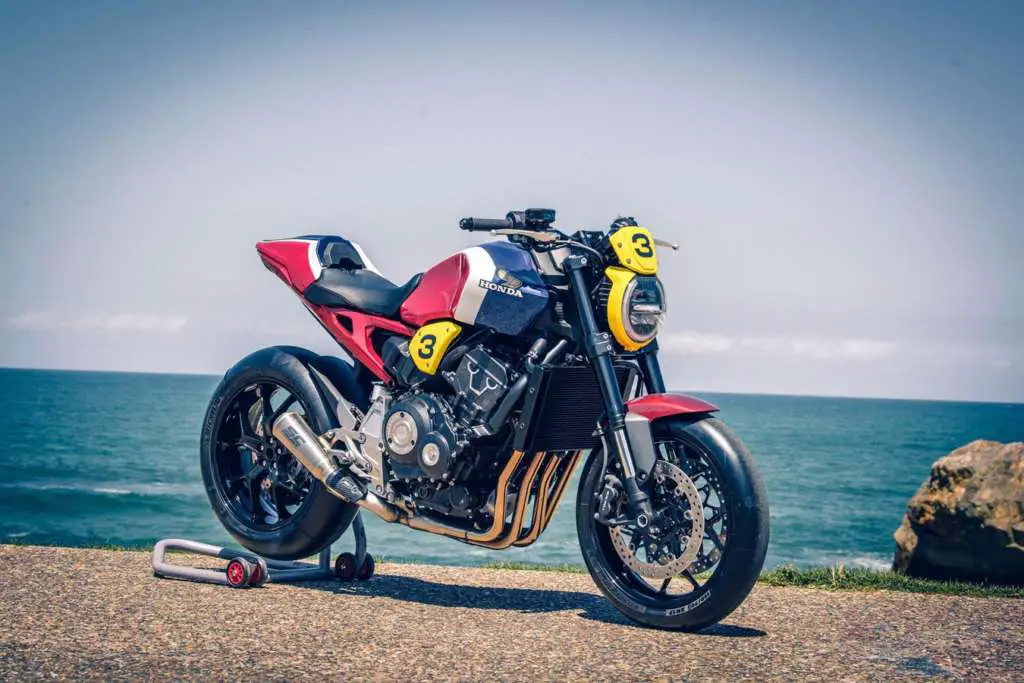 By: Hakuba Motos, Spain
Inspiration: Freddie Spencer
Contact: Instagram hakubamotor
Work includes:
Tank hand painted in three colours with Freddie Spencer logo on tank
Hakuba logo laser-engraved on clutch cover
Black enamelled front forks
Front and side number boards
Bespoke handmade exhaust with SC-Project racing end-can
Relocated pegs and controls
10) Honda Limited Edition CB1000R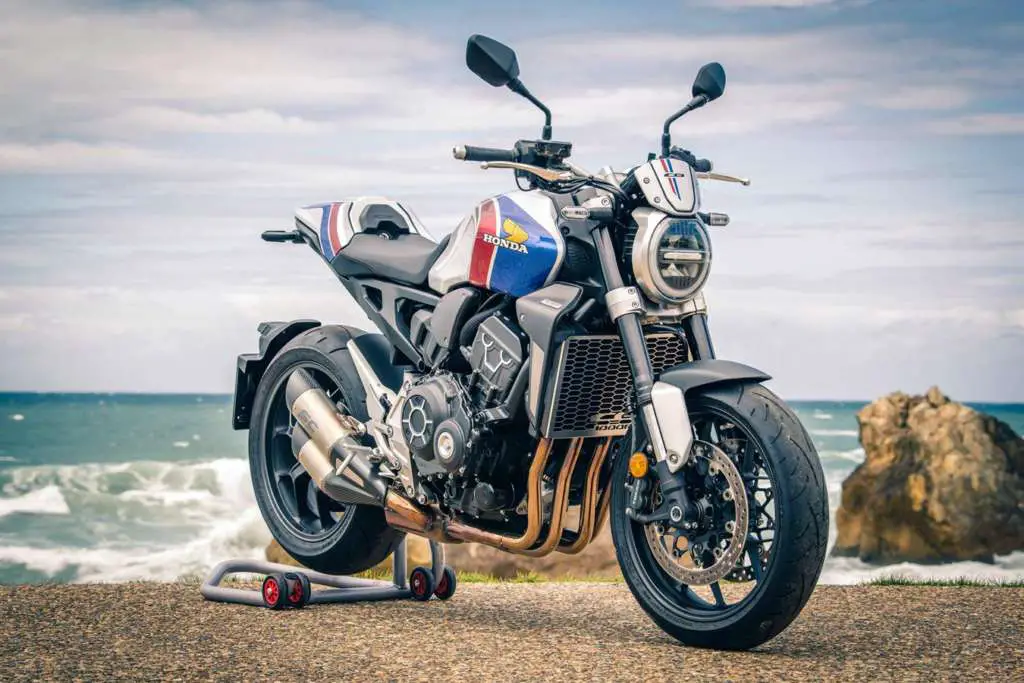 By: Honda Motor Europe, Italy (total 350 units for sale in France, Spain, Germany and Italy)
Inspiration: HRC racing tricolour
Contact: Instagram hondamotoitalia
Work includes:
HRC-inspired tricolour paint scheme
Split-level SC-Project end-can
Carbon fibre parts by SC-Project
11) CB1000R 'Tribute'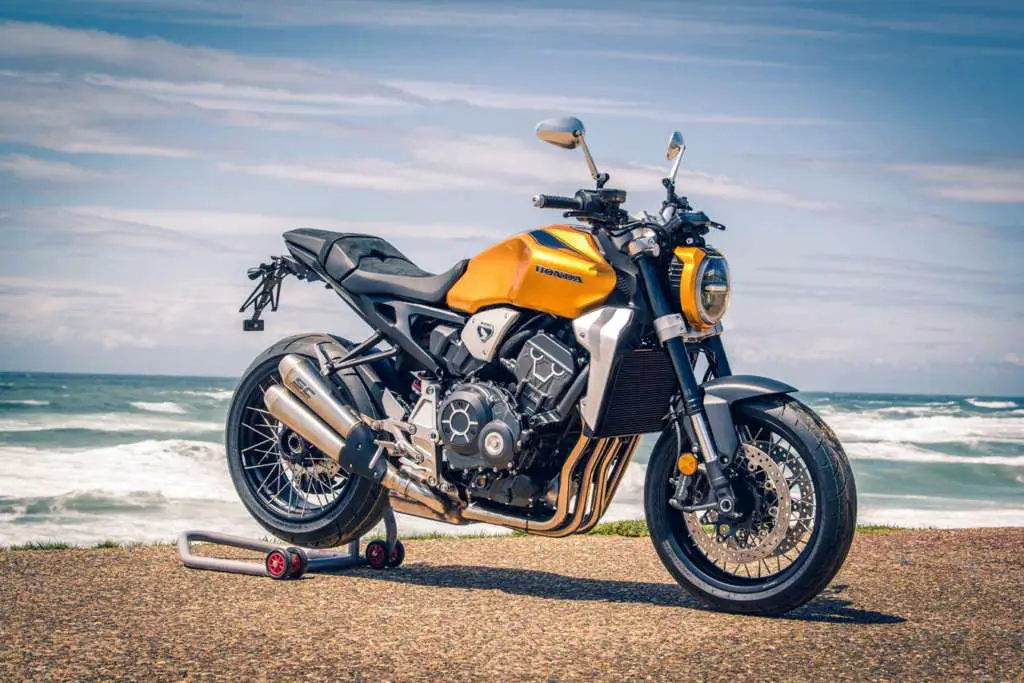 By: Honda Italia
Inspiration: Celebration of 50 years of CB750
Contact: hondamotoitalia
Work includes:
Paint inspired by CB750 'K0' of 1969
Tubeless Jonich spoked wheels
Conical split-level SC-Project end-can
New 3D Honda logo
Rizoma indicators, mirrors and handlebar weights
Alcantara velvet seat coating
Lightech plate holder
12) CB1000R 'Dani Pedrosa replica' @ Wheels & Waves 2019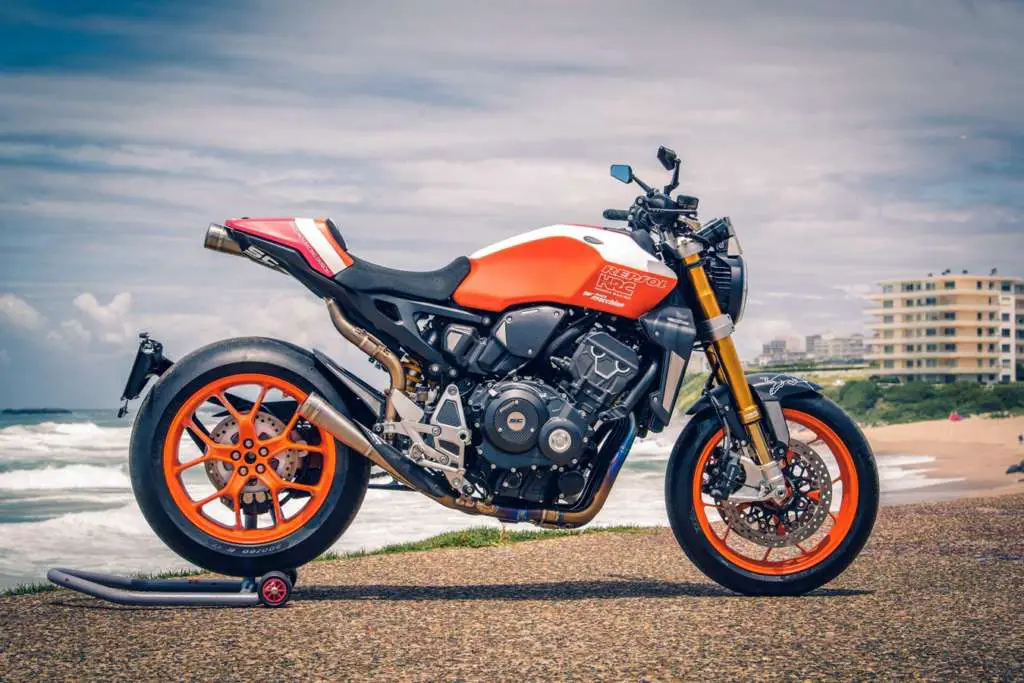 By: Moto Macchion, Italy
Inspiration: #26 Dani Pedrosa RC213V
Contact: hondamotoitalia
Work includes:
Full titanium SC-Project GP 4-2 exhaust
Carbon fibre parts with titanium details by SC-Project
Lighter homologated plate holder
Rizoma indicators, aluminium handlebars, front brake guard and mirrors
#26 Dani Pedrosa RC213V paint scheme
Seat by 'Race Seats'
HIGHLIGHT OF HONDA'S IN-LINE 4 HISTORY
The models below chart Honda's long history of in-line four 'CB' machines, dating back to the introduction of the seminal CB750, up to the release in 2019 of the Neo Sports Café-style CB650R.
1968 Honda CB750
World's first 'Superbike'. First mass-produced four-cylinder production motorcycle. First mass production bike with electric start and disc brake. First shown at Tokyo show in 1968 – on sale in 1969.
1971 Honda CB500F
Honda's first 500cc In-line four-cylinder bike. Smaller and lighter, but showcasing a similar style to the 1969 CB750.
1972 Honda CB350F
The first 350cc in-line four. Reputed to be Mr Honda's favourite bike.
1975 Honda CB400F
First appearance of a six-speed gearbox.
1976 Honda CB750A
Hondamatic version. First Honda 'automatic' motorcycle.
1979 Honda CB900F
First DOHC four-valve engine in a CB.
 1981 Honda CB1100R
Raced successfully by Ron Haslam and Wayne Gardner.
1992 CB750
1990's version of the classic CB750 of the 1970s – first water-cooled version.
1996 Hornet
The first Hornet. A Japan only bike powered by a repurposed CBR250 engine.
1998 CB1300
Introduction of the biggest CB engine, originally used in the Honda X-4.
1998 CB600F Hornet
A key part of Honda's middleweight line-up for over 15 years
2001 CB900F
Powered by a repurposed fuel injected 1996 918 FireBlade engine.
2005 CB1300S
Introduction of fuel injection and ABS.
2007 CB750 Special Edition
Japanese only Special Edition.
2017 CB1100EX
One of two versions of the CB1100 available, together with the CB1100RS.
2018 CB1000R
Flagship of the new 'Neo Sports Café' range, unveiled at EICMA 2017 with the CB300R and CB125R.
2019 CB650R
Fourth member of the Neo Sports Café family continues Honda's tradition of in-line four middleweights.
HONDA MOTOR EUROPE MARKS 50 YEARS OF HONDA INLINE-FOURS AT WHEELS & WAVES
Twelve customised CB1000Rs from across Europe on display at France's leading motorcycle festival
Inspirations include the Honda Monkey, a Le Mans-winning Honda race machine, the Africa Twin and the original Honda CB750
2019 marks the 50th anniversary of first sales of the seminal CB750 – acknowledged as the world's first superbike
CB1000R is the flagship of Honda's 'Neo Sports Café' family, which mixes modern and classic design influences to unique effect
Honda Motor Europe this week returns to the Wheels & Waves 2019 festival on this, its 8th edition, to celebrate 50 years of Honda's inline-four heritage, since the seminal CB750 first went on sale in 1969.
1969 CB750
Now an International event with overseas editions in Japan and the United States, Wheels & Waves (W&W) is a custom bike show with a difference. Not just about bikes, W&W also celebrates surfing, skateboarding and amazing music all set to the stunning backdrop of Biarritz on France's Basque coast.
50 years after the original superbike went on sale, Honda will celebrate its inline four CB heritage at W&W with a range of the best European customisations of its Neo Sport Café flagship, the CB1000R.
The Honda Neo Sports Café Range, which now includes the CB1000R, CB650R, CB300R and CB125R, are not simply retro vintage motorcycles, but rather neo-classics – modern motorcycles showcasing classic design styles combined with modern techniques.
The twelve unique heart-stopping custom creations from Spain, France, Switzerland and Italy that explore the myriad custom possibilities for the CB1000R, will be joined on the Honda stand by an original 1969 Honda CB750, documenting 50 years of continued development and heritage of Honda's inline fours.
In 1969, the Honda CB750 was a revelation. Pushing the boundaries at every level, not only was it the first mass produced inline-four 750cc motorcycle, but it was also the first motorcycle produced with an electric start and a disc brake as standard. Originally developed for the American market, with an ultra-competitive price point of only $1495, the CB750 set the tone for the next 50 years of motorcycling and is rightly heralded as the first 'Superbike'.
Some of the highlights on the stand include three CB1000Rs from Honda Spain's 'Dream Garage' dealer customisation contest. One of them, the 'Alfredo', a Freddie Spencer-inspired CB1000R from Hakuba Motos, also took part in the Punks Peak sprint race in the hills above Jaizkibel Hondaribia, which marks the start of the five day festival.
Alfredo
Switzerland are represented by two very different takes on the CB1000R. CB1000R-adical by Fuhrer Moto and Gannet Design – a full on, aggressive streetbike complete with bespoke camo paint by Walter Oberli and carbon wheels by Rotobox, was joined by the Africa Four CRF1000R – a merging of concepts and ideas from across Honda's current range, complete with gold wheels, a CRF450R front end and unique HRC-themed paint scheme.
CB1000R-adical
Honda Italy showcases three bikes in Biarritz, one of which, 'The Tribute' – a stunning golden CB1000R – was inspired by the original colours of the 1969 CB750. Four custom CB1000Rs from France complete the line-up, including a striking all black edition built by local Biarritz dealer 3C Motos.