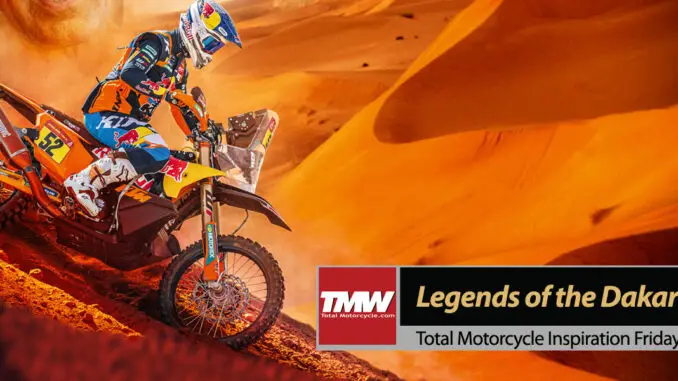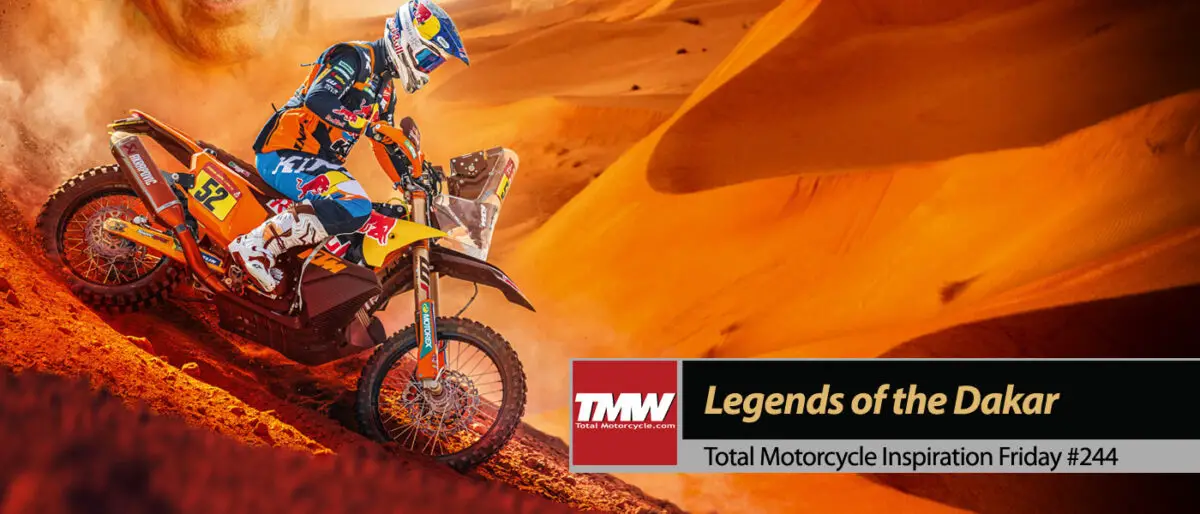 The word "Dakar" brings up images of desert, dunes, heat and exotic locals but also hero's and overcoming inspiring challenges overcome. Welcome to week #244 of Inspiration Friday: Legends of the Dakar Exhibition. Be inspired about riding and discovering motorcycling. Read about the how no other race on earth has such an extensive history of extraordinary stories in some of the most remote places explored with a motorcycle as The Dakar Rally.
From 50 degrees heat, desert and stones, to freezing cold mountains and challenging ravines, the Dakar Rally is a race of extremes. Let the desert winds blow strongly at your back, always my friend.
Book your ticket now. or free Virtual 3D Experience* (*did not work yet when I tried, good luck)
Enjoy this week's beautiful photos, inspirational story and get out there on your 2024 KTM or any motorcycle at all and explore, discover and enjoy our world by 2-wheels.
Total Motorcycle covers all the Dakar Rallies in our daily news for your enjoyment along with very cool, hand picked photos from hundreds of daily race choices.
Check out 2023 and 2024 Motorcycle Model Guides on Total Motorcycle. Yes, new late 2023 motorcycle models are STILL arriving as well as new 2024 models.
Total Motorcycle would like to thank the Dakar Rally and KTM as well as our over 400 million of motorcycle riders and enthusiasts who visit and support TMW for inspiring us to bring you this week's Inspiration Friday: Legends of the Dakar Exhibition!
Each week we bring you another Inspiring Motorcycle story to inspire you to get out and ride.
Join Total Motorcycle here and help us by joining Total Motorcycle's new YouTube Membership and $1/mo Patreon channels. Please help us help riders, support motorcyclists and motorcycling worldwide today.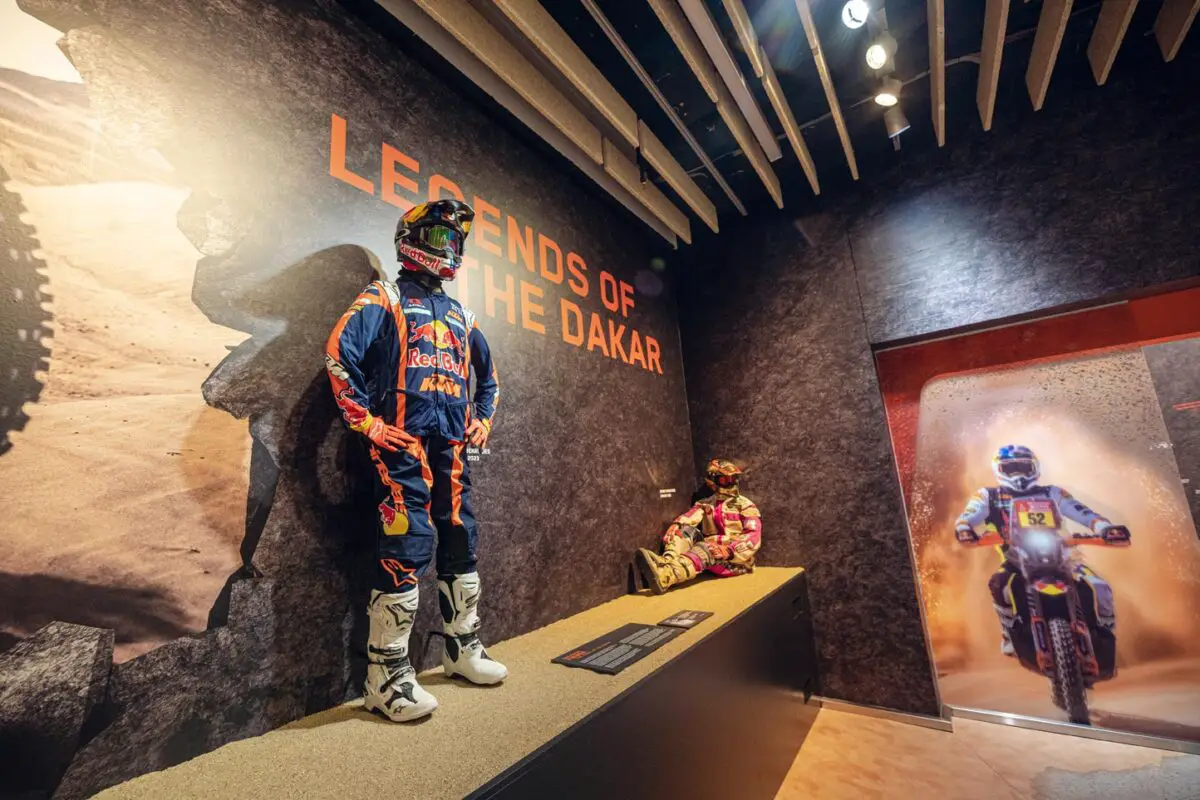 KTM MOTOHALL ANNOUNCES VERY SPECIAL 'LEGENDS OF THE DAKAR' EXHIBITION
No other race on earth has such an extensive history of extraordinary stories in some of the most remote places explored with a motorcycle as The Dakar Rally. To celebrate 30 years of Heinz Kinigadner and KTM competing at this incredible event, the KTM Motohallin Mattighofen, Austria is announcing a very special exhibition 'Legends of the Dakar' which opens on May 11.
From 50 degrees heat, desert and stones, to freezing cold mountains and challenging ravines, the Dakar Rally is a race of extremes. Having competed at the event for three decades, KTM has enjoyed a rich Dakar history, right from the Heinz Kinigadner days in the 1990's, to the most recent victory with Kevin Benavides in January 2023.
The KTM Motohall special exhibition gives visitors the opportunity to immerse themselves in the world of Dakar – a race of a million stories. With a spinning compass and limited-service help, Heinz Kinigadner nursed his adapted LC4 Enduro bike to the very next bivouac in a bid to put KTM on the map and realize his dream of a Dakar podium. Little did the two-time Motocross World Champion know at the time that his vision of competing at the event would bring KTM the success it has had today, with 19 Dakar victories since Fabrizio Meoni's first win in 2001.
In 2023, after nearly 44 hours of racing, a final stage showdown with only 12 seconds separating first and second place, both KTM riders captivated the eyes of the world.
The 'Legends of the Dakar' exhibition tells untold stories and re-visits moments in history of this incredible race, directly from those that have experienced the heat and the cold, as well as the highs and the lows, first hand. With 10 history-making Dakar bikes and numerous artifacts from this notorious race on display, the exhibition brings visitors closer to the action from Paris-Dakar, South America and Saudi Arabia. Years where legends were made, such as Heinz Kinigadner, Fabrizio Meoni, Marc Coma, as well as more recently Matthias Walkner, Toby Price and Kevin Benavides are re-visited to deliver untold stories while reflecting on competing at what is arguably the toughest race on the planet.
"There is no bigger adventure than the Dakar; the momentum and motivation it provided us back in those early years, which proved to be pivotal in the promotion of the KTM name and development of our motorcycles, has never wavered." – Stefan Pierer, CEO PIERER Mobility AG
"To talk about the history of KTM and the Dakar really makes me a bit proud. Back when I started in 1994, I could not believe the media coverage – it was so much more than I got for my world titles, and I knew it could be good for the brand. While the style and professionalism of racing has changed since then, the fundamentals of the race remain the same. It's a big adventure." – Heinz Kinigadner
"There is no other race like it, and no feeling like winning it. I am so proud to have been an Austrian rider, on an Austrian bike with an Austrian sponsor and it is really cool that the KTM Motohall is telling these stories – especially those ones in history that we did not always get to know about in detail." – Matthias Walkner, 2018 Dakar Winner
"Winning this year's Dakar was really the best feeling of my life. And now, to be a part of KTM's Legends of the Dakar makes me very proud. I am still overwhelmed, it's amazing." – Kevin Benavides, 2023 Dakar Winner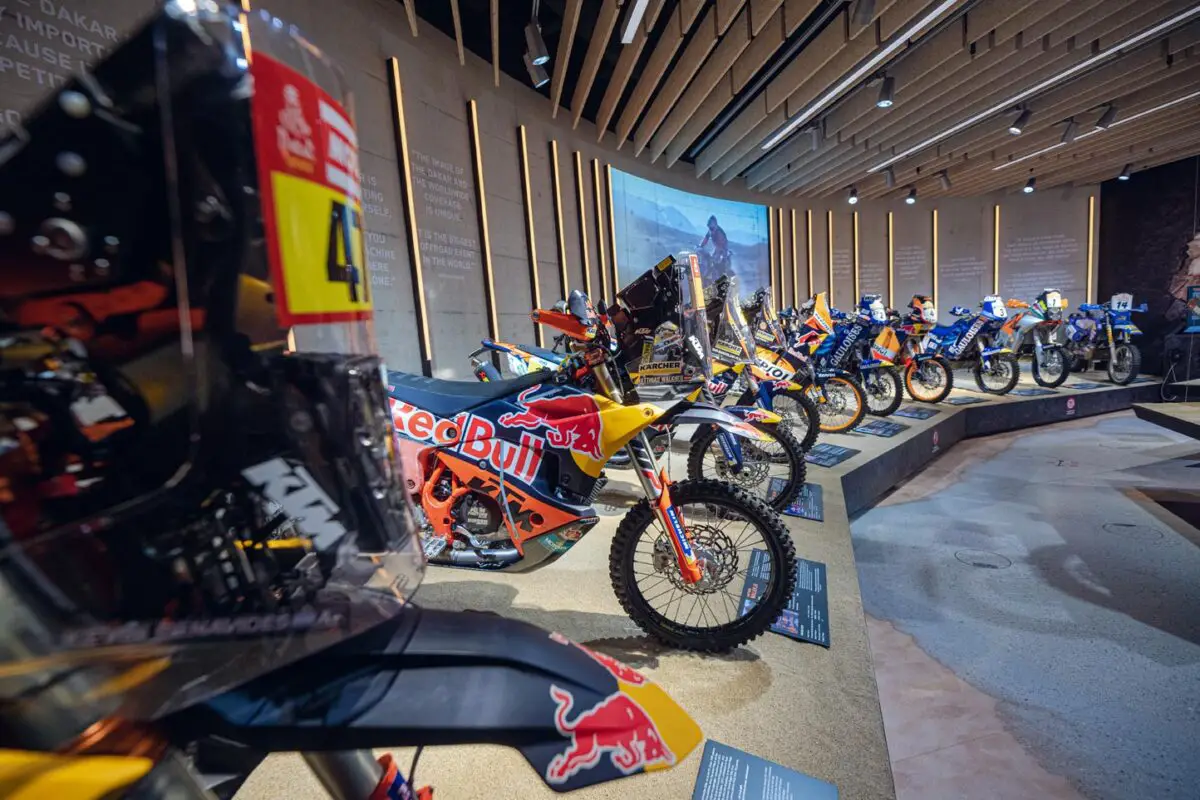 WHEN THE DESERT WIND BLOWS THROUGH THE MUSEUM
Let us take you on a journey through KTM's 30-year action-packed history in the Dakar Rally. The new special exhibition "LEGENDS OF THE DAKAR – Pushing the human limits" is open now and shows the untold moments of this incredible Rally – directly from those who experienced the heat and cold and all the ups and downs. Ten historic Dakar bikes and numerous exhibits from this infamous race bring you closer to the experiences of Paris-Dakar, South America and Saudi Arabia. Discover the years of KTM legends such as Heinz Kinigadner, Fabrizio Meoni, Marc Coma, Matthias Walkner and Toby Price. Probably the toughest rally in the world – and you'll be right in the middle of it.
An opening weekend full of highlights
Until May 14, 2023, our forecourt will be transformed into a Dakar camp with many highlights every day from 09:00 – 18:00. Additionally, on May 13 & 14, starting at 10:30 a.m., exciting Innovation Lab workshops around the topic of DAKAR are waiting for your kids.
It's worth stopping by!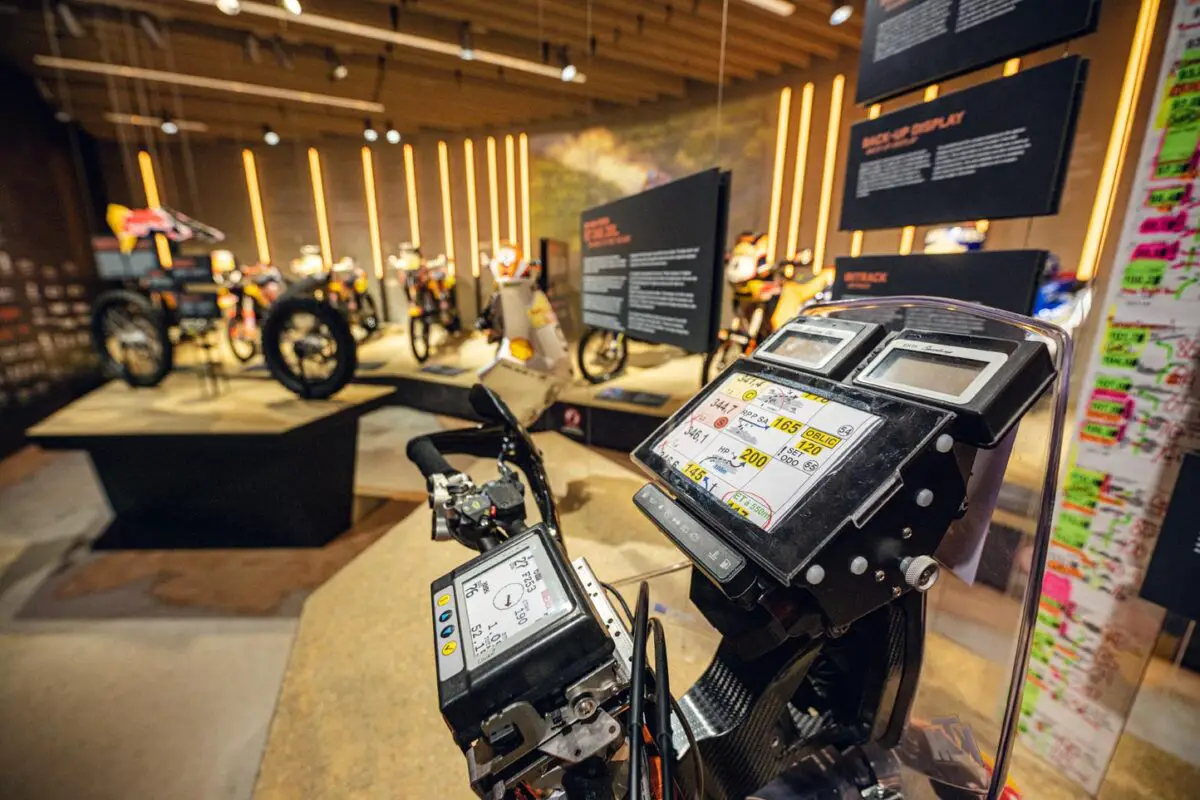 WELCOME TO THE HIGHSPEED WORLD OF KTM BY ENTHUSIASTS. FOR ENTHUSIASTS.
Just a few meters away from the very first factory owned by the company's founder, Hans Trunkenpolz, lies the spectacular KTM Motohall, located at KTM Platz 1 in Mattighofen.
A striking metal construction in the form of a tire track pattern is the impressive building's architectural highlight, symbolizing the high-speed dynamic performance of this motorcycle company that is well-known around the world today.
Spread over three floors and 2,600 m², our state-of-the-art exhibition allows you to experience the magic of KTM up close. It's all accessible for everyone, featuring interactive displays, virtual tours, and original bikes. And that's not all – there is also a 300 m² shop and an events space with capacity for up to 400 people.
The KTM Motohall is truly a place of pilgrimage for motorsports fans, as well as fans in the making.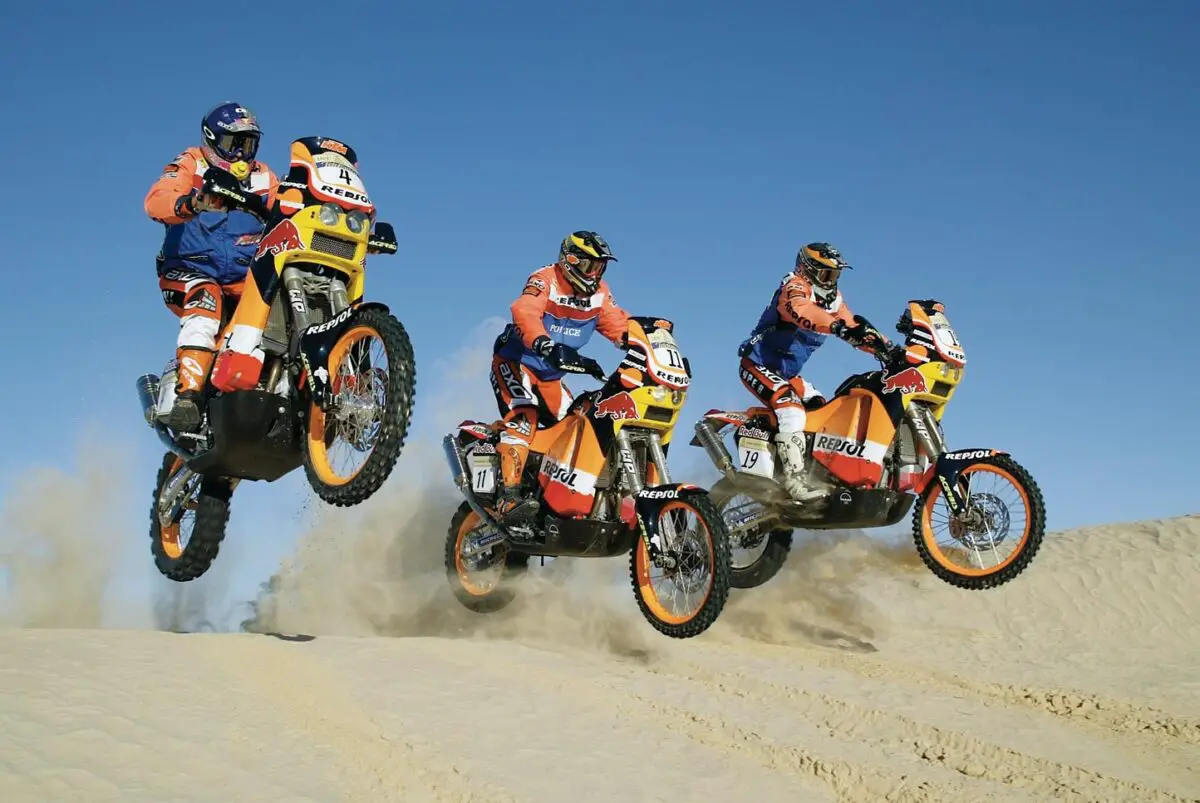 FACTS & FIGURES
LEARN MORE ABOUT THE KTM MOTOHALL
With around 10,000 m² of floorspace, the KTM Motohall is a large, spacious venue dedicated to all things KTM. The three-story exhibition offers a smooth journey through the themes of innovation, history, and technology.
M² 9600 FLOORSPACE
M² 2600 EXHIBITION SPACE
1000 TOTAL BUILDING CAPACITY
130 UNDERGROUND PARKING SPACES
EXHIBITION-FLOOR 1: DESIGN, SPIRIT, ENGINEERING, AND BRAND
Find out how a KTM bike is created, discovering every step on its journey from initial sketch on paper through to manufacture.
Learn everything about the designs, frames, engines, and chassis of our READY TO RACE motorcycles.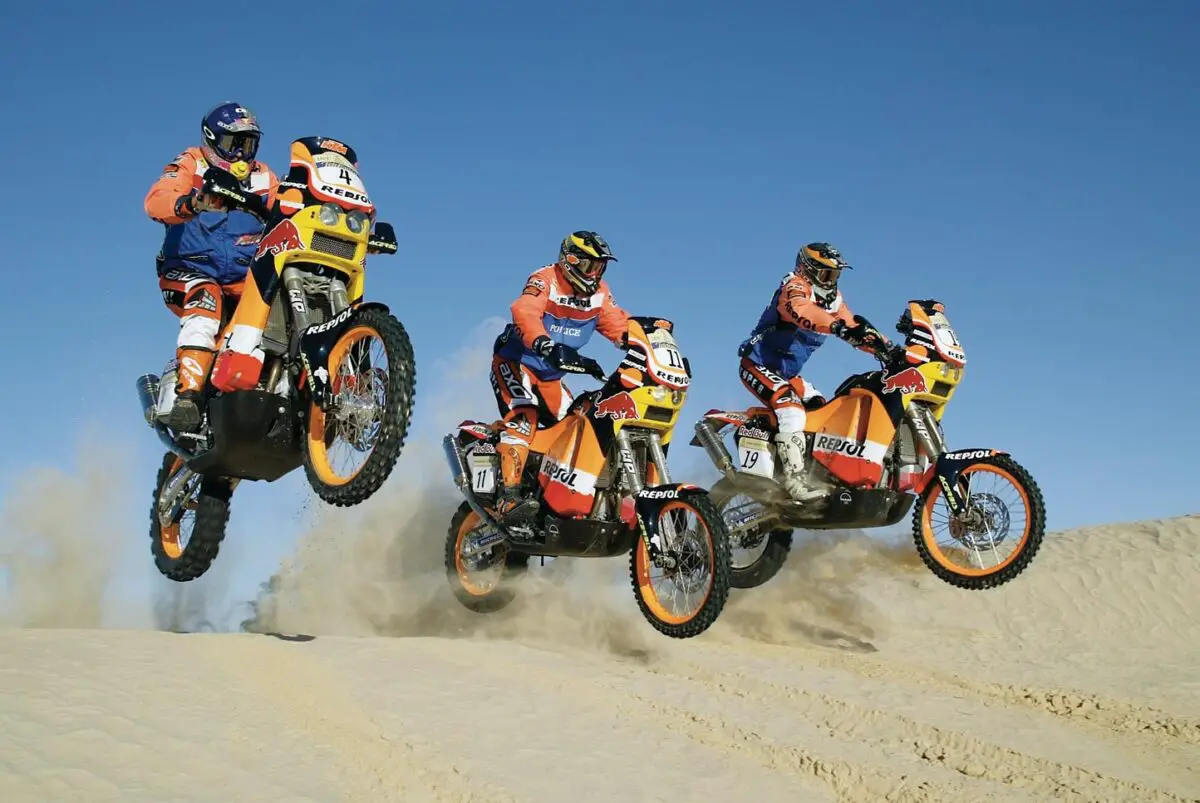 EXHIBITION-FLOOR 2: THE KTM STORY
We use the most famous KTM bikes to tell you the fascinating story of Europe's biggest motorcycle manufacturer.
Starting with the KTM R 100 from 1953 and going all the way through to the latest bikes in Offroad, Street and E-Mobility segments.
HEROES-FLOOR: MEET YOUR KTM HEROES
Meet the 28 bravest and most successful KTM riders of all time: from Gennady Moiseev and Heinz Kinigadner to Shayne King, Brad Binder and Matthias Walkner.
All the while being immersed in the world of KTM by a spectacular, 120-meter-long, 360-degree video installation.