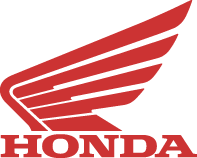 Total Motorcycle's interview with Honda Motorcycle Canada: by Andrea Le Pard and Mike Le Pard.
"You meet the nicest people on a Honda".
Those who ride Japanese brand motorcycles can thank Honda Motors for the most successful motorcycle advertising campaign ever to get people to buy and ride motorcycles. Honda also revolutionized the industry in 1968 with their CB750K motorcycle, the biggest motorcycle to hit the world out of Japan. Honda has a proud history and a lot of great accomplishments on their shoulders and Total Motorcycle.com wanted to find out what is next for big red (Honda).
We caught up with Bob Butler, District Sales Manager for Canada at the Calgary Motorcycle Show on January 10th, 2003. Without a doubt, Bob knows where Honda wants to go and how it is going to get there.
For 2004 Honda has brought out some great motorcycles to offer the buyer. New models this year include the Honda 599 (also known as the 600 Hornet in Europe), the Honda CBR1000RR and Honda Shadow Aero 750. Honda Motorcycle has also introduced 2 new bikes for the race track, the NSR 50 and Dream 50. For those who remember the original Dream 50's will love the new one. Don't forget that they are also constantly upgrading and improving existing models. Bob would agree that Honda R&D doesn't get much sleep.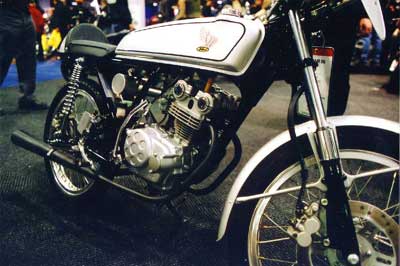 Honda Dream 50 track bike at the Calgary Motorcycle Show
Bob tell us that Honda Motorcycles are known world wide for reliability. Motorcycle quality and reliability is something Honda takes very seriously. Every new model and modification is put through very strict safety tests to insure that the product will not only work today but decades to come. Because Honda reliability and quality is so important for the company, Honda has adopted a very conservative approach to building motorcycles. Unlike many of the other motorcycle manufacturers, they prefer to use proven technology on their motorcycles rather than untested state-of-the-art technology. We can see that this approach is quite successful as many old Honda motorcycles are still on the road today all around the world.
While Honda prefers using proven technology in their motorcycles, it does not mean they don't bring new state-of-the-art technology to the market. Honda is quite proud of their new suspension system called "Pro Link" and Honda Research and Development continually tries to predict and offer innovative solutions as the market demands them. Their new CBR1000RR is a great example of Honda offering such new technology on a motorcycle.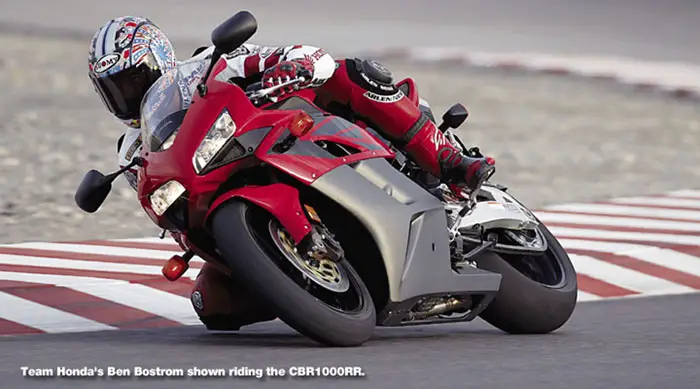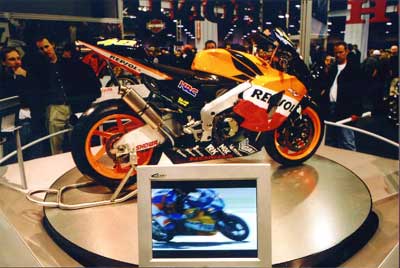 Current Honda Factory Super Bike the RC 51 at the Calgary Motorcycle Show
Meet the machine that's going to take Honda's Superbike championship legacy to the next dimension: the all-new CBR1000RR. Inspired by their World Champion RC211V MotoGP bike, with revolutionary Unit-Pro Link suspension and HESD, new-tech Honda Electronic Steering Damper, it's ready to race—and ready to win. We were told by Bob that the new 2004 CBR1000RR is more race ready than their previous CBR1000 and while it won't win in either weight or horsepower it will win on the race track. This is because Honda has chosen to focus its efforts was on what it felt really mattered, acceleration. Honda is so sure of this that the CBR1000RR will replace the current Honda factory Super Bike the RC 51. Honda has invested much in the CBR1000RR, they had to since the big bore super sport bike class is very competitive and very popular. If they can win on the race track, they can win in the showrooms. Inside information has it to expect even more changes to the CBR1000R in 2005. The 2005 Honda CBR1000R will be named the "A" model. But, sorry, no further details right were given.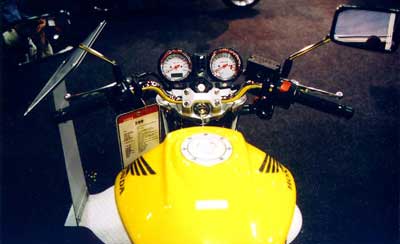 Honda 599 in yellow at the Calgary Motorcycle Show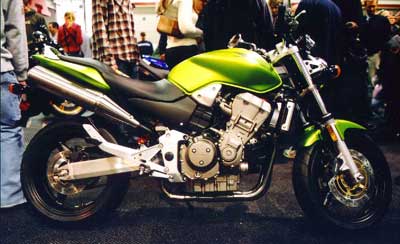 Honda CB900F in Matte Green Candy at the Calgary Motorcycle Show
Another new model for North America is the Honda 599, also know as the Honda Hornet 600 in Europe. For those who don't know, the Honda 600 Hornet is the number one selling motorcycle in Europe. in any category. Since it is so popular in Europe Honda decided to bring it over to North America to fill the need for a middle weight sport standard. Honda did the same for the 919 (Hornet 900) in 2003. The Honda 599 looks very much like the Honda 919 and that is no coincidence since the 919 styling is so popular. Honda also introduced the CB900F in Matte Green Candy for 2004 also. From Honda's perspective, they build their standard bikes to be more versatile, with unmatched quality and reliability. Honda feels the 599 really fits into their line up very well, with its upright seating position, it will allow riders an easy transition from a sportbike or cruiser to the 599 and back again. With the engine from their very fast CBR600 the 599 is no slouch either. Naked bike popularity is growing with more manufacturers offering more models each year to the consumer. While a standard motorcycle may not be the best in any category in stock form, it is the most versatile, do-it-all motorcycle a rider can buy. Many modifications are available to make the standard motorcycle anything the rider wants it to be.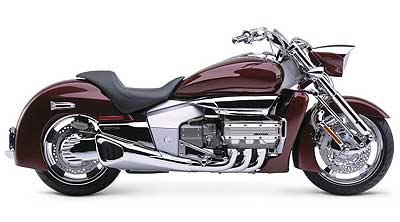 Now on to the Honda Valkyrie Rune. The Rune is a huge success for Honda and it really put Honda cruisers on the map. No one was prepared for what the Rune looked like, it is like seeing something out of the future it was so exotic. Even the high manufacturer suggested retail price was quite reasonable considering the amount of R&D the Rune received. In 2003, due to great demand in for the Rune in the USA, Canada received 100 Valkyrie Runes and the USA received 2,000. The Honda 2003 Valkyrie Rune's sold like hot cakes in 2003. The inside information we got from Bob Butler is that 2005 could very well be the LAST YEAR for the current Honda Rune before a change takes place. If anything small will happen it could be a new paint job for 2005. But inside information has it that Honda could be redesigning the 2006 Honda Rune into something new… Asked if they are considering any of the Rune T-Concept bikes gave us a "no comment" response… If the 2003/04 Rune impressed us, 2006 will surely hold some Honda Magic!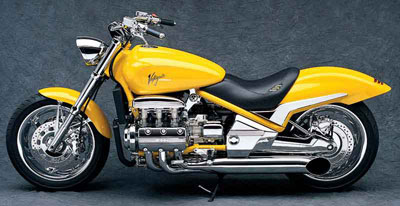 The Honda Valkyrie Rune concept motorcycles, T1, T2, T3 and T4. The current (2004) Honda Rune is closest to T3. Could the new 2005/2006 one be T1, T3 or T4?
Talking about inside information, watch out for the Honda Silverwing 600 (ABS?) in 2005. Sales have been really good for the Suzuki Bergman 650 and Honda is taking notice. So much notice in fact that they are planning to bring the Honda Silverwing 600 to Canada for the 2005 model year! The new 2005 Honda Silverwing could also have the ABS as well.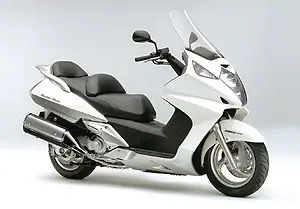 Honda Silverwing 600 ABS

Want more inside information? You asked so Total Motorcycle delivers it to you.
Yet another "could be" model from Total Motorcycle, the Honda CRF450x for 2005. Just like Honda did for the CRF250X they could do for the CFR450X. The CRF250X was a surefire formula for building the most serious off-road motorcycle to enter the dirt market in a long, long time. The X marks the spot where you'll find a full-on, competition-oriented, off-road machine, coming from Honda.
Bob also told us that since California outlawed Baja duals recently that the new legislation means Honda will be developing new dual sports that should be brought into Canada.

On closing, Bob Butler wanted to say that Honda has lots of great plans for the future. He would like to also see Honda carry more entry level motorcycles. If Bob has his way, then there will be even more Honda's at your local dealership next year…
Stay tuned because Honda's future is so bright that you gotta wear shades.
Thanks for your support and for coming back time and time again to visit us.
Mike.
Total Motorcycle.com
---
Unbiased, helpful, personal, friendly and useful motorcycle resource