Total Motorcycle's interview with Yamaha Motorcycle Canada:
by Andrea Le Pard and Mike Le Pard.
With motorcycle production starting in 1955, Yamaha is no stranger to building motorcycles. With huge past motorcycle series successes like the XS, XJ, FZ and YZF, Yamaha is known for building long lines of great motorcycles. Take the V-Max, almost unchanged since 1985, the Yamaha VMax still continues to impress, sell and dominate the streets.
We were at the Calgary Motorcycle Show interviewing Yamaha Canada on January 10th, 2005. We wanted to know what consumers should expect from Yamaha in 2005 and beyond. What are their plans for the future and to learn more about the new 2005 Yamaha R1, Yamaha FZ6 Fazer as well as any project bikes in the works.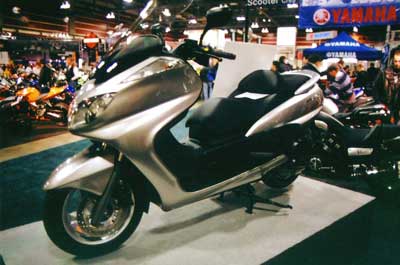 Total Motorcycle could not but help notice a strange looking large sized scooter we have never seen before in the Yamaha showroom. Turns out Yamaha is taking interest in the big scooter market and Suzuki's Burgman's success is once again not going unnoticed by Yamaha.Yamaha's new Majesty 400 was on display and they were testing the North American market for reactions. The Majesty 400 is not (yet) available to the North American market and is only sold in Japan right now. We learned that the 400cc engine size is flexible to what the North American market wants, if riders want a bigger (1000cc) scooter, they will make it! Well, if the Majesty was there to attract attention, they got it. Scooters are back in fashion, sales are up and with Canada removing the 50cc max scooter size law, a new market is appearing.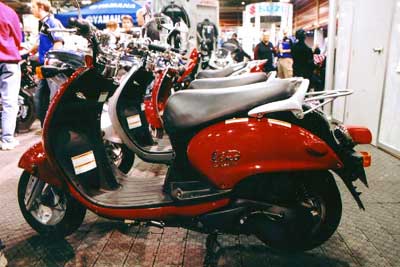 One of the new bigger scooters that was on display and will be sold in North America this year is the Vino 125cc. The Vino 125 is a much more powerful Vino than ever before with speeds capable of 120km/h. The Vino 50 is only good for up to 60km/h which makes the Vino 125 a more versatile all around scooter. The Vino line shows very European styling that will attract many buyers in North America. Yamaha said they are also looking at bringing out other sized scooter models should another market and right timing open up for scooters.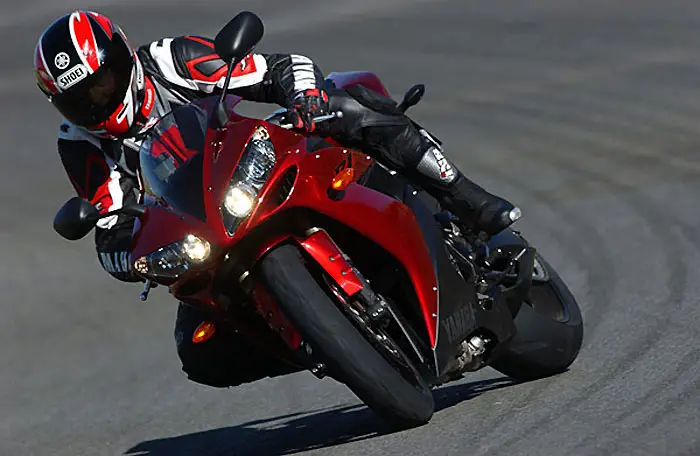 From scooters to the big, fast, bold and powerful and RED YZF-R1. Boy was the one on display a gorgeous red colour, but it didn't need the red colour to gather lots of crowds. It was a circus with interested visitors wanting to touch, feel and sit on the new R1. For those who don't know, the R1 is now in it's Fourth Generation of design. Yamaha designed the R1 to be the best, with a 1:1 horse power to weight ratio and everything they have learned from 50 years of competition thrown into the mix. A third-generation, 998cc, liquid-cooled, short-stroke, 20-valve, in-line four-cylinder engine designed to make 180 horsepower power at a stratospheric 12,500 rpm. The shorter cylinder head is re-angled farther forward to 40 degrees, far enough forward to allow the main frame spars to go over the engine instead of around it.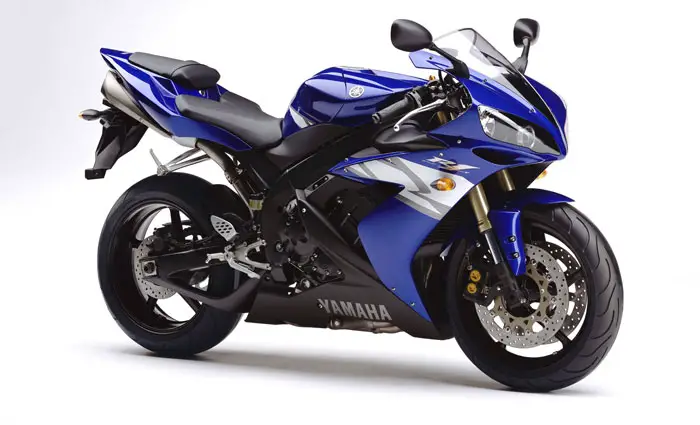 That straighter load path makes the Deltabox V frame massively strong, even as it makes the bike narrow to better fit the rider. Together with its light, strong and long Controlled Fill die cast truss swingarm, all that power is deployed to the pavement with the help of a fully adjustable piggyback shock absorber.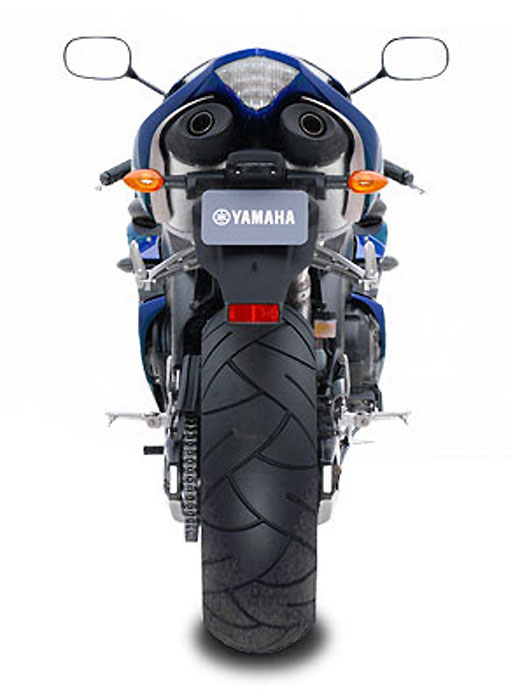 Titanium exhaust with Yamaha's lightweight Exhaust Ultimate Powervalve (EXUP) is routed under the seat for greater mass centralization. With a generous 56 degrees of cornering clearance the Yamaha R1 will eat up the twists and curves of any road foolish enough to get into its path.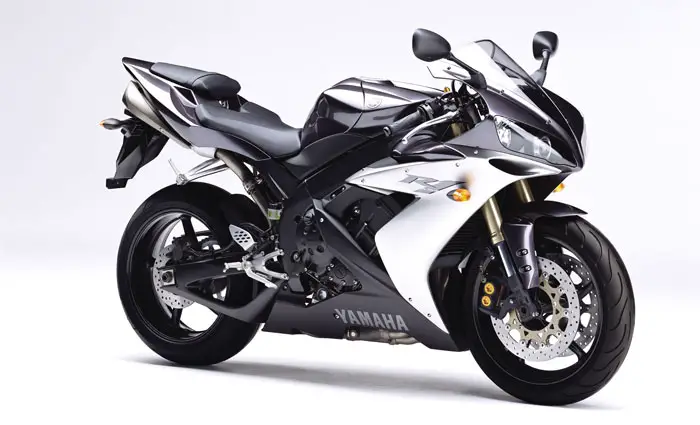 New, five-spoke wheels at both ends are light to spool up fast. Radial-mount forged calipers and 320mm discs provide outstanding braking performance for bending controllably into tight chicanes at the end of long, sixth-gear straights. The YZF-R1 is Yamaha's ultimate expression, a perfect example of the mechanical beauty that flows when form is set free to truly express function. Yamaha estimates sales for the new R1 will equal the speed of the bike, fast and furious!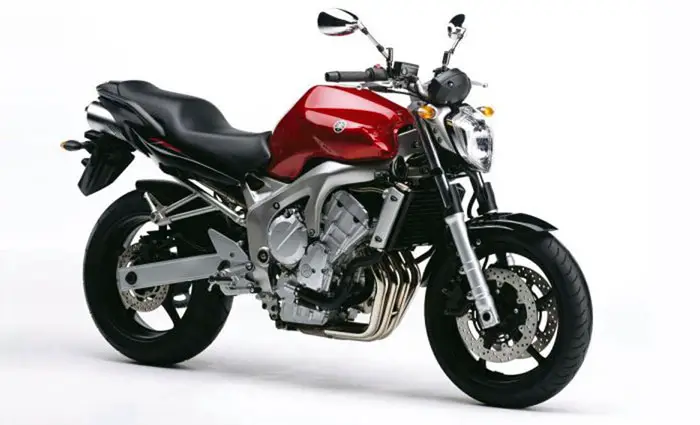 Another Yamaha model that was drawing the crowds was the all-new European imported and designed Yamaha FZ6. Known as the Yamaha Fazer 600 over in Europe this motorcycle has really got a lot going for it. Just look at these raw statistics: 98hp @12,000rpm, 187kg, and under $9,000. While that is not as impressive as the YZF-R1 (180hp, 180kg) it is very impressive for a sport standard motorcycle. With the FZ6 receiving a re-tuned R6 engine for lower torque and stronger midrange power it is a superbike for the real world.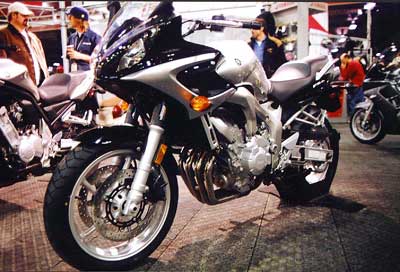 Blessed with the Yamaha YZF-R6 engine, and R6 like styling with a more comfortable standard riding position. The R6 engine has a lot of aftermarket accessories so if 98hp just isn't enough, it can be made more. Yamaha kept the European flare that they know North American riders love and changed the exhaust to match the style of the bike and keep the flowing lines. The 1/4 fairing follows the FZ1000 design. Yamaha said that the FZ6 fazer may go naked in the future, but Yamaha believes that Canada and the USA is not really ready for fully naked bikes… (ed – tell that to Honda).
Offering a thick, wide seat, Handlebar that reaches back to the rider, Big windshield atop a stylish half-fairing, Centerstand, Passenger grabrails, Luggage hooks, Big fuel tank and Yamaha FZ6 is built for versatility and comfort. Standard bikes are the biggest splash in the market since the popularity of cruisers and pure sportbikes. With more and more manufacturers bringing out standards and with sales that keep going up, owning a standard is an extremely attractive and popular option for riders.
With the Yamaha FZ6 Sitting at the same price as the Honda 599 their is bound to be a showroom brawl between the two in sales.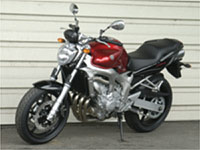 ………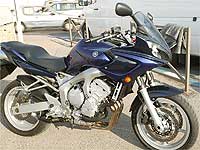 First Spy Shots: 2005 Yamaha FZ6's (Fazer 600), July 2003.
With Yamaha loving the European flare and not trying to follow a trend set by other companies or parts of the world, their bikes will look and feel different and unique. Yamaha has a clear focus on customer demand, they are a willing and flexible motorcycle company that will make and sell what the customer wants. If the customer wants power, they'll build it, speed no problem, touring comfort or cruiser attitude not an issue, if the customer buys it, they'll make it.
There was no word on weather the V-Max will be redesigned for 2005, but with the 20th Anniversary of the Yamaha V-Max just around the corner in 2005…
Yamaha will be enjoying more than a few successful models in 2005 and we look forward to Yamaha shaking up the world yet again and again in the future.
For 2005 Honda has brought out some great motorcycles to offer the buyer. New models this year include the Honda 599 (also known as the 600 Hornet in Europe), the Honda
Thanks for your support and for coming back time and time again to visit us.
Mike.
Total Motorcycle.com
---
Unbiased, helpful, personal, friendly and useful motorcycle resource