Total Motorcycle's interview with KTM Motorcycle Canada
by Mike & Andrea Le Pard.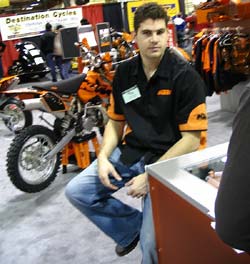 KTM, an Austrian company, knows a lot when it comes to making motorcycles. Their main area of focus is off-road bikes, but they are now moving towards street bikes and possible more. They have been in business since 1934 and can claim over 104 championship titles. KTM also has dominated the European market and now they are here in North America to do the same.
Total Motorcycle interviewed Florian Burguet, KTM Motorcycle's Marketing Manager for Canada, at the 2005 Calgary Motorcycle Show. To say that Florian is extremely excited and extremely knowledgeable about KTM motorcycles would be a gross understatement. Florian is a great guy to talk with. Although his European accent can be hard to understand at times, his passion for motorcycles shines through like a spotlight.
TMW: Florian, what sets KTM apart for the rest of the competition?

Florian: KTM is very much focused on the off-road market. Canada is a great place for KTM as it gives us the opportunity to do what we did in Europe, and that is to dominate the off-road market. Recently KTM has also brought our expertise in designing off-road motorcycles to the market of designing street bike models. Our off-road styling expertise will allow us to produce very unique, agile and powerful streetfighter type motorcycles.
TMW: What were KTM's most successful models for 2004?

Florian: KTM had many successful models in 2004, but the most successful one would have to be our KTM 950 Adventure which was new in Canada for 2004. The 950 Adventure is popular with the customers because it offers an attractive do-anything-design at a great price ($18,500). To contribute to its success, the 950 Adventure is not only road ready but is also a professionally competitive rally model as well.
TMW: Out of all KTM's 2005 models, which ones are KTM most excited about and why?

Florian: That would have to be our newly changed 2005 KTM 400 EXC Racing model. With its broad power band, great top-end performance and optimal traction, the 400 EXC Racing bike is the all-rounder in the KTM off-road program. Even though the 400 EXC was introduced in 2002, the new model has been significantly changed to make it even better for 2005. KTM is also very excited about the 525 SMR Supermoto motorcycle. The 525 SMR is made race-ready in the S1 category, thanks to its super-agile handling, minimal weight, plenty of power and 165 sized slicks.

TMW: What is KTM currently focusing on in the market and why?

Florian: KTM is extremely focused on listing to our customers. We need to be reactive to the motorcycle market and make motorcycles that the customer wants and needs. For example, our off-road line up offers many engine choices going up in small increments to meet the needs of any off-road motorcyclist.

TMW: What do you foresee KTM focusing on more in the future?

Florian: In Europe, KTM is the best in off-road. We want to take our knowledge and manufacturing skills into the road and racing bike market. For 2005, we have introduced the radical KTM 990 Superduke in Europe, a fast, agile Streetfighter type motorcycle. The 990 Superduke is the perfect example of what KTM is focusing on in the future.

TMW: What things might we expect to see in the future from KTM?

Florian: You will see more road and racing motorcycles in the future from KTM. Take a close look at the 2005 KTM 625 LC4 SMC motorcycle; this is where the future design of our street bikes will take their cues from. When KTM introduces a new model it is big news because each model is well thought out, designed for its purposed and tested extensively.

TMW: Are there any future models in the works?

Florian: All of KTM's new models make their first appearance in Europe. Since North America, and specifically Canada, is a much different market than Europe our new models need to be modified to meet North American regulations and also may have some design changes. I would expect KTM (North America) to add the 950 Supermoto in 2006 and the 990 Superduke for 2007. KTM has also been approached by Artic Cat to buy our engines to place into their ATV's (All Terrain Vehicles) but the big news there is that we refused to sell them our engines because in 2007 we expect to make our own ATV's!
This concludes our 2005 Interview with KTM Motorcycles. We would like to thank KTM Canada and Florian Burguet for allowing us to interview them and for their time. We look forward to our next interview with them.

---
Unbiased, helpful, personal, friendly and useful motorcycle resource