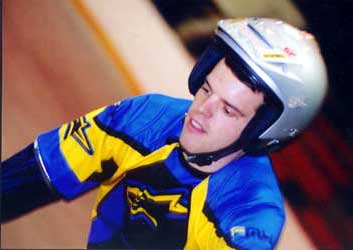 Total Motorcycle's interview with Canadian National Trials Rider Champion Ryon Bell: by Chelsea McLean and Mike Le Pard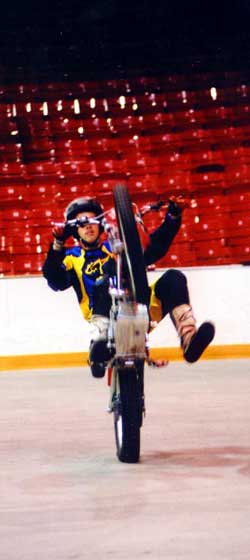 We were treated to a private trials demonstra-tion by Canadian National Trials Rider Champion Ryon Bell. Ryon demonstrated balance and precision at slow speeds over an obstacle course on his Gas Gas motorcycle. It takes a very steady hand and lots of practice and skill to perform very slow speed (even dead stop) maneuvers over barrels, ramps and more. With that amazing talent, Ryon showed us what a Canadian Champion's skills are all about!
Ryon has just recently won the final event at round one of the 2003/04 Gas Gas AMA/NATC National Indoor Mototrial Championship (US Indoor National Opener) as a member of team Gas Gas. In talking to Ryon, it is obvious that the titles have not gone to his head. His ultimate goal is to win the USA Trials Riding Championship title, but he realizes that North America does trail behind the Europeans in the sport. Still inspired and enjoying the sport, Ryon does believe that 90% of the sport depends on rider skill and ability, and so he is willing to put in the hard work needed to achieve his goals. At his level he says the Gas Gas Pro is a great machine, because it works incredibly well and is definitely fun to ride. To people just getting into the sport, Ryon suggests that people should not worry about which bike to buy as they are all generally the same for starting, but to focus more on having fun and working hard to achieve their goals. We wish Ryon all the best in acquiring the USA Trails Riding Championship Title! He has such amazing talent that we have no doubt he will go far in this sport!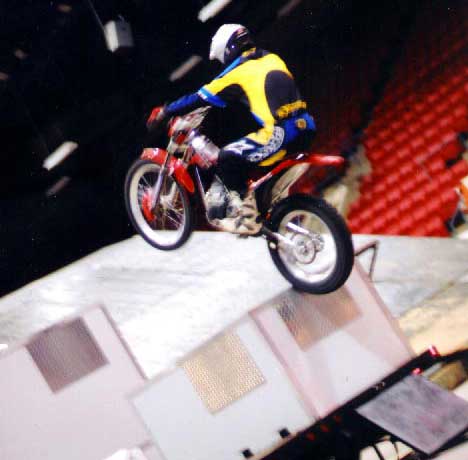 Thanks for your support and for coming back time and time again to visit us.
Mike.
Total Motorcycle.com
---
Unbiased, helpful, personal, friendly and useful motorcycle resource