Team Outlaw's Mike McGaw
and
Selected Bios of Team Outlaw members: Kris Garwasiuk, Mike Samson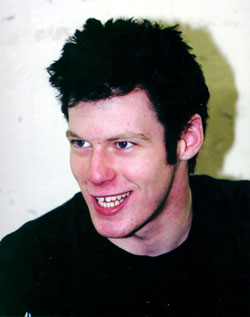 Total Motorcycle's interview with Team Outlaw's Mike McGaw: by Chelsea McLean and Mike Le Pard.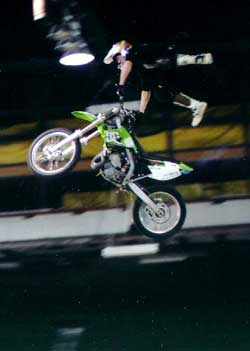 After the special MX extreme media show Total Motorcycle had the chance to interview Team Member Mike "The Goo" McGaw.
This young man cannot be over looked or under estimated. He has won 7th place in the Canadian Freestyle Championship 2003; 8th place in the Walkman Freestyle MX 2002 World Cup in Germany and ranks 21st place in the World Cup FMX 2003 in Oberhsuen, Tyskland. Not bad in a sport that has only been around for 6 years.
Mike McGaw told us that it is not whether you can do a special acrobatic jump, but the quality in which the jump is made, is how the sport is judged.
Mike can easily be found on numerous web sites for his freestyle motocross and motocross racing. His six years of motocross racing (1994 to 2000) has given him a very strong basic bike skills, which he has shown in the last three years of freestyle competitions. His racing experience gives him the basic motorcycle skills to build on in freestyle competition. This, Mike says, is an important background for freestylers.
McGaw tell us that lots of kids jump into freestyle without knowing the basics. Kids should concentrate on getting the basic bike skills first in a safe environment. The sport is not about the tricks that you do, as everyone does pretty much the same ones, it is the quality you do them with that is most important. Quality comes from hard work, dedication and lots of practice. Mike's travels have taken him all over the world, from Canada to the United State, Austria, Germany, France and Africa.
We appreciate Mike taking time to talk to us, hope he is feeling better and wishing him well in his future pursuits.
Career Highlights:
Placing 7th at the World Cup in 2002 in Germany

Selected Bios of Team Outlaw:
Kris Garwasiuk, 22, Canada's First Professional Freestyle Motocross Rider, 2002 Canadian Champion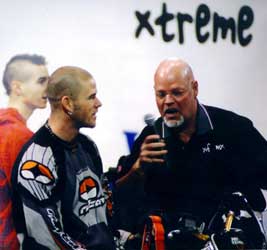 Garwasiuk, the only Canadian freestyle motocross rider featured in a video game, Championship Motocross by THQ, has been riding motorcycles since he was four years old, and was a motocross racer for many years. He plans to continue with freestyle motocross "as long as my body can take it," he says. One of Garwasiuk's favourite tricks is the "Cordova", requiring riders to stick their knees through the handlebars of their bike, arch their backs and look behind themselves, upside-down.
Garwasiuk has been sponsored by Kawasaki for three years. When he began in the sport, he performed at five or six exhibitions a year. Currently, he appears in more than 100 events per year.
Career Highlights:
2001- Returned to Canada to build Freestyle motocross awareness
2000 – Placed 3rd in the Doubles Competition with partner Justin Homans at the Gravity Games
1999 – Placed 7th in the freestyle motocross competition at the X-Games
1998 – Placed 8th in the first ever ESPN World Freestyle Championship in Las Vegas
1997 – Turned professional motocross rider


Mike Samson, 22, Team Outlaw
Samson loves to do good combos-two tricks in one, such as variations of the "Superman", where he places one hand on the seat, swings his legs out to the side, opens and closes them, repositions and lands.
He has been riding motorcycles for 17 years, and was a motocross racer for four years before switching to freestyle in 2000. He currently travels North America doing demonstrations and competitions, and hopes to be a top name in the sport. He also hopes to master the back flip before retirement. "The back flip was insane a year ago," he says. "The sport is young and growing at a ridiculous rate. Riders are pushing tricks further every year."
Career Highlights:
Placed 3rd overall at the XFMX Championships (Canadian Competition)
One of two riders chosen to represent Canada at the Global Extreme Games this year.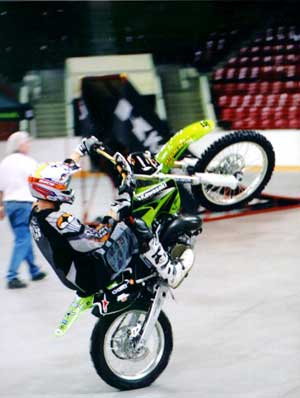 Well, that's it for now.
FAST FACTS:
Freestyle Motocross (MX)
– Freestyle MX has been a sport for approximately five to six years
– The sport evolved from MX races, when racers who were losing began to show off their skills by performing tricks and stunts.
– X-Games, an extreme sports competition launched by ESPN in 1995, incorporated Freestyle MX during the fifth annual event, in 1999
– NBC launched Gravity Games (Olympic-like event featuring extreme sports, including freestyle motocross) in the summer of 1999. Gravity Games, television's highest-rated action sports program, runs in more than 50 countries.
– According to Kris Garwasiuk, Canada's first professional freestyler, competing freestyle MX professionals typically range in age from 15 to 25 years old

Thanks for your support and for coming back time and time again to visit us.,
Mike.
Total Motorcycle.com
---
Unbiased, helpful, personal, friendly and useful motorcycle resource