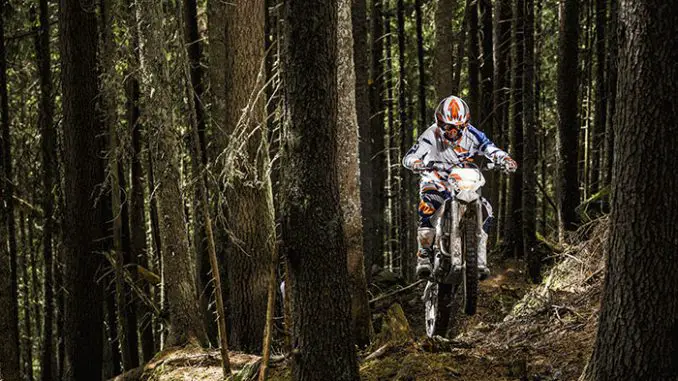 Click photos to enlarge. Our big, clean bike pics make great desktop wallpaper.
2015 KTM Freeride 250R Review

2015 KTM Freeride 250R on www.Totalmotorcycle.com
The Lively One…
All those who have never had the opportunity to enjoy the punch of a powerful two-stroke in a lightweight, agile offroad chassis are in for a surprise with the Freeride 250 R. However, those who have already had this pleasure know: The power of such an engine develops completely differently, the expanding combustion gases effectively pressing down twice as often on the crankshaft as a four-stroke. Consequently, KTM two-stroke enduros, which are designed more for high peak power, still pull away forcefully from the very bottom up and that's a real pleasure. And since the engine on the FREERIDE 250 R is tuned completely in keeping with the Freeride notion – not for maximum power but for harmonious torque progression and optimum rideability – this motorcycle is an all-rounder that feels all the more at home, the tougher the terrain becomes.

2015 KTM Freeride 250R www.Totalmotorcycle.com Key Features
Aluminium-steel composite frame design



Pioneering vehicle concept



Slender bodywork



Sporty two-stroke


2015 KTM Freeride 250R www.Totalmotorcycle.com Features and Benefits


TRANSMISSION
Compared with the 250 EXC, the 6-speed gearbox specially developed for the FREERIDE models has shorter transmission ratios, while the extended sixth gear is effectively designed as an overdrive. A short secondary gear ratio of 46 to 12 (FREERIDE 350 12/48) guarantees powerful traction and lively acceleration, especially in demanding terrain.

RADIATOR
Waste heat from the engine is dissipated via a single-piece, protected, integrated radiator. A fan fitted as standard, featuring a newly developed thermoswitch, guarantees stable temperature management, even at a slower pace in tough terrain.

EXHAUST
The FREERIDE 250 R is equipped with a specially developed, low-noise exhaust system, featuring a light-alloy silencer and a slender soundbox, that contributes to the high-torque engine characteristics. In contrast to the header laid under the engine on the FREERIDE 350, KTM design engineers succeeded in locating the header on the FREERIDE 250 R to one side and integrating it optimally into the bike. Similarly to the sports enduros, the two-stroke FREERIDE is homologated with a special power reduction and can even be approved for use on public roads in this version.

ENGINE
To power the FREERIDE 250 R, the KTM design engineers took the two-stroke engine from the 250 EXC competition enduro and subjected it to comprehensive refinements, thereby reducing the weight of the already particularly lightweight power unit – in spite of electric starter – by a whole two kilograms and tuning it for optimal rideability. The engine on the FREERIDE 250 R is equipped with its own cylinder, featuring ducts and valve timing adapted to the desired torque curve, as well as a matching piston. Similarly to trials motorcycles, the elaborate exhaust control system of the 250 EXC has been omitted, which not only has a beneficial effect on the torque curve but also on the durability of the piston. That makes this engine even less complicated and even more robust.

CLUTCH
Both the FREERIDE 250 R and the FREERIDE 350 are equipped with an undamped CCS (coil spring steel) clutch, featuring a wear-free steel cage and a clutch package tuned especially for the FREERIDES with seven steel carrier lining discs. Not least thanks to the special friction linings and softer springs, this clutch is characterised by optimised disengagement, while the hydraulic clutch armature from Formula ensures that the clutch is always easily and precisely controlled.


FRAME
During the course of developing the FREERIDE 250 R, KTM design engineers pulled out all the stops to exploit the full potential of the substantially more compact two-stroke engine. As with the FREERIDE 350, the frame is a composite construction comprising high-grade, chrome-molybdenum steel profiles bolted together with forged light-alloy components. However, compared with the FREERIDE 350 frame, the compact two-stroke engine with its laterally routed exhaust has allowed the lower frame tubes to be raised by a whole 60 millimetres. This results in significantly greater ground clearance – in conjunction with the large steering lock, a benefit that becomes all the more apparent, the tougher the terrain: Particularly when negotiating trials sections, the FREERIDE 250 R bottoms out much later.

SUBFRAME
The bolted subframe made from high-strength plastic impresses with high inherent stability and makes a significant contribution to the lightweight-construction concept of the FREERIDE 250 R. The rider can get a firm hold at the integrated grip recesses well-protected from dirt should the rear wheel ever become stuck in the mud.


AIR FILTERS
Located at the rear of the tank, the air filter is well protected and easily accessible. Thanks to its larger filter surface area, the much enlarged air filter cartridge, compared with the four-stroke model, is less susceptible to contamination and enables higher air throughput.

BRAKES
The Formula brake system complies with KTM's high standards and was specially designed for the FREERIDE. The radially bolted brake callipers, with four pistons at the front and two at the rear, harmonise perfectly with the lightweight wave brake discs (260/210 mm) and provide optimum braking performance with outstanding application.

SWINGARM
Weighing only 3.2 kg, the light-alloy cast swingarm has been designed by KTM chassis experts to support the suspension system comprising frame and suspension components with targeted flexibility in the direction of oscillation. At the same time, it contributes with its high torsional stiffness to the outstanding tracking stability of the FREERIDE 250 R. The progressively functioning acting PDS shock absorber is hinged directly at the swingarm.

SUSPENSION COMPONENTS
In conjunction with high quality, CNC-machined triple clamps, a sturdy upside-down fork from WP Suspension, featuring 43-mm outer tubes, bestows the FREERIDE 250 R with outstanding stability and guarantees excellent responsiveness plus perfect damping. Its taut basic setup harmonises perfectly with the PDS rear shock from WP, which features a progressively wound suspension spring. As ever with exceptional suspension comfort, this makes the suspension on the FREERIDE 250 R very well-balanced both front and rear, with high resistance to bottoming out – an advantage, particularly in faster sections on demanding terrain. The damping features adjustable rebound and compression stages and the shock absorber even offers separate high and low-speed adjustment options for compression damping. Those who are still not completely satisfied with the comparatively low seat height of 915 millimetres on the FREERIDE 250 R can find a lowering kit in the KTM PowerParts range, with suspension travel reduced by 25 millimetres.

FOOT PEGS
Light and wide, precision-cast foot pegs guarantee reliable contact with the bike and the highest levels of stability. Their eccentric supports allow the foot pegs to be displaced by eight millimetres longitudinally. In addition to ergonomic fine tuning, this also allows traction and cornering characteristics to be influenced significantly with the right riding technique.

WHEELS AND TYRES
The FREERIDE 250 R rolls on extremely light, spoked wheels with anodised, light-alloy rims from GIANT, CNC-machined hubs and light-alloy spoke nipples. The Trial-Maxx tyres derived from the world of trial sport, in sizes 2.75-21 and 4.00-18, have been specially developed by Maxxis for the KTM FREERIDES. They feature a soft, grippy compound and, compared with trials tyres, a much higher proportion of negative profile. This improves self-cleaning on muddy surfaces, without the tyres breaking up the ground excessively. Furthermore, the Maxxis tyres bestow the FREERIDE 250 R with perceptibly more agile handling and they are much more durable than pure trials tyres.

FUEL TANK
Thanks to the more compact two-stroke engine compared with the four-stroke model, KTM engineers managed to design the lightweight, polyethylene fuel tank with a 7-litre capacity. It lies well protected between the upper frame profiles below the seat, which is tipped up for refuelling. Thanks to the transparent plastic, the rider can see the fuel level at a glance.


SEAT
The long, slender seat provides unrestricted freedom of movement and a very good level of seating comfort. Thanks to an integrated release mechanism, it can be tipped up easily to gain access to the fuel tank, air filter and electrics. Compared with a competition enduro, the seat height of only 915 millimetres is much more moderate. If you'd like it even lower, you can find a lowered seat (accessory) in the PowerParts range.

HANDLEBAR
The lightweight, tapered handlebar made from high-strength aluminium has four different positions, so it can be ideally adjusted to fit the rider.
SPEEDO INSTRUMENT
The FREERIDE models are equipped with a digital instrument cluster from Trail Tech, featuring integrated indicator lights, which impresses with numerous functions and particularly intuitive operation.

BODYWORK AND GRAPHICS
Thanks to its extremely slender seat and spoiler profile, the bodywork on the FREERIDE 250 R offers unrestricted freedom of movement with particularly ergonomic contact surfaces. The new graphics are mostly in-mould graphics integrated directly into the plastic parts – a modern, extremely robust and lightweight solution.

---
2015 KTM Freeride 250R – www.Totalmotorcycle.com USA Specifications/Technical Details
US MSRP Price: $NA USD

Model not available
---
2015 KTM Freeride 250R – www.Totalmotorcycle.com Canadian Specifications/Technical Details
Canada MSRP Price: $NA CDN
Model not available
---
2015 KTM Freeride 250R – www.Totalmotorcycle.com European Specifications/Technical Details
Europe/UK MSRP Price: £5999 GBP (On The Road inc 20% Vat)
ENGINE
Design 1-cylinder 2-stroke engine
Displacement 249 cm³
Bore 66.4 mm
Stroke 72 mm
Starting aid Electric starter
Transmission 6 gear, claw shifted
Engine lubrication Mixture oil lubrication
Primary ratio 26:72
Secondary gear ratio 14:46 (12:46)
Cooling Liquid cooling system
Clutch Wet multi-disc clutch CSS / Formula Hydraulik
Ignition system Contactless, controlled, fully electronic ignition system with digital ignition timing adjustment, type Kokusan
CHASSIS
Frame Perimeter steel-aluminium composite frame
Fork WP Suspension4357 MXMA
Shock absorber WP Suspension 4618 PDS DCC
Suspension travel Front 250 mm
Suspension travel Rear 280 mm
Brake system front Disc brake with radially mounted four-piston brake caliper
Brake system rear Disc brake with radially mounted dual-piston brake caliper
Brake discs – diameter front 260 mm
Brake discs – diameter rear 210 mm
Chain 5/8 x 1/4″ X Ring
Steering head angle 67°
Wheelbase 1,418±10 mm
Ground clearance (unloaded) 380 mm
Seat height (unloaded) 915 mm
Total fuel tank capacity approx. 7 l
Unleaded premium fuel (95 octane), mixed with 2-stroke engine oil (1:80)
Weight without fuel approx. 92.5 kg
* Manufacturer's suggested retail price (MSRP), the actual sale prices can vary.
Manufacturer Specifications and appearance are subject to change without prior notice on Total Motorcycle (TMW).