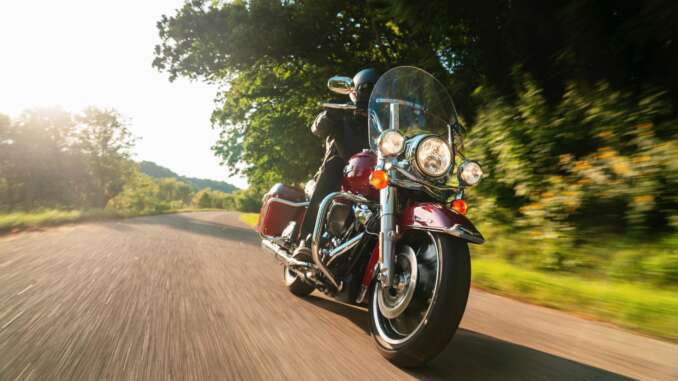 2021 Harley-Davidson Road King: TRADITION WITH MUSCLE.
Introducing the 2021 Harley-Davidson Road King…
The Hiawatha headlamp and nacelle were born in the '60s, but the power of the Milwaukee-Eight 107 engine on the Road King brings it all into right now, fast. The Showa dual-bending valve front suspension and rear emulsion shocks put riders in control for a plush ride. And riders get cast Impeller wheels and one-touch bags. It's a modern classic.
A Harley-Davidson icon is transformed by custom bagger style and Milwaukee-Eight 114 power.
Touring – Go the distance and discover the wide-open world in the most epic way possible.
A stripped-down highway legend with classic chrome styling and modern touring performance.
2021 Harley-Davidson Road King Totalmotorcycle.com Key Features
THIS IS THE RIGHT BIKE FOR
Riders looking to burn through miles with authority
Neo-classic style with Hiawatha headlamp and nacelle
Milwaukee-Eight® 107 V-Twin engine and one-touch saddlebags
Upright riding position
Floorboards
Passenger seat
Saddlebags
Fork mounted fairing
RDRS optional
New Features for 2021
Low Profile Engine Guard: Designed to emphasize the slammed, low lines of the Street Glide Special, this 1.25-inch diameter engine guard mounts 11 inches lower than the standard Touring engine guard and features a slightly forward sweep that provides plenty of room around the brake and shift levers.
LED Headlamp: The Road King Special model is now equipped with a Daymaker LED headlamp, replacing the previous dual-halogen headlamp. The LED Daymaker headlamp pushes out an impressive punch with a bright-white beam that lights up the road and makes the motorcycle more conspicuous in daytime.
Tank Medallion: A new tank medallion is based on the Bar & Shield logo.
Dark Styling: Black powertrain covers, mufflers and exhaust shields, headlamp nacelle, front forks, engine guard, saddlebag rails, handlebar, mirrors, foot and hand controls, console, foot boards and passenger, rear light bar, front turn signals.
2021 Color Options: Solid Color: Vivid Black, Black Jack Metallic, Deadwood Green. Custom Color: Snake Venom
Mini-Ape Handlebar: A 9-inch tall, 1.25-inch diameter mini-ape handlebars puts the rider in an assertive position and adds custom style.
Commanding Headlamp Nacelle: Holds the brilliant Daymaker LED headlamp front and center.
Stretched locking saddlebags extend below the mufflers to lower the motorcycle profile. One-Touch latches are easy to open with one hand.
Exclusive Special details: Color-matched fascia panels between the saddlebags and rear fenders, and a low-profile front fender.
Low-profile license plate holder and combination stop/tail/turn rear lighting.
NEW STYLE CHOICES AND FEATURES FOR HARLEY-DAVIDSON HOT ROD BAGGERS
New Chrome Finish and Two-Tone Paint Options for Road Glide Special and Street Glide Special Models
A trio of hot rod baggers with fresh swagger and new features is part of the collection of special Harley-Davidson motorcycles for 2021. With a slammed stance and muscular Milwaukee-Eight 114 power, the Road King Special, Road Glide Special and Street Glide Special models combine commanding street presence with the long-haul capabilities of the Harley-Davidson Touring chassis. These bikes are designed to rule the boulevard on Friday night and run for the border at daybreak.
For 2021, the Street Glide Special and Road Glide Special models are offered with new two-tone paint options, and with a choice of a blacked-out or bright chrome styling treatments, giving the customer a choice of a look that's dark and sinister, or brilliant and more traditional. All Special models are now equipped with the high-performance Ventilator air cleaner with a washable filter element, and a new low-profile engine guard.
Milwaukee-Eight 114 Power
Each Special model is powered by the Milwaukee-Eight 114 V-Twin engine, the most displacement and power offered from the factory for Harley-Davidson Touring model motorcycles. In the Touring chassis, the rubber-mounted and counter-balanced Milwaukee-Eight 114 engine delivers inspiring performance and classic Harley-Davidson look-sound-feel.
Displacement: 114 cu in (1,868 cc)
Compression Ratio: 10.5:1
Torque: 118 ft. lb. @ 3250 RPM
Four valve cylinder heads (two exhaust and two intake valves per head, eight total); improved airflow through the engine contributes to power output.
Dual spark plugs for more complete combustion of the air/fuel charge and maximized power and efficiency.
Single camshaft reduces mechanical noise so a richer exhaust tone can predominate.
Advanced cylinder head design, dual knock sensors, and precision cooling allow a higher compression ratio for increased torque output and strong acceleration.
V-Twin design with 45-degree cylinder angle maintains classic Harley-Davidson look-sound-feel.
6-Speed Cruise Drive transmission reduces engine RPM at highway speeds to enhance fuel economy and rider comfort.
New Ventilator high-performance air cleaner with a washable filter element improves air flow to the engine and adds performance styling.
Harley-Davidson Touring Chassis
The Harley-Davidson Touring frame is designed for the long haul, with a rigid backbone design to sustain the weight of passengers and luggage and to support current engine power.
Front suspension with dual bending valve internal technology for linear damping performance and a smooth ride.
Emulsion technology rear shocks are calibrated for touring and feature a single-knob pre-load adjustment that does not require tools or maintenance.
Lowered rear suspension gives Special models a slammed stance.
Prodigy cast-aluminum wheels (19-inch front, 18-inch rear) are exclusive to Special models.
Standard Reflex™ Linked Brembo Brakes with ABS (Antilock Braking System) is designed to help prevent the wheels from locking under braking to assist the rider in maintaining control when braking in a straight-line. ABS operates independently on front and rear brakes to help prevent uncontrolled wheel lock in urgent situations.
Optional RDRS Safety Enhancements (formerly known as RDRS) – A collection of technologies designed to match motorcycle performance to available traction during acceleration, deceleration and braking. Includes linked braking, ABS, traction control, drag-torque slip control, tire pressure monitoring system, and vehicle hold control.
2021 Harley-Davidson Road King Totalmotorcycle.com Features and Benefits
MILWAUKEE-EIGHT® 107 ENGINE
A powerful, smooth-running engine with crisp throttle response and a pure, soul-satisfying rumble.
REFLEX™ LINKED BREMBO® BRAKES WITH STANDARD ABS
Designed to help prevent the wheels from locking under braking to assist the rider in maintaining control when braking in a straight-line. ABS operates independently on front and rear brakes to keep the wheels rolling and help prevent uncontrolled wheel lock in urgent situations.
HIAWATHA HEADLAMP AND NACELLE
Born in the '60s, when chrome ruled the streets. Big and commanding, it's built with the latest in materials and technology for a long distance high beam and wide low beam.
RESPONSIVE SUSPENSION
High-performing front and rear suspension, with easily hand-adjustable rear shocks put you in control of a plush ride.
SLICER II CAST ALUMINUM
A 18-inch front and 18-inch rear Slicer II wheel to match in the back are stunning and lightweight.
ONE-TOUCH OPENING SADDLEBAGS
Tight on the outside, roomy on the inside. The hinges are simple and clean and the lids open with one touch of one hand.
There's a wide-open world to experience out there. We've been building the motorcycles to help you discover it in the most epic way possible since we invented the fully dressed touring machine in the 1960's. Entire continents; and all the mountain ranges, canyons, glaciers, small towns, deserts, cities, roadside attractions, adventures, and stories they contain; are yours for the taking in the saddle of a Harley-Davidson Touring machine. No one builds them better.
2021 Harley-Davidson Road King – Totalmotorcycle.com  Specifications/Technical Details
US MSRP Price: $ 19499 to 20299 USD
Canada MSRP Price: $ 23899 to 25099CDN
Europe/UK MSRP Price: £ 20495 to 21635 GBP (On The Road inc 20% Vat)
USA PRICING
VIVID BLACK
$19,499
COLOR
$19,949
TWO-TONE
$20,299
ABS OPTION
Standard
REFLEX™ DEFENSIVE RIDER SYSTEM (RDRS)
$995
SECURITY OPTION
Standard
CRUISE CONTROL OPTION
Standard
CALIFORNIA EMISSIONS
$200
FREIGHT
$435
Canadian PRICING
VIVID BLACK
$23,899
COLOUR
$24,499
TWO-TONE
$25,099
ABS OPTION
Standard
REFLEX™ DEFENSIVE RIDER SYSTEM (RDRS) OPTION
$900
SECURITY OPTION
Standard
CRUISE CONTROL OPTION
Standard
UK PRICING
VIVID BLACK
£20,495
COLOUR
£20,845
TWO-TONE
£21,245
CUSTOM COLOUR
£21,635
ABS OPTION
Standard
SECURITY OPTION
Standard
CRUISE CONTROL OPTION
Standard
Model
FLHR Road King®
Notes
Dimensions
Length
96.5 in. (2,450 mm)
Overall Width
37.8 in. (960 mm)
Overall Height
56.3 in. (1,430 mm)
Seat Height, Laden
26.3 in. (667 mm)
2
Seat Height, Unladen
27.8 in. (705 mm)
Ground Clearance
5.3 in. (135 mm)
Rake (steering head) (deg)
26
Fork Angle (deg)
29.25
Trail
6.7 in. (170 mm)
Wheelbase
64 in. (1,625 mm)
Tires, Type
Dunlop® Harley-Davidson Series, bias blackwall front and rear
Tires, Front Model
D408F
Tires, Front Specification
BW 130/70B18 63H
Tires, Rear Model
D407T
Tires, Rear Specification
BW 180/55B18 80H
Fuel Capacity
6 gal. (22.7 l)
Reserve Fuel Capacity, Fuel Injection (warning light)
1 gal. (3.8 l)
Oil Capacity (w/filter)
5.2 qt. (4.9 l)
Transmission Capacity
1 qt. (.95 l)
Primary Chain Case Capacity
1.1 qts. (1 l)
Coolant Capacity
N/A
Weight, As Shipped
794 lb. (360 kg)
Weight, In Running Order
828 lb. (375 kg)
Gross Vehicle Weight Rating
1,360 lb. (617 kg)
Gross Axle Weight Rating, Front
500 lb. (227 kg)
Gross Axle Weight Rating, Rear
927 lb. (420 kg)
Luggage Capacity -Volume
2.3 cu ft (0.064 m3)
Engine
Engine
Milwaukee-Eight® 107
Valves
Pushrod-operated, overhead valves with hydraulic, self-adjusting lifters; four valves per cylinder
Bore
3.937 in. (100 mm)
Stroke
4.374 in. (111.1 mm)
Displacement
107 cu in (1,746 cc)
Compression Ratio
10.0:1
Fuel System
Electronic Sequential Port Fuel Injection (ESPFI)
3
Air Cleaner
Paper, washable
Exhaust
Chrome, 2-1-2 dual exhaust with tapered mufflers
Lubrication System
Pressurized, dry-sump with oil cooler
Drivetrain
Primary Drive
Chain, 34/46 ratio
Final Drive
Belt, 32/68 ratio
Clutch
Mechanically actuated 10 plate wet, Assist and Slip
Transmission
6-Speed Cruise Drive®
Gear Ratios (overall) 1st
9.593
Gear Ratios (overall) 2nd
6.65
Gear Ratios (overall) 3rd
4.938
Gear Ratios (overall) 4th
4
Gear Ratios (overall) 5th
3.407
Gear Ratios (overall) 6th
2.875
Chassis
Frame
Mild steel; tubular frame; two-piece stamped and welded backbone; cast and forged junctions; twin downtubes; bolt-on rear frame with forged fender supports; MIG welded.
Swingarm
Mild steel; two-piece drawn and welded section; forged junctions; MIG welded.
Front Fork
49 mm Dual Bending Valve
Rear Shocks
Premium standard height hand-adjustable rear suspension
Wheels, Front Type
Slicer II Cast Aluminum
4
Wheels, Front Width
3.5 in. (89 mm)
Wheels, Front Height
18 in. (457 mm)
Wheels, Rear Type
Slicer II Cast Aluminum
4
Wheels, Rear Width
5 in. (127 mm)
Wheels, Rear Height
18 in. (457 mm)
Brakes, Caliper Type
32 mm, 4-piston fixed front and rear
Brakes, Rotor Type
Dual floating rotors (front), fixed rotor (rear)
Brakes, Front Diameter
11.8 in. (300 mm)
Brakes, Front Thickness
0.2 in. (5.1 mm)
Brakes, Front is dual
Yes
Brakes, Rear Diameter
11.8 in. (300 mm)
Brakes, Rear Thickness
0.28 in. (7.1 mm)
Brakes, Anti-Lock Braking System (ABS)
Standard
Suspension Travel, Front
4.6 in. (117 mm)
Suspension Travel, Rear
3 in. (76 mm)
Performance
Engine Torque Testing Method
J1349
Engine Torque
111 ft-lb (151 Nm)
5
Engine Torque (rpm)
3,250
Lean Angle Testing Method
J1168
Lean Angle, Right (deg.)
32
Lean Angle, Left (deg.)
32
Fuel Economy Testing Method
Estimated City/Hwy
Fuel Economy
43 mpg (5.5 l/100 km)
6
Electric
Battery
Sealed, maintenance-free, 12V, 28-amp/hour, 405 cca (per Battery Council International Rating)
Charging
Three-phase, 48-amp system (600W @ 13V, 2000 rpm, 625W max power @ 13V)
Starting
1.6 kW electric with solenoid shift starter motor engagement
Lights (as per country regulation), Headlamp
Dual halogen headlight 55-watt 625 lumen low beam, 65-watt 1,570 lumen high beam with switchable 26 watt 440 lumen halogen fog lights. Total of 986 lumen output at low beam with fog lights.
Lights (as per country regulation), Tail/Stop
8W/28W
Lights (as per country regulation), Front Signal Lights
8W/28W
Lights (as per country regulation), Indicator Lamps
High beam, running lights, directional light bar, neutral, low oil pressure, engine diagnostics, turn signals, battery, security system, low fuel warning, cruise control, ABS, Gear/RPM display, miles to empty display
7
Lights, Rear Turn Signals
N/A
Gauges
Gauges styled to complement each vehicle. Display features odometer, trip A, trip B, range to empty and gear indicator; and larger tell-tale indicators.
Auxiliary Lamps
Two @ 30W each (except where prohibited by law)
Electric Power Outlet
N/A
GPS System
N/A
Reverse Gear
N/A
Warranty And Service
Warranty
24 months (unlimited mileage)
8
Service Interval
First 1,000 miles (1,600 km), every 5,000 miles (8,000 km) thereafter
9
Footnotes1Vehicles depicted may differ from vehicles manufactured and delivered. Specifications and prices listed may differ from specifications and prices of vehicles manufactured and delivered. All product descriptions (including depictions, specifications, dimensions, measurements, ratings and competitive comparisons) are based on available information at the time of publication. Although such descriptions are believed correct, errors and changes can occur and complete accuracy cannot be guaranteed. Harley-Davidson may make changes at any time to prices and specifications, and may change or discontinue models, without notice and without incurring any obligation. Attention: Vehicles in the configurations shown and many of the accessories described in this catalog may not be available for sale or use in some locations. Please check with your dealer for complete product details and the latest information. All models feature 6-speed transmission (VRSC™ models and Sportster® models are 5-speed) and carbon fiber belt final drive; multi-plate clutch with diaphragm spring in oil bath; and 2-year unlimited mileage warranty. 2Measurement reflects 180 lb. (81.7 kg) operator weight. 3Recommended 91 octane or higher fuel (R+M)/2. 4Standard and optional wheels may vary by country and region. 5Values shown are nominal. Performance may vary by country and region. 6The combined fuel economy numbers were derived using a combination of estimated city and highway values. Fuel economy estimates are derived from US EPA exhaust emission certification data on a sample motorcycle from the corresponding family under ideal laboratory conditions. Your actual fuel economy will vary depending on your personal riding habits, road and driving conditions, vehicle condition and maintenance, tire pressure, vehicle configuration (parts and accessories), and vehicle loading (cargo, rider and passenger weight). Break-in mileage may vary. 7North America security system includes immobilizer; outside North America the security system includes immobilizer and siren. 8See motorcycle owner's manual for complete details. 9Inspections of certain systems and components are required at 2,500 mile (4,000 km) intervals. See Owner's Manual for full details.
Manufacturer Specifications and appearance are subject to change without prior notice on Total Motorcycle (TMW).